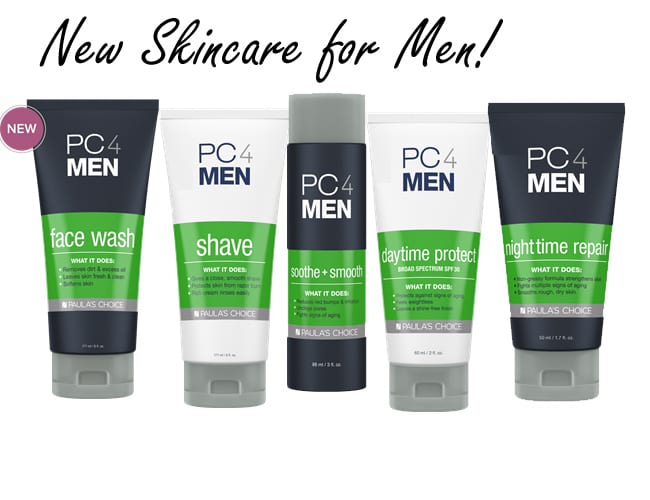 Today I wanted to talk to you about the Paula's Choice PC4Men Skincare Line. This is a streamlined skincare line for men by Paula's Choice with only 5 essential products – a face wash, daytime moisturizer with SPF 30, nighttime anti-aging moisturizer, shave gel and after shave lotion. This line is fragrance and dye free.
PR sample.
Paula's Choice PC4Men Skincare Line
Paula's Choice is cruelty free.

If you like this video, please share and subscribe!
Face Wash – $15 6 fl. oz.
This gentle yet hard-working gel cleanses your skin without making it tight or dry. It easily removes dirt and excess oil, and rinses clean. It can be used before or after shaving, and works to soothe sensitive skin, reduce redness and help fight acne.
I did go ahead and use the face wash. It didn't irritate my skin. It really reminded me of the Paula's Choice Earth Sourced cleanser. Ray liked it and said he liked using it with the Clarisonic.
Shave – $12 6 fl. oz.
This innovative, ultra-soothing, and effective shave cream has a cushiony texture that protects skin and ensures a close shave. The light, irritant-free formula rinses easily, leaving your skin comfortably smooth with an unbelievably close shave.
Ray said the biggest difference between this and his normal shaving gel is that it doesn't have excessive leather, but it does a good job of keeping him from nicking his face.
Soothe + Smooth – $26 3 fl. oz.
PC4Men Soothe + Smooth is a liquid treatment product that improves a man's skin in numerous ways. Going far beyond a traditional after-shave (who even uses those anymore?) Soothe + Smooth quickly reduces red bumps, razor burn, clogged pores, breakouts, uneven skin tone, and signs of aging.
Ray doesn't normally use an after shave gel. He said this was surprisingly nice and soothing.
Daytime Protect SPF 30 – $24 2 fl. oz.
PC4Men Daytime Protect SPF 30 offers multiple anti-aging benefits for all skin types while providing complete sun protection. It feels so light you'll barely even know you have it on. The shine-free formula prevents and reduces wrinkles, rough skin, brown spots, and other forms of sun damage. When used daily, this product strengthens skin against further damage and prevents premature skin aging.
Ray actually raved about this product, after I pressed him for more information. He said that he preferred it to the other moisturizers with SPF that he'd been using (namely Supergoop) because it left his skin feeling less greasy. He felt like it absorbed quickly and left him with soft skin. I can attest to the soft skin.
Night Time Repair – $27 1.7 fl. oz.
Nighttime Repair contains a unique complex of ingredients proven to make your skin look younger, smoother, and healthier by building and preserving all layers of your skin. It also hydrates and makes a visible difference in the appearance of lines, wrinkles, and brown spots. Your skin will feel fresh, clean, and comfortable—never slick or greasy.
I've been arguing with Ray for years to get him to use a night time anti aging moisturizer. I could get him to use Paula's Choice Ultra Light Super Antioxidant Serum sometimes, but not consistently. He finally relented to using a product nightly with the Night Time Repair. Again, he feels like it absorbs quickly and doesn't leave him feeling greasy, or worse, deposit a residue onto his pillow!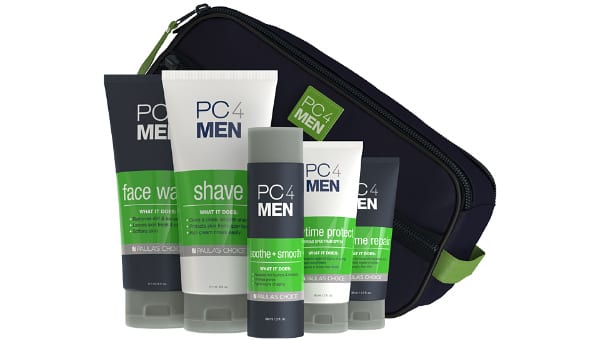 PC4Men Skincare Kit – $98
Get all 5 products plus a travel bag, on sale right now for $98. I think this would make a great Father's Day gift set.
What do you think of the Paula's Choice PC4Men Skincare Line?