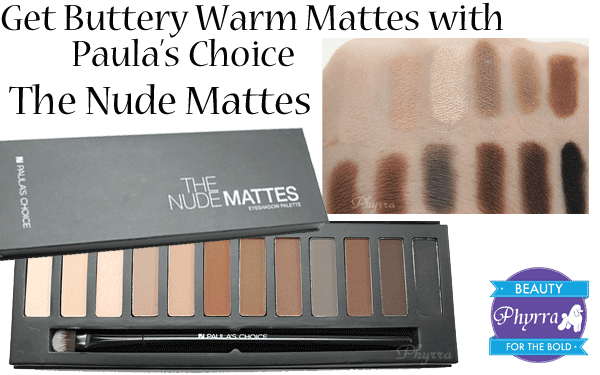 Recently I had the opportunity to try out the Paula's Choice The Nude Mattes Palette. This palette will be released sometime soon, as it was created for Spring 2014. It's made up of 11 perfectly matte shades and one demi-matte shade with a touch of shimmer. It also comes with a cruelty free synthetic brush. By the way, I typed up the ingredients list by hand so that you could see it as well.
PR sample.
Paula's Choice Nude Mattes Palette Review

Here's my swatch video and first impressions on the palette.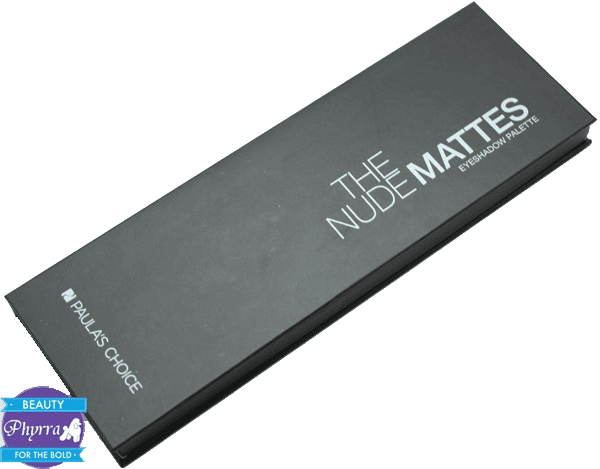 About the Paula's Choice Nude Mattes Palette
This unique eyeshadow palette features 11 velvety, true-matte shadows plus one highlighting shadow in universally wearable shades—the kind you'll find in any good makeup artist's kit! In fact, the experts at Paula's Choice consulted with makeup expert and YouTube sensation Wayne Goss on the creation of this palette. The superbly blendable and buildable shadow colors range from soft ivory to rich brown and smoky black, making them versatile for day, night, or any time in between. The slim, mirrored case is recyclable and includes a professional-quality brush that allows flawless application and unlimited looks.
Ingredients
Talc, Mica, Magnesium Stearate, Dimethicone, Ethylhexyl Palmitate, Polyisobutene, Synthetic Wax, Mineral Oil, Methylparaben, Propylparaben, Tin Oxide. May Contain: Iron Oxides, Titanium Dioxide, Black 2
Price
$40 for 12 eyeshadows .04 oz each.
L to R – Cream – Beige – Pink Sugar – Cafe Au Lait – Tan – Chestnut
L to R – Tan – Chestnut – Clay – Plum Taupe – Gunmetal Grey
L to R – Clay – Plum Taupe – Gunmetal Grey – Chocolate Truffle – Coffee – Onyx
All eyeshadow swatches on Coastal Scents Shadow Worx Eyeshadow primer. I have oily eyelids and never wear eyeshadow without primer.
Cream
Pale creamy beige matte, nearly blends in with my skintone
Beige
Light beige matte
Pink Sugar
pale pinky peach with hints of golden iridescence, love this color!
Cafe Au Lait
light brown taupe with hints of grey.
Tan
light brown
Chestnut
red-toned brown
Clay
brown with a hint of green to it
Plum Taupe
brown taupe with a hint of red plum
Gunmetal Grey
deep warm grey, love this shade!
Chocolate Truffle
deep cool brown
Coffee
deepest dark brown
Onyx
deep black matte
My Thoughts
I know some of you may be concerned to see talc listed as the first ingredient, because it's often referred to as a filler. However, talc can prevent caking and absorb excess oils. You'll also see dimethicone, which gives a silky smooth feel. This is one of my favorite ingredients. It prevents flakyness and is water resistent, too. Synthetic wax is an emollient. I know that many of you aren't fond of parabens so you will be unhappy to see methylparaben and propylparaben on the ingredients list, but please remember that these sort of parabens are cleared from your system every one and a half days.
I really like the slim black matte packaging and the brush. It's simple and easy to take with you, whether you're a makeup artist or a beauty lover.
If you're a guy, don't be afraid of these shades! Nude mattes are perfect for the no-makeup look. Or go crazy and do a bit of guyliner with the darker shades. It's hot!
You're getting a good value for the price. 12 eyeshadows at .04 oz each. A typical MAC eyeshadow is .05 each, so while not quite full size, you're still paying $40 for 12 instead of getting like 3.5 shadows for $40.
I tested the eyeshadows for wear and they wore from 8:30 am to 11 pm on primer. No creasing, no fading; they didn't budge. Color me impressed!
While I'm not typically a nude makeup person, I love using nude mattes to work with brights. So look at these colors as great supporting actors to vibrant color.
I think Paula's Choice and Wayne Goss did an awesome job with this palette. I hope they continue to make more and that they come out with a brights palette, too!
Pros
Great value for the price
Cruelty free
12 easy to wear colors
Long wearing, great formula
Cons
This palette leans more warm than cool, so if you don't like warms, you may not like it
What do you think of the Paula's Choice Nude Mattes Palette? Do you like guyliner?
Last Updated on