So I have a thing for paint pots, even if I haven't been using them much lately. I decided to swatch the majority of my paint pots, fluidlines, and other gel products for you to check out. I first started with MAC Paint Pots, picking up Bare Study and Blackground. I used to use Bare Study as a base for my eye shadow looks until I realized how much it muted the color, so I then moved on to eye shadow primer. One of the things I really love about paint pots is how well they hold onto shadows and keep them from creasing on me. Except for Delft. Delft is pretty but that color creases on me more than any other paint pot I've owned.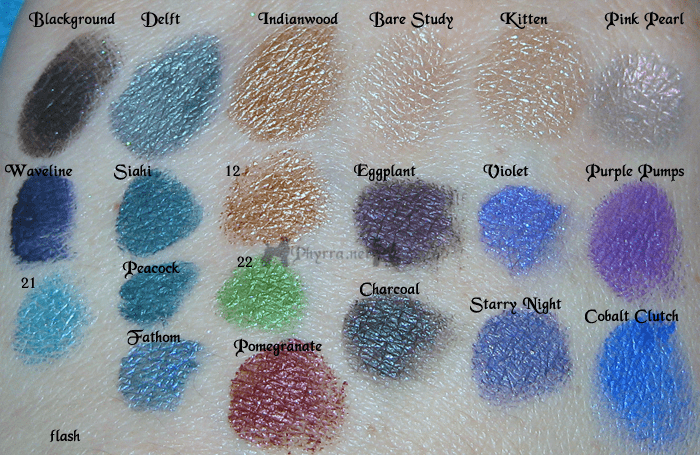 Bare study is more beige than Kitten.
Kitten is lighter, slightly more shimmery and has a brightening effect. I thought Kitten & Bare Study would be a match, but they're not.
Pink Pearl is a light pink-beige with strong pink iridescence. This reminds me of a seashell pink.
Blackground an awesome black with multi-color shimmer. This color is easy to build up or sheer out.
Delft is a green based teal with gold shimmer.
Delft is smokier and darker and greener than Siahi.
Siahi is darker and more blue than Peacock.
Waveline is a gorgeous dark navy with barely percptible gold pearl. Starry Night is slightly lighter and has lots more sparkly gold shimmer than Waveline.
Eggplant is a blackened eggplant purple.
Violet is a blue-based violet.
Purple Pumps is a red-based purple.
Cobalt Clutch is a bright cobalt blue.
Fathom is a mid-tone blue.
Pomegranate is a great metallic red-burgundy.
21 is a light turquoise.
22 is a midtone grass green.
Indianwood is a metallic bronzey-gold.
12 is brighter than Indianwood and leans slightly more copper.

You can tell how my Bare Study, Pink Pearl, Delft, and Blackground have dried out a bit. Bare Study is the only one I've ever come close to hitting 'pan' on.  I think it's actually probably a good idea if you're someone who likes to use these to split them with someone unless you're going to use the same color every day for a year.
I really like using using these on top of eye shadow primer, as a colored base to intensify whatever makeup look I'm putting together.

Pomegranate was used as the base color for the lid and lower crease.

Blackground was used as a base on the lid.

Bare Study was applied all over the eye area, Delft to the middle 1/3 of lid, Blackground to the outer 1/3 of lid, with MAC Shimmermoss all over the lid.

L'Oreal Hip in Eggplant was used as a base on the lid & extended out.

Make Up For Ever Aqua Cream in 22 used as base.

Make Up For Ever Aqua Cream in 12 Applied to middle of lid and crease.

Make Up For Ever Aqua Cream in 21 applied to lid & crease with MAC Waveline to line.
I also like using these to line the eyes. Smudge pots work equally well to line, just like paint pots and the private label gel liners.

Waveline was used to line the eyes.

Siahi was used to line the eye.

Maybelline Charcoal was used to line.

L'Oreal Hip in Eggplant was used to line.
Stila Smudge Pots (Kitten, Violet, Purple Pumps, Cobalt Clutch, Starry Night, Pomegranate), MAC Paint Pots (Blackground, Delft, Bare Study, Indianwood), MAC Fluidlines (Waveline, Siahi), Make Up For Ever Aqua Creams (12 copper, 21 turquoise, 22 green), Maybelline Charcoal, L'Oreal Hip Eggplant, and Private label (Fathom, Peacock, Pink Pearl) gels are all pictured above.
Pricing:
MAC Paint Pots – $16.50 for .17 fl. oz.
MAC Flidlines – $15.00 for .08 fl. oz.
Stila Smudge Pots – $20 for .14 fl. oz.
Private Label (varies wildly) – $8.99 for 3 gram jar (can't find the fl. oz. anywhere for this, but I think it is .07 fl. oz.)
MUFE Aqua Creams – $22 for .21 oz
Maybelline Gel Eyeliner – $9.99 for .106 fl. oz.
Stila Small Smudge Pots – $21 for 4, .07 fl. oz. each
L'Oreal H.I.P. liner – $10.19 for.159 fl. oz.
*Many of these I bought during sales of 15% to 30% off.
So tell me, how do you like to use these products? Do you prefer to use them as primer, liner, base, or shadow? Do you have any of these? Are there any you'd recommend?
Products purchased by me. All opinions are my own.