Following in the footsteps of Glittersniffer, it appears that Orglamix has allegedly been exposed for repackaging eye shadows that may not be eye safe.  (Not) Making It Up has a pretty disturbing blog post with pictures that show what she says are Orglamix eye shadows with their ingredients labels peeled back to reveal  another ingredients label, presumably private label. The private label shadows, if you look them up, state that some of the colors are not intended for eye use but Orglamix sold them  as if they were all safe for eye use and covered up the original private label ingredients label.
While I have not purchased these eye shadows so I cannot personally verify this information, I did deem it necessary to share this with you, much as I did the information with Glittersniffer. I can't say I'm surprised by this information, as my experience with the eye shadows that I did purchase from Orglamix in 2009 were not up to my standards.
After seeing some of the atrocities at the Glittersniffer Complaints blog, I can only hope that people are ok after using these shadows, if these allegations are true.
Another blog has posted pictures of what are allegedly Orglamix labels, Color Me Obsessed. It also shows her invoice that claims the products to be made by Cheri Tracy for her company Candy Glam. It never says that they're private label or repackaged.
Edit: You can see people asking Cheri Tracy for information on her Orglamix Facebook page. She's basically stated that all Orglamix is handmade, but that other lines she created are not.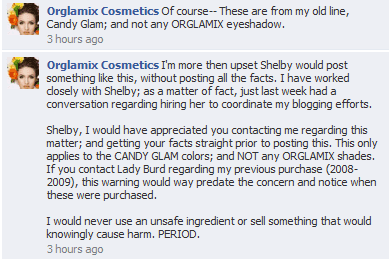 Please note, these are my personal opinions and observations on things, based on my research and my past experiences with Cheri Tracy & Orglamix and are not to be construed as definitive facts. It is up to you to draw your own conclusions on the subject of Orglamix.