When I was looking for cruelty free candle alternatives to Bath & Body Works, I found Old Factory Candles. I was then happy that Old Factory Candles contacted me to see if I wanted to review their candles. After looking them over, I said sure and selected the Fall Harvest set. The Fall Harvest set contains 3 different 2 ounce candles. The scents are Pumpkin Spice, Cranberry, and Autumn Leaves. This set is $25 on Amazon and has Prime shipping available.
Price
$25
Availability
Amazon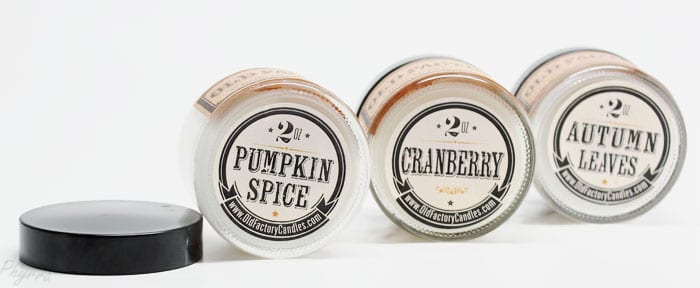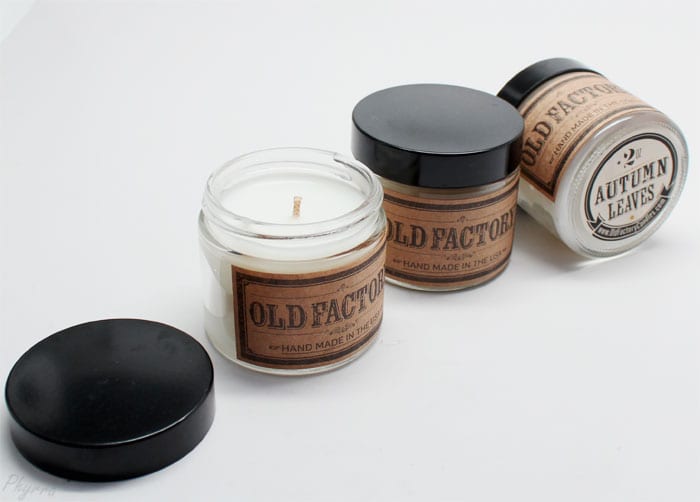 Old Factory candles are made from natural soy wax. They have self-trimming cotton candle wicks. They are made in the USA. They are also free from parabens and phthalates.
While the candles are only 2 ounces each, they are supposed to burn for 15 to 20 hours. Compared to the Bath & Body Works candles, they're closest in size to the mini candles which normally sell 3 for $12 or $4.50 individually. Those candles burn for less time, 10 to 15 hours.
When  I asked Old Factory how they determined burn time they said that they would burn the candles for 1 to 3 hours at a time, since that's the length of time that most people burn candles, and that their candles roughly burn for 20 hours.
Pumpkin Spice is, of course, my favorite of the three scents. To me, it smells like pumpkin pie and maple and a hint of cinnamon and nutmeg. It's a very warm and inviting scent.
Cranberry smells to me like cranberries and cinnamon. It's another nice scent, perfect for this time of year.
Autumn Leaves has a very crisp, fresh scent to me, some floral and citrus notes… maybe some spruce tree in there?  I couldn't really discern more than that. It's my least favorite of the three. It doesn't smell like Autumn Leaves to me, but I think I equate Autumn Leaves with Autumn in Indiana when there is the smell of bonfires burning, and other scents in the air.
One thing I really don't like about the Old Factory candles is that you cannot choose the 3 candles you want, so you may end up with a dud like Autumn Leaves. Another thing I don't like is the price. $25 for 6 oz of candles, even if they do burn for 60 hours, is still hard for me to swallow. It would be easier for me to accept the price if I could choose all 3 candles. I would never select Fall Harvest again because of Autumn Leaves. It's not a candle I enjoyed burning at all.
Overall, I enjoyed the scents of Pumpkin Spice and Cranberry enough that I would love to try Romance in the future, which has Dark Chocolate, Champagne and Rose Petals, though I worry that Rose Petals would be a dud scent for me like Autumn Leaves.
Normally with candles I like scents like cinnamon Pumpkin, Marshmallow pumpkin, vanilla sugar, lemon meringue, mangoes, pineapple, island coconut.. lots of fruity scents and warm foodie scents.
What do you think about Old Factory candles? Have you tried them? What type of candle scents do you prefer?