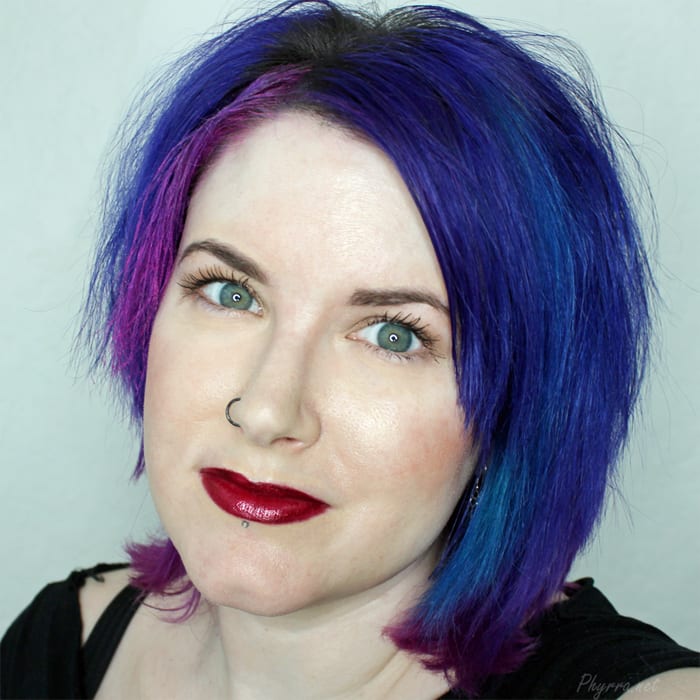 Nudestix Black Metal Dahlia Look. I wanted to put together a barely there eye and cheek look with Nudestix to showcase Obsessive Compulsive Cosmetics Black Metal Dahlia, because it's such a stunning color. I think it's one of the best lip color choices for Fall.
Nudestix Black Metal Dahlia Look
Both Nudestix and Obsessive Compulsive Cosmetics are cruelty free. OCC is also vegan.
This was taken directly after application and me blending with my finger tips. The color did come off of the lid a bit at the outer lid and later the color creased in my crease.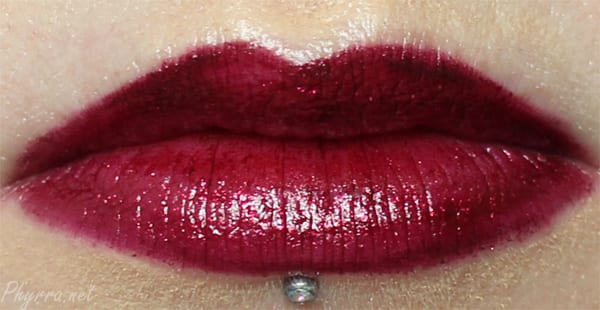 Eyes
Ofra Cosmetics Eye Gel Primer
Nudestix Magnetic Eye Color in Twilight – lid and crease
Nudestix Eye Pencil in Stardust – highlight
Anastasia Brow Wiz in Granite – brows
Urban Decay Subversion Mascara Primer
Urban Decay Perversion Mascara
Face
OCC Skin Conceal in Y0 & Y1 (vegan)
Nudestix Lip and Cheek Pencil in Whisper – blush
Purely Cosmetics Diamond Perfect
Too Faced Candlelight Glow Duo
Lips
OCC Colour Pencil in Black Dahlia (vegan)
OCC Lip Tar in Black Metal Dahlia (vegan)
I put on my Mirvaso medication and after waiting a half hour, I concealed around my face with a mix of Obsessive Compulsive Cosmetics Skin Conceal in Y1 and Y0, tapping it on.
If you're going for the natural look or / barely there look, you're going to love Nudestix. You can apply the color from the pencils onto the eyes, then blend the edges out with the finger tips. This might work great if you don't have oily, hooded lids. I did use primer, but I noticed after 4 hours I experienced creasing, though the color was still mostly there. I think if you don't have oily, hooded lids the color might last longer.
The cheek shade, Whisper, lasted a few hours but did fade away. I haven't had a chance to test it with foundation / primer, since I put it on bare skin on my cheeks and then lightly dusted some Purely Cosmetics Diamond Perfect on top.
Twilight is a bronze shade and it's a soft shimmering bronzey brown that seems to make my blue-green eyes look more blue.
Stardust is sort of a light peachy champagne, good for an inner lid shade and I think for deeper skintones it would make a nice highlighter.
Whisper is called a nude, and I almost feel like it has a hint of peach to it. I really like how it adds just a touch of color on my cheeks. It can be worn on the lips as well. I did use my fingers to blend it out and that kept taking too much product away, so then I had to add it back. I think I need to adjust my application method to applying the color and then tapping rather than a soft feathering with my finger tip to see if that helps with application.
The Nudestix didn't last as long as I would have liked and I was disappointed that they creased. I don't know if it's just because I have oily hooded lids (even though I did use primer) or if it's the formula. I will so say that I found the colors very flattering and I like how Twilight enhanced my eye color to make my eyes stand out. I like how Whisper gave my cheeks a little bit of color but didn't compete with Black Metal Dahlia.
The Nudestix are great for letting you enhance your eyes and cheeks and play up your lips with a bold shade, whether you choose a red like Black Metal Dahlia or a blackened purple like Technopagan.
I am in love with Black Metal Dahlia. It's such a stunner and so perfect for Fall. It's like glittering rubies for your lips.
What do you think of this look? Would you wear it?
Last Updated on