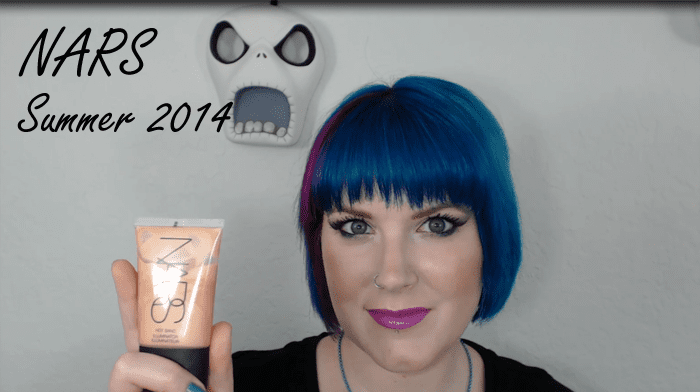 Today I wanted to show you some pieces from the NARS Summer 2014 collection. This summer, NARS also reformulated all of their lipglosses, so I have a few of those shades to show you too. I purchased Wonder (the orange) from Nordstrom.
PR sample + purchased by me.
NARS Summer 2014 Review

If you like this video please give it a thumbs up and subscribe.
Tropical Princess – $35
neon lemon lime and icy lavender
The eyeshadows have great color payoff. This is swatched on bare skin. The icy lavender is like a white with a light lavender purple tint. The neon lemon lime is a pretty light chartreuse.
I don't really feel like this duo can stand on its own. You need to throw in other colors to work with it. I would recommend trying Dogon II (charcoal black) or Mekong (deep velvety brown) with the chartreuse on the lid and highlight at the inner corner and under the brow with the iced lavender. (You can see Dogon II and Mekong in the NARSissist palette).
All of the NARS glosses are $26.
Priscilla
Shocking pink
Priscilla is a new shade from NARS. It's a beautiful hot pink. It needs a lipliner as it can bleed a bit. I adore this color.
Wonder
Sheer mandarin orange with pink and gold shimmer
Wonder is another new shade. This is a pretty, bright orange. It's semi-sheer, so you can wear it as it is for a pop of color, or layer it on top of a lip pencil. I love the delicate shimmer in it.
Turkish Delight
pink sherbet
Turkish Delight is an older NARS lipgloss shade that has been reformulated for Summer 2014. It's the same color as strawberry milk.
Dolce Vita
sheer dusty rose
This is sort of a mauvey rose shade. It's not a flattering shade on me, but I know it's one of those colors that looks good on a wide variety of skintones. It's not sheer to me at all; it's very opaque.
Hot Sand Illuminator – $30
peach champagne
This is a stunning new highlighter from NARS. I absolutely love this peach champagne shade. It's just beautiful. I always feel like NARS Illuminators are worth the price because they last forever. I've never finished one.
You can see more from the NARS Summer 2014 collection here.
For me, I really love Hot Sand Illuminator and Priscilla gloss. The eyeshadow duo is nice, too. To me, the new glosses feel like they're more moisturizing than the original.
What pieces stood out to you from the NARS Summer 2014 collection? What do you think of the reformulated glosses?