Recently I had the opportunity to try out the new NARS Radiant Cream Compact Foundation. It's a lightweight foundation that can be applied wet or dry. I've got Siberia, Gobi and Trinidad to show you.
PR sample.

The Website Says
New NARS Radiant Cream Compact Foundation brilliantly evens skin with a lightweight, luminous finish. Combining the supple feel of a cream foundation with the sleek ease of a portable compact, the Advanced Emulsion Technology formula may be applied wet or dry for artistic versatility. Blending seamlessly with weightless medium buildable coverage, skin feels soft and comfortable with moisture levels boosted by 80% after 12 hours, helping to reduce the appearance of fine lines and wrinkles and enhancing skin's radiance. Includes a Radiant Cream Compact Foundation Sponge.
Test Results
90% noticed their skin looked brighter and more radiant
95% felt their skin was smoother
93% felt the appearance of dry skin was improved
François' Insight
We have liquid foundations, a powder version and a tinted moisturizer. Radiant Cream Compact Foundation is, in a way, a combination of all of them. It's a cream, so it's moisturizing, and supplies all the coverage of a liquid foundation.It's like the best of all worlds.
Artist Tips
"For perfectly illuminated skin that looks airbrushed, apply with a dry sponge for maximum effect, a damp sponge for more glow or stipple on with your finger for problem areas." — Christopher Mayes, Lead Trainer
"After blending Radiant Cream Compact Foundation all over the face, add a dot of Copacabana Illuminator to each side of the arch above the brow, top of cheekbone, blend upward for extra radiance." –Raquel Grijlava, National Makeup Stylist
Price
$38 for .42 oz, the compact is sold separately for $10.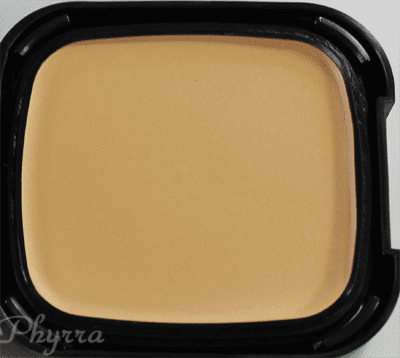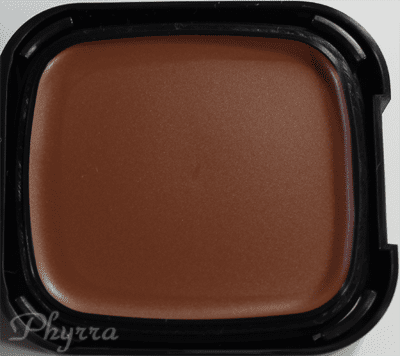 Shade Availability (from lightest to darkest)
Siberia – light with neutral balance of pink and yellow undertones.
Mont Blanc – light with pink undertone
Gobi – for asian skin, light with yellow undertone
Deauville – light with neutral balance of pink and yellow undertones
Fiji – light with yellow undertone
Ceylan – for asian skin light-medium with yellow undertone
Punjab – medium with golden, peachy undertone
Vallauris – medium with pink undertone (this is a new shade for NARS)
Santa Fe – medium with peachy undertone
Stromboli – medium with olive undertone
Barcelona – deeper medium with golden, peachy undertone
Syracuse – medium-dark with brown undertone
Tahoe – medium dark with caramel undertone
Cadiz – medium dark with caramel and red undertone
Macao – medium dark with deep yellow undertone
New Guinea – dark with red undertone
Trinidad – dark with warm, yellow undertone
New Orleans – dark with yellow undertone
Benares – dark with golden undertone
Khartoum – dark with espresso undertone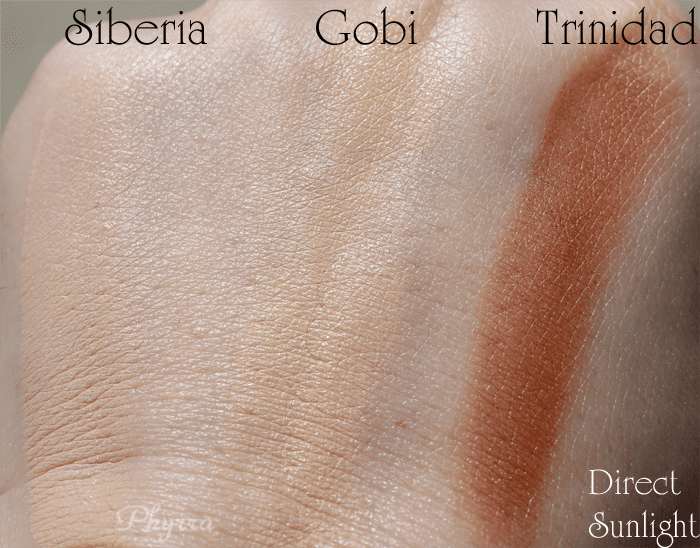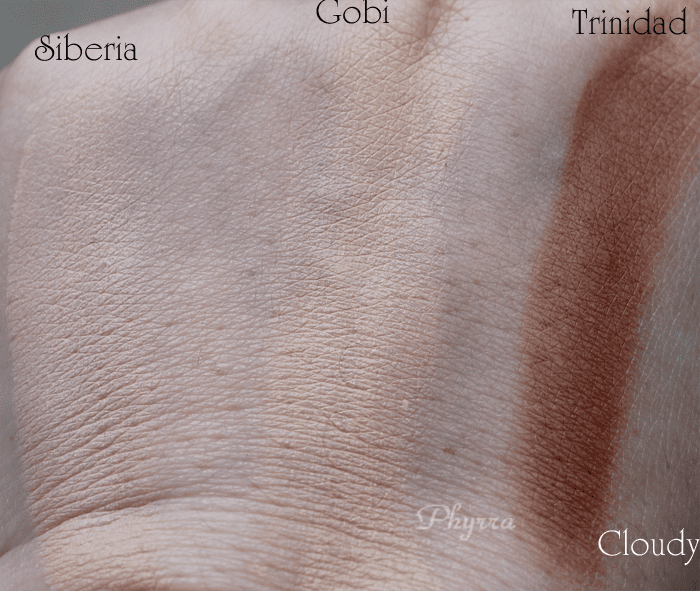 Hand Swatch
Siberia – Gobi – Trinidad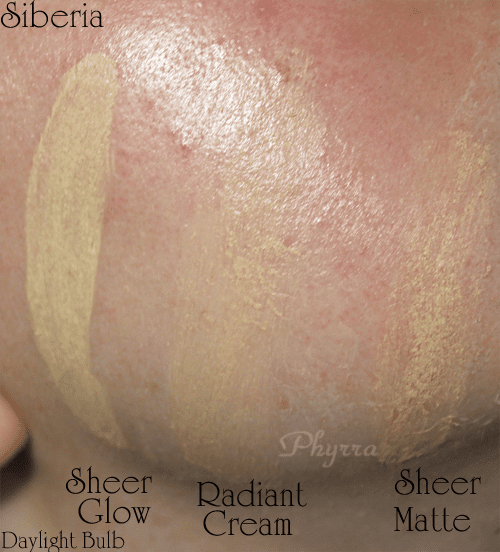 Face Swatch Bottom to Top
Sheer Matte – Radiant Cream – Sheer Glow (all Siberia)
I swatched all three shades along my jaw. You can see my annoying pink overtone from rosacea, as well as the differences in shades from the three foundation types.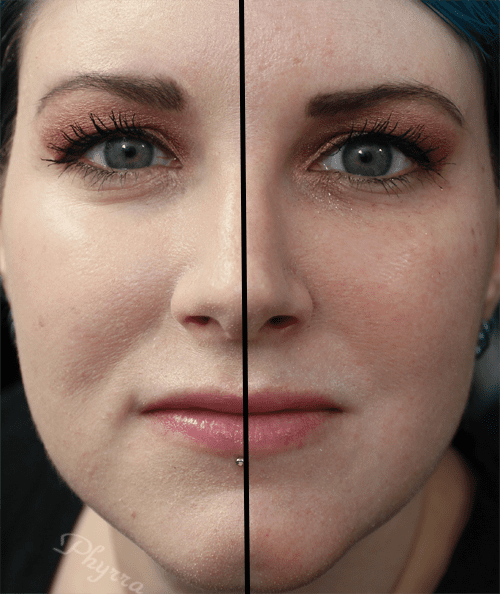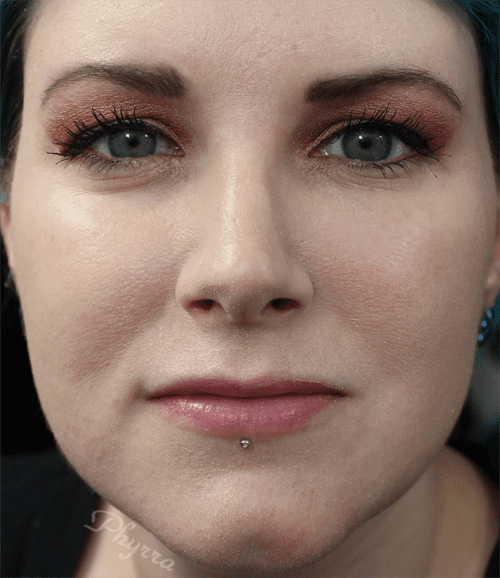 Siberia Sheer Glow was my first perfect match in liquid foundation. I love the hell outta this product. I didn't like the Sheer Matte as well, because it really emphasizes imperfections in my skin. Because I have rosacea (and despite my medication), sometimes my face is dry in places, where I'm oily in my t-zone (almost all the time), so matte didn't work  as well as I'd liked. In contrast, the Radiant Cream foundation is pretty awesome! It doesn't emphasize my dry spots!
You can apply this foundation wet or dry, with or without a primer. I've gotten the best results using it with a primer and a beauty blender. I do feel like a little goes a long way with the product when you're applying it. It really doesn't feel like you're wearing a heavy product at all. It's easy to build up to full coverage if you need it but I think it's medium coverage if you apply it normally.
I'm not a fan of the packaging for the product. While I do have the compact for my shade, since I don't use a sponge that can be stored in that packaging, it's wasted space in my makeup bag. I prefer to use a beauty blender with it, which doesn't fit into that compartment.
Overall, I really love the new Radiant Cream Foundation formula. It does a great job at hiding my skin's imperfections. It doesn't feel heavy or greasy. It matches me pretty well.  I like that it doesn't emphasize my pores. I'm a fan of liquid and cream foundations these days and this hybrid is definitely the best of both worlds.
What do you think of the new NARS Radiant Cream Foundation? Do you like cream foundations?