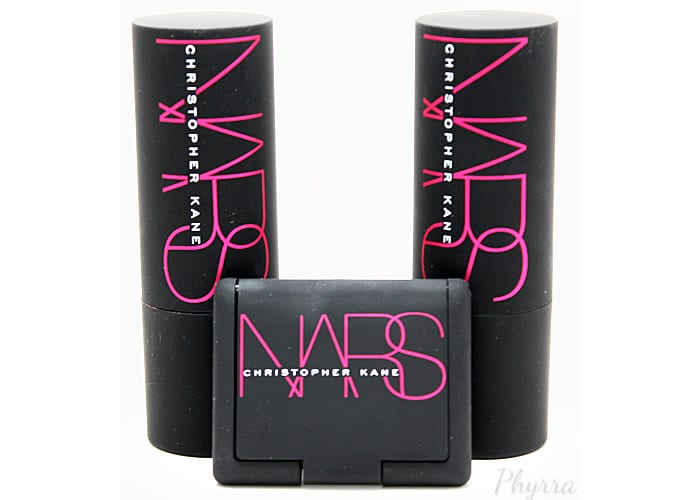 NARS recently launched the Christopher Kane Collection for Summer 2015. Called the NEONEUTRAL, it pairs Kane's edgy design aesthetic with NARS iconic beauty.
PR sample.
NARS Christopher Kane Collection
About the NEONEUTRAL Collection
It's the first fashion collaboration to feature a full line of Eyeshadows, Blushes, Illuminating Multiples, and Lip Glosses. Eyes are enhanced with iridescent rose gold, pink lilac, and violet. Cheeks are flushed with soft beige or hot pink. And lips are saturated in high-shine shades of neon pink and coral that subtly stain after the gloss is gone.
This collection is made up of Outer Limits (eyeshadow single), Parallel Universe (eyeshadow duo), Mezmer, Nebulous, Nucleus and Glow Pink (glosses, Starscape and Silent Nude (blushes), and Violet Atom and Quantum (Illuminating Multiples). All shades are limited edition and Quantum is exclusive to NARS. I have Outer Limits, Violet and Quantum to share with you.
Price
$25 eyeshadow
$39 Illuminating Multiple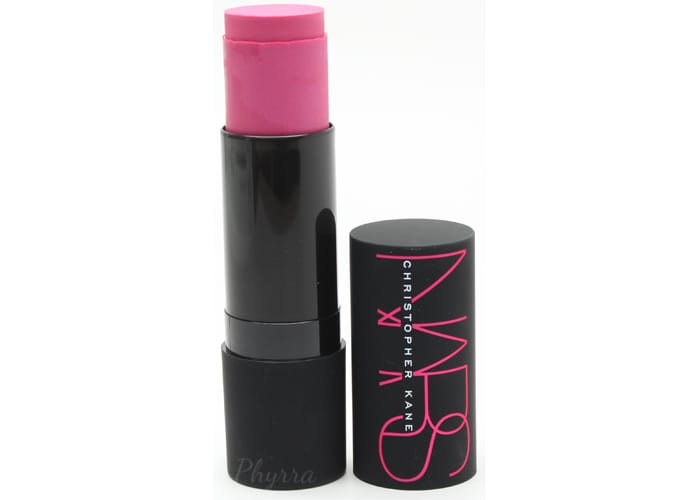 Quantum – sheer iridescent magenta. To me it's a sheer magenta and I don't really see any iridescence in it.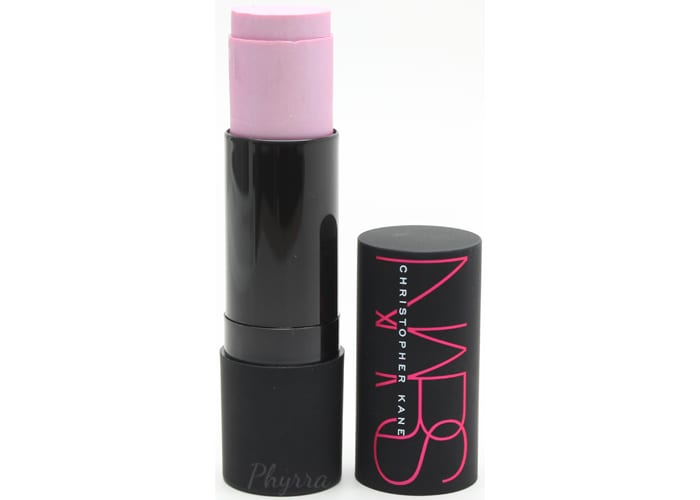 Violet Atom – sheer iridescent violet. This reminds me a lot of Urban Decay Tonic eyeshadow only in cream form. The base shade is a pale lilac. It has the same iridescent qualities and light turquoise blue shift if you catch the light just right.  It's really lovely.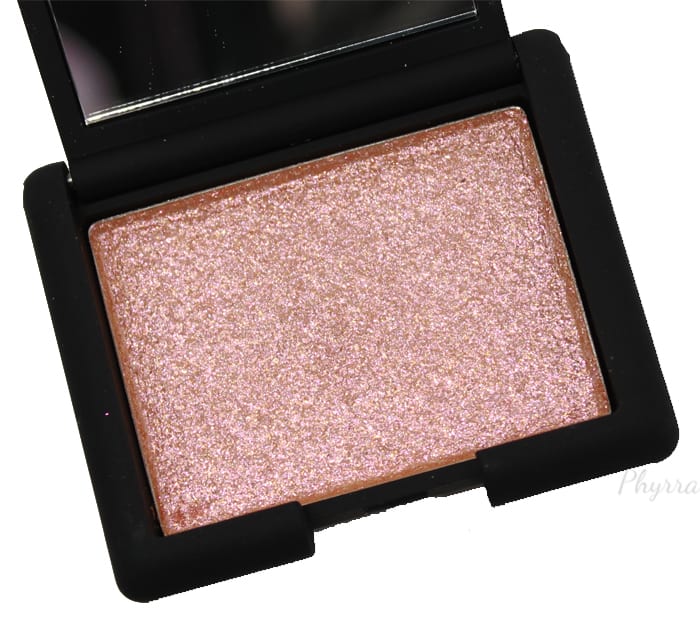 Outer Limits – iridescent rose gold. This reminds me a lot of Urban Decay Fireball, except with larger particles of shimmer. To me it's a peachy-orange with pink and gold sparkles. The name makes me think of the old Outer Limits tv show.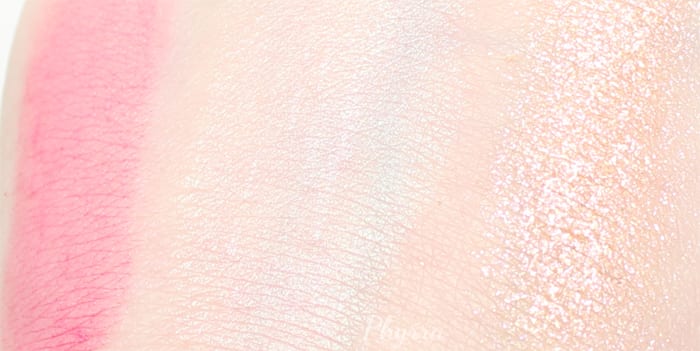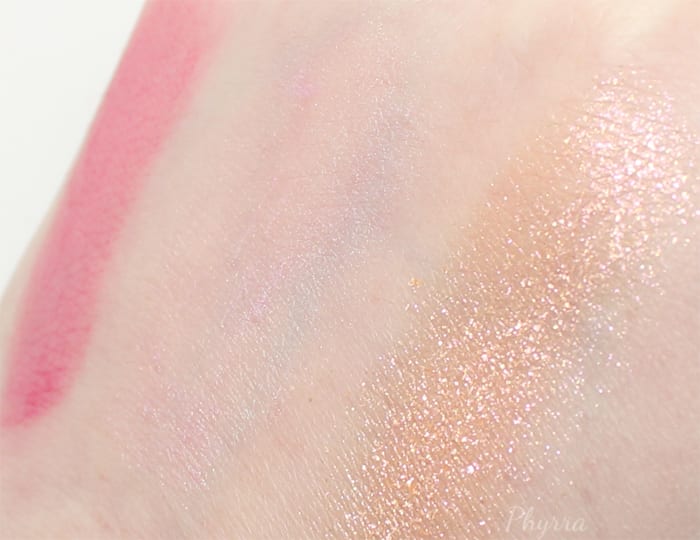 L to R – Quantum – Violet Atom – Outer Limits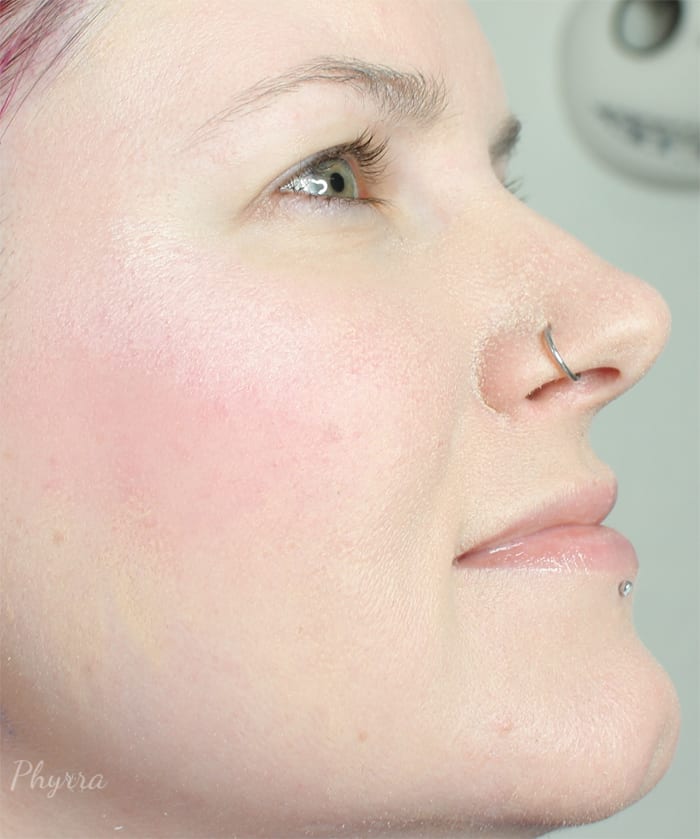 Both of the Illuminating Multiples are sheer. While multiples are meant to be used on eyes, cheeks and lips, I usually skip lips because they feel dry. I prefer them for the cheeks or sometimes to highlight the face. In the picture above I have Quantum on my cheeks as a blush and I have Violet Atom as a highlighter above it in a C shape. While I think you can wear Quantum on its own, you may want to layer another blush on top. With Violet Atom, it's gorgeous but subtle by my tastes, so you may want to use it for layering as well. I think Quantum would work best for pale skin, since it's so sheer.
Outer Limits is gorgeous, though I wouldn't have thought to call it an iridescent rose gold, I can see why NARS interpreted it that way.
When looking at the other NARS Christopher Kane summer collection, I find myself drawn to Starscape (neon pink) and Silent Nude (soft beige) blushes.
If you're thinking of ordering anything from the NARS Christopher Kane collection I recommend hitting the NARS website or Nordstrom. At NARS' site, you can use the coupon code MAYMINI15 to get a mini sample of Optimal Brightening Concentrate with any order.
What do you think of the NARS Christopher Kane collection? Do you like the NARS Collaborations?