It's a Makeup Wars Monday! I've got some gorgeous nail polish to try now for Spring and Summer to share with you. Not gonna lie, I've been reaching for brights over and over. Some of these are new shades and some are from my stash. I also have some other exciting nail polish posts coming up this month too. Right now, I'm into brights – purples, pinks and teal. I did choose a few muted shades, too.
Nail Polish to Try Now for Spring and Summer
PR + purchased by me.
Orly Teal Unreal is a teal blue creme, I think it's best for layering.
A England Whispering Waves is gorgeous. I think this is going to be my next mani. It has hints of pink, purple and gold that I couldn't capture here.
Femme Fatale Underlight is a sheer turquoise jelly with pink shift and glitter and shreds. I think it's best layered on top of other colors.
OCC Robohoochie's name cracks me up. This is a muted pinky-purple with shimmer. This is more muted and softer in person.
OCC Suspiria is a gorgeous vibrant pink with purple undertones. I love this!
Ginger & Liz Unbothered is a vibrant purple with pink tones. I wore this on my trip to NYC.
Emily de Molly Future Royale? is a gorgeous neon purple polish with color shifting flakies.
A England Crown of Thistles is a gorgeous rich purple holo.
A England Captive Goddess is a greyed blue holo with hints of purple around the edges. This is the softest of all the colors.
CrowsToes Hooker at Heart is a neon hot pink textured polish with holo glitters scattered throughout. It glows orange under blacklight. I swatched this one but then found out it was LE :/ You can add a topcoat to textured polishes like this if you don't like the texture / matte look.
CrowsToes The Bottom Line is another textured polish. It's a yellow-toned orange with silver microglitter. It's utterly unique in my collection. It's still available from some online stockists, but mostly it looks like it's sold out.
Baroness X Fluorofizz is a neon hot pink jelly with black matte and holo black circle and hex glitters. It glows pink under blacklight. I did 2 swatches above but you can get away with only 1.
Femme Fatale Love's Wound is a pink with green shift. I bought this color thinking it would have more purple tones to it but the bottle I received is definitely more pink-toned!
Girly Bits Defying Gravity is a nearly neon purple with a teal blue shift and scattered holo. This is the polish that Girly Bits made to help me commemorate my 7 years of blogging last year. Which reminds me, my 8 blogging anniversary is on Saturday.
Pretty Serious the Pink One is a gorgeous fuchsia pink with blue-violet shift. I love this one so much, I keep wanting to wear it over and over.
I did want to show you Femme Fatale Underlight layered on top of other shades. The top nail has Underlight layered on top of Orly Teal Unreal. The bottom nail has Underlight layered on top of A England Whispering Waves.
From left to right, Girly Bits Defying Gravity layered on top of Ginger & Liz Unbothered, Emily de Molly Future Royale? layered on top of Unbothered, Future Royale? layered on top of OCC Suspiria, Defying Gravity layered on top of Suspiria.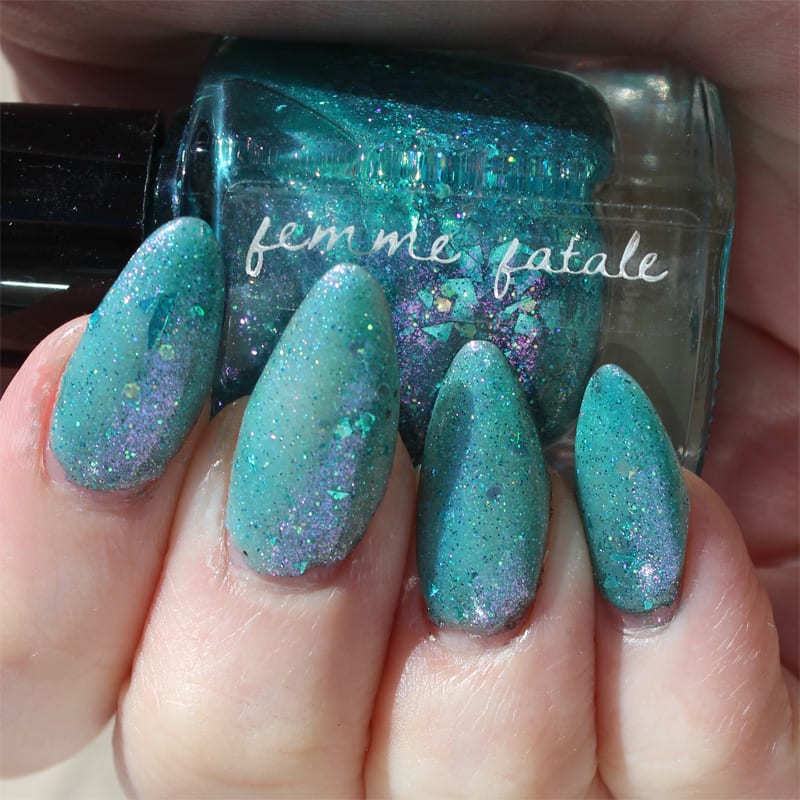 So these are my top picks today. I hope there are two or three that catch your eye!
What do you think of my picks for spring and summer nail polish?
Loading InLinkz ...
Last Updated on