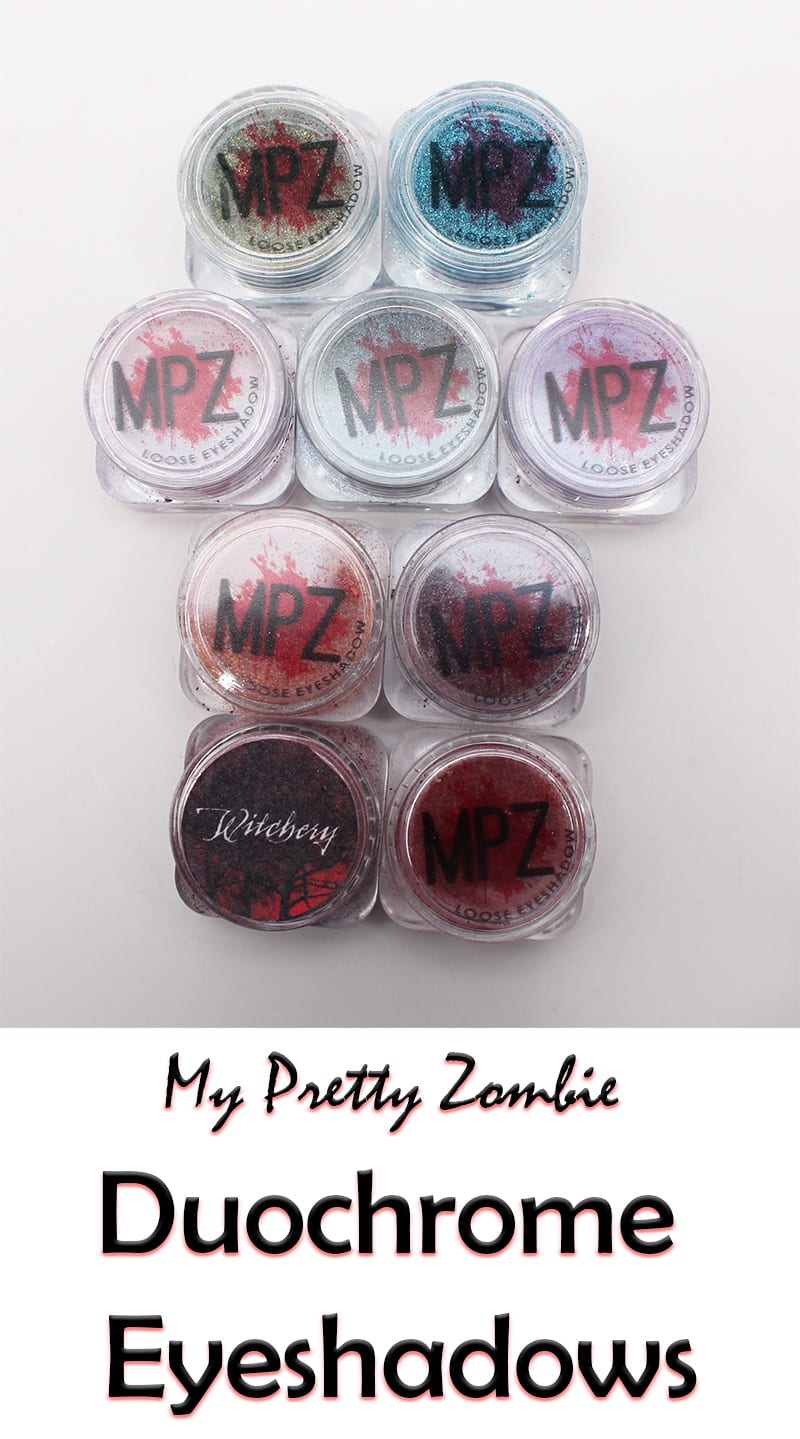 Today I'm bringing you My Pretty Zombie Duochrome Eyeshadows Swatches and Review. I bought these after Tori from Biohazardous Beauty raved about them in our Favorite Indie Collaboration. My Pretty Zombie is cruelty free and many products are vegan.
My Pretty Zombie Duochrome Eyeshadows
Where to Buy
My Pretty Zombie
Price
$5.00 for a single eyeshadow
You can also buy different sets and get discounts the more you buy. I bought my eyeshadows in a set of 9.
$15 3 eyeshadow set
$20 5 eyeshadow set
$24 6 eyeshadow set
$28 7 eyeshadow set
$32 8 eyeshadow set
$36 9 eyeshadow set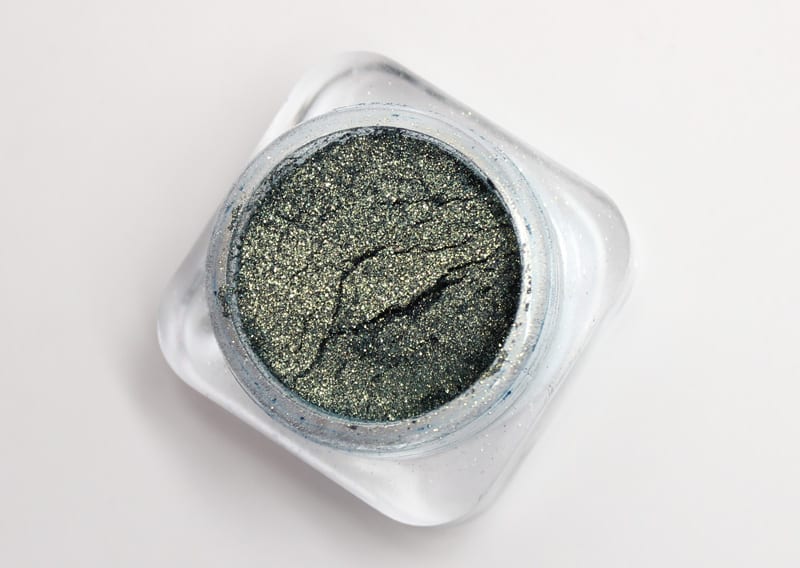 Infirmity (vegan, not lip safe)
Mossy green/blue base
A teal green blue base with gold shift and gold glitter. This is another really pretty color. It basically steals the show. It's got a lot going on between the warring blue and green tones and the gold glitter.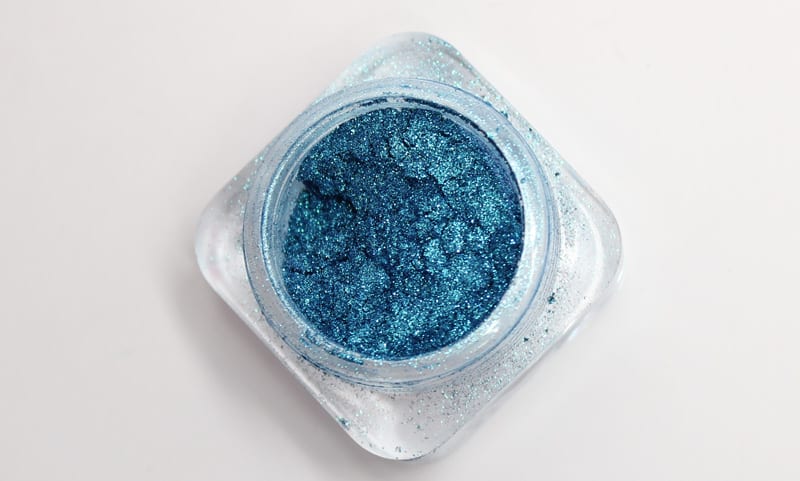 Forsaken (vegan, not lip safe)
Turquoise/blue base
Midtone teal blue base with turquoise blue shift. I love this color! It's super sparkly.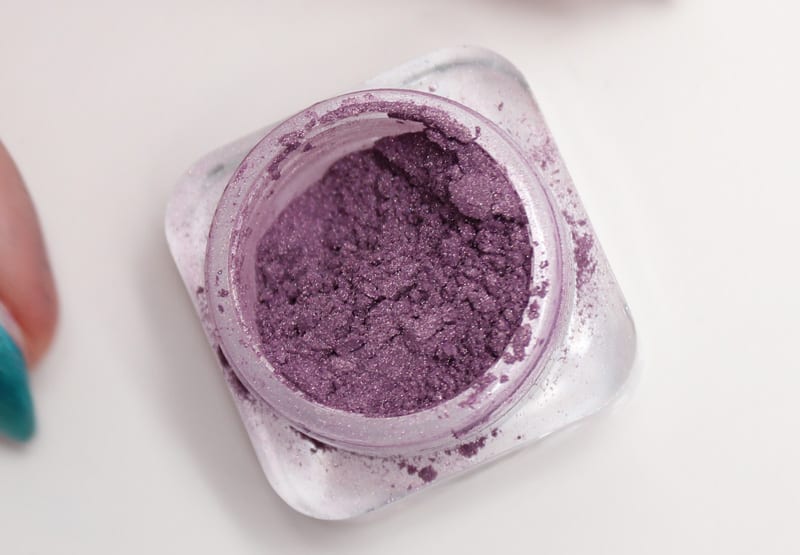 Hoof & Mouth
Blue to purple with a pink and silver shift
Midtone orchid purple with pink and silver shift. I think this is a delicate and pretty shade. It's one I need to try with Pixie Epoxy.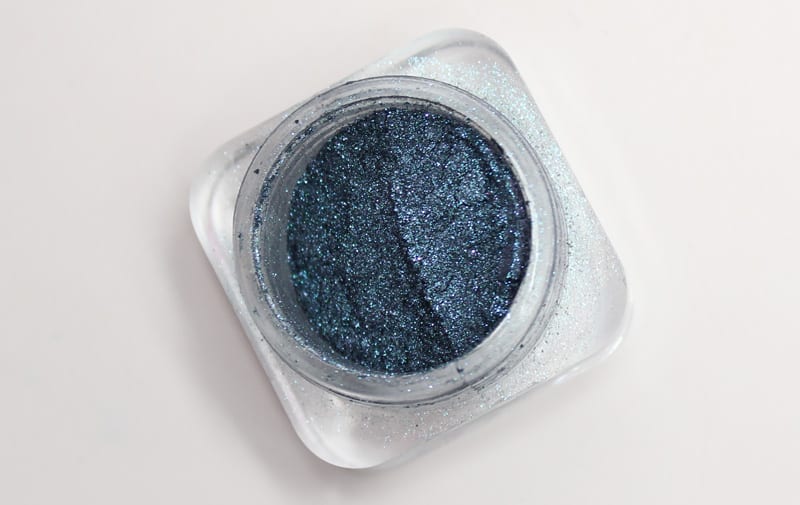 Goth Mary Poppins (vegan, not lip safe)
Blackened Purple Blue
A black base with blue shimmer and hints of purple twinkle. I like this color. It is very glittery, so if you don't like that, I would skip it. It would be gorgeous foiled as  a liner, though I like it without foiling too.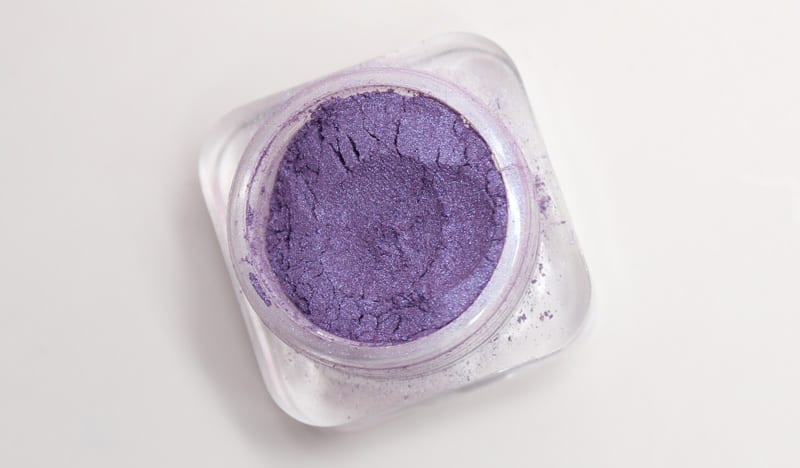 Mad Cow
a mid tone purple with a blue shift
Gorgeous purple with a blue shift. Similar to the Natasha Denona Electric Violet. If you've been coveting that color, buy this one instead, it's like 1/5 the price. It might be my favorite from this set.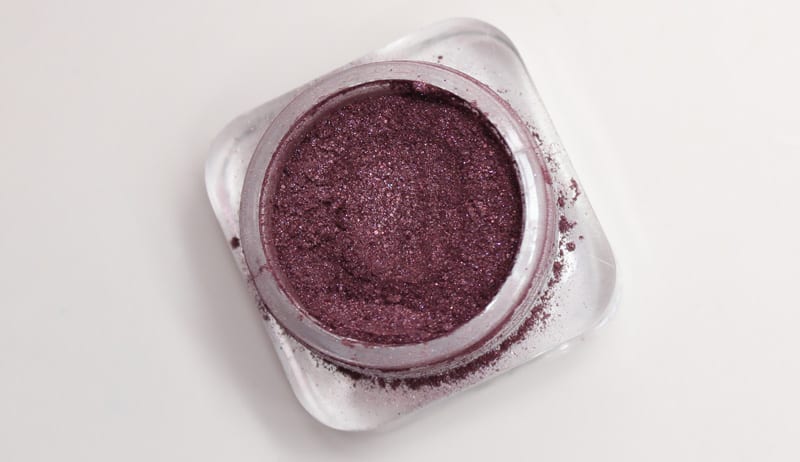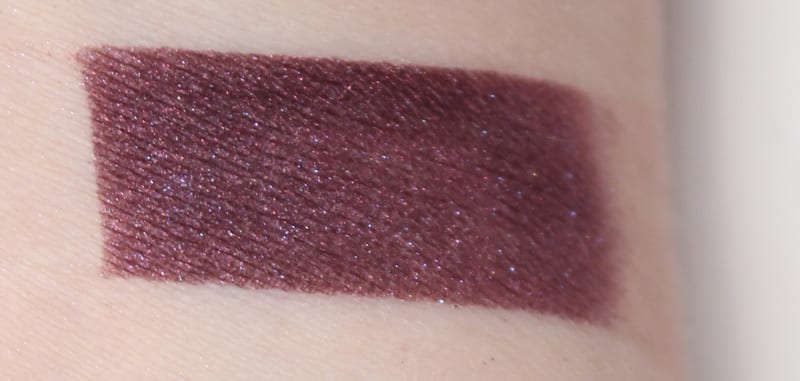 Katrink
a burgundy purple with piles of multi colored pink glitter!
This is a gorgeous deep burgundy wine with pink sparkles. I love this color! It's a lot of fun to wear. It definitely looks more purple when you pair it with purples and works nicely with reds too. If you are looking for a great burgundy shade, I recommend this one. It didn't let me down.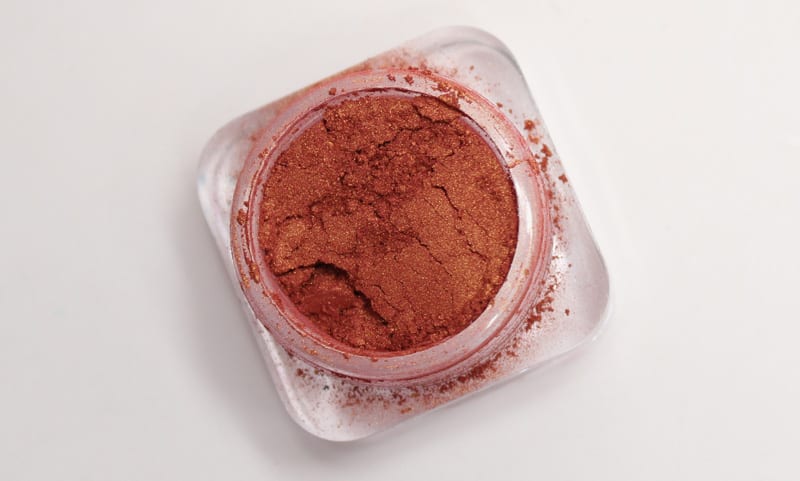 Brisket
red with gold shift
Warm red with a gold shift. This is a gorgeous color and it's great for a halo eye. The gold shimmer is so prominent in it, even when applied dry. This reminds me a bit of Darling Girl Helle's Belles, except Helle's Belles is a cool-toned red with a gold shift.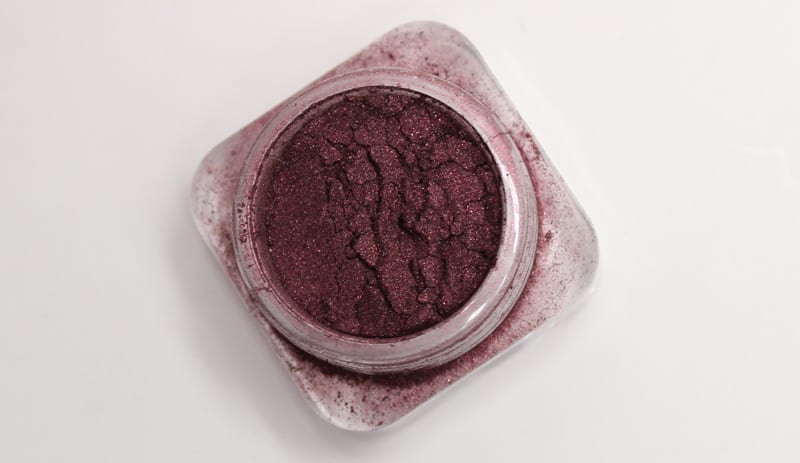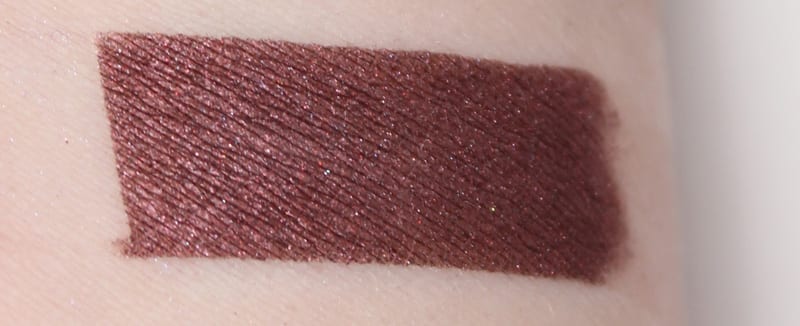 Witchery (vegan, lip safe)
a dark burgundy red with shimmer
Deep burgundy with brown undertones and red shimmer. I was disappointed that this had brown tones to it but it's still a nice color. Love the name.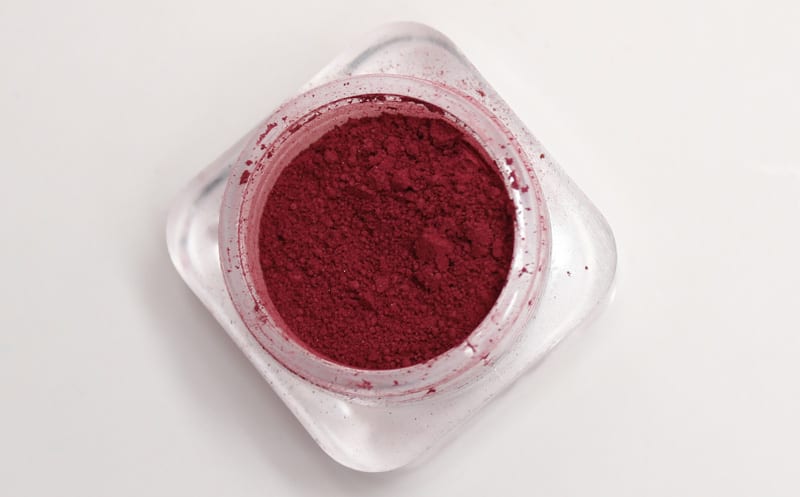 Fresh Scab
dark red matte
A deeper than midtone red matte. I really like the texture of this matte and I found it very easy to work with. I will be buying other matte shades from My Pretty Zombie because of how well this worked for me.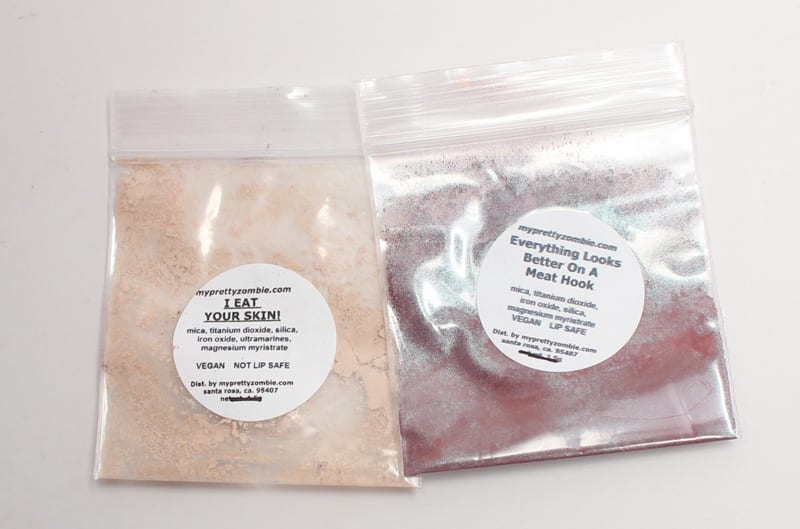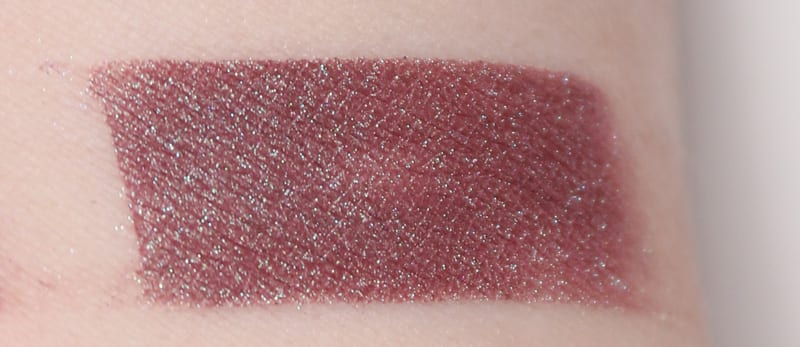 Everything Looks Better on a Meat Hook (vegan, lip safe)
a brown plum that rubs down maroon. Green shift.
Deep brown with a hint of plum and green shimmer. This is one of those colors that everyone seems to have a version of. This is more plummy than the red-toned one you usually see. I really dislike the name of this one.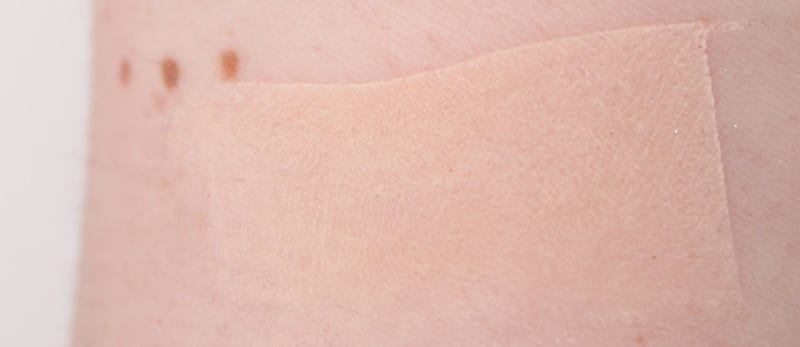 I Eat Your Skin (vegan, not lip safe)
a totally boring matte neutral beige
Light beige matte. I really dislike the name of this one.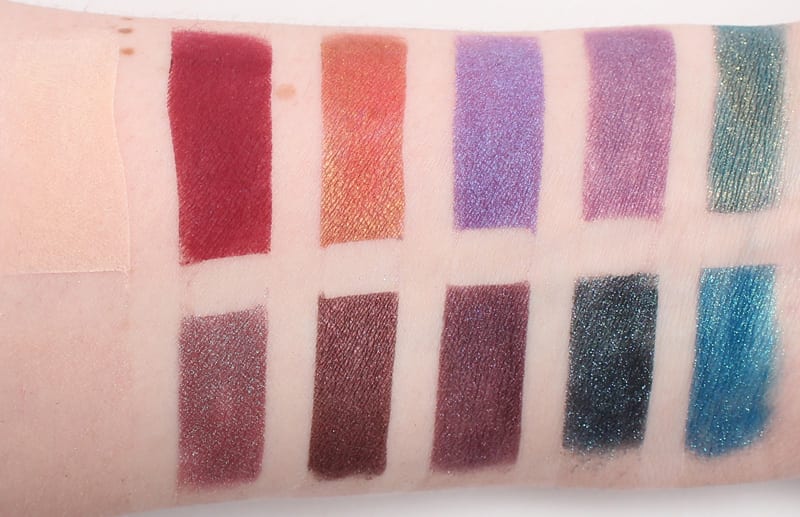 Row 1 – I Eat Your Skin – Fresh Scab – Brisket – Mad Cow – Hoof & Mouth – Infirmity
Row 2 – Everything Looks Better on a Meat Hook – Witchery – Katrink – Goth Mary Poppins – Forsaken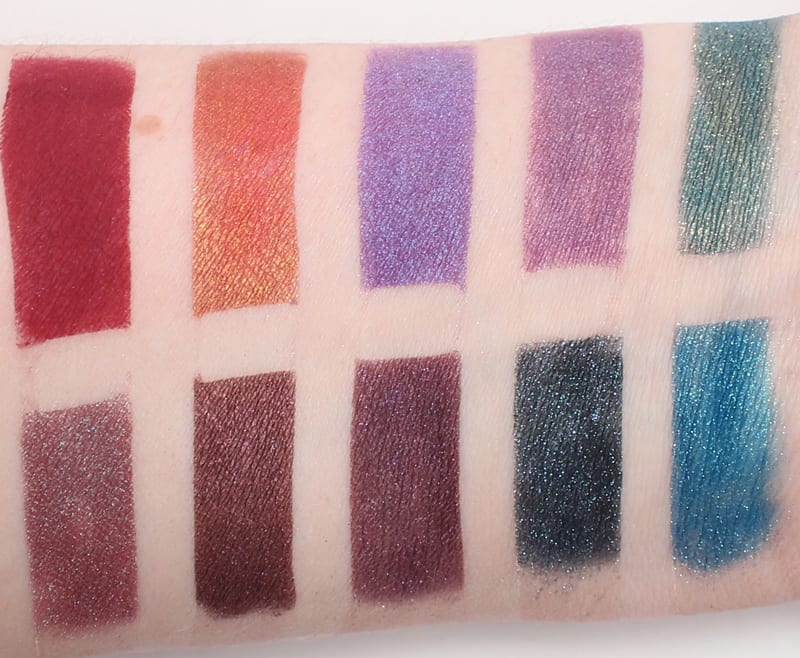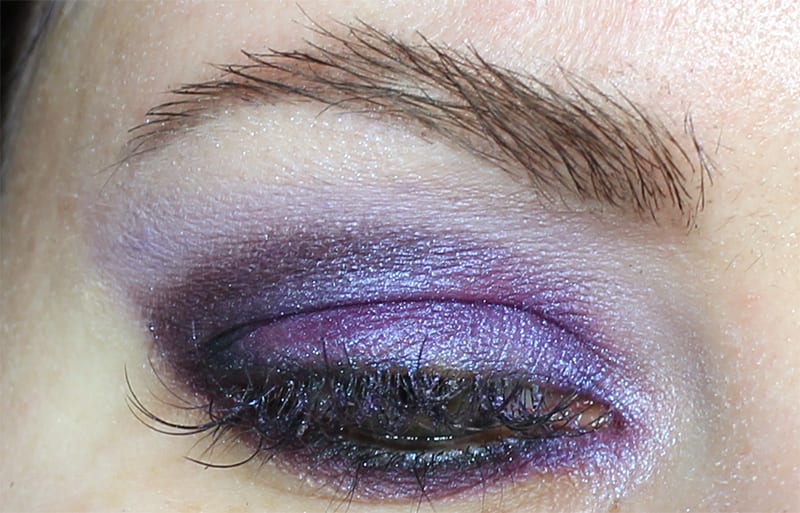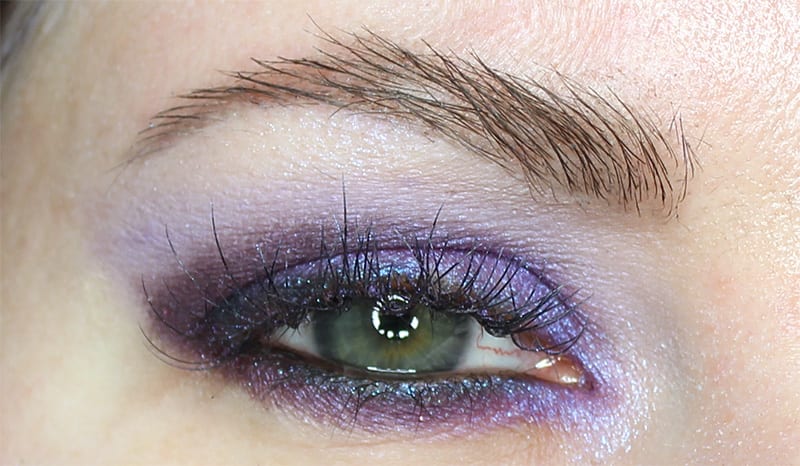 Products Used
Too Faced Shadow Insurance
Jeffree Star China White – base shade
Katrink – lower lid, crease
Mad Cow – lid, inner lower lid
Makeup Geek Hopscotch – to blend out the edges of Katrink in the crease
Goth Mary Poppins – lower lash line, outer upper lash line, outer corner of lid
My DIY Highlight of TKB Indigo Shift – inner corner and under brows
Urban Decay 24/7 Pencil in Zero
Nyx Microbrow Pencil in Black
Glossier Boy Brow in Black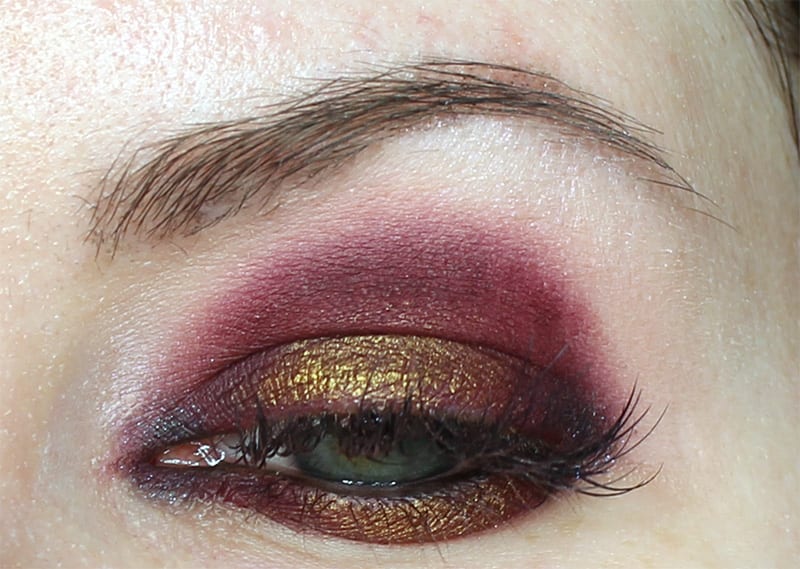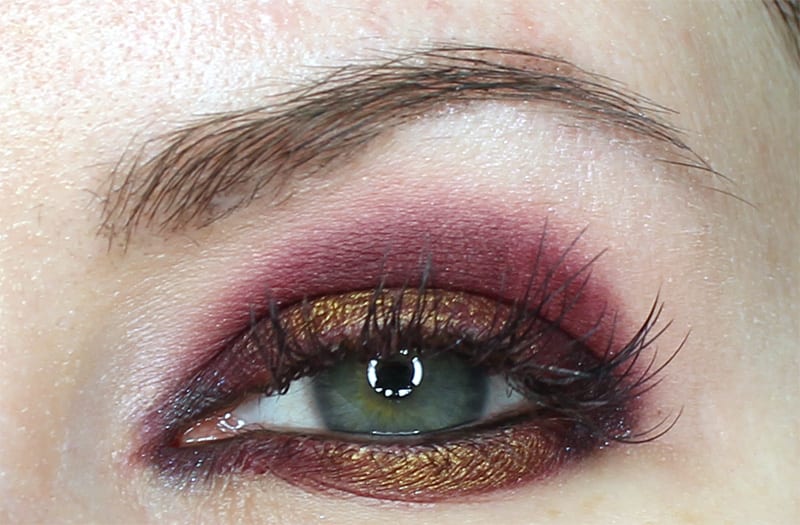 Products Used
Kat Von D Lock-It Primer in Fair
Jeffree Star China White – base shade
Fresh Scab – lid, lower lid, hood
Brisket – center of lid and center of lower lid
Goth Mary Poppins – inner corners and outer corners
My DIY TKB Sunrise – highlight under eyebrows
I tried My Pretty Zombie about 5 or 6 years ago and had an ok experience with the company (and a less than stellar one from a super fan who didn't like my review), which caused me to write the company off as one I wouldn't purchase from. Tori urged me to reconsider, and since she loves them so much, I did.
The My Pretty Zombie website is a little weird to order from. If you want to see the ingredients, the only way I can find them is by putting the color name into search. Then the ingredients (as well as vegan status), will show up in search. This is also the only way I could find to seach for matte finish. All the color swatches show up on Tori's eye, which is really cool. You get a good feel for how the eyeshadows look and match up to their color description.
The jars are semi-unique, in a rounded square 5 gram jar that holds around 1.5 grams of eyeshadow. Not a lot of brands use this style as most use completely rounded jars. The nice thing about this style is that it's easy to stack them on top of each other. The price of $5 an eyeshadow, or $4 if you buy 9 at a time like I did, is not bad at all. 1.5 grams of product is roughly .053 oz. For comparison, Makeup Geek is $6 for .064 oz, Fyrinnae is $6.75 for 3 grams / .105 oz. and Urban Decay is $19 for .05 oz.
Since my first order, I've ordered twice more to try out more shades that I'll be featuring. One thing that I wasn't fond of was that each order comes with a fake severed finger. I know it fits with the company theme, so I get it. It's just gross to me. I did recently see that you can ask for a kitten instead of a finger, which I definitely would prefer!
I found the eyeshadows I purchased to be nicely formulated and the colors are fairly unique. The names are mostly fun to me, though there are a few I actively dislike. I do find I get all day wear on primer. What I found particularly interesting is that I do not have to foil the shades to see some of the color shifts, as they're very prominent. I like this! Of course,  you can always use something like Pixie Epoxy anyways, to make the shades stand out even more. I haven't experienced any of the colors making my eyes itch (sometimes glittery shades can do this at my inner corner.
What do you think of My Pretty Zombie? Have you given them a try?
More to See
Last Updated on