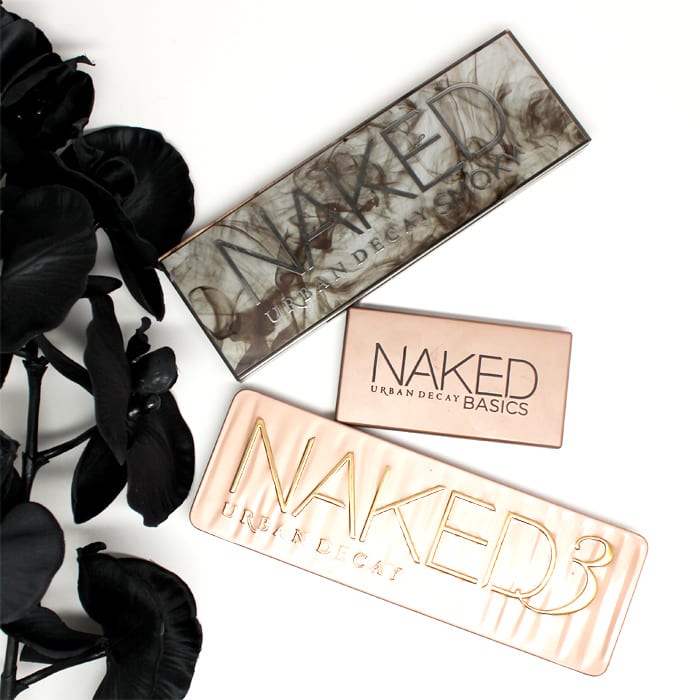 I wanted to share my favorite Urban Decay Naked palettes with you today. Urban Decay has a TON of Naked palettes out there, so it can be hard to choose between them. I'm going to explain why each of these makes the cut for me, plus share my comparisons and looks on these palettes.
Press sample.
My Favorite Urban Decay Naked Palettes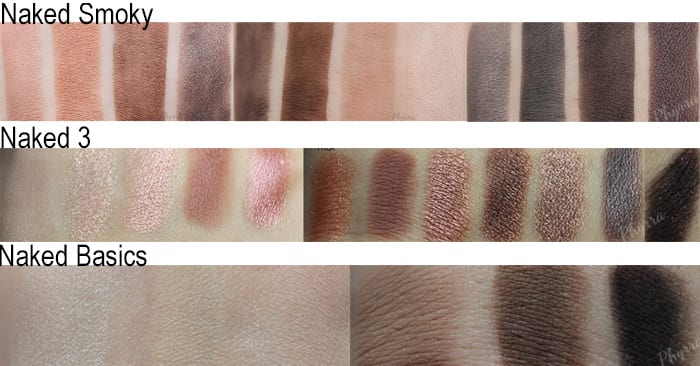 Urban Decay Naked Basics Palette
The Naked Basics palette was the first Naked palette that I owned and I fell in love with it. It's 5 mattes and 1 demi-matte shadow. The palette is very small, fitting into the palm of my hand, yet it contains 6 full size eyeshadows. The shade Walk of Shame is one that I hit pan in my original WOS single, and I've hit pan on it in my palette, too. It's my perfect base shade and it's great for helping to blend out the edges of other colors.
Crave, the deepest shade, is a brown black that works to fill in brows in a pinch if you have dark hair like me (you could also use Naked 2 in the palette for this), it also is a great liner. Plus, if you take a small brush you can smudge Crave through the roots of your lashes to make your lashes look fuller and your eyes look bigger. Venus is a nice subtle highlighter for at the inner corner of the eyes or under the brow. Foxy can be used as a transition shade and Faint works well as a crease color.
This palette is indispensable for me. 99% of the time when I travel, it comes with me because I pair it with brighter colors and duochrome shades. Naked Basics is infinitely more flattering on my skintone (between N0-N10) and dark hair than the Naked 2 Basics. See my original review. See my Naked Basics tutorial.
Urban Decay Naked 3 Palette
After swatching Naked 1 and Naked 2 in stores, I decided not to buy them because I felt like they would just go muddy on me because of all the brown shades. Brown eyeshadows are a struggle for me because they often just don't look right to me at all. I need higher contrast because of my pale skin and dark hair, so a palette of mid-tone browns is a no no for me.
Naked 3 was a change because it's made up of mostly rosy neutrals. There are a few brownish shades, but they've either got pink shimmer or they're taupes. Because of that they manage to be flattering rather than a muddy mess on me. Blackheart is my absolute favorite shade in the palette because it's a warm black with coppery red micro-sparkle. It's stunning. Darkside is a very flattering grey taupe pearl. Trick is a gorgeous rose gold with iridescent pink micro sparkle. Buzz is a pretty rosy pink metallic. Strange is the PERFECT pale beige pink matte base shade. Burnout is a gorgeous rosy pink with peach undertones pearl.
These colors are very flattering on my blue-green eyes. See my original review. You can also see my awesome Blackheart tutorial and my Rose Gold Cat Eye tutorial.
Urban Decay Naked Smoky Palette
This is the latest in the Naked Palette craze. I had mixed feelings about the palette initially. On the one hand, I was happy because it was mostly cool-toned and filled with greys (which I think greys are ultra flattering on my blue-green eyes). On the other hand the texture was harder than most of my Urban Decay eyeshadow singles.
I feel like there are a few colors that just don't belong in this palette, namely Whiskey (since it's a warm brown) and Radar (another brown shade I'm not fond of). But I love Dirtysweet (a light golden bronze), Armor and Slanted and Dagger and Password (grey shades). I really love Smolder which is a dark purple taupe, though initially I was disappointed that it wasn't more purple toned. Thirteen and Combust are awesome pink-toned shades. High is a pretty pink champagne. See my original video on this palette. You can also check out my comparison to the Kat Von D Innerstellar palette.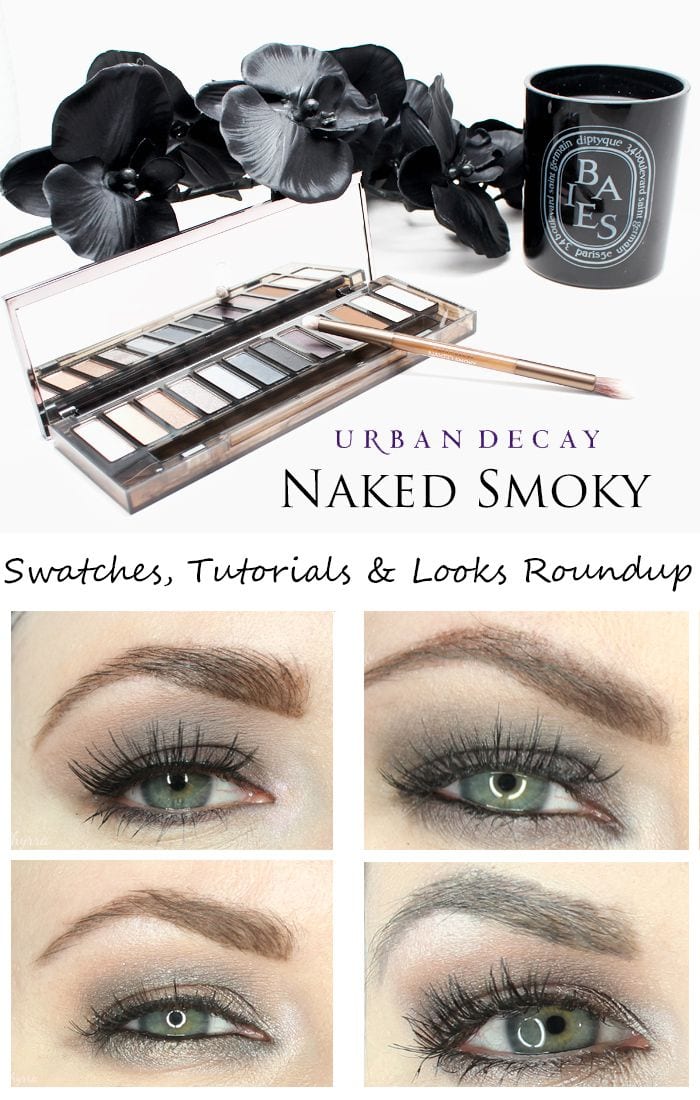 The more I use it, the more I've come to appreciate it. My Naked Smoky Kindness look is my favorite. I also really adore my Naked Smoky Smolder look. My Everyday Naked Smoky look was nice. The Everyday Naked Smoky tutorial experimented with Dirtysweet.
Other Urban Decay Naked Palettes
Naked 1 – A bronzey brown palette with matte, satin, shimmer and sparkly shades.
Naked 2 – warm brown and taupe neutrals in a mix of finishes.
Naked 2 Basics – light taupe mattes. See my original review, my awesome tutorial,  & my Naked Basics vs. Naked 2 Basics vs. Pulp Fiction palettes.
Naked on the Run – metallics in rose, taupe and bronzes, brown matte and cool bisque satin. See my video review. You can also check out my Naked on the Run tutorial.
Honorable Mention (not an official naked, but still a neutral)
Pulp Fiction – a great little palette for travel with cream and brown mattes, taupe brown white and black satins, and a cute red brush. This is a great palette because you get more contrast with the black and white shades in it. See my review. You can also check out my fun tutorial.
What are your favorites from the Urban Decay Naked Eyeshadow family? Let me know below!