My Current Obsessions
Hey friends, it's great to see you. Today I thought I'd talk about my current obsessions. These are the random things I've been loving over the past 6 months or so. From music to makeup, fashion to YouTube, I spill my secret obsessions with you.
Smart & Sexy Lace Deep V Bralette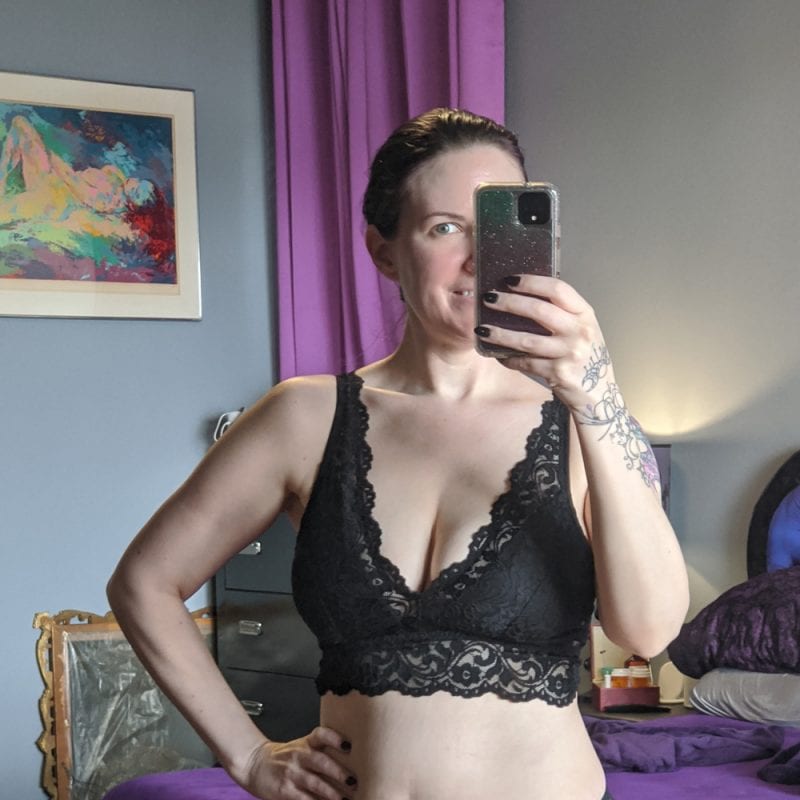 Click Here to Buy the Smart & Sexy Lace Deep V Bralette
I haven't wanted to wear to wear a bra with underwear for quite a while. I wanted something that felt sexy, but was comfortable, wire free and that I'd enjoy wearing every day. It needed to be fancier than my Tomboy X Bralettes. My favorite wired bra is the Curvy Kate Lifestyle Plunge Bra, so I was hoping to find something that I enjoyed wearing as much as that.
I went searching on Amazon, because that's where I look for a ton of my wardrobe staples and found the Smart & Sexy Lace Deep V Bralette. I was worried about sizing because I'm a 30FF UK for bras. I took a chance on one of these bras and ordered a size Large, hoping it would fit my chest. Thankfully it did! I've now bought this in Black, Anthracite (grey), Blue Radiance (light turquoise blue), In the Buff (light beige), and Indigo (blue with a purple undertone). I wish it came in a true purple and deep green, too, because I'd wear those colors!
The Smart & Sexy Lace Deep V Bralette is my daily wear bra and I love it! It's one of my current obsessions because it's comfortable, it's sexy, and it fits my large chest. I remove any pads that come in bras like this because I do not need extra padding. I do put these into a bra bag and wash, then hang them to dry so that they will last longer. And the pricing on these bras is pretty fantastic at around $12.
Newchoice Lightweight Cardigan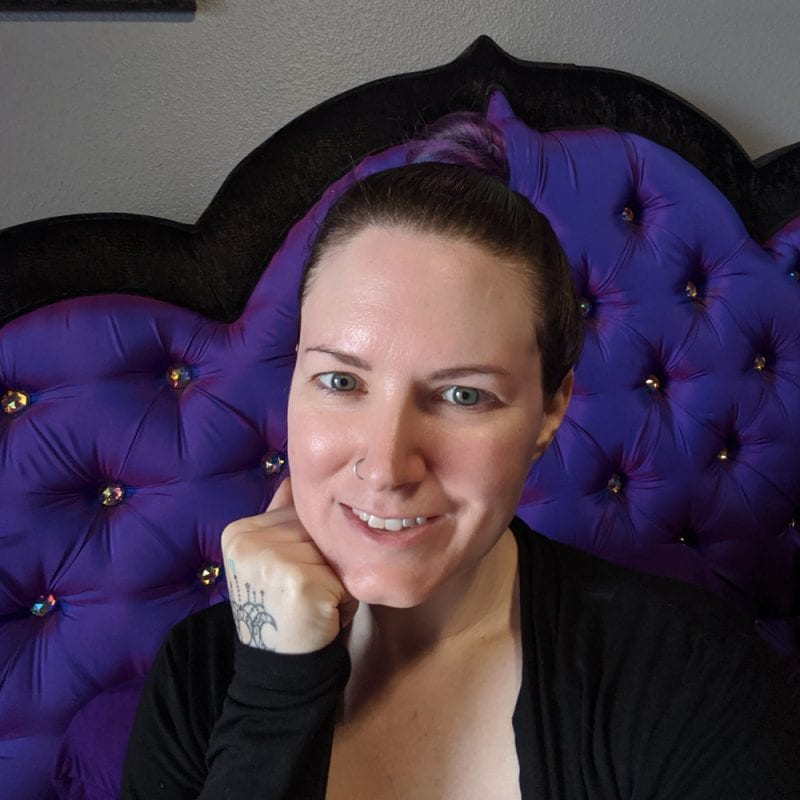 Click Here to Buy the Newchoice Lightweight Cardigan
If you have ever lived in a hot, humid climate, you might have experienced the challenge of trying to balance keeping covered but not smothered when you're sleeping. It's challenging for me to find something I'm comfortable wearing to sleep in. My arms poke out from under the blanket because I'm typically holding a dog or two, so I need sleeves for them, but nothing else.
After asking for suggestions in my friend Cora's amazing Facebook Group, The Lingerie Addicts, I found the Newchoice Lightweight Cardigan the perfect solution to my sleeping problem! This cardigan is very lightweight and does a great job of giving me just enough coverage on my arms but not making me overheat. I've purchased this in black, burgundy, animal print and purple in size Medium. It comes in a ton of other colors too.
The Newchoice Lightweight Cardigan has made it more comfortable for me to sleep temperature wise, which is why it's one of my current obsessions. Now if I could only consistently get better deep sleep! I'm averaging around 25 minutes a night right now because of stress.
This little Newchoice Lightweight Cardigan jacket that I use for sleeping will set you back $19.99, so not bad at all. It's made of 95% viscose and 5% spandex.
Foxblood Luna Razorback Jumpsuit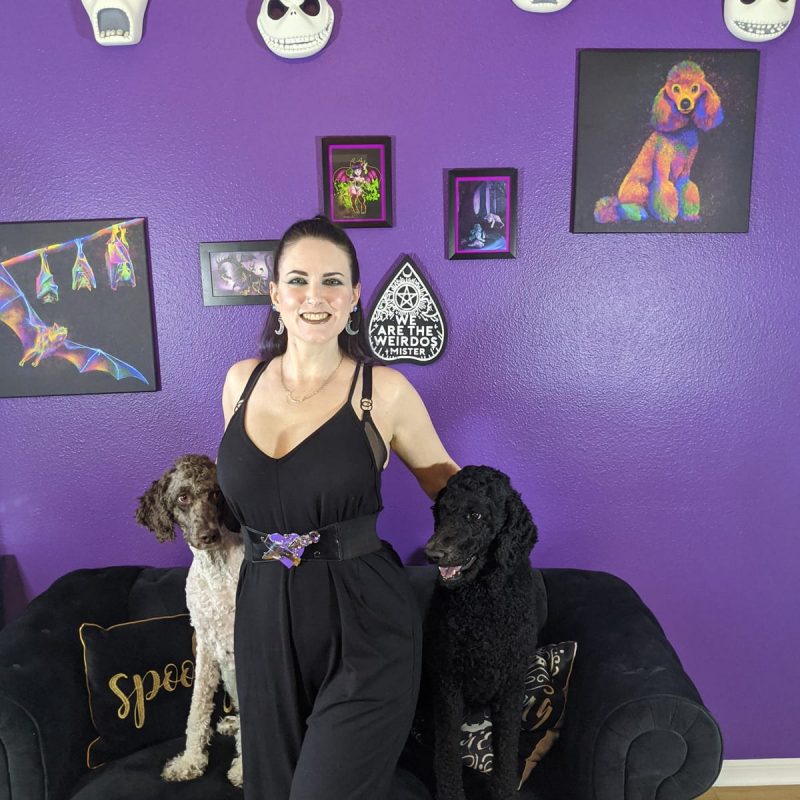 Click Here to Buy the Luna Jumpsuit
As you know, I'm obsessed with indie brands! I love supporting indie businesses whenever I can. I bought the Foxblood Luna Razorback Jumpsuit after seeing my friend Dawn wearing some Foxblood. By the way, if you are looking for a gorgeous gothic goddess to follow, follow my friend Dawn at Stygian Siryn! I am SO GLAD I took a chance on this jumpsuit because it's so comfortable it's all I want to wear. It has actual pockets, which means I can fit my Google Pixel 4 phone in them with ease.
Yes, my current obsessions in fashion are filled with pockets. I'm so sick of brands designing clothing without them. I've also got the Raven Maxi dress with pockets, the Summer Nights Tie Top jumpsuit with pockets, and one of the Rhiannon flowy tops.
I LOVE the Luna Razorback Jumpsuit because it's made out of this amazingly soft ponte fabric. I can wear it by itself or with any of my cute belts and it looks great. I had Elvira vibes wearing it the other day with my Elvira Dagger Belt and Gonk Purse. I purchased size Medium because I wanted to make sure I'd have enough coverage for my chest. Zero regrets!
Billie Eilish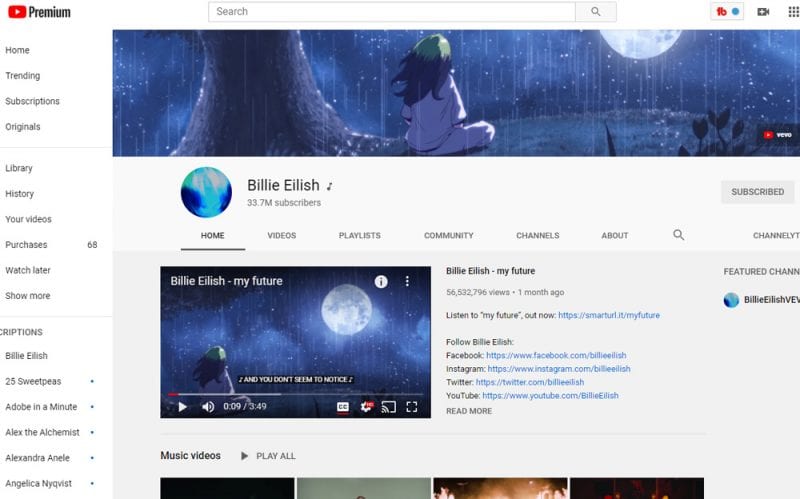 Click Here to Subscribe to Billie Eilish on YouTube
When it comes to music, I feel like I'm an old witch in the woods and never hear about new bands I might love. I don't listen to traditional radio for the newest hits. There's no goth music station that I know of, either. When I'm in the car I have Sirius XM and I do listen to a few stations on there, usually electronic music or 90s grunge, but none that introduced me to Billie Eilish.
My bestie Jade told me I'd been sleeping on Billie Eilish and she thought I would love her music. Songs like Bad Guy, You Should See Me in a Crown, Ocean Eyes, My Boy, My Strange Addiction, Wish You Were Gay, All the Good Girls Go to Hell, and the End of the World get stuck in my head constantly. That's why I'm listing Billie Eilish as one of my current obsessions.
The Neidharts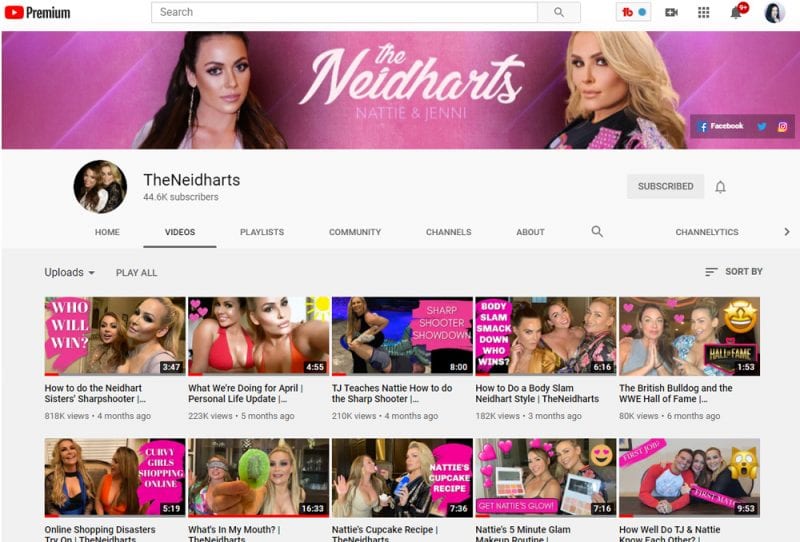 Click Here to Subscribe to Jenni & Nattie on YouTube!
While I haven't made as many videos for my own YouTube channel, I've still been obsessed with YouTube! I love helping my friends Jenni and Nattie grow their YouTube channel. I edit all the videos for their channel and they are hilarious. They are my friends and I miss getting to spend time with them, Mickey & Nick in person because of COVID. Please give them a follow, I promise you'll enjoy their videos. Jenni and Nattie are absolute sweethearts. I never had a sister growing up and I wish I did! Their relationship is so amazing. Follow Jenni & Nattie on Instagram.
My Origin Laptop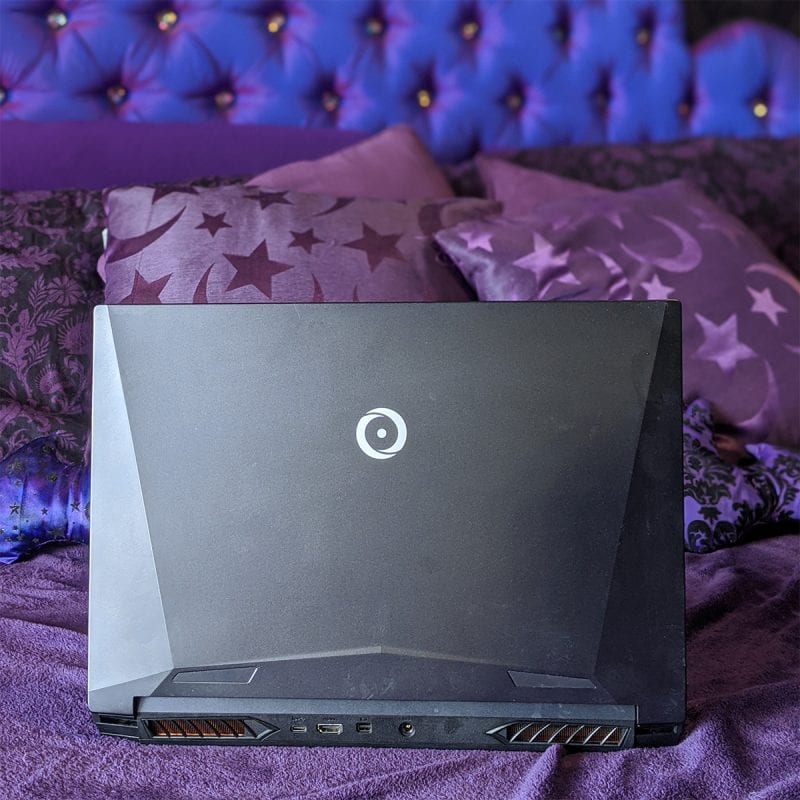 Click Here to Check Out Origin PC
Every few years I buy a new laptop. My new Origin Laptop is one of my current obsessions. My last laptop was a custom Falcon Northwest laptop. While I loved it, there were a few reasons I didn't go with Falcon Northwest again this time. First, FNW is on the West Coast. Origin is here in Florida on the East Coast. This means if I have any issues with my laptop, which I made sure to get a 3 year warranty on, it will be faster to get it serviced. Second, Origin was less expensive than Falcon Northwest. Third, Origin makes great laptops and desktops. Dave has built two Origin PCs (one for work, one for gaming), which run beautifully.
Prior to that you may remember that I had a Razer laptop. I would never buy another Razer laptop after my awful experience with their build quality and their customer service. However, I would absolutely recommend Falcon Northwest and Origin.
This time I put together an Origin EON15-X AMD. It has the following specs:
Motherboard : EON15-X AMD
Processors : AMD Ryzen 9 3900 12-Core 3.1GHz (4.3GHz Max Boost)
CPU : Thermal Compound
Display Type : FHD 1920 x 1080 15.6″ IPS level 144Hz Matte Display
Screen Calibration : Screen Calibration
Graphics Cards : NVIDIA GeForce RTX 2070 8GB GDDR6 Max-P [VR Ready]
GPU : Thermal Compound
Memory : CORSAIR VENGEANCE 32GB 2666MHz (2X16GB)
Operating System : MS Windows 10 Professional
Hard Drive : 1TB Samsung 970 EVO Plus NVMe M.2
Hard Drive : 2TB Samsung 860 PRO Series
Audio : Integrated High-Definition Audio
Networking : Intel Dual Band Wireless-Wi-Fi 6 AX200 + BT M.2
Media Card Reader : Media Card Reader
Integrated Camera : Built-in 2.0M FHD Video Camera
The ORIGIN Difference : The Best Gaming Experience Guaranteed
ORIGIN Maximum Protection Shipping Process : ORIGIN Wooden Crate Armor
24/7 U.S Based Warranty : 3 Year Part Replacement with Free Shipping
This machine is insanely fast for video editing and photography work. I love it. It's also a beast when it comes to gaming. I've yet to find a game it struggles to run.
I love the built-in media card reader that works seamlessly with my Canon 80D camera cards. I do wish this laptop had a few more USB slots though for my accessories though.
I'll be playing Path of Exile Heist League soon, starting this Friday, with Dave. I'll be playing World of Warcraft Shadowlands once it launches.
Gothic Wall Art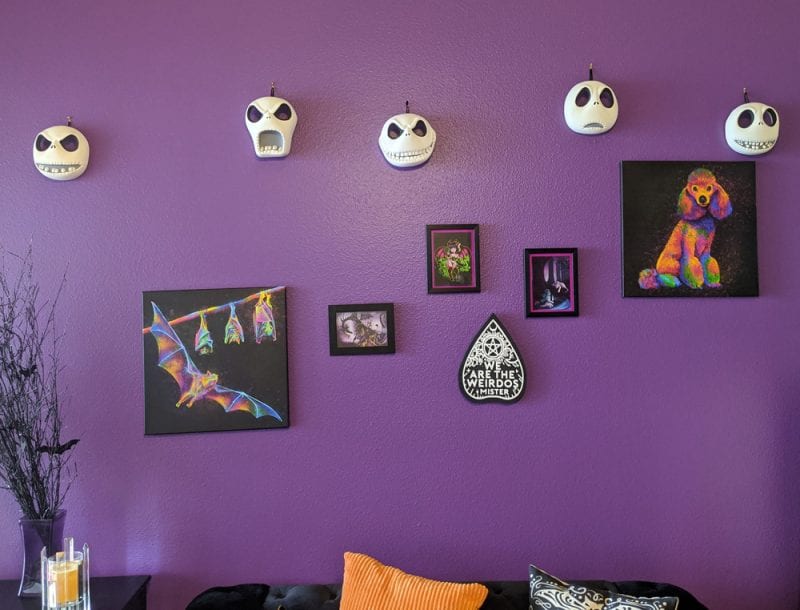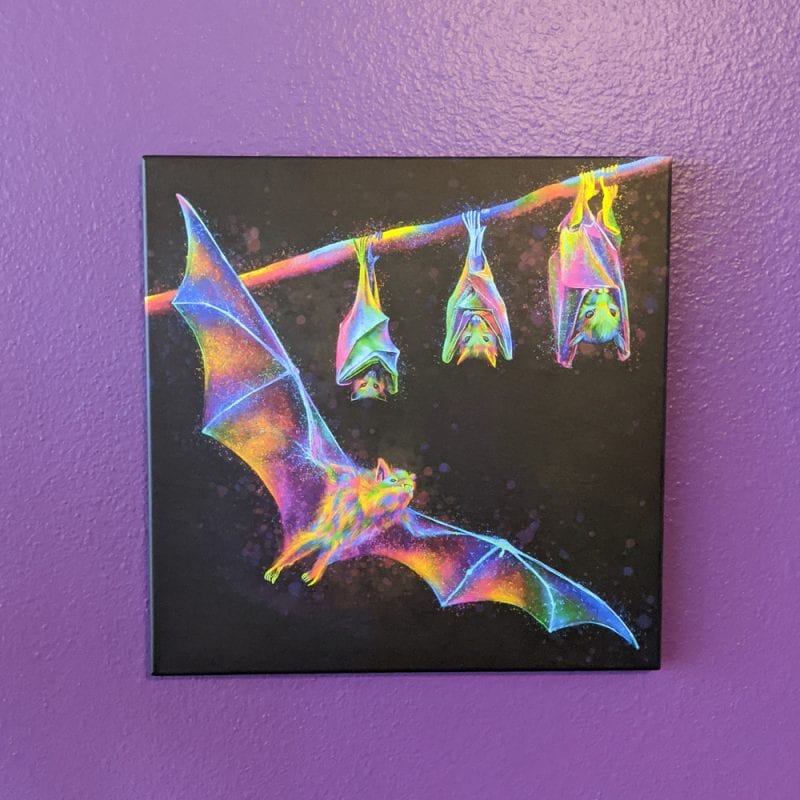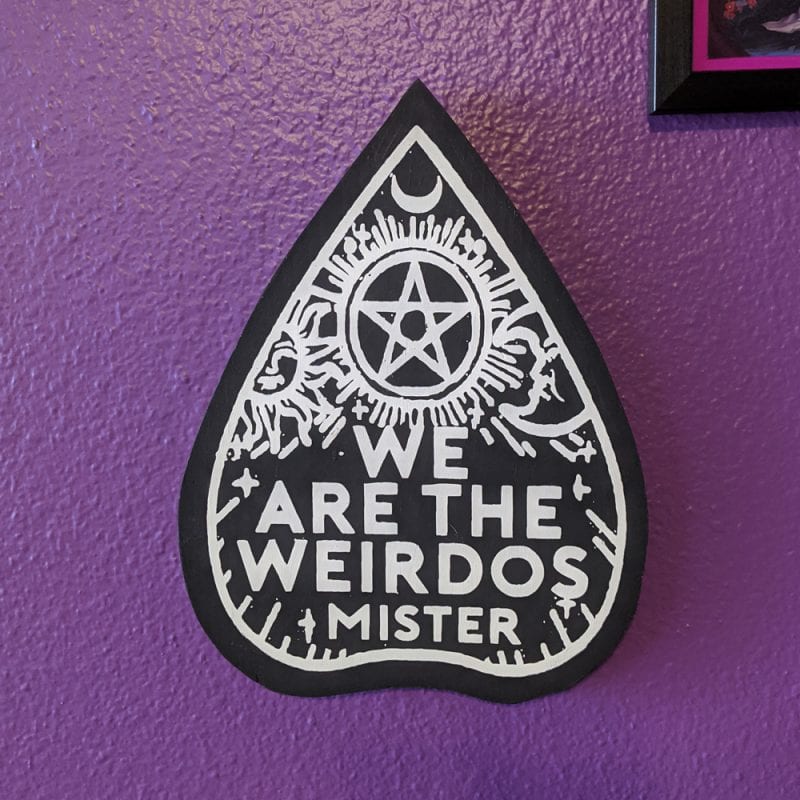 Adding to my purple wall of art is one of my current obsessions and I love how it's turning out. 3 of the pieces of art on this wall were gifts from friends. I finally hung up my Jack Skellington masks again, too. I'm pretty sure that I bought that set of wall art masks about 20 years ago, so you might be able to find a set on ebay, but no promises. The other gothic wall art I have is new.
You know that I'm obsessed with bats and I even have a bat tattoo. When I saw that bat canvas wall art I knew it had to come home with me! I bought the 18″ x 18″ size. And yes, I also bought the only canvas poodle they had.
The Writing's on the Wall Designs made my We Are the Weirdos Mister wooden wall art. I don't see it in their shop currently but it still may be available for purchase. They have other signs I really like, too.
Baby Bat Beauty Amulet & Marc Jacobs Moment-O!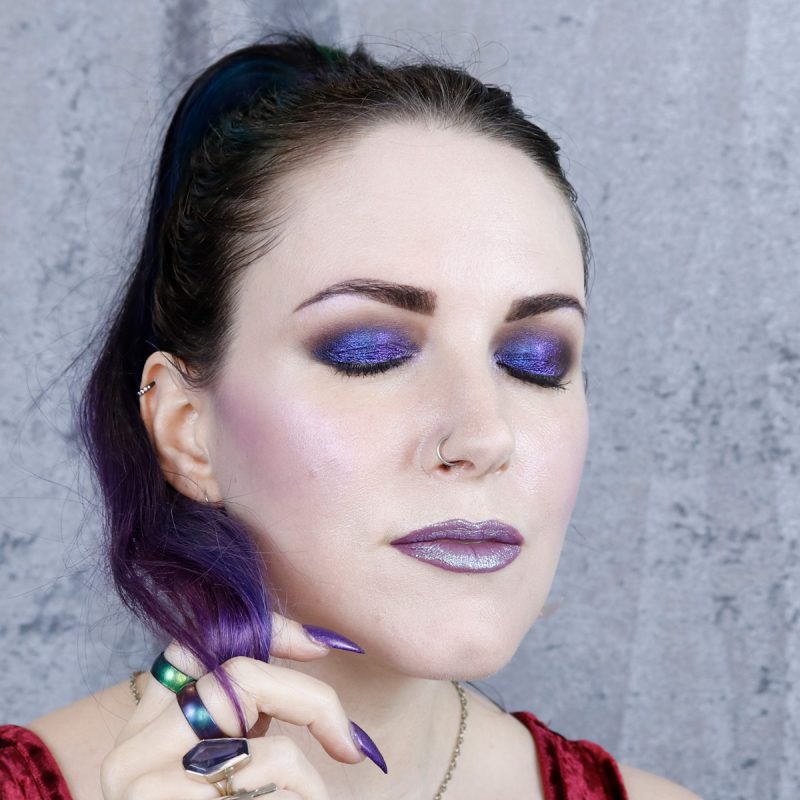 You already know about my not so secret obsession with Baby Bat Beauty Amulet. It's my favorite purple eyeshadow. I have a quick eyeshadow tutorial featuring it here. When people say vegan or purple eyeshadows have to suck, it's obvious they've never tried indie brands. Baby Bat Beauty Amulet is a cruelty-free and vegan purple eyeshadow with great pigmentation, duochrome shift, blendability and longevity.
Now, Marc Jacobs Beauty Moment-O! may sound like a boring eyeshadow to you, but it has quickly become one of my current obsessions for the perfect transition shade. It's a smoky lavender greige matte and I'm wearing it above. It works with all the lovely cool tones I prefer to wear. If I had to choose just one transition color to use for the rest of my life, it would be this one. The formula is excellent and easy to blend out, too.
More Musings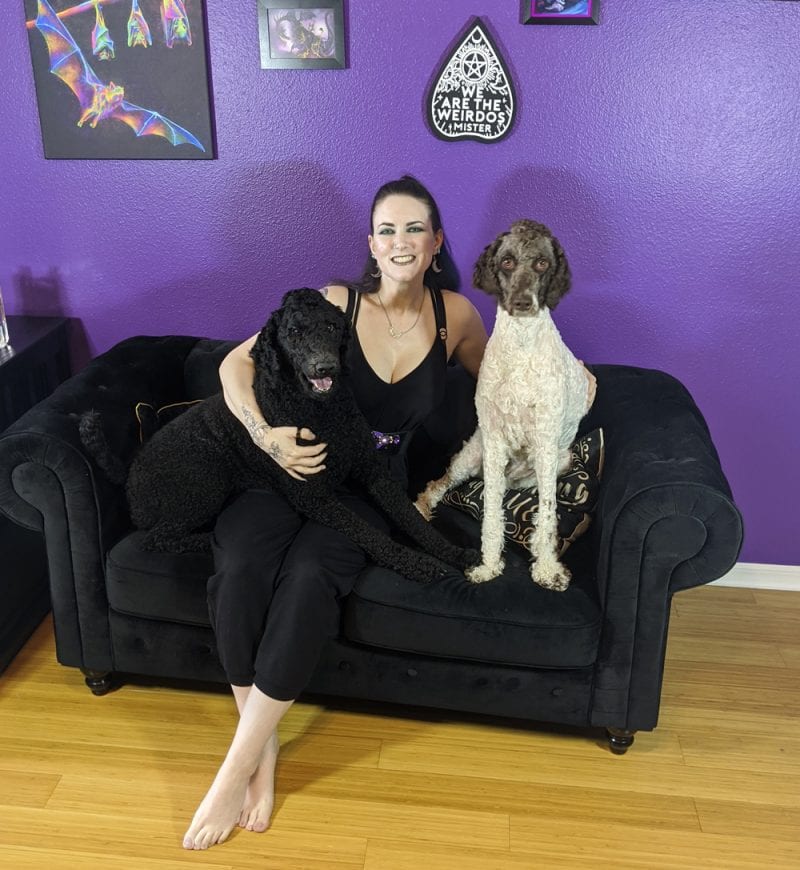 Now that you've heard about my current obsessions, let me share a little more with you. Yes, I'm still celebrating Halloween this year. No, I'm not sure how. Since it's not safe to have friends over for a party, I might host a Zoom Halloween party where we all dress up and virtually hang out. I might also do a Facebook Live or Watch Party in my PhyrraNyx Facebook group where we watch Halloween movies together. No matter what, I'm going to throw on at least one costume this year and get dressed up. I won't be passing out Halloween candy this year as I don't think it will be safe. And I sincerely hope no one will be out trick or treating in my area.
I'm still practicing how to do my own nails. I finally bough this diminutive UV LED Blacklight Light for the part in my nail process where I cure the Apres tip to my nail. It's awesome because it helps me prevent spillage since I don't have to contort my hand at weird angles to fit under my light.
And speaking of nails, when I'm doing my nails I look for LONG YouTube videos to queue up. I'm talking videos that are 15+ minutes to an hour long. People I love to watch for longer videos: Slashed Beauty, Alexandra Anele, Arna Alayne, Glitter Fallout, Smokey Glow, Angelica Nyqvist, Jackie Aina, Philip De Franco, Bailey B, Alex the Alchemist, and Jamie Paige.
I've been grooming Nyx and Amaya for months now. In these photos Amaya still needs her feet and legs neatened up. I'm not a great groomer but I'm able to keep my dogs clean and comfortable in short hair. Because Dave loves how the girls look with mohawks, I've been grooming them into a modified Pony cut. Basically the girls get to grow a 'mane'. Nyx gets to have a little bit of length on her tail fur.  Since Amaya's tail was horrifically hacked short by her breeder, I have to keep her tail hair super short for sanitary reasons. I really miss my awesome mobile groomer Cindy.
I'm still staying safe at home. I have done a few social distance hangouts with friends with masks on staying 6′ apart outdoors, but not many. Even an introvert like me is missing hugging her friends.
What are your current obsessions? What's getting you through this strange world we're currently stuck in?