I've finally swatched the Meow Holiday collections! These are all on Aromaleigh Light Primer, applied with a Q-tip. The first offering from Meow's 2010 Holiday collections that I've swatched for you is the metallic Holiday Wishes.


The colors are smooth and metallic, as I mentioned above.
My favorites are:
Peace on Earth, Bliss, Joy, Mirth, Surprises, Serenity and Magic
These feel very classic and chic for the holidays to me. Joy is especially a treat because it's got pink shimmer in it, and it's very unusual and pretty to me.
Next we have the Xmas Rant collection. This collection reminds me of ornaments, lights and wrapping paper since it's brightly colored, fun and festive.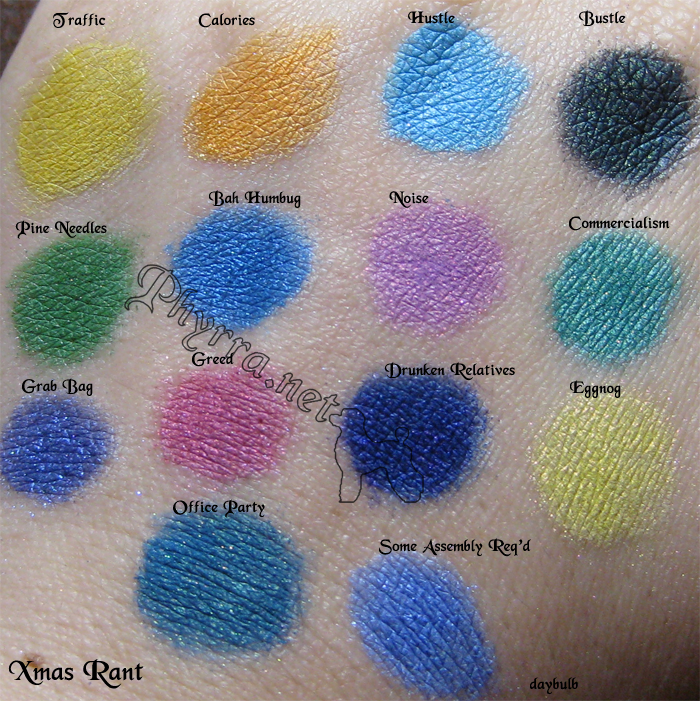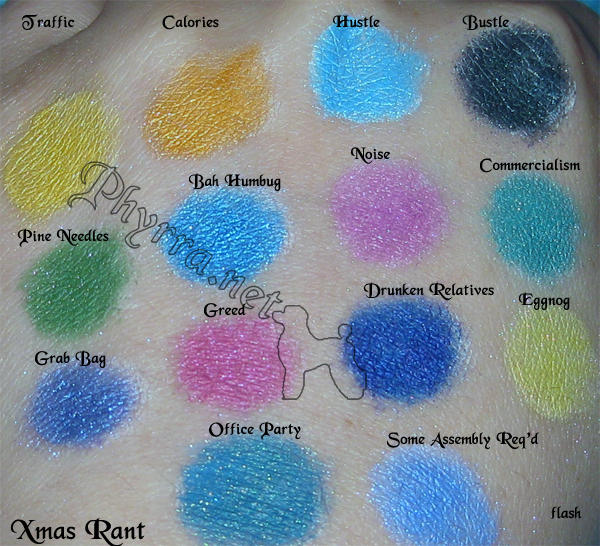 Right off the bat I have to say that Drunken Relatives is OMFG amazing. It's so pretty it hurts. I wore it with Pixie Epoxy today and so you'll see it in all its glory soon, but it is so gorgeous. LOVE this purple! Grab Bag is really pretty, too, as it's got some serious duochrome action going on. Office Party is a lovely teal shade with depth. Commercialism is really neat. I also like Eggnog because it's got some pink shimmer going on. I'm betting Tammy just LOVES Calories, since she loves all things orange.
My favorites are:
Drunken Relatives, Grab Bag, Office Party, Commercialism and Eggnog.
Then we have the Xmas Trees. I should point out that I'm allergic to a lot of trees, especially pine. I can't have a live tree because of those allergies. However, that's never stopped me from having fun with decorating or enjoying trees! This is a fun collection of greens. The colors have a lot of depth and it was hard to choose favorites.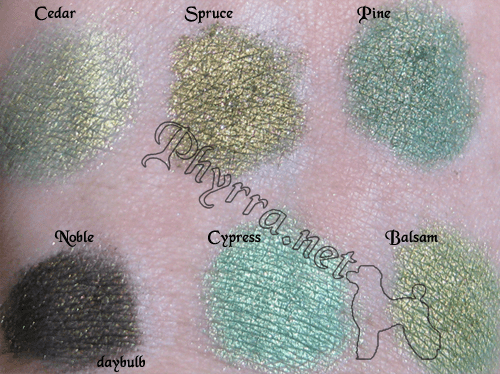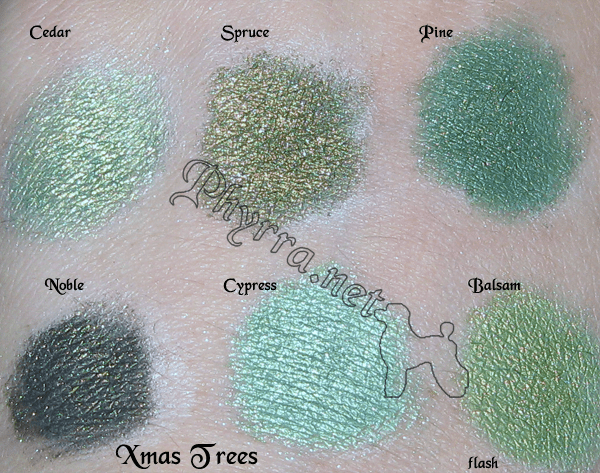 Spruce is drop dead gorgeous, especially if you're a green fan. Pine is really pretty to me and I like its silky texture. Balsam is another dazzling shade with its complex shimmer. I also like Noble for its depth.
My favorites are:
Spruce, Pine and Balsam
I next have the Reindeer collection!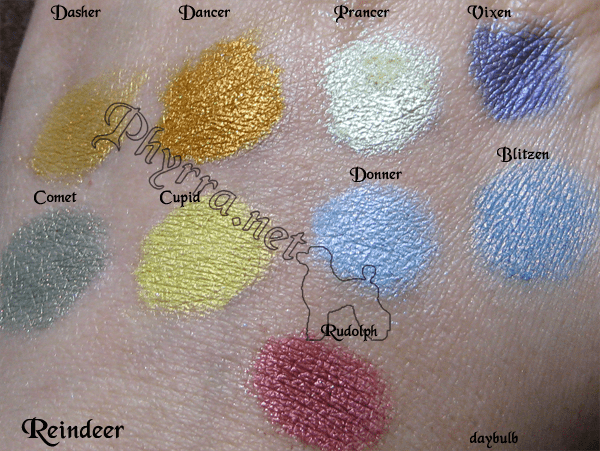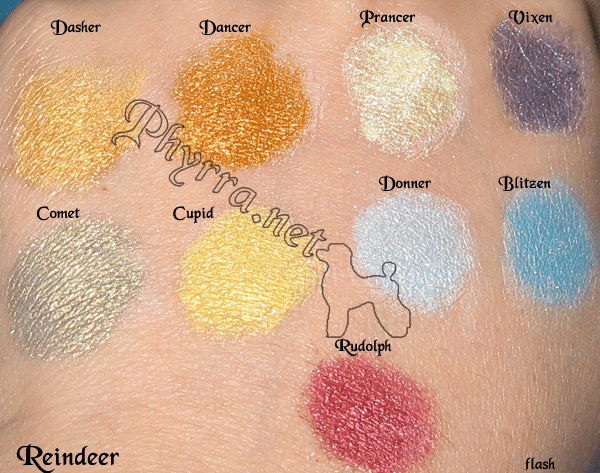 Prancer is the most unique color in this collection to me. It's a soft pale green with blue iridescence. It's awesome. Donner is a soft pale blue with pink iridescence. Blitzen is a brighter blue with intense pink duochrome, which is really pretty. Vixen is a gorgeous purple with blue sparkles.
My favorites:
Prancer, Vixen, Donner and Blitzen
Finally, I have swatched Sugarplums, Xmas Ghost Stories, and Snowflakes.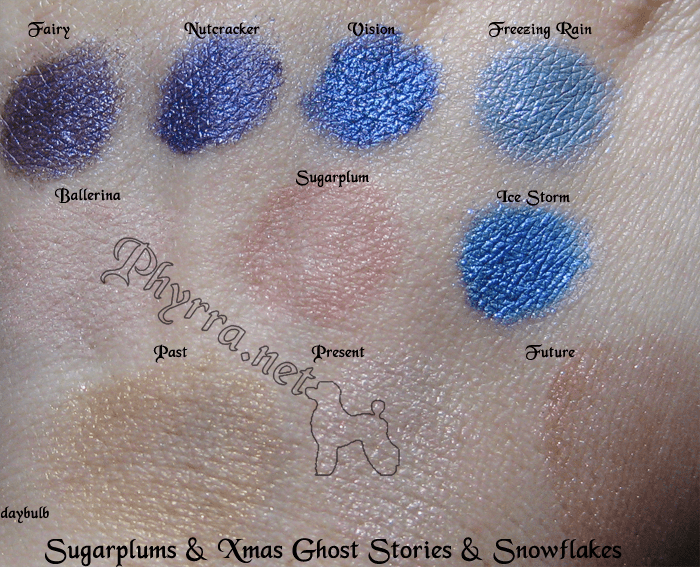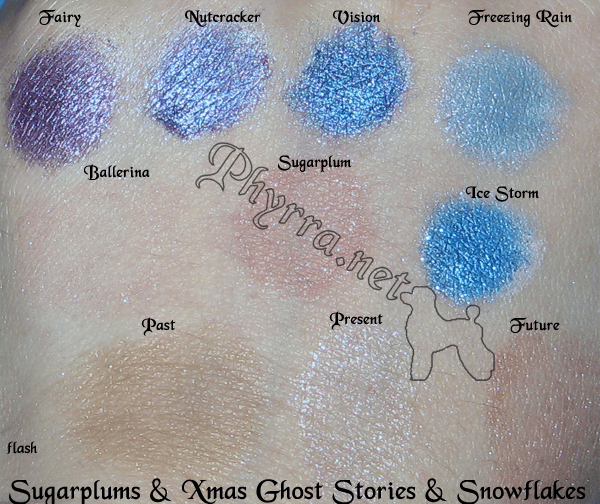 I LOVE the entire Sugarplums collection. However, Fairy is my absolute favorite from that. Freezing Rain and Ice Storm are really gorgeous blues. Ballerina is such a delicate pink. I also really like the Ghost Stories glows.
My Favorites:
Fairy, Vision, Ballerina, Freezing Rain, Ice Storm, Past, Present, Future
Overall, I love the new offerings from Meow for the holidays. I also love the previous holiday collections that have been re-released.
So what do you think of the Meow Holiday collections? What are your favorites?
Sample products were sent for my consideration. All opinions are my own.