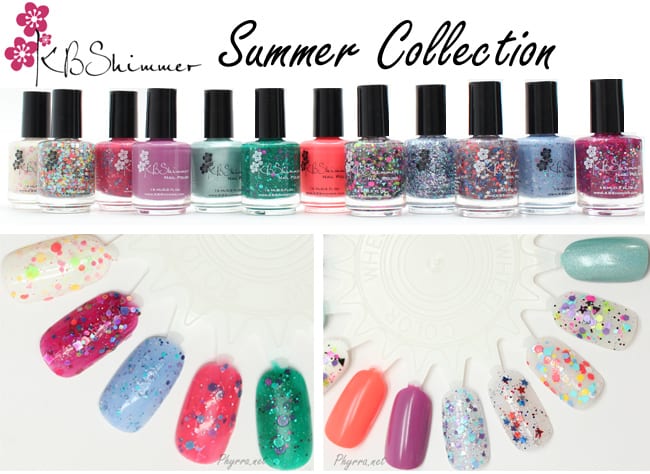 Happy Monday! Today I've got the new KBShimmer Summer Collection to show you. KBShimmer released 2 summer collections this year. See the first one here. This second release is made up of 12 different shades, with lots of emphasis on glitter. This collection will launch on June 20, 2014. KBShimmer is also releasing nail vinyls for nail art.
PR sample.
KBShimmer Summer Collection Review
Price
$7.50 creams
$8.75 glitters, holos, glitter top coats
$5 nail vinyls
Availability
KBShimmer
Nail Vinyls
Pink Zig Zags
Yellow Chevrons
Green Triple Point
Purple Thick Thin Lines
Black Tribal Theme
Blue Stars & Stripes

Please comment, share and subscribe!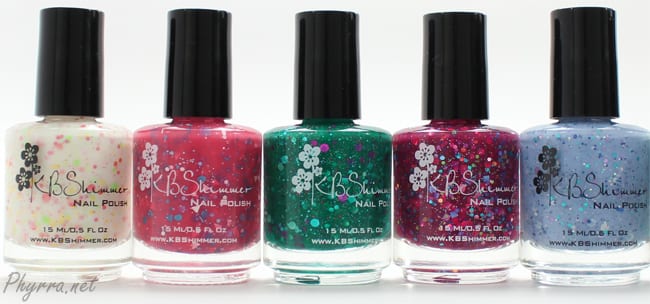 Glitters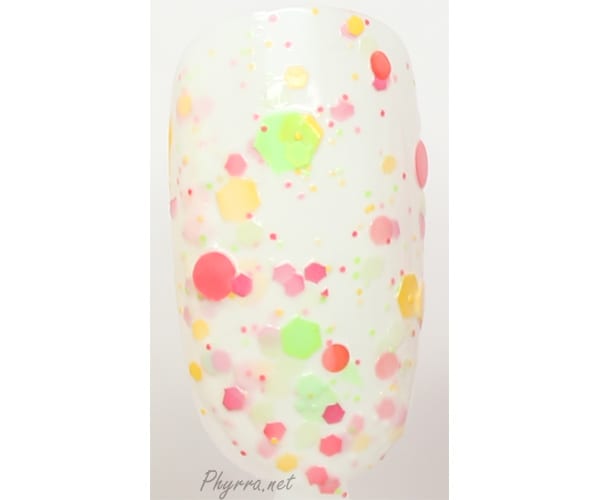 Mixed Peelings
A creamy off white polish with citrus and fruit colored glitters in neon green, lemon yellow and watermelon pink.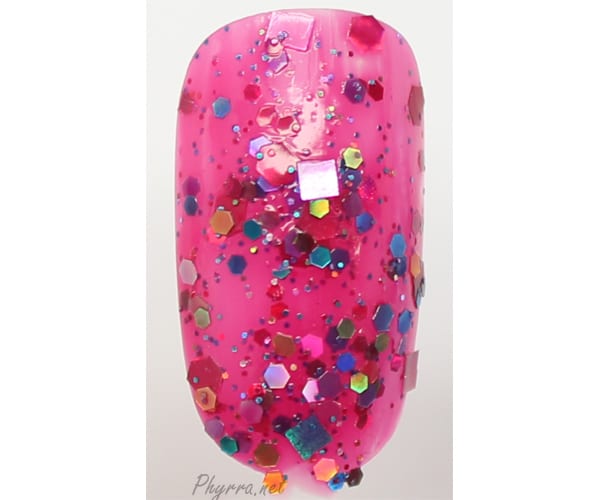 Look High And Holo
A raspberry jelly with a rainbows worth of holographic glitters in hexes and squares.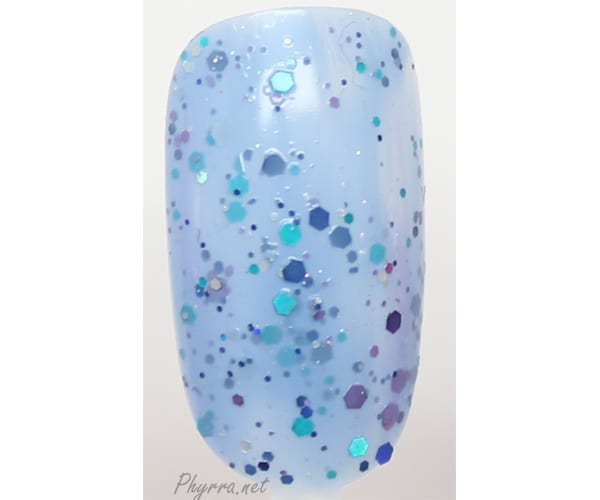 Periwinkle In Time
A periwinkle colored creally polish loaded with holographic glitters in aqua, navy blue, sliver and violet.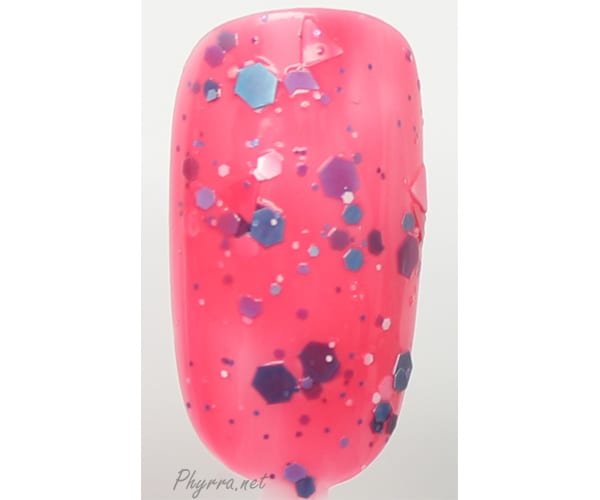 Peak My Interest
A melon pink colored polish with triangle glitters in white, pink and dark aqua.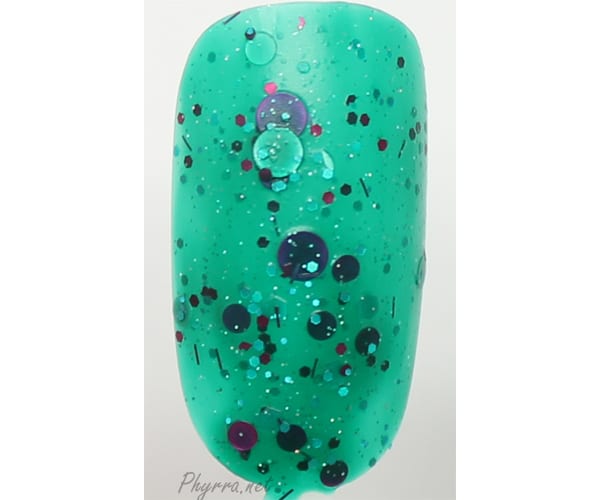 Sea You Around
This deep emerald green near teal jelly features fuchsia and silver circle glitters, light blue squares hexes in a base with scattered fuchsia micro slivers and micro sparkle.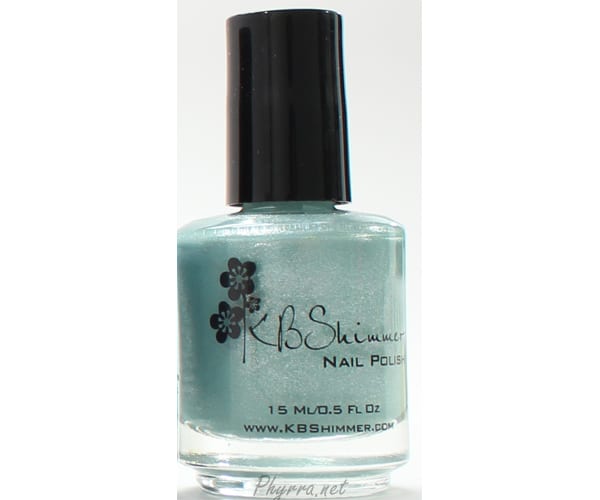 Holo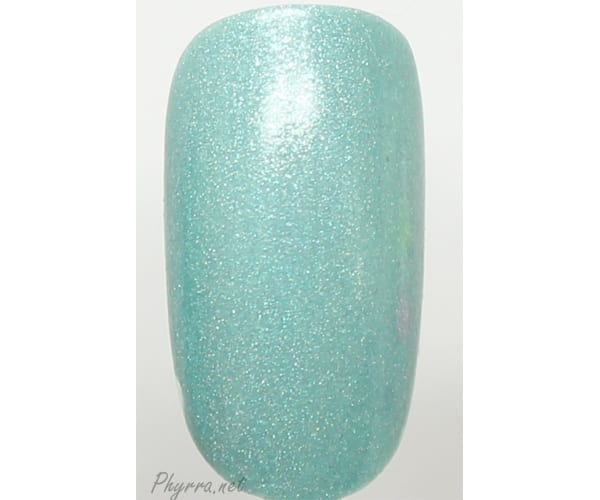 Mint-al Vacation– This light aqua seafoam has two personalities. In low light, is has a beautiful white shimmer, but in the sun or bright light, you can see a holographic rainbow of color.
Glitter Top Coats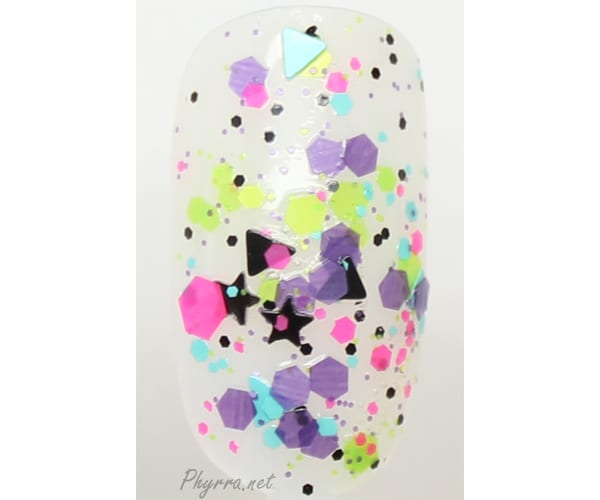 Scribble Me This
A graffiti inspired glitter top coat featuring mini stars, triangles, and neon glitters.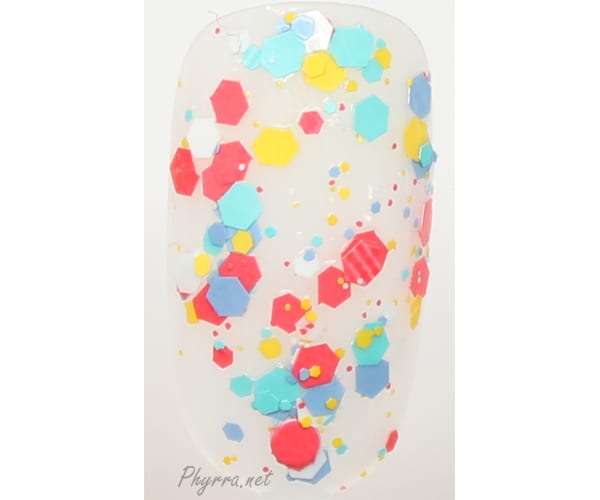 Sweet Wave
A Bright pastel candy inspired glitter top coat with white, mint, periwinkle and watermelon colored glitters.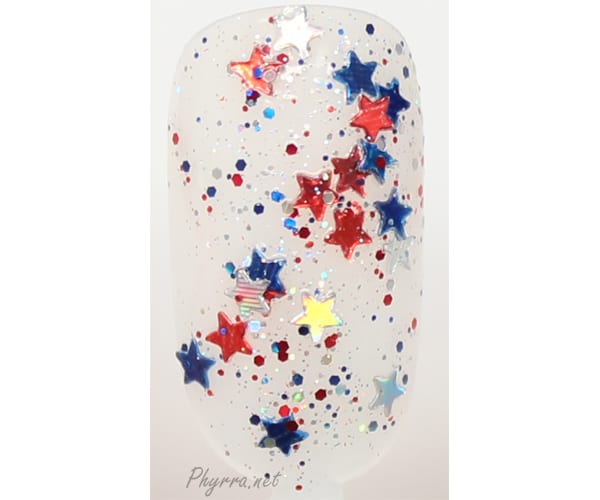 Red, White & Blue-tiful
A limited edition top coat with mini red, holographic sliver and holographic blue stars. Small red, silver and navy blue glitters along with micro holographic sparkles complete this patriotic polish.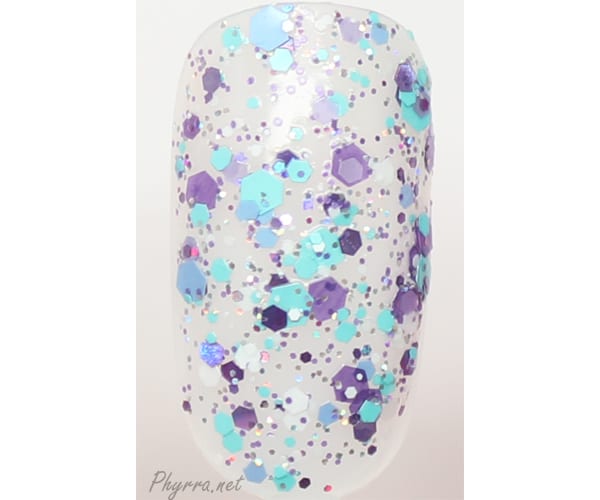 Happily Ever Aster
A floral inspired glitter top coat with purple, lavender, light aqua and white glitters swimming in a sparkling base.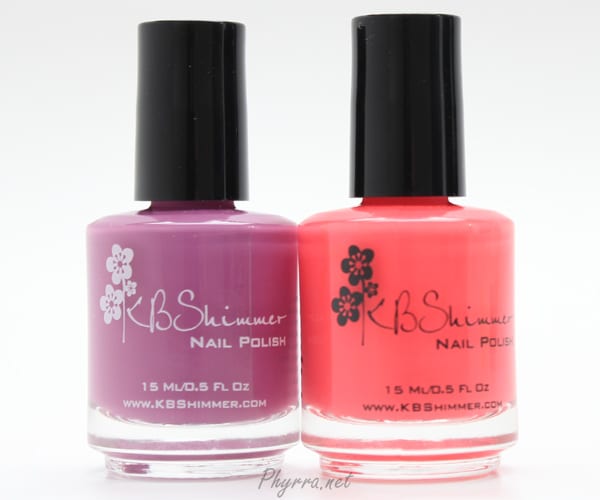 The Creams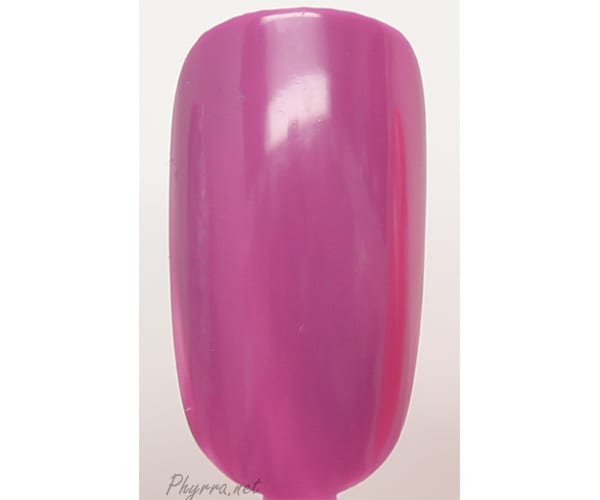 Radiant Orchid
Radiant Orchid, 2014 color of the year, is the ideal shade to transition nails from spring to summer and even fall.  This pink toned purple has fuchsia and mauve undertones.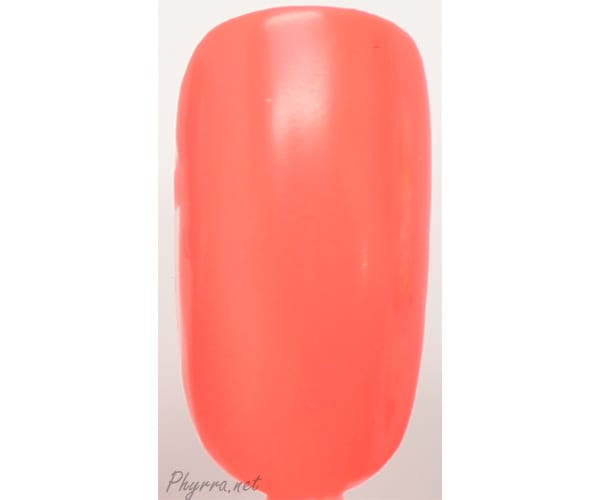 You're So Shellfish
Near neon peachy orange perfect for summer pedicures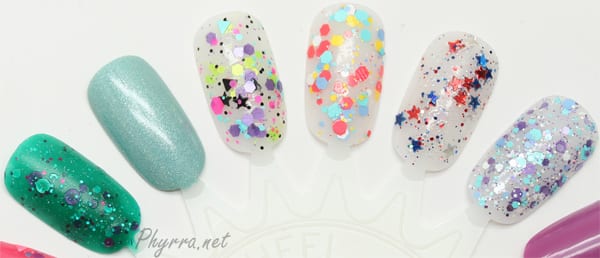 L to R – Sea You Around – Mint-al Vacation – Scribble Me This – Sweet Wave – Red, White & Blue-tiful – Happily Ever Aster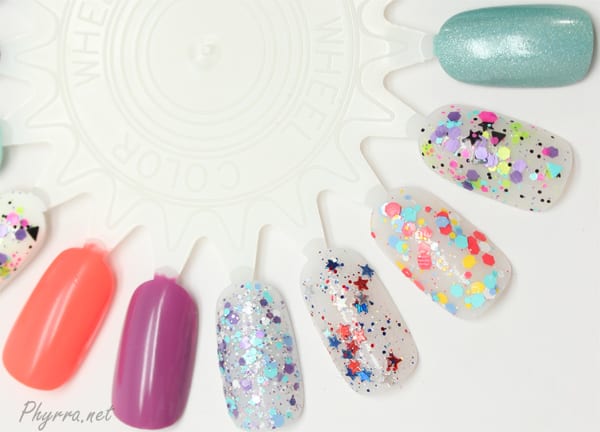 L to R – You're So Shellfish – Radiant Orchid – Happily Ever Aster – Red, White & Blue-tiful – Sweet Wave – Scribble Me This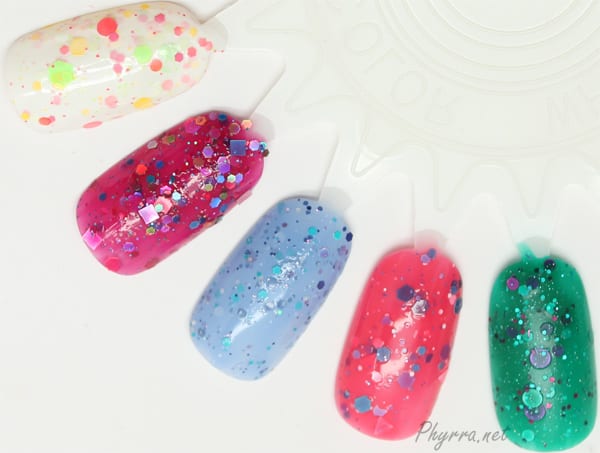 L to R – Mixed Peelings – Look High And Holo – Periwinkle in Time – Peak My Interest – Sea You Around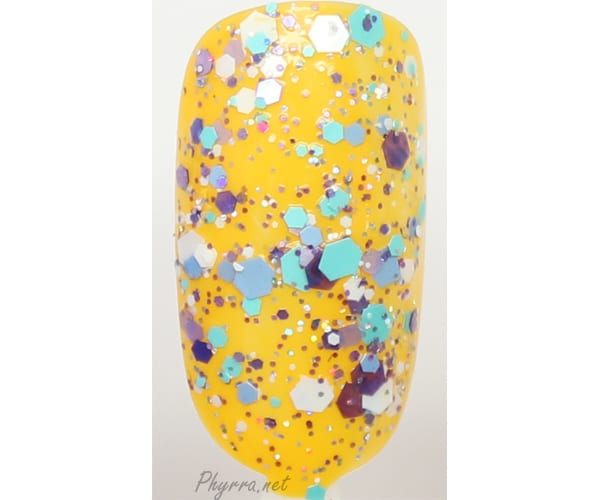 Happily Ever After on top of Chick Me Out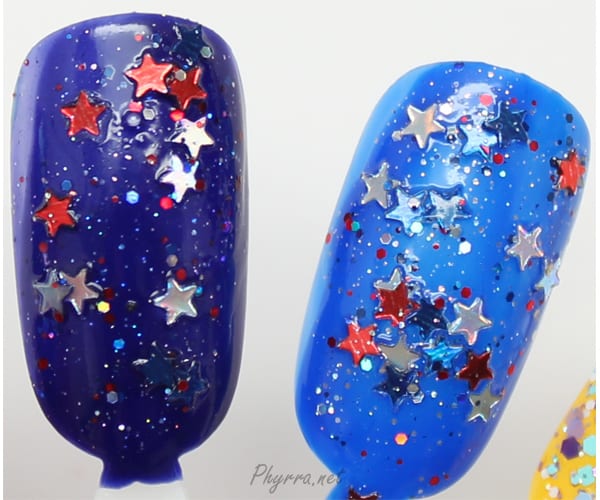 Red, White & Blue-tiful on top of Right As Reign (L), and Low and Be Bold (R)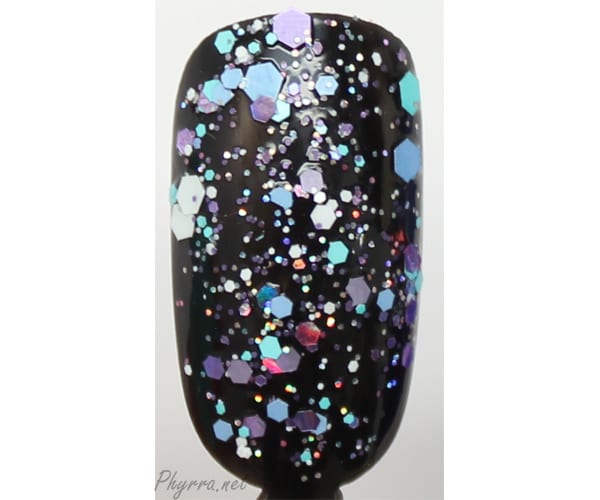 Happily Ever Aster on top of Eclipse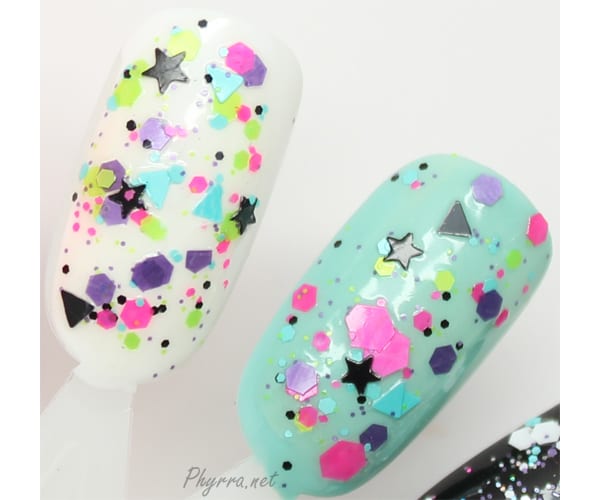 Scribble Me This on top of White Cream (by Illamasqua, Left) and on A Touch of Glass (Right)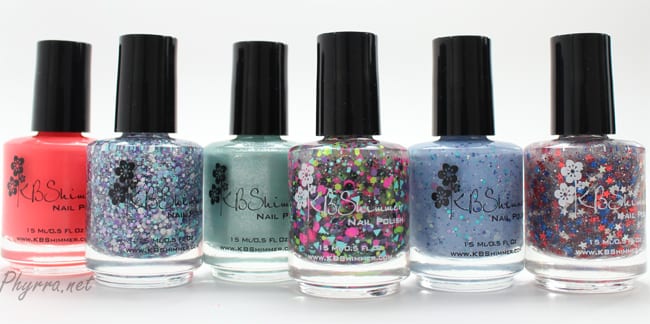 The shades that I like the best are:
You're So Shellfish
Happily Ever Aster
Mint-al Vacation
Scribble Me This
Periwinkle in Time
Red, White & Blue-tiful
The formulas for all of the polishes were great. The creams and holos apply smoothly. The jelly / crelly formulas were easy to work with. The glitters were great because you don't really have to fish to get the glitter out. I do recommend dabbing the glitter toppers on to get the coverage you desire.
I really think that a lot of nail polish lovers will adore Sea You Around, since greens are so popular.
What shades do you like best from the KBShimmer Summer Collection? Do you love stars like I do?
Last Updated on