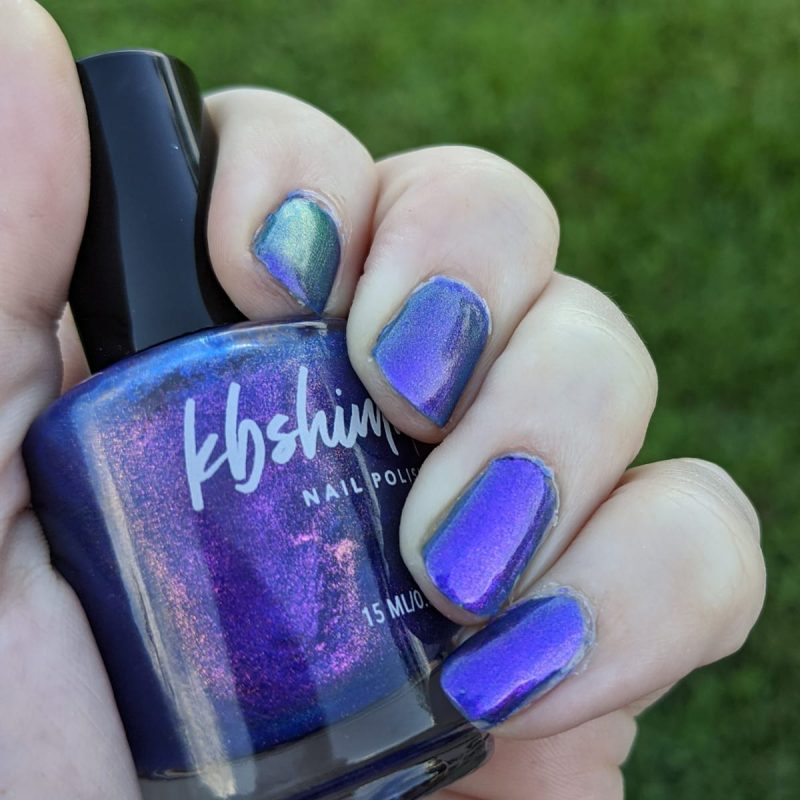 KBShimmer Secret Menu Nail Polish
Hey friends, I'm still in studying hell but I HAVE to share the KBShimmer Secret Menu Nail Polish with you! This is the most unique purple multichrome I've ever tried. You know purple is my favorite color, so it takes a lot to impress me, but KBShimmer has done it again. This amazing multichrome is only available through the Polish Pickup and it is on sale today for $10. KBShimmer sent me the Secret Menu nail polish as a PR sample.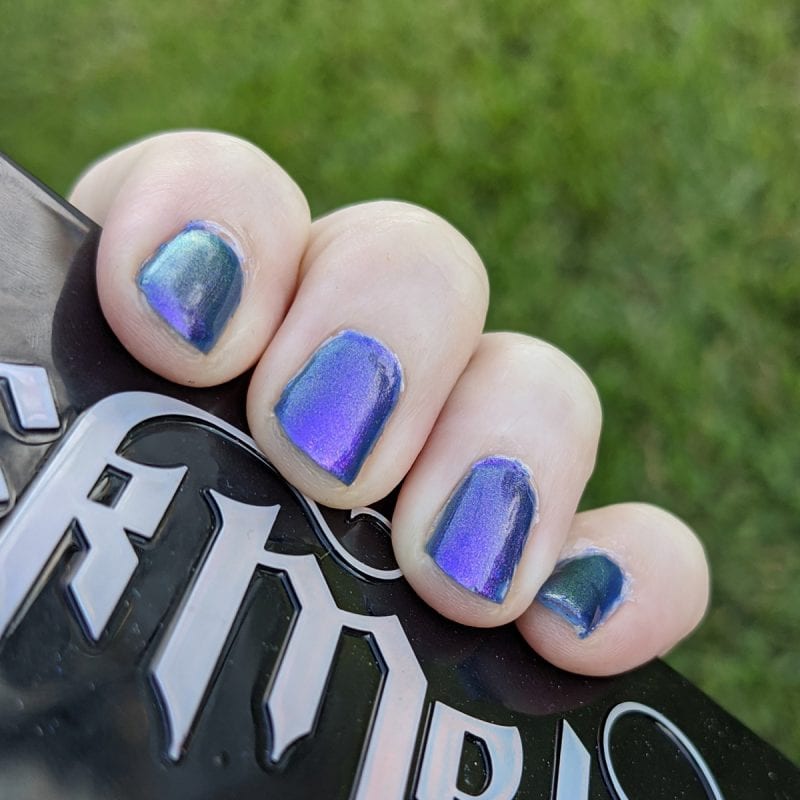 About Secret Menu:
Secret Menu is inspired by the aptly named, "Pink Purple Drink." Secret Menu starts with an indigo base that quickly shifts to a bold purple and berry-like fuchsia. At some angles, a siren-like green shows, while in different lighting you may see hints of lime or a softer pink. This shifty shade is a must-have for purple lovers and is best in 2-3 coats.
I love the lime green shift from harder angles that you see on this stunning purple polish.
Please excuse my poor nubs of nails. I've been so stressed that I started biting them down to the quick from stress. I haven't done this in almost 10 years.
Polish Pickup Nail Polish
If you're looking for other recommendations from the Polish Pickup aside from KBShimmer Secret Menu, because there are so many other stunning unique nail polish you can only order from that site, below is what I purchased: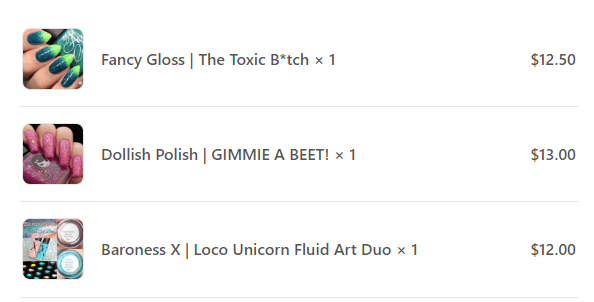 Fancy Gloss the Toxic Bitch – Dark teal/blue in other lights (cold) to teal (warm) to green (warmer) packed with green/blue/gold clear flakes
Dollish Polish Gimmie a Beet! – A vibrant orchid pink jelly, jam-packed with iridescent micro flakes & glitters
Baroness X Loco Unicorn Fluid Art Duo: Loco Unicorn – a pastel teal fluid art polish with a touch of violet to gold shimmer and glass flakies. Coco Berry – a pastel pink fluid art polish with a touch of green to blue shimmer and glass flakies.
I actually have a LOT of Baroness X nail polish and fluid art nail polish to share with you once I pass my Google AdWords Certification which is sucking up every waking moment of my life right now.
If you're wondering how to use fluid nail polish, here's what the Polish Pickup Website says are the two most common methods:
1st method: Drip spots of thin, regular polish onto a silicone mat in a puddle with a few drops of either color or both colors, dispersed throughout. Fold the puddle of nail polish in half and open to watch the spots appear! Let it dry until you can peel it off the mat. Cut it to shape of your nail. Apply with base and top coat between.
2nd method: You can also use this as a topper, to make sure either the blue or sand color spreads and makes cells you need to apply on top of a fresh layer of polish. This may take some practice. It needs to be wet but not so wet that you transfer or muddle the two colors onto the polish brush.
You can see more of the fluid art nail polishes at Baroness X.
JD Glow Liquid Multichrome Eyeshadows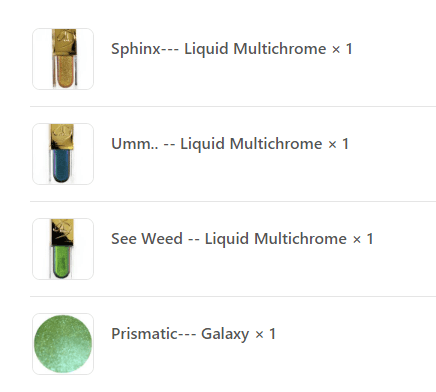 See Weed — Grass Green, Line Green, Teal, Dark Teal (liquid eyeshadow)
Sphinx : Gold, Green, Brown, Teal Multi-Chrome (liquid eyeshadow)
Umm.. — Deep Teal, Purple, Blue, Pink, Green, Gold Multi- Chromatic (liquid eyeshadow)
Prismatic Galaxy Shadow (Shimmery Lime Green with Yellow, Blue, Purple, Pink and Teal effects)
And finally, unrelated to nail polish but related to indie brands, JD Glow launched liquid multichrome eyeshadows. I ordered 3 of those and 1 of the pressed. I really love the JD Glow multichrome pressed eyeshadows that I own. JD Glow is a black owned indie brand that is cruelty-free with vegan options.
If you're a purple fan, you need to pick up KBShimmer Secret Menu Nail Polish. You won't regret it. If you're a green makeup lover, you need to check out JD Glow's See Weed & Prismatic eyeshadows. So stunning! I will be pairing with my Melt Cosmetics Smoke Sessions Palette, specifically that deep, cool-toned Space Queen shade that I'm still obsessed with.