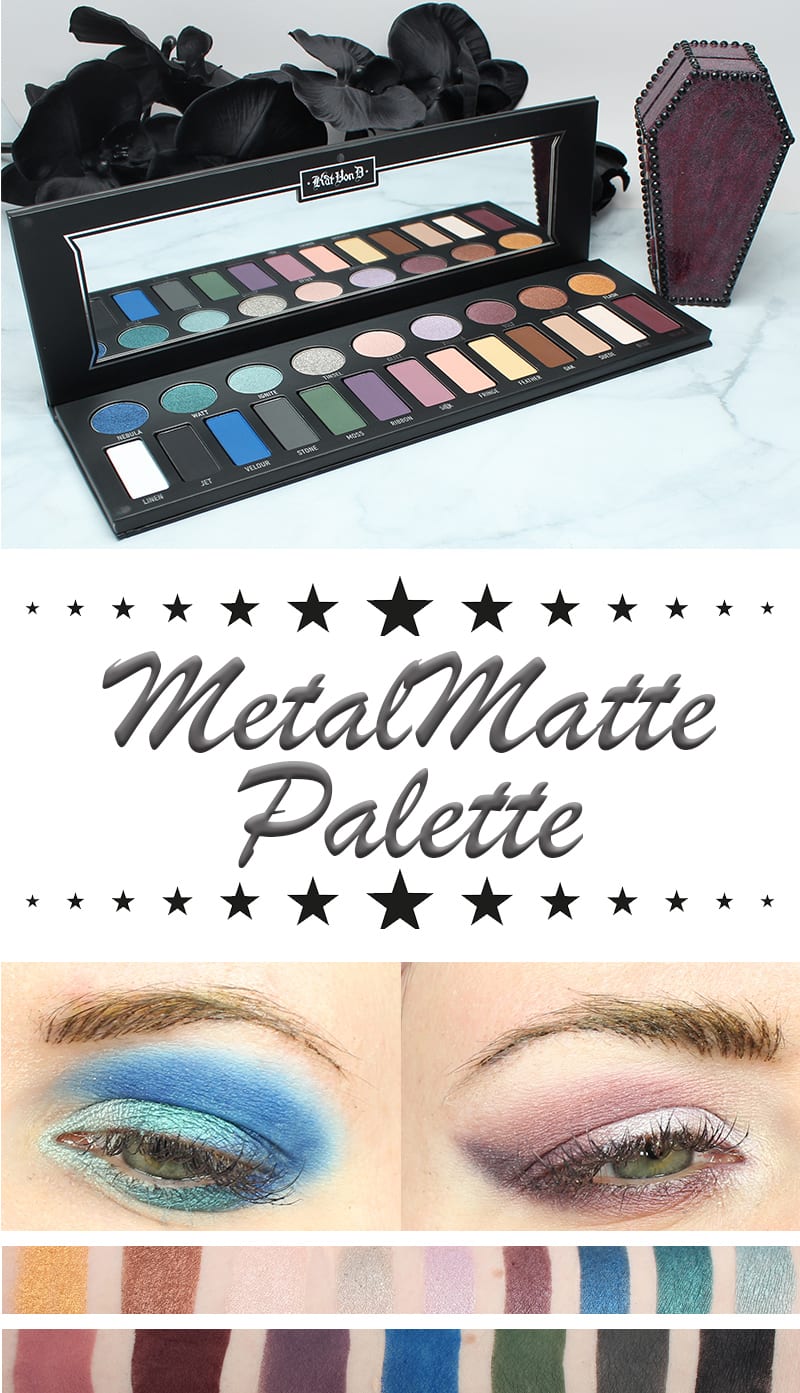 Today I'm sharing my Kat Von D MetalMatte Eyeshadow Palette swatches, looks and first impressions with you. I bought this palette as soon as it launched on Sephora and received the palette yesterday. I've had time to play with it a little bit, do a couple of looks, swatch it and fall in love. This palette is broken into two finishes – the KVD signature Metal Crush finish (which I absolutely love), and the KVD matte finish (which I loved in the Shade + Light palette).
Kat Von D MetalMatte Eyeshadow Palette
Where to Buy
Sephora, Kat Von D Beauty
Price
$60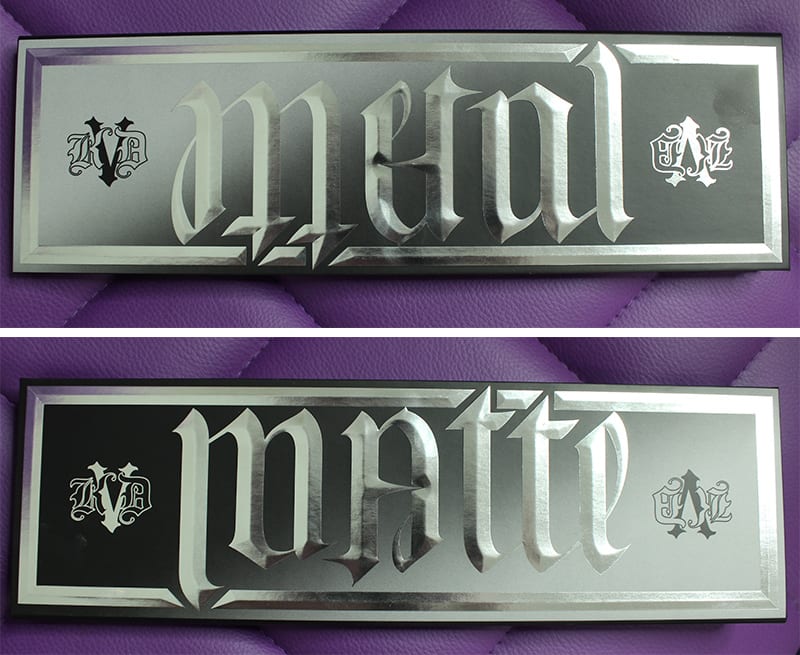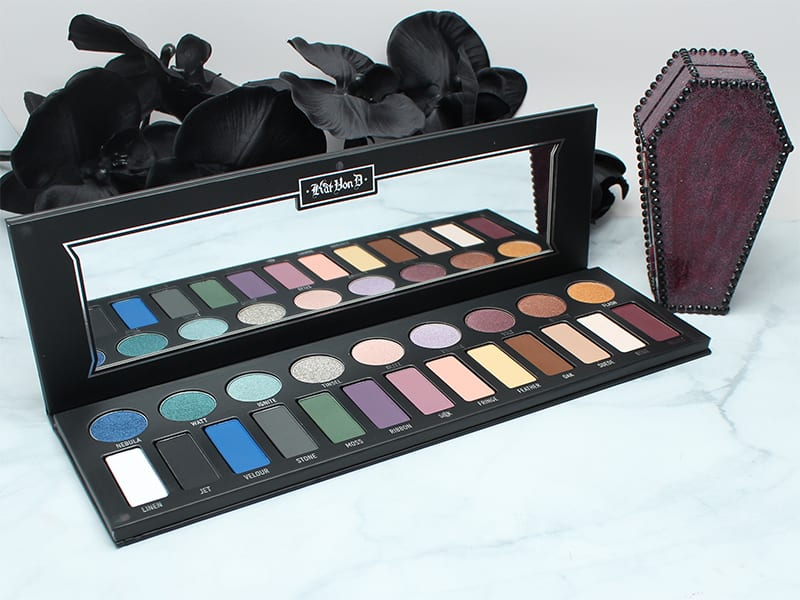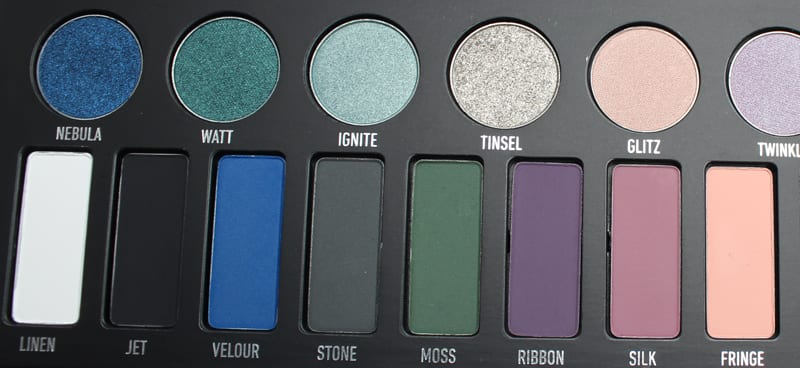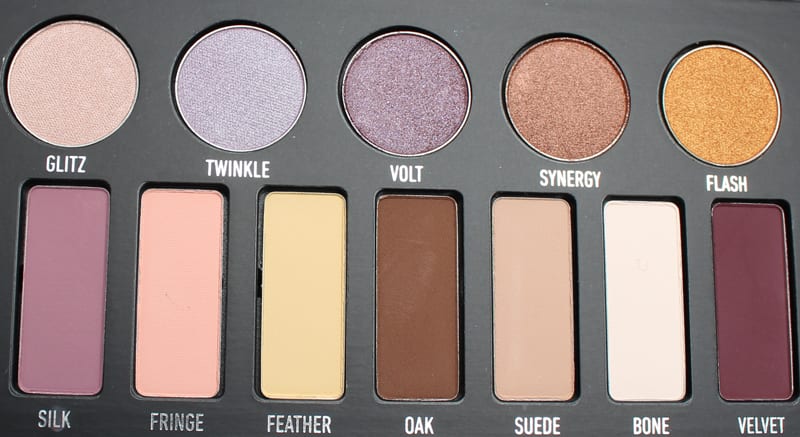 Kat Von D MetalMatte Packaging
The MetalMatte packaging is really cool. It has a gothic flare. Kat Von D drew the name of the palette on the lid in an ambigram – it's Metal one way and Matte the other way. I LOVE that it has the names of the colors printed underneath each shade! Thank you so much! It's very sturdy cardboard. It does have a rather large mirror inside. It's longer than my forearm.
Kat Von D MetalMatte Eyeshadow Swatches
For the MetalMatte swatches, the left side of the swatch is on primer. The right side is on bare skin. You can see the line where the tape made the eyeshadow not want to stick to my skin.

Nebula
metallic navy
Beautiful royal blue.

Watt
metallic teal
Deep teal green.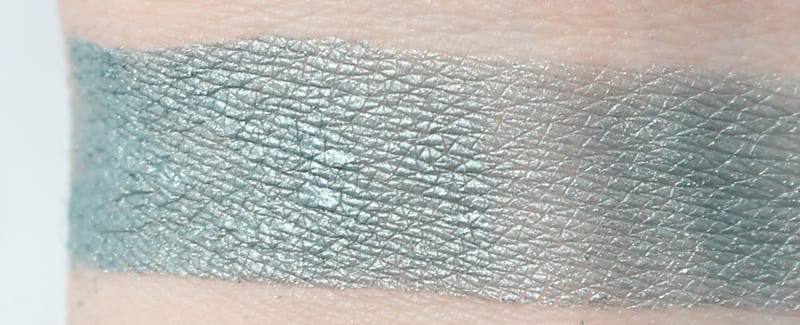 Ignite
metallic sea foam
Pretty soft blue green.

Tinsel
metallic pewter
This one has a glittery finish. It has darker silver and champagne with brighter flecks of silver. this seemed less pigmented than the rest.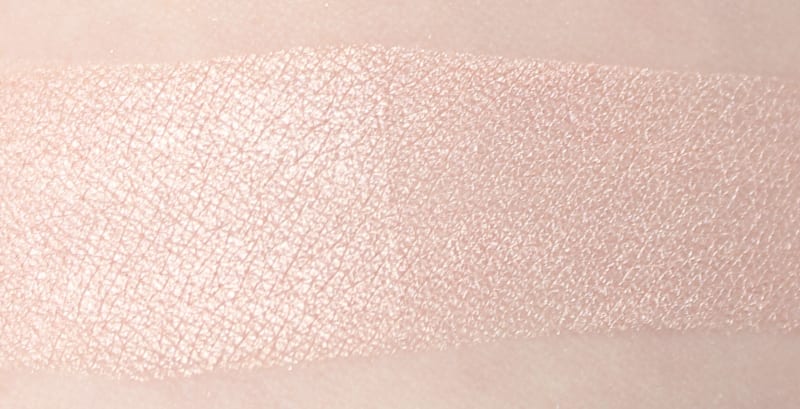 Glitz
metallic rose gold
Pale pink with a hint of gold. This seemed less pigmented than the rest. It may also seem that way because it's so close to my skintone.

Twinkle
metallic lilac
Lovely light lilac.

Volt
metallic violet
Plum with hints of brown.

Synergy
metallic bronze
Brown with hints of copper.

Flash
metallic gold
Metallic gold with orange tones.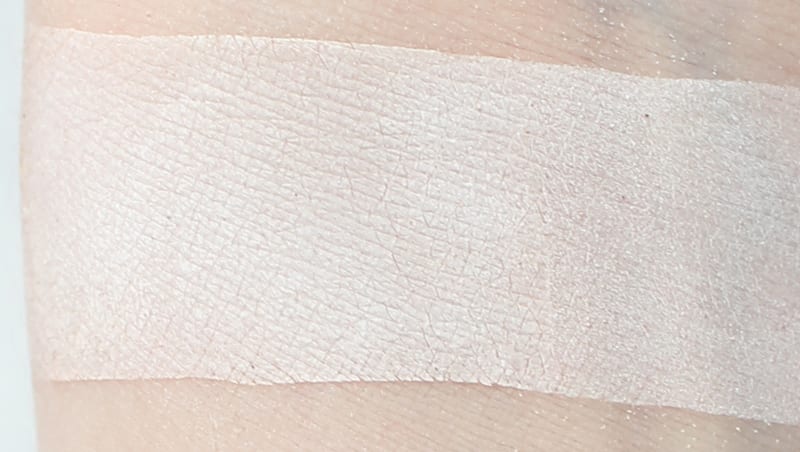 Linen
matte white
Bright matte white.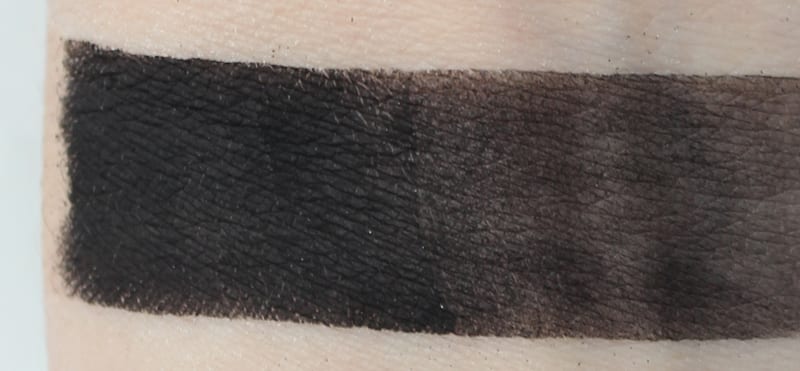 Jet
matte black
Sort of a harder texture and on the sheerer side, but blended easily for me.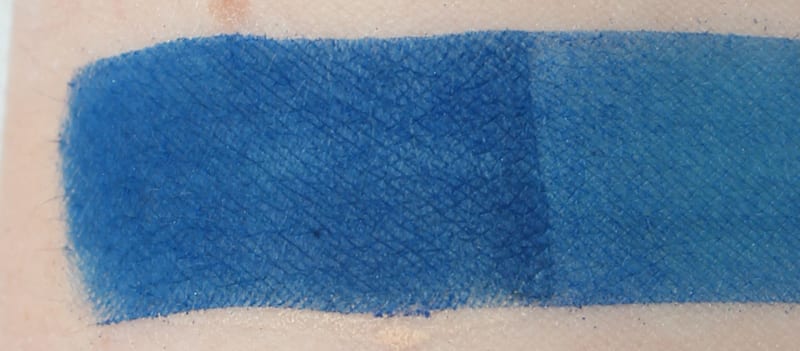 Velour
matte royal blue
Deep but vibrant blue.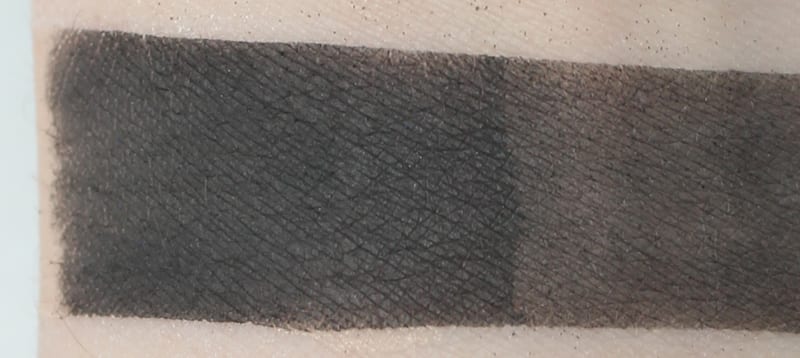 Stone
matte cement gray
Very nice texture, deep grey.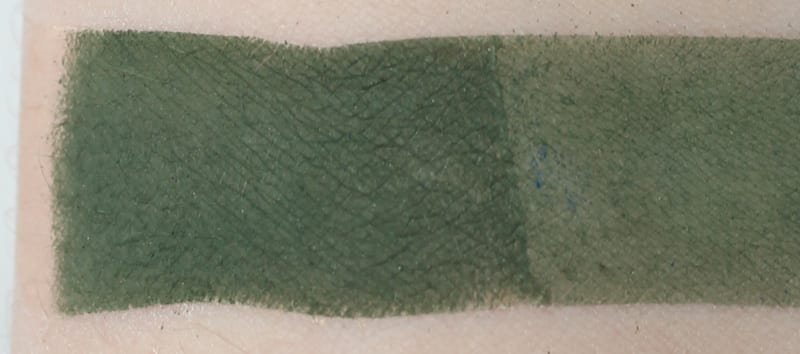 Moss
matte forest green
Deep green.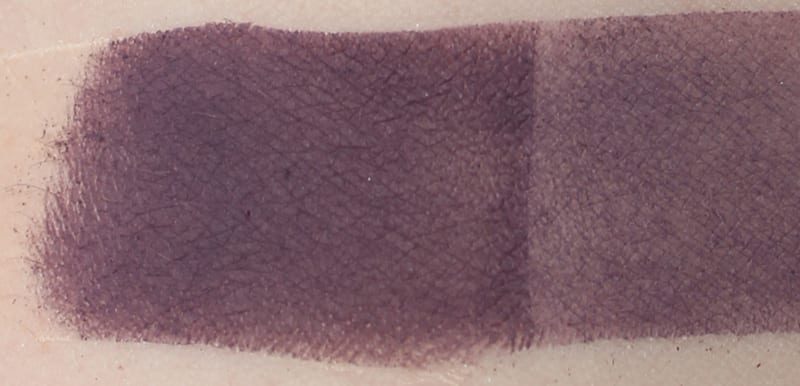 Ribbon
matte deep purple
Deep slightly dusty violet.
Silk
matte terra cotta
Midtone dusty mauve pink.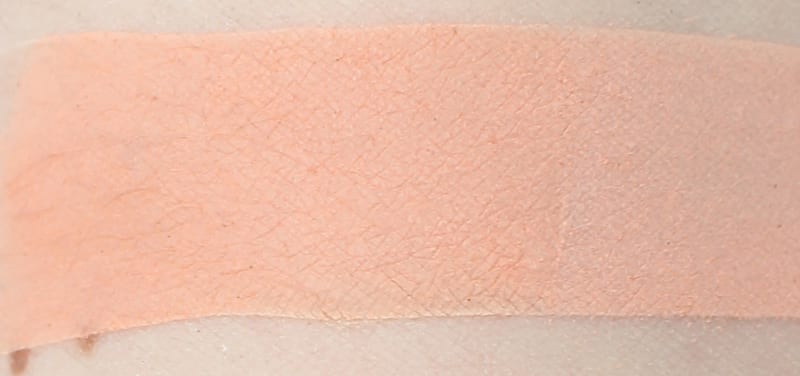 Fringe
matte peach
Light pastel peach.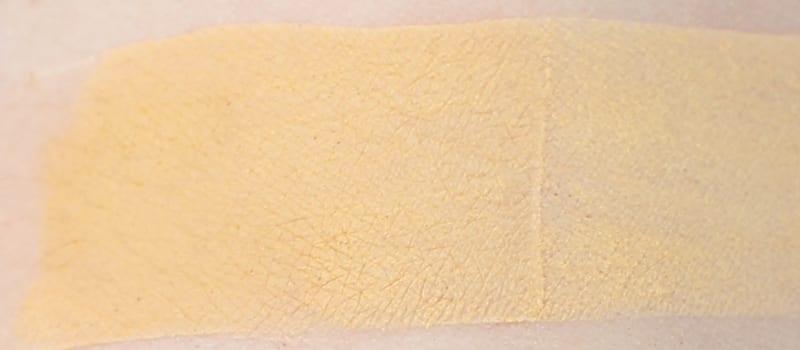 Feather
matte dandelion yellow
Soft buttery yellow.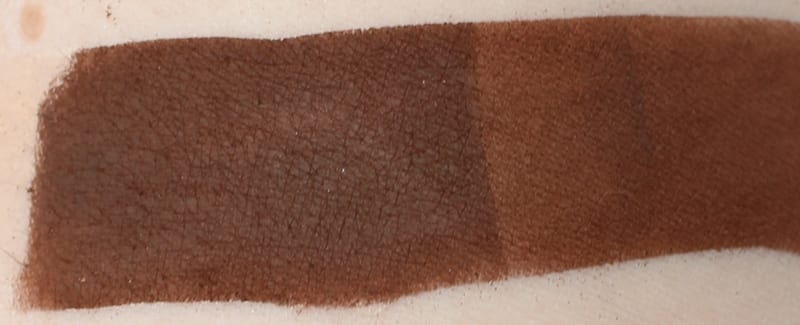 Oak
matte chocolate brown
Brown matte.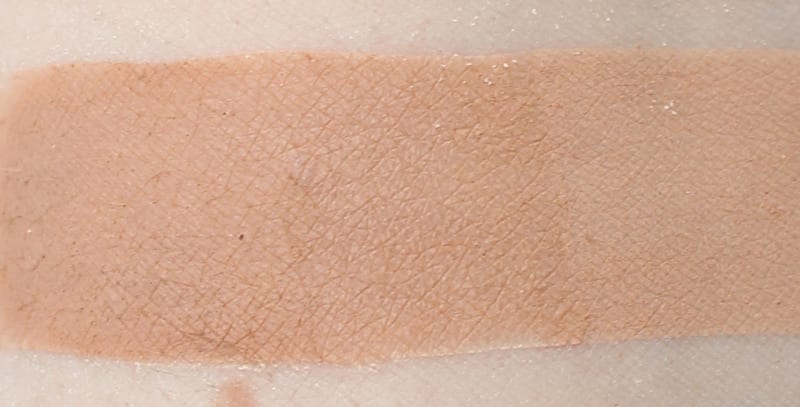 Suede
matte fawn
Light beige matte.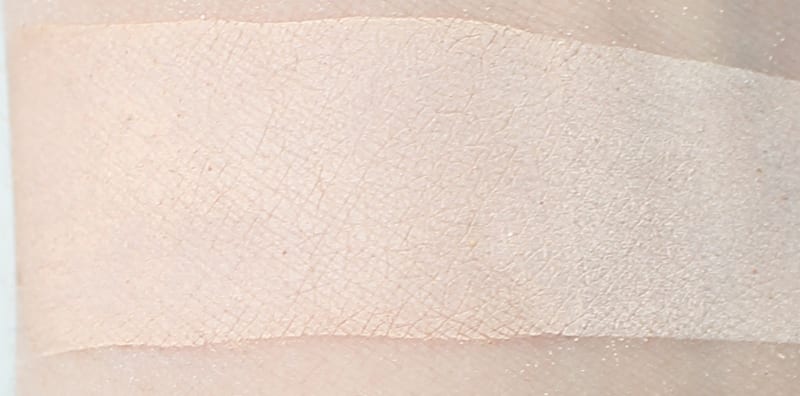 Bone
matte cream
Light cream with a peach undertone.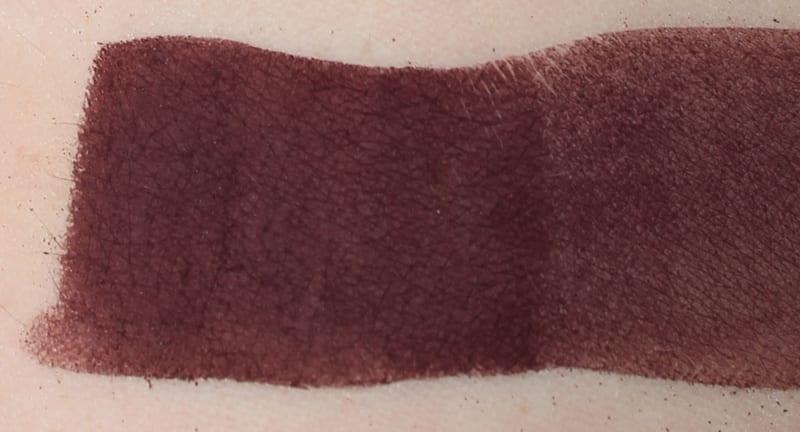 Velvet
matte deep plum
Deep plum wine.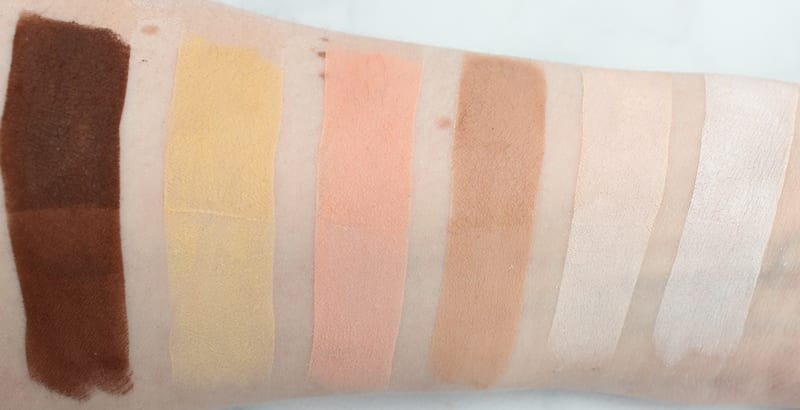 L to R – Oak – Feather – Fringe – Suede – Bone – Linen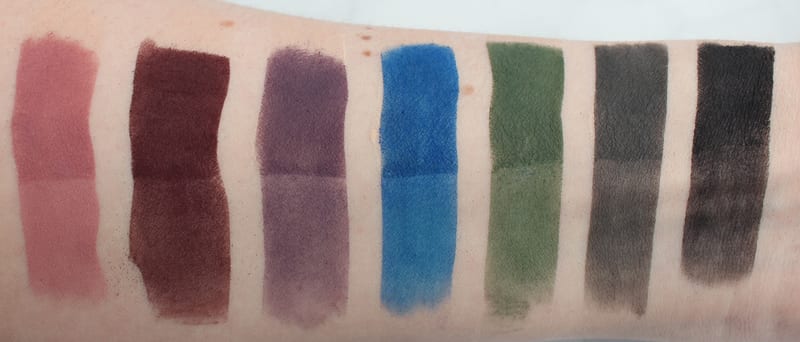 L to R – Silk – Velvet – Ribbon -Velour – Moss – Stone – Jet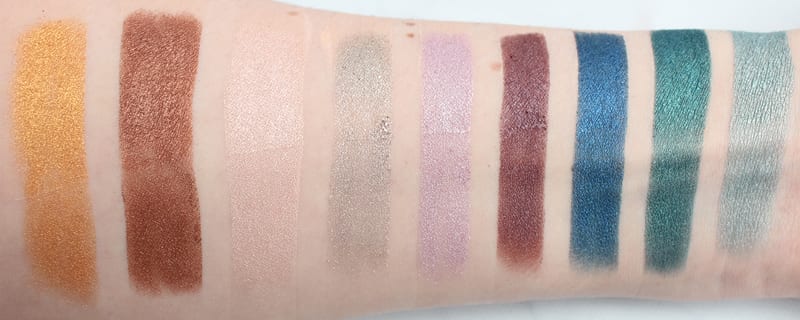 L to R – Flash – Synergy – Glitz – Tinsel -Twinkle – Volt – Nebula – Watt – Ignite
Kat Von D MetalMatte Value
Inside the Kat Von D MetalMatte Palette getting 9 Metal Crush eyeshadows (.06 oz each) and 13 Matte eyeshadows (.06 oz each) for a whopping 1.32 oz of product. The Metal Crush eyeshadow singles are normally $21 for .10 oz, but a typical full size eyeshadow (like from Urban Decay) is .05 oz, so these are slightly larger than average but not the same size as a Metal Crush single. You're getting .54 oz worth of Metal Crush eyeshadows
You're getting .78 oz worth of Matte eyeshadows. When looking at the Shade + Light palette, the mattes are .04 oz for the small pans and .08 for the large pans. The Shade + Light has about .60 oz of product for $46. So you're getting more product than what's in the Shade + Light. In my opinion, you're getting your money's worth with this palette.
Kat Von D MetalMatte Looks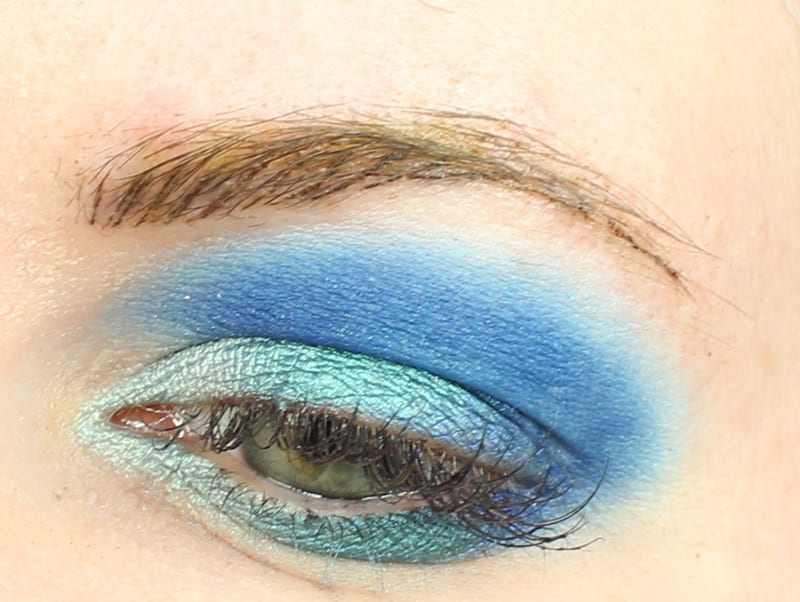 I didn't use a base shade like normal. I used Velour on the hood, outer corner of the eye and outer lower lid. I used Linen to blend out the edge of Velour. I put Nebula at the outer lid and outer lower lid. I put Watt at the middle of the lid and lower lid. I put Ignite at the inner lid and inner lower lid.
I used Bone as my base shade. I put Silk on the hood and outer lid. I put Twinkle on the inner lid and inner v. I used Volt on the lower lid. I used Ribbon to create a wing and then blended it onto the outer v.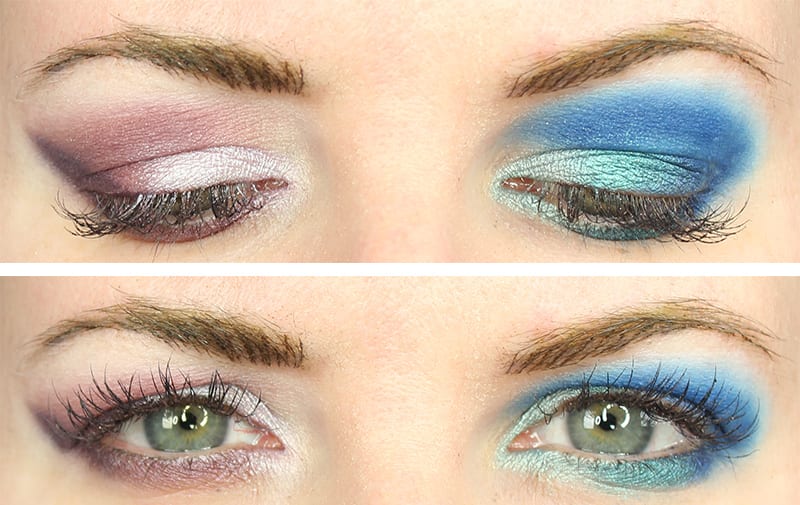 I put these two looks together quickly to test out the colors. I felt like the colors applied without a problem and blended together easily.
First Impressions
As far as the matte shade range is concerned, I'm pretty pleased. You have 5 basic shades – a white, black, cream, brown and beige. Then you have my favorite neutral shade – a grey. You have fun colors with the plum wine, violet, mauve, bright blue and green. You've got softer shades like the peach and yellow.
With the Metal Crush formula, you've got a lot of fun shades too. The only shade that I didn't feel was quite up to par was the rose gold, because it's such a pale pink, though it's still workable. Tinsel is the only super glittery shade in the entire palette. Ignite and Twinkle are beautiful eye opening shades. Watt and Nebula are pretty amazing too.
Both Bone and Linen made blending out the edges of other colors easy. Even when using the Metal Crush formula with the matte, I didn't have an issue blending. The Metal Crush shades were easy to blend together.
I really like that MetalMatte gives you have a good mix of cool, warm and neutral tones. If anything, I feel like this palette leans cool toned overall, which is a nice surprise. I'm also thrilled that you only have 1 brown in it, rather than drowning us in a ton of browns. I love the mix of mattes with shimmer, since I prefer to put a shimmery shade on my lid and lower lid, then use mattes on my hood / crease, with a pearly duochrome to highlight.
There are so many color combinations possible with the MetalMatte palette. You can stick to monochromatic looks or mix and match colors. Some combinations are blues with Ignite, Watt, Nebula and Velour. You can go green with Moss, Watt and Ignite. Enjoy pretty purples with Twinkle and Ribbon. Go plum with Velvet and Volt. End up a little burgundy with Silk and Velvet. Try a silver smoky eye with Stone and Tinsel. Do a brown smoky eye with Synergy and Oak. Make a statement with Flash and Suede.
Finally, a palette that strikes the balance between matte and shimmer! I love the mix of colors in the Kat Von D MetalMatte palette. I like the layout and design. So far, I'm really happy with the colors and the way they work for me.
Make sure you check out the best eyeshadow palettes for hooded eyes!
What do you think of the Kat Von D MetalMatte Eyeshadow Palette? Is it one you'll be indulging in?
More to See