I have had many readers request that I check out Joppa Minerals, so I finally decided to try ordering from them.
Site Navigation:
Ordering from the site was easy. Categories are clearly lined along the left side of the page, and there is useful information linked across the top, such as FAQ & Shipping. However, I did find myself wishing for a foundation chart for all of the different foundation colors.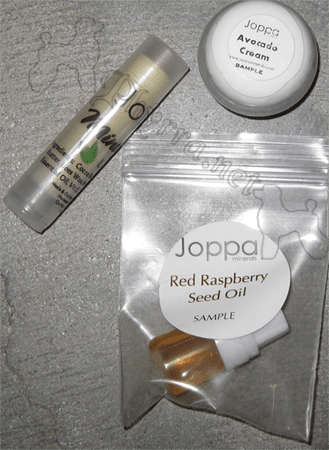 Products Ordered:
Morning Dew Foundation sample in Citrine (strong yellow undertones & golden bronzer)
Morning Dew Foundation sample in Goldenrod (works with light skin shades)
Simple Radiance Foundation sample in Fair Linen (neutral shade for light skintones that tend to burn easily)
Soft Coverage foundation in Lightest #1 (for the very lightest of skintones, a perfect blend of red and yellow)
Dewy Sheer Finishing Silk (satin glow)
Pink Lemonade blush (a light shade of pink with a pearl sheen)
Dewdrop blush (complexion enhancer)
Galaxy (eye shadow) silver with metallic sparkle and shine
Raw Silk (eye shadow) a soft pearly pink with slight sheen
Think Spring (eye shadow) a high sheen green with golden undertones
Orange Zest (eye shadow) super fun orange with an almost metallic high sheen
Rain Forest (eye shadow) a metallic, very deep shade of aquamarine
Egg Nog (eye shadow) a golden vanilla with high sheen
Avocado Cream Moisturizer (sample)
Red Raspberry Seed Oil Serum (sample)
Minty Lips (lip balm)
I ended up placing 2 orders with Joppa. The first when I just chose things blindly on March 2, the second after I received an email response to my question from Amy, the owner, on March 7. Both orders did arrive quickly.
Packaging:
All of my sample foundations came in jars. Sample eye shadows and blushes came in baggies, and sample skincare came in little jars as well. The packaging was mostly fine by my standards, but one of my foundations came without a label, which I found a bit annoying. The raspberry seed oil came in a bag to prevent spillage and the avocado cream came shrink wrapped. The lip balm was shrink wrapped too.
All of the sample sizes offered generous amounts of product. I had enough in each jar to try the foundation formulas a few times, as well as to mix them. The eye shadow baggies had plenty as well. The skincare samples were enough for me to determine if I liked them or not. The full size lip balm seemed to be a standard size.
Shipping:
Shipping was $4.50. It's a flat rate for samples or full size. I actually think the shipping price is very high for samples.
Pricing:
$2 for Morning Dew Foundation 3g Sample Jar, $12 for full size 5.6g
$3.50 for Minty Lips lip balm
$2.50 for Avocado Cream Moisturizer sample jar, $15 for full size
$2.50 for Red Raspberry Seed Oil sample jar, $23 for full size
$5 for 6 piece sampler kit (1 per customer, 2 foundations, 1 finishing silk, 2 blush choices, 1 concealer)
$1 for sample eye shadow, $6.50 for full size
$15 for full size blush or complexion enhancer
$13 for full size concealer
$12 for full size Full or Soft coverage foundation
$15 for full size Simple Radiance foundation
Green Concealer:
I really liked the green concealer. With only a tiny bit applied with a small firm brush, I could counteract any redness. I don't have a lot of experience with colored concealers like this but I feel like it did work well.
Lip Balm:
Ingredients –  Cocoa Butter, Shea Butter, Mango Butter, Raw Bees Wax, Hemp Seed Oil, Oilve Oil, Essential Oils of Peppermint and Spearmint, Vit. E, Grapefruit Seed Extract
I can easily see why this is a best seller for Joppa. I like the formula and the spearmint really sticks with you several minutes after application. It's nice, though I prefer my lip balms with pistachio butter these days.
Avocado Cream Moisturizer:
Ingredients – Aqua (Distilled Water), Persea Gratissima (Avocado Oil), Butyrospermum Parkii (Shea Oil), Vitis Vinifera (Grapeseed Oil), Cocos Nucifera (Coconut Oil), Limnanthes alba (Meadowfoam Seed Oil), Aleurites Moluccana (Kukui Nut Oil), Tocopherol (Vitamin E) Stearic Acid, Emulsifying Wax NF, Vegetable Glycerin USP, Sodium Hydroxymethylglycinate, Phenoxyethanol and Caprylyl Glycol
This is a very silky smooth  moisturizer. It's light and absorbs into the skin fairly quickly, though there is a slight bit of of a greasy feeling left on the skin after you apply it.
Red Raspberry Seed Oil (Serum):
Ingredients – None are listed on the sample I received or the website. That bothers me quite a bit. It only says "Very high in vitamin E, in the forms of: alpha-tocopherol and gamma-tocopherol, which are the most potent forms of vitamin E to protect your skin. This product also has a high level of vitamin A. Natural Sun Protection and Antioxidant."
Now, I love serums. I love how this feels on my skin. It absorbs quickly and didn't irritate my skin at all. HOWEVER, I'm really bothered by Joppa claiming that this has 'amazing natural sun protection against UVA & UVB rays' and 'natural High sun protection' because I feel like this is all but encouraging people to forgoe SPF in favor of this product. While I think this is a really nice serum as it made my skin soft and didn't irritate it, I would never rely on a product like this alone for SPF protection. I feel like it's sort of… irresponsible to make those claims, though they don't state a specific SPF rating.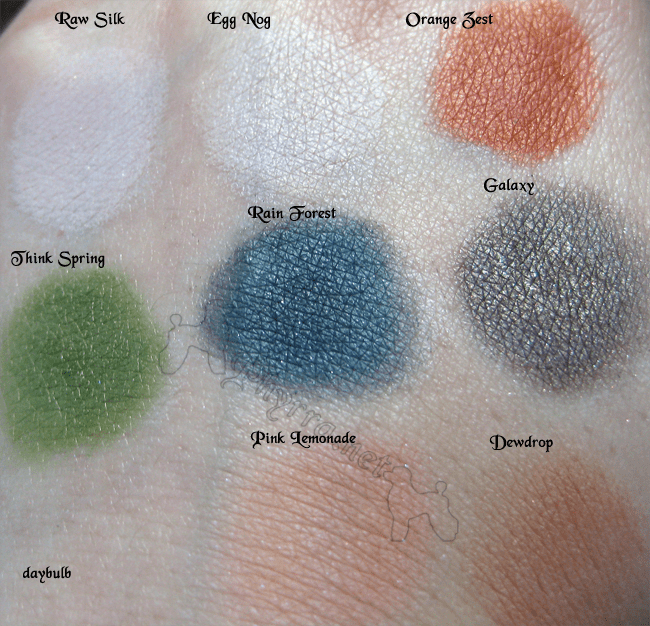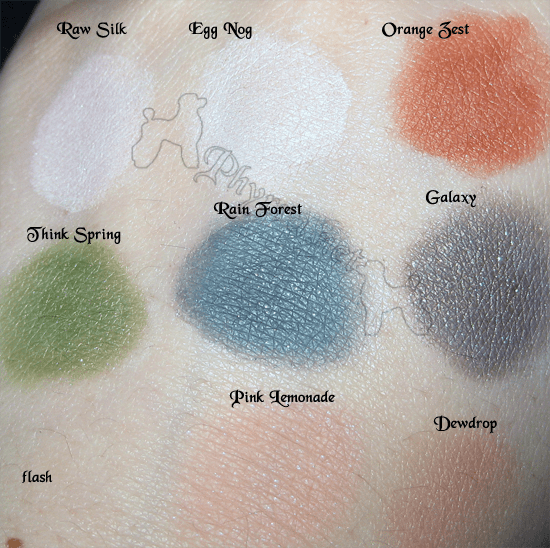 Eye Shadows:
Ingredients – mica, titanium dioxide, iron oxides, kaolin clay, magnesium stearate. may contain zinc oxide, ultramarine blue and or violet, chromium green oxide, silica oborn nitride
Sold in 5 gram sifter jars with .05 oz of product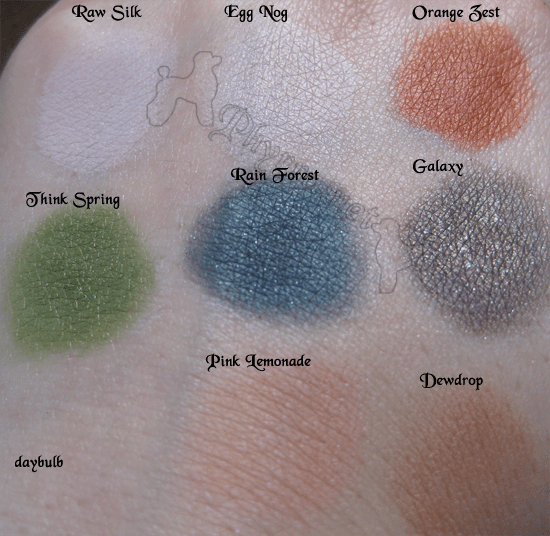 The eye shadows that I tried, while they all had a nice formula, were for the most part quite safe and not as vivid as I personally like to wear. They're definitely for those who do prefer a softer color palette. My favorite of the bunch was Rain Forest. I also thought Galaxy was interesting. The rest were very neutral, even Orange Zest.
Blushes & Complexion Enhancers:
Ingredients – ingredients: sericite mica, kaolin clay, magnesium stearate, iron oxides, silica, may contain ultramarine violet or blue
Sold in 5.7 gram size or 1.4 gram size ($10 for this size)
I only tried samples of one blush and one complexion enhancer. Pink Lemonade was a nice shade, as was Dewdrop. The formula was nice on these and I found both shades to be flattering, in my opinion.

Wearing Dewdrop as a blush

Foundations:
Joppa offers several different types of foundations and I sampled a few. Morning Dew bronzing foundation was by far my favorite.  The soft coverage foundation was ok. I didn't really like how the simple radiance foundation wore on me.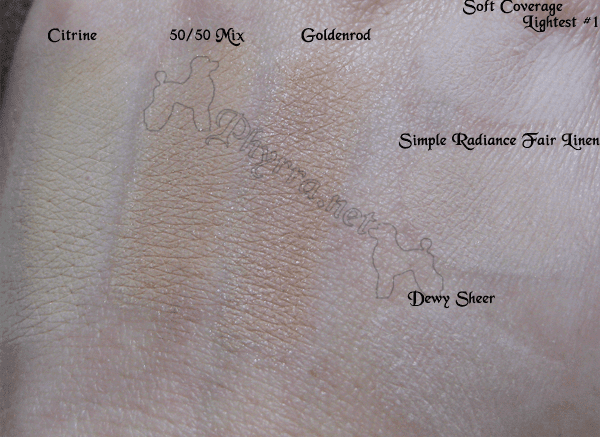 I feel like the Simple Radiance in Fair Linen was just too much coverage. I kind of feel like it covered up my skin more than I'm used to, which is probably why I didn't care for it.

Me in Simple Radiance foundation in Fair Linen.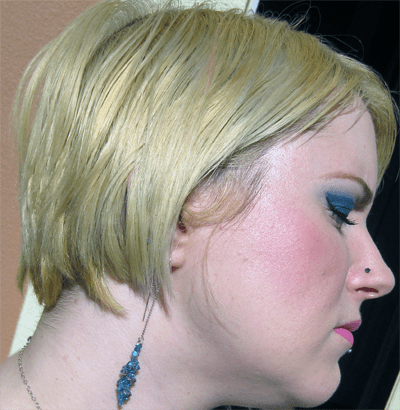 You can see that Fair Linen matches pretty well, color wise.
I think the Soft Coverage Foundation in Lightest #1 was ok.


Soft Coverage in Lightest #1 & Pink Lemonade blush

Soft Coverage in Lightest #1

I think the Morning Dew Bronzing foundation in Goldenrod was too dark, but I really like the formula.


Morning Dew Bronzing foundation in Goldenrod
The mix of Morning Dew Bronzing foundation in 50/50 Goldenrod & Citrine was too dark as well.


50/50 mix of Goldenrod& Citrine
I really like the Morning Dew Bronzing foundation in Citrine, but I think it's slightly too yellow.


Morning Dew Bronzing foundation in Citrine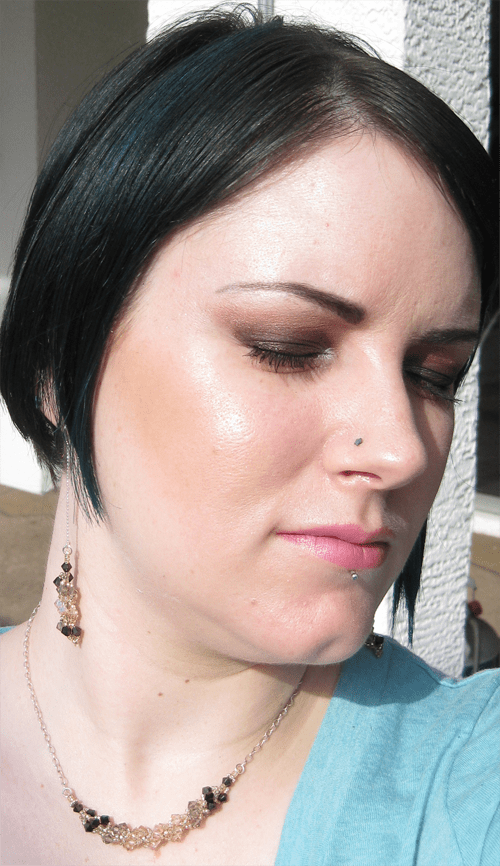 Morning Dew Bronzing foundation in Citrine
I really liked the Citrine foundation best of all, but it's just a touch too yellow for my taste. I'd like to see it toned down/more neutral.
However, I do not like that Joppa Minerals makes this claim here, as it makes me nervous:



According to the FDA, you cannot make a specific SPF claim without going through FDA testing. I emailed Joppa to ask how they determined that their foundation was SPF 15-20, and I posted their response below.
Customer Service:
The customer service was mixed. Initially I was disappointed. I emailed customer service on Tuesday March 1st, then again on Sunday March 6th. Late on Monday March 7th I finally received an answer to my email. However, during the interim, I had placed an order late on March 2nd and received my order rather quickly on March 5th. It didn't make sense to me that someone would receive and process my order, but not answer my email.
I emailed again with another question on Sunday April 3rd and as of Wednesday April 13 have yet to receive an answer. I understand taking up to 5 business days if it's a one person operation (which I do suspect that Joppa is only 1 or 2 people), but I definitely feel like my questions were not answered in what I would consider a timely fashion and that makes me feel not valued as a customer. Their site even says, "If you need help in choosing a correct shade or formula please include the current brand and shade of the makeup you are currently using or send us a picture with a brief description of your skin type." This statement gave me the expectation that if I contacted asking for help, I would receive it. Edit: It appears that my emails were never received.
Would I purchase from Joppa Minerals again?
Maybe. It seems that customer service never received my emails asking for help tweaking foundation.
I don't mind the shipping charges so much for full size products, but I really am  bothered by the high shipping charge applying to samples.
The eye shadows didn't do much for me color wise but the formulas are really nice and I think that if you're someone who favors a more neutral palette, you'll like these shades and formulas.
I did like some of the foundation formulas, mainly the Morning Dew Bronzing foundation and the Soft Coverage foundation. I know a lot of people liked how the Simple Radiance looked on me but I definitely feel like it was too full coverage for my taste. Also, I dislike how the company claims a 'natural SPF of 15-20' without having been FDA tested.
The skincare products seem nice and I would definitely recommend the lip balm, but I'm bothered by the serum's lack of ingredients and claim of 'high natural SPF' because I'm afraid it would encourage someone to forgo a product that is rated by the FDA with SPF. I hate the thought of someone skipping out on SPF because of a natural product and putting their skin at risk. Additionally, I don't know if the lack of ingredients listing for the serum is an oversight or what.
So yeah, overall, my experience with Joppa was mixed.
What about you? Have you tried Joppa Minerals? What was your experience with them?
Edit: I received a response back from Joppa about the SPF rating on the foundations.
"Because our products are not rated by the FDA we cannot give an exact spf rating.  Both Titanium Dioxide and Zinc Oxide are natural and highly effective sunscreens against both UVA and UVB rays.  These two ingredients are found in all of mineral foundations.  We have had our products lab tested but again, because we have not had our products rated by the FDA we cannot give an exact SPF rating."
Edit: I received a response back to Joppa about the foundation tweaking question. Apparently they didn't receive either email I sent (April 3, April 12), but when I emailed again today (April 19), they responded. So it appears that the internet had a glitch, or it possibly went into a junk mail folder, I'm not really sure. As such, I've updated my review to reflect the current information.
Products purchased by me. All opinions are my own.