JD Glow Liquid Multichromes Review and Swatches
Hey friends, today I wanted to share my JD Glow Liquid Multichromes review and swatches with you. For those of you who don't know, JD Glow is a black-owned cruelty-free indie beauty brand. They make pressed, loose, and liquid eyeshadows, as well as a slew of other products. When I saw JD Glow was releasing liquid multichrome eyeshadows, I knew I wanted to try them! I bought three shades: See Weed (a green multichrome), Umm (an indigo multichrome), and Sphinx (a neutral multichrome).
Where to Buy
JD Glow
Price
$18 for 7 grams
About JD Glow Liquid Multichromes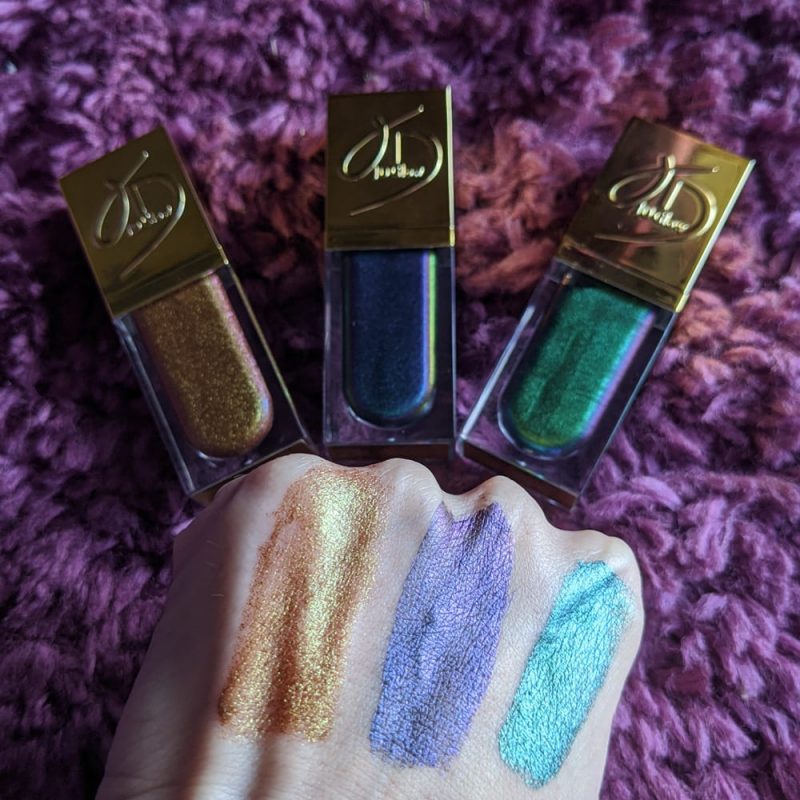 Our Liquid Multichromes provide vivid long lasting color. The multichrome goes on liquid & dries down to a transfer proof finish. Apply thin coats. Allow the coats to fully dry before adding additional layers if more pigment is desired. (Note: caking the product on can cause cracking)
Duochrome / Multichrome
Shimmer Finish
Pigmented / Effortlessly Buildable
Long Lasting
Smudge Proof
Water Proof
Smooth Application
Cruelty-free and Vegan
Handmade in the USA
2 year shelf life
Liquid Multichrome Swatches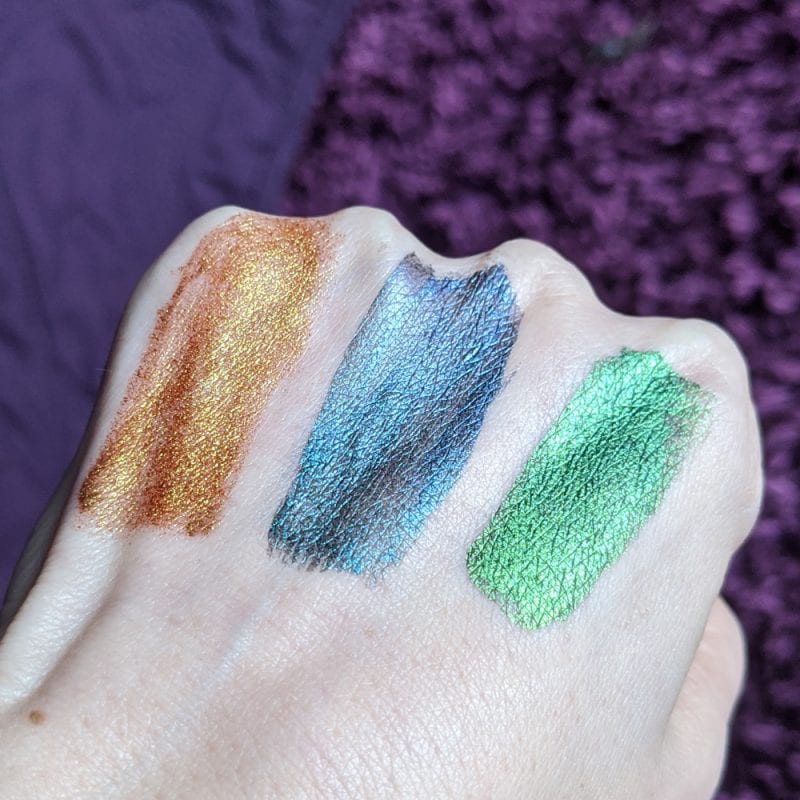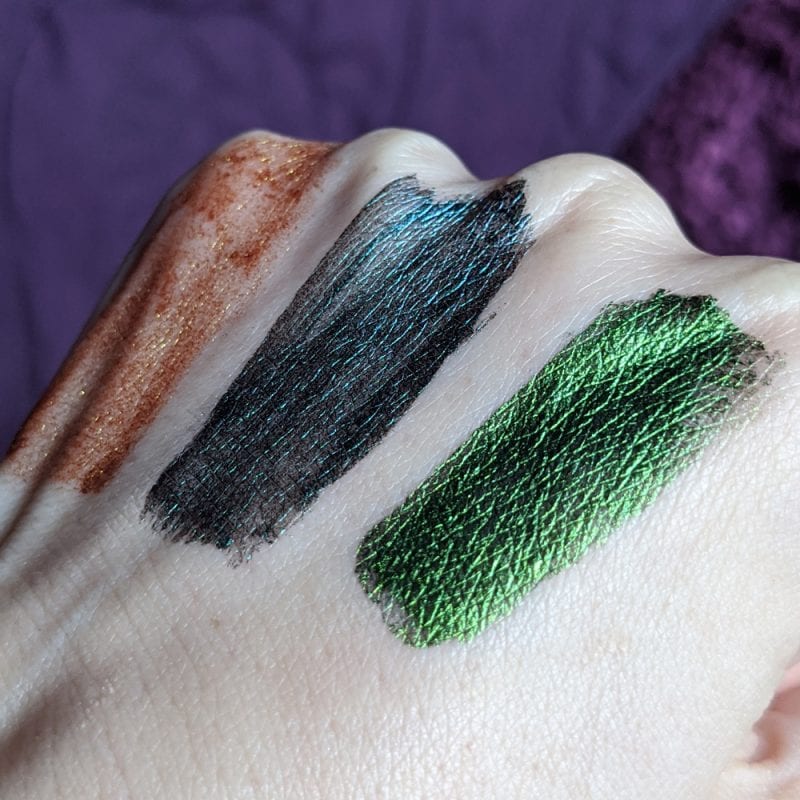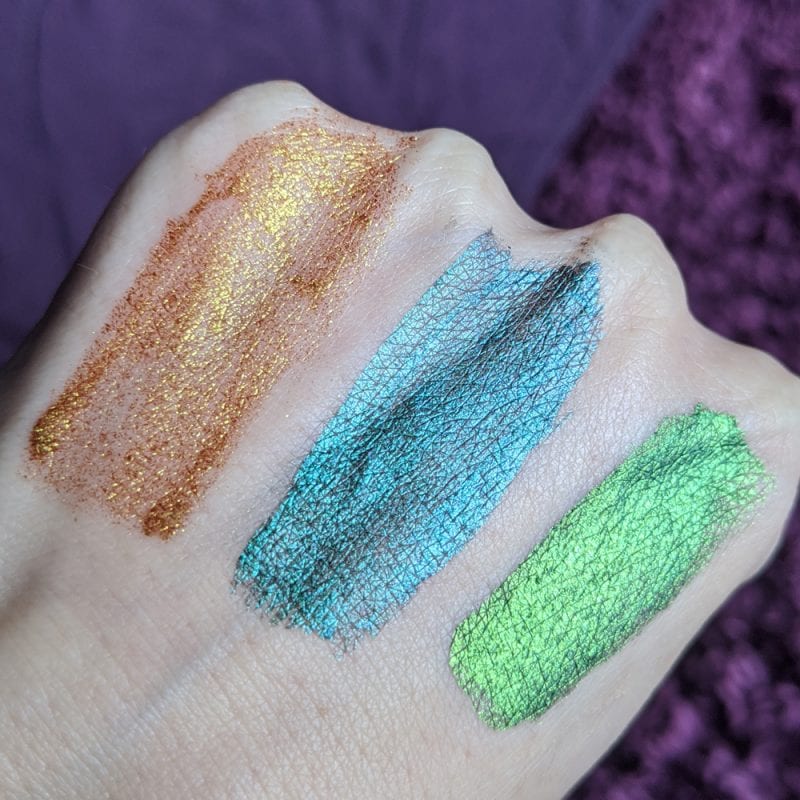 From left to right we have Sphinx, Umm.., and See Weed.
Sphinx – Gold, Green, Brown, Teal Multi-Chrome (Shimmery)
See Weed – Grass Green, Line Green, Teal, Dark Teal
Umm.. – Deep Teal, Purple, Blue, Pink, Green, Gold Multi- Chromatic
You can see in my hand swatches that Sphinx is thinner and less pigmented than See Weed or Umm…
Other Shades Not Featured:
Alot — Purple, Pink, Orange, Blue, Deep Bronze Multi- Chromatic
No Way: Fuchsia, Purple, Green, Gold Multi-Chrome
Urgent– Bronzy Copper, Red, Deep Fuchsia, Gold, Green Multi- Chromatic
Quick Eye Looks Featuring the Liquid Multichromes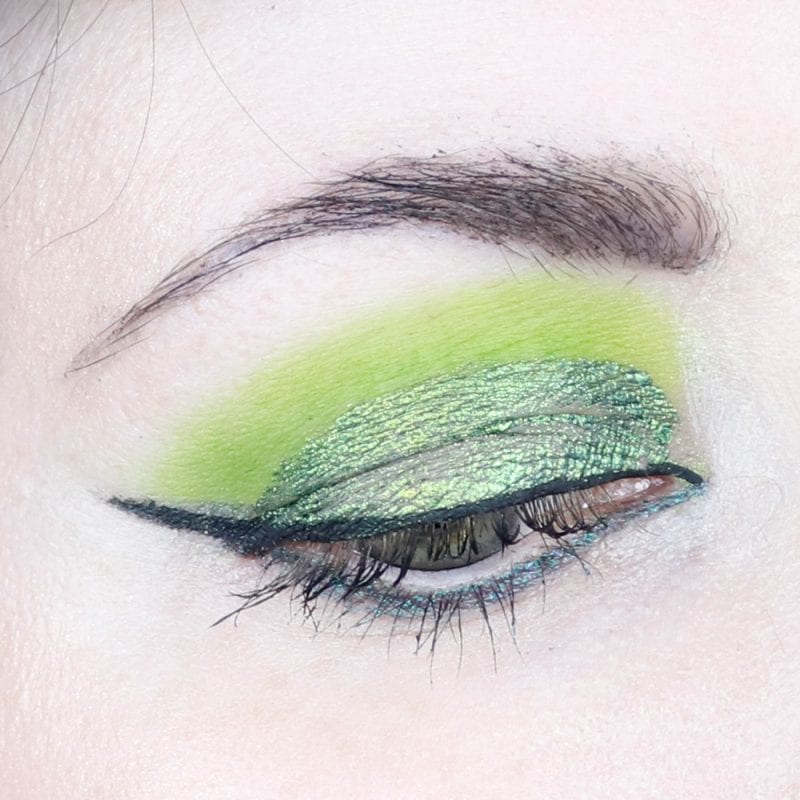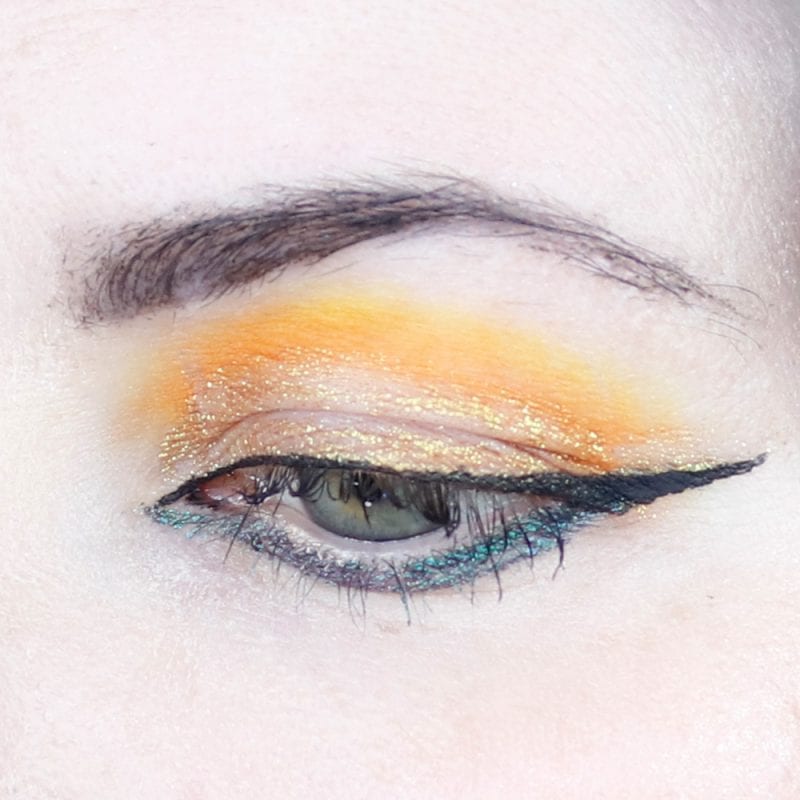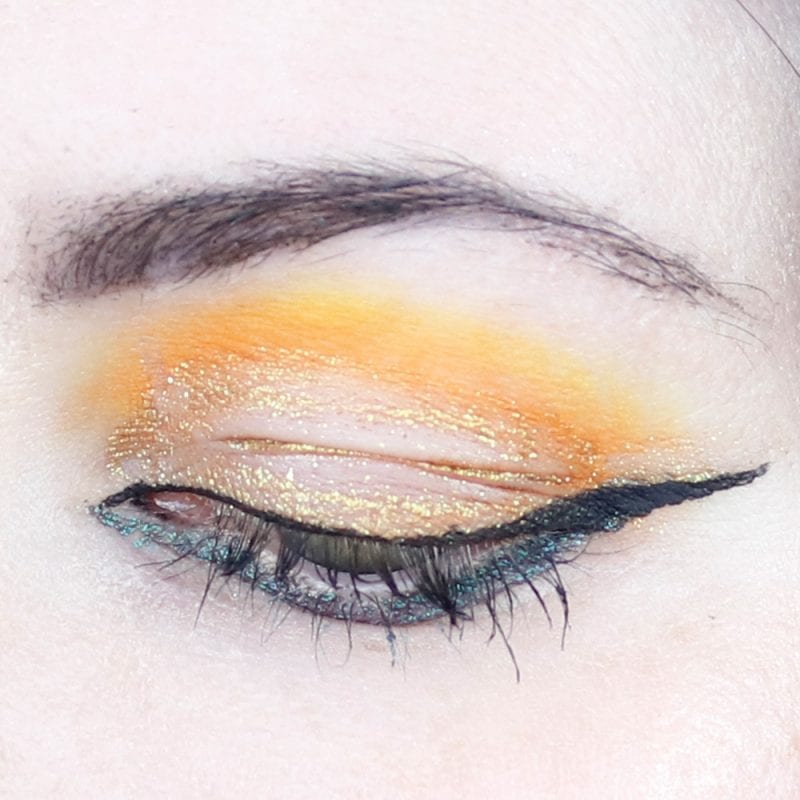 I used the Viseart Bright Editorial palette to create these quick looks with the Liquid Multichrome eyeshadows on my hooded eyes. As you can see, Sphinx wanted to pool in my crease.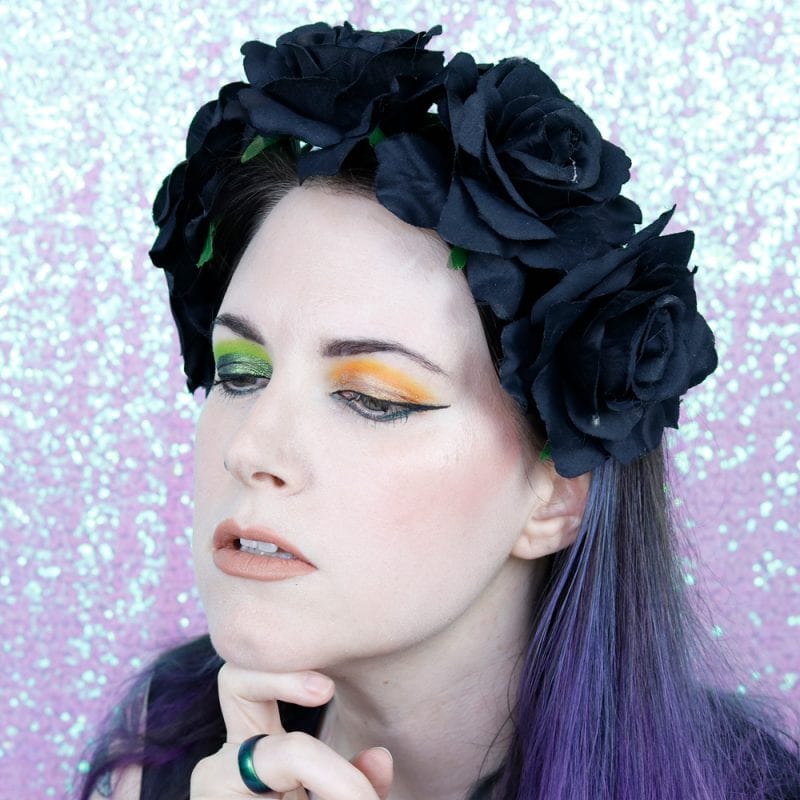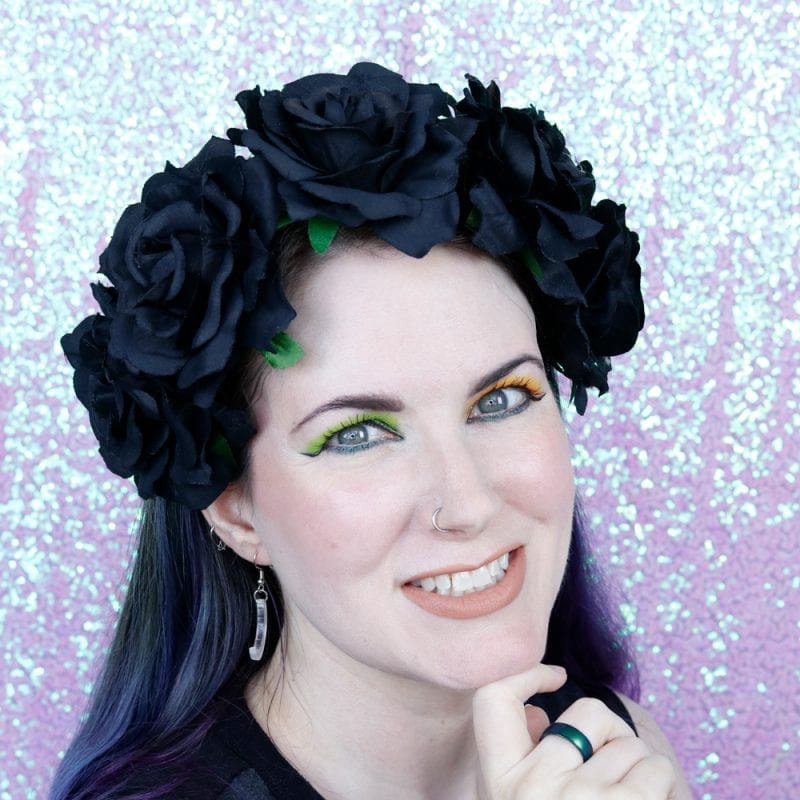 I know some people never believe me when I say I have hooded eyes, but trust me, the photo above very clearly shows how the 'hood' of my eye hides the multichrome on my visible lid and makes my eyes appear heavy. Wondering if you have hooded eyes? Check out Do I have hooded eyes?
My trick for creating super complex eyeshadow looks if I only have a little time is to pick any coordinating crease color and pair it with a multichrome. So with Sphinx I mixed yellow and orange to crease a very yellow-based orange. For See Weed I mixed lime green + grass green to make my perfect shade. Then use a skin tone shade matte or satin to buff out the edges of the bright crease color and you're done.
See the full breakdown on this makeup look and join me in talking about the products I'm wearing in my JD Glow Liquid Multichromes Look article.
JD Glow Liquid Multichrome Formula Experience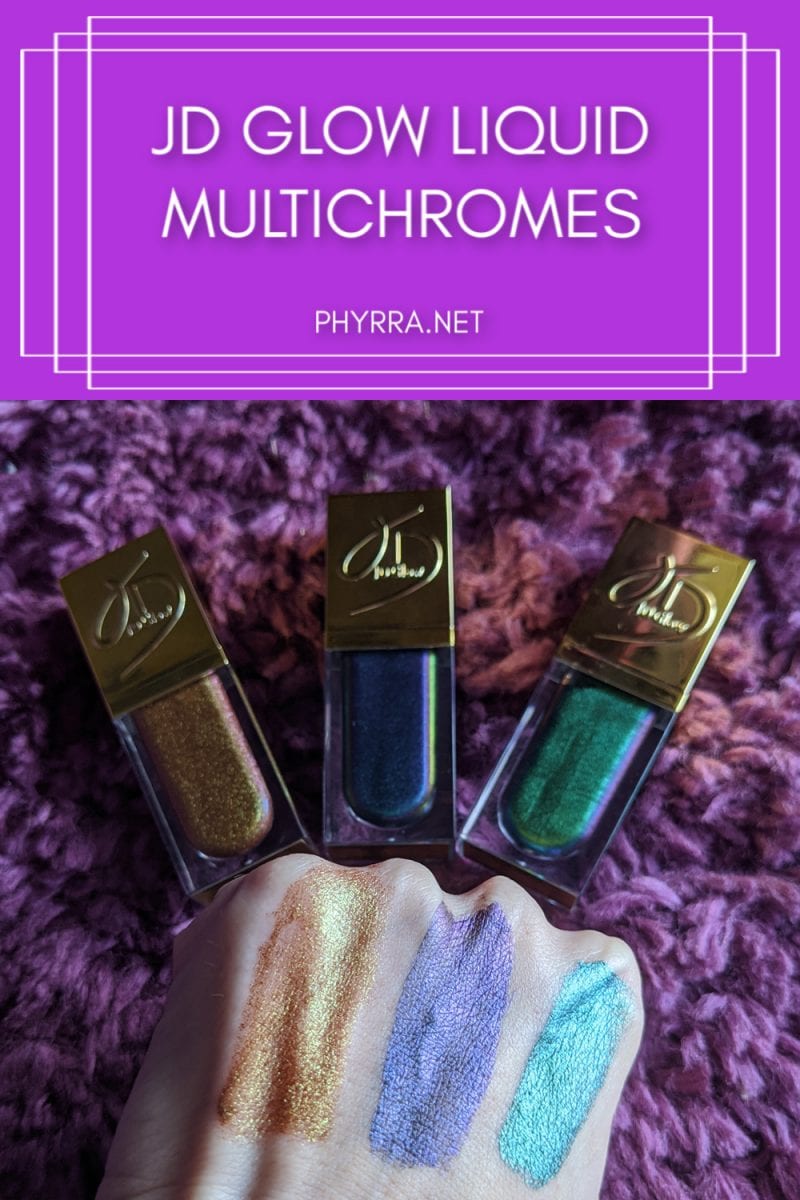 The JD Glow Liquid Multichrome Formulas are all supposed to provide long lasting vivid color without transferring. They're supposed t be smudge proof and waterproof.
As I've mentioned, I have hooded eyes. This makes eyeshadows tricky, especially cream or liquid formulas. Some work amazingly for me, and others pool into the 'crease' of my eyes. I found all 3 of these colors worked differently on my eyes.
Sphinx – the formula on this color was very sheer and thin. I could not get it to build up to full opacity on my eyelid or my hand, and it settled into the 'crease' of excess skin on my hooded eyes. I bought it hoping that I could use it by itself as a sheer wash of neutral multichrome color, but I don't think that will be possible because of my eye shape. This is really sad to me.
See Weed – It's my favorite of the 3 and the formula on it is the best. It is fully opaque on my eyes in one pass. It had only a tiny bit of product settle into my hoods.
Umm – this one has good pigmentation, but it is not as pigmented as See Weed, nor as sheer as Spinx. It performed the same as See Weed on my lids. It was very easy to use as a liner, too.
If you're looking for liquid multichrome eyeshadows, I recommend checking out See Weed or Umm from the shades I purchased. Skip Sphinx, especially if you have hooded eyes, or you'll end up frustrated like I was with the shade. The other colors that I didn't purchase may also be as nice as See Weed or Umm.
What do you think of the JD Glow Liquid Multichromes?