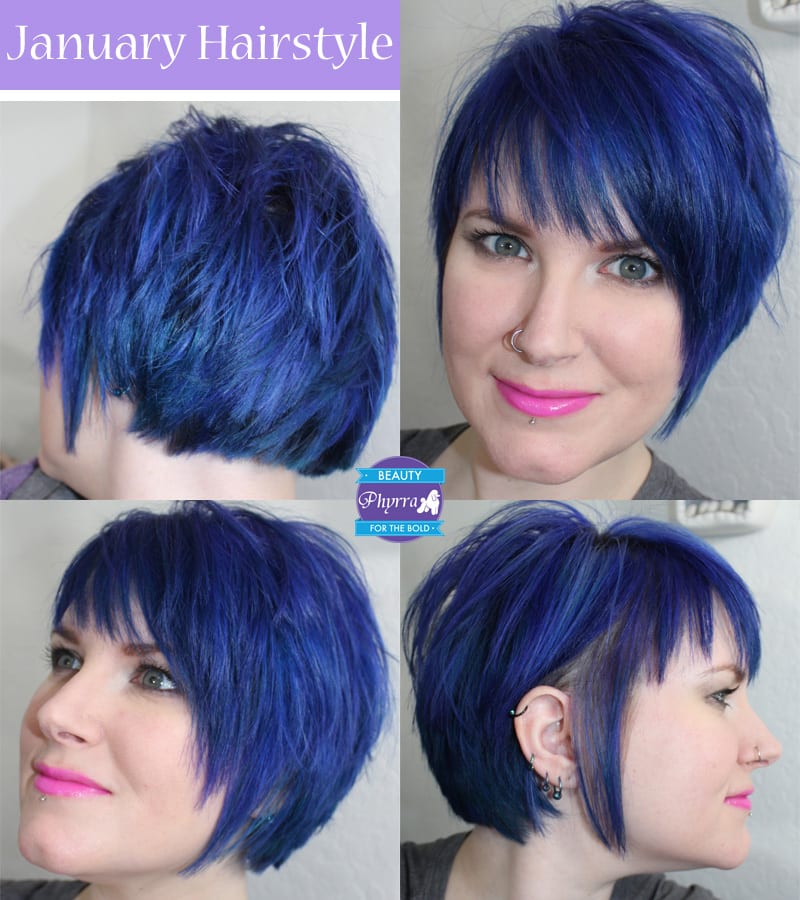 As you know, my beauty resolution for 2014 is to grow my hair out. So I'm growing out my pixie! Here's my My January Special Effects Blue Mayhem Short Hairstyle. Growing out your hair doesn't mean that you should skip getting it trimmed! Today I went to Cameo Salon to see my stylist Lori and get my first haircut of 2014. When you're growing out your hair, it's good to get regular trims, not because it helps your hair grow faster, but because it helps you keep the hair you're growing.
My January Special Effects Blue Mayhem Short Hairstyle
I've been taking biotin to help with my hair growth but it's too soon to really see the results yet. I think it takes at least 6 weeks to see any results.
I explained to Lori that I want to grow my hair out, so I really only wanted the ends trimmed. She blunt cut the back of my hair, since she said that would make it stronger than having it point cut in the back. She skimmed the edges of the rest of my hair. She shaped my fringe around my eyes.
Eyes
Milani Eyeshadow Primer
Tarte Skinny SmolderEYES™ Intense Amazonian Clay Waterproof Liner in Smoky Quartz – upper lash line
Stila Smudge Crayon Waterproof Eye Color in Smoke – lid and crease (no longer cruelty free)
Urban Decay Venus (Naked Basics) – highlight
Urban Decay Walk of Shame (Naked Basics ) – transition
Too Faced Better Than Sex Mascara
Tarte Amazonian Clay Waterproof Brow Mousse in Rich Brown
Face
Urban Decay Naked Skin Beauty Balm Broad Spectrum SPF 20 in Naked Light
It Cosmetics Celebration Foundation in Fair
Urban Decay Naked Skin Ultra Definition Loose Finishing Powder in Naked Light
Lips
Bodyography Electric Lip Slide in Cheeky Baby
It makes me so upset that one of the last products I bought from Stila happens to be one I love. I picked up Smoke, Pink Violet, Antique, and Kitten during 2013 but didn't play with them until recently. I wish Stila hadn't changed their cruelty free prophecy. I'm also a little sad that the Tarte Smoky Quartz color is no longer available, because it's gorgeous, and people who love greys need it.
Anyway, enough tears over lost brands.
I love my hair! I love that my stylist is supportive of me growing it out. She also loved Special Effects Blue Mayhem and said it's a stunning blue. Then she asked me when I'm going back to a teal, because she prefers teal on me 😛 Gotta love it! As soon as I can find Fishbowl Blue in stock, I'm picking it up.
What do you think of my My January Special Effects Blue Mayhem Short Hairstyle? When you're growing your hair out, how do you get it trimmed? Do you take any supplements?
Last Updated on