This month's Independent Spotlight is with the enticing Allison of Epically Epic Soap Co.


How did you come to the decision to open Epically Epic?
I remember having a discussion with some friends about what to do with my life. I had been an art gallery director and a painter for 10 years and was in the mood to try something new. One of the possibilities I mentioned was starting a soap company. I didn't really think it would happen, but a few months later I decided to try making a few soaps. They turned out pretty tragic, but I became completely obsessed with learning more and getting my company started.
How did you come up with your company name?
"Epic" was a favorite word for my friends and me when we were teenagers. Plus, my eBay sign-in name was already "EpiclyEpic", so it seemed to make sense. At the time I planned to sell on eBay and hadn't heard of Etsy.
About how many hours a day do you work? How many days a week?
I work almost all day everyday. There never seems to be enough time to accomplish everything I want to do. I would run myself ragged if my family and friends didn't drag me away from it once in a while!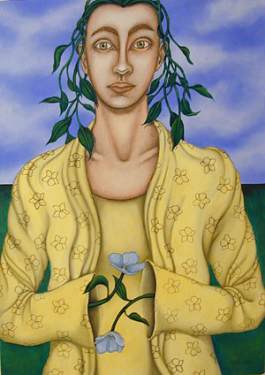 What spurred you to create your first bar of soap?
It never occurred to me that actual people could make decent soap until I used one of the bars that an acquaintance made for Christmas party favors. That made me realize I could do it, too.
What drew your interest in body products? How long have you loved them?
I have always loved collecting bath and body stuff for almost as long as I can remember. My favorites were The Body Shop (since age 12), Lush, who I found later on in Vancouver, and an Alaskan company called SeaSoaps. There's something about the different scents and colors and the collectibility of their products that I found very seductive.
How do you come up with your soaps? Your solid lotions?
I come up with product ideas like I used to come up with painting ideas. I can get inspiration from nature, food, and even dreams. My mind is always open to new flavors, scents and designs… more than I have time to actually make.
What about your lip balms and lip tints? (my favorite!)
After making soaps for several months, and later the solid lotions, I decided I'd better try lip balms. It's always fun to delve into a new project and start learning and experimenting. I came up with my current formula through trial and error. It was pretty difficult to get it right… there's the consistency, hardness, sweetness-level, flavor, color, and those accursed shea butter grains! They stressed me out so much that shea butter is now officially banned from my studio.
What inspires you to create them?
Practically everything I eat gets consideration as a lip balm flavor. I also love getting customer suggestions.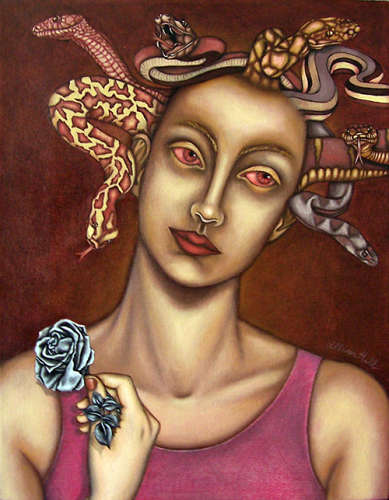 What is your favorite product to create?
The lip balms and tints.
What are your favorite scents to wear and to create?
I personally like to wear woodsy, naturey scents like cedar and sandalwood. I love to create personalized scents for my customers. It's amazing some of the combinations they come up with.

What is your all time favorite scent?
If, for some reason, I had to pick one scent in the world to wear forever, it would be sandalwood. Too bad it's so expensive!!

I know you take custom requests. What are your favorite custom requests that you've received?
As I said, they are all amazing. Some interesting ideas that come to mind are Volcano Goddess (cinnamon, plumeria, birds of paradise, passionfruit-rose and amber), Basmati Rose, Blue Bell Knoll (originally Blueberry-Violet-Vanilla), and "The Perfect Perfume" (just coffee).
How did you decide upon pistachio butter? What are the benefits of using it in your lip balms?
Pistachio butter has a creamy texture I couldn't find in any other butter, wax, or oil. What I love the most about it is that it doesn't crystallize during the heating and cooling process.
What's your skincare routine?
Sunscreen during the day, and at night I use a homemade anti-wrinkle serum of olive squalane, carrot seed oil, and vitamin E. (I'm planning to add it to my shop someday).
What are your favorite colors?
Crayola crayon colors – Sea green, Periwinkle, Orchid, Melon, Spring Green, Cornflower.
What's your favorite way to accessorize?
Painted jewelry by my friend Linda Storm.
What colors have you dyed your hair?
Fire-engine red and indigo blue (in streaks).
What's your favorite chocolate?
Dark chocolate with almonds.

Do you have any pets?
Yes, two feline angels named Iris and Scarlet. They're not allowed in my soap-making areas, of course, even though I hate to be away from them.
Do you play any video games?
I have a character on Runescape named Aliciacolina. I wish I could play more. I have to be careful with games because I get VERY addicted.
What are your favorite tv shows?
All cartoons – The Simpsons, Futurama, South Park, etc. As a kid I thought I'd grow up to be a cartoonist.
Do you have any tattoos or piercings?
I pierced my nose when I was 19. My mom just *loved* it.
What is your workspace like currently?
I am in the middle of moving (yet again!) from the place where I was house sitting to our own rented house in New Mexico by the Pecos river. The house has enough room for huge a soap lab, a separate wrapping room, and a studio for my husband's artwork.
What color is your bedroom?
We just painted it mint green.
What colors do you like to decorate with in your home?
I'm not very good at interior decorating, honestly. We picked out 3 shades of green to paint the walls, and I'm dreaming of commissioning an artist to make me some corn curtains like Marge Simpson has in her kitchen. If you know anyone who can do that,
please let me know!!
What do you do to relax?
Sleep, garden, have a drink with friends, or explore the epic New Mexico wilderness.
What do you do to pamper yourself?
I love love love eating in Asian restaurants, Vietnamese and Thai especially.
What's on your iPod or Pandora station?
Lots of 90's women like Bjork and PJ Harvey, also Cuban music, heavy metal, and folky stuff.
Thank you very much Allison for allowing me to interview you! You will be seeing changes coming to the Epically Epic Soap Co store, as Allison has just announced that she is pregnant! Congratulations!