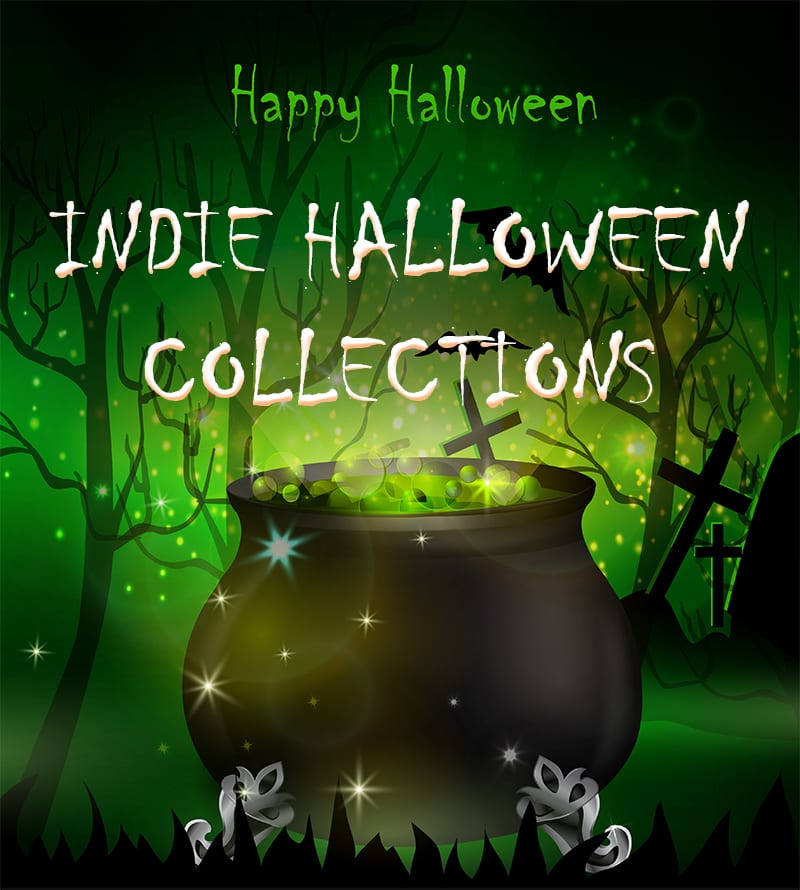 Indie Halloween Collections
It's that time of year again! Indie Halloween Collections are out. I love Halloween and Fall collections and definitely feel like Indies do it best. Here's my roundup of current and upcoming collections.
Fyrinnae has released their Dark Angel Collection. (vegan)
Magic Whipped Metallics Liquid Lipsticks
Dark Angel – A deep burgundy base is filled with turquoise-blue sparkle, which turns purple then pink depending on light and angle.
Siren's Call – Blue becomes violet, then vivid pink.
Beloved – Cool, medium burgundy-red becomes warm red, and then a deep, coppery shade.
Unrequited – This lip color is a soft, muted orange with a highlight of green shimmer. Angled or closer to light, it becomes pink-orange, or a deep peachy shade.
Poisoned Chalice – On a black base, gold shimmer turns chartreuse then to a deep emerald shade when clsoer to light or angled. Looks great on its own, or applied thinly over other lipstick.
Broken Wings – Vivid green becomes peachy-pink.
Liquid Gel Eyeliners
Only a Myth – Vivid metallic turquoise.
Pandora's Realm – Medium burgundy with subtle gold sparkle.
Djinn – Deep, sparkling brown.
Cloak of Night – Metallic royal blue.
Sharp Enough – Metallic dark violet.
Pressed Highlighter
Evocative – Pale cool lavender topped with a warmer pink glow.
Notoriously Morbid has When the Wolfbane Blooms for Halloween this year. Their collection is based off of werewolves, which I love! They have a pressed eyeshadow palette, loose eyeshadows and 2 lipsticks. They had a set with a highlighter but it sold out in 10 minutes.
Deny The Beast – A deep shimmery purple with a slight blue sheen and pink shift
Power Without Guilt – A golden brown base with a violet to antique gold shift
Together Forever – A metallic red/burgundy with a slight orange sheen and purple to red sparkles.
.44 Bullet – A dark taupe base with a silver to aqua shift and a hint of pink.
Mystic Mattes
Serafine – A mid toned mauve with a strong sliver to aqua duochrome.
Fe-Fi-Fo-Fum – a matte warm nude rose.
Silk Naturals released their fun Fall collection, which has a new HyperGloss lipstick-gloss hybrid formula. (vegan)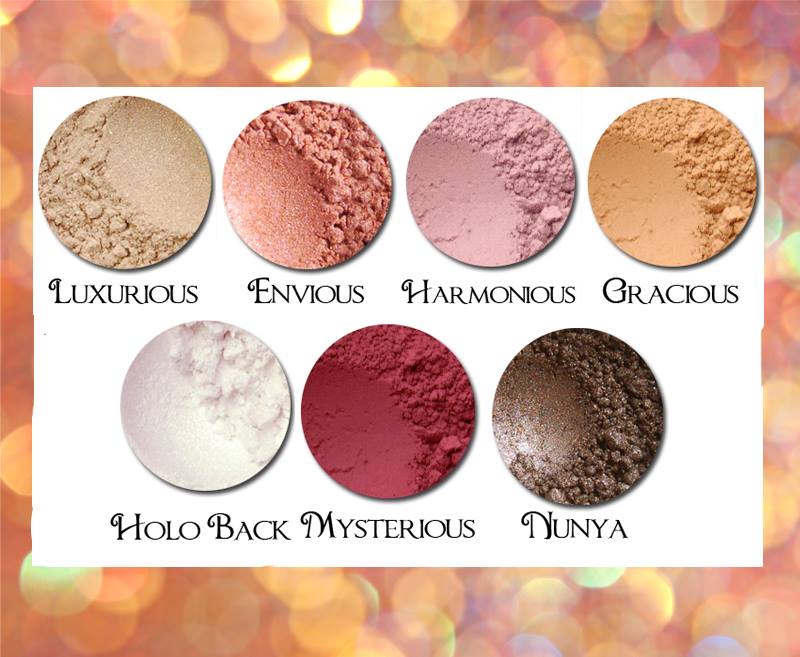 Eyeshadows
Gracious – a gorgeous golden nude matte tone.
Harmonious – a cool dusty pink matte shade that works beautifully with Mysterious. It almost borders on purple, but worn over our Stick 'em Primer it turns a little bit warmer.
Luxurious – a stunning light golden taupe with a slightly metallic finish.
Mysterious – a matte red that is the trend color for Fall. It looks cool toned in the jar, but does turn a bit warmer on eyes. It's gorgeous as a crease color, and works well with Harmonious.
Nunya – the perfect accompaniment for our Bare Necessities palettes! It's a semi-matte black with a pinky brown pearl finish. It matches beautifully with colors like Trouble, AKA, Loaded, and Torrent.
Blush
Dainty – a light nude pink blush that works beautifully with Stripped Velvet Matte Lipstick.
Highlighters
Holo Back – looks nearly white in the jar, but turns into the most gorgeous holographic color changing highlighter! It's cooler toned with hints of purple, and blue.
Envious – a warmer bronze with pink, and purple color shifting highlights. It's gorgeous as a highlighter, and also wonderful for eyes, and lips.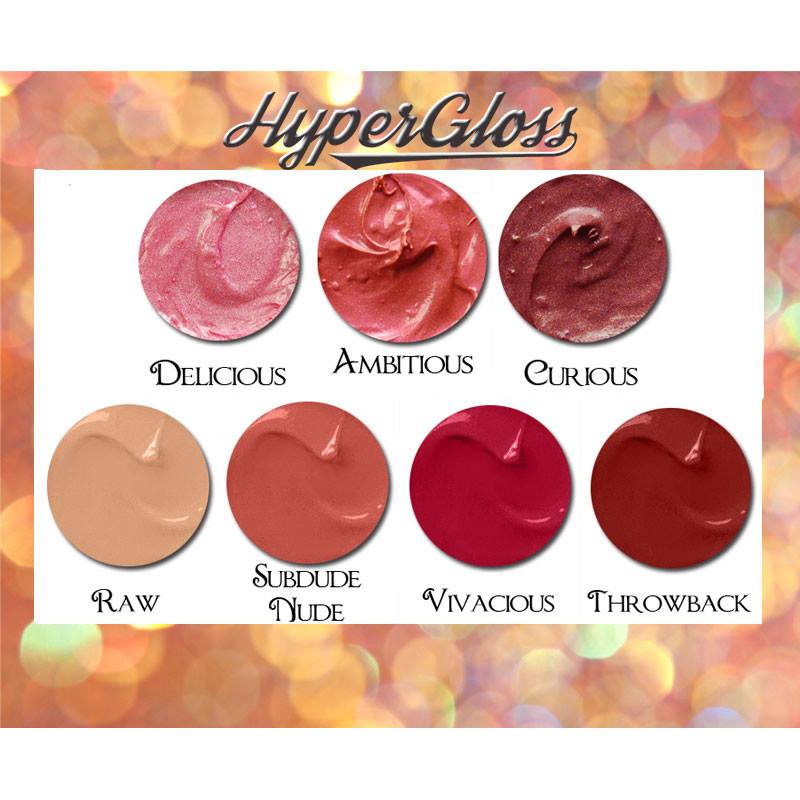 HyperGlosses
Raw – a very light very nude Hyper Gloss with a cream (no sparkle) finish. It's identical to Au Natural
Ambitious – a creamy nude base with a gorgeous overlay of pink interference.
Curious – a medium nude plum with a shimmery finish.
Delicious – a medium pink with a layer of icy shimmer on top.
Subdude Nude – a mid-tone nude with a pretty strong hint of rose Hyper Gloss with a cream (no sparkle) finish.
Throwback – a deep nude brown Hyper Gloss with a cream (no sparkle) finish. It's in the same color family as the 90's Velvet Matte, but a little darker.
Vivacious – a muted berry tone with a cream (no shimmer) finish.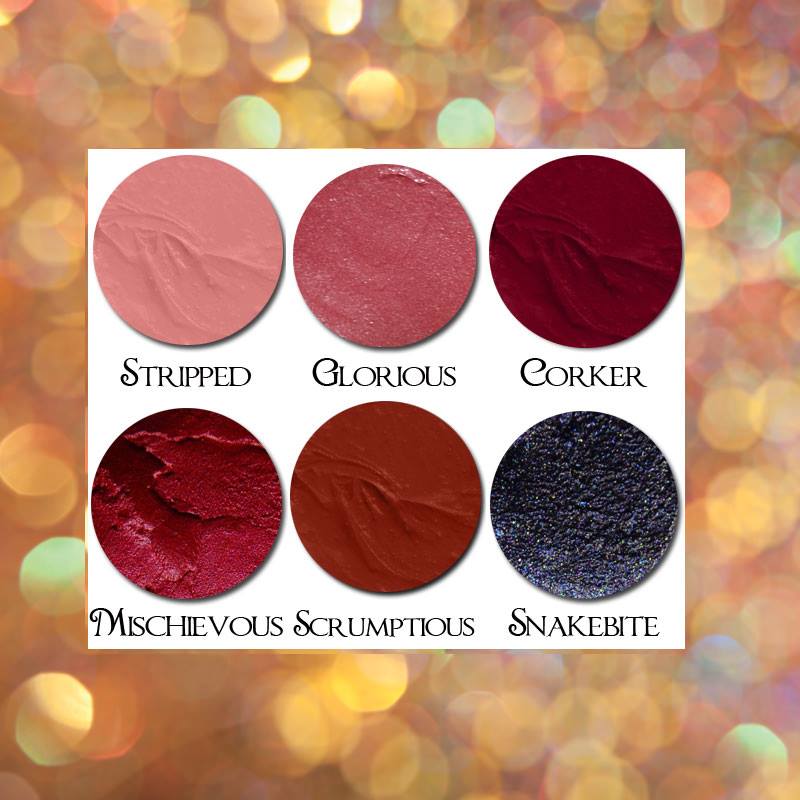 Velvet Matte Lipsticks
Snakebite – black with a stunning array of multi-colored glimmer. In certain lights it looks almost navy from the interference colors. Easily, hands-down the coolest color we make.
Mischievous – a stunning deep metallic matte red. It's vampy, glamorous, and gorgeous.
Corker – a velvety matte plummy wine color.
Glorious – a pinky plum nude with a gorgeous metallic finish.
Scrumptious – a gorgeous creamy medium/deep brown.
Stripped – an ultra light, ultra nude matte pink. It's gorgeous with a more smokey eye, and works wonderfully with Dainty blush.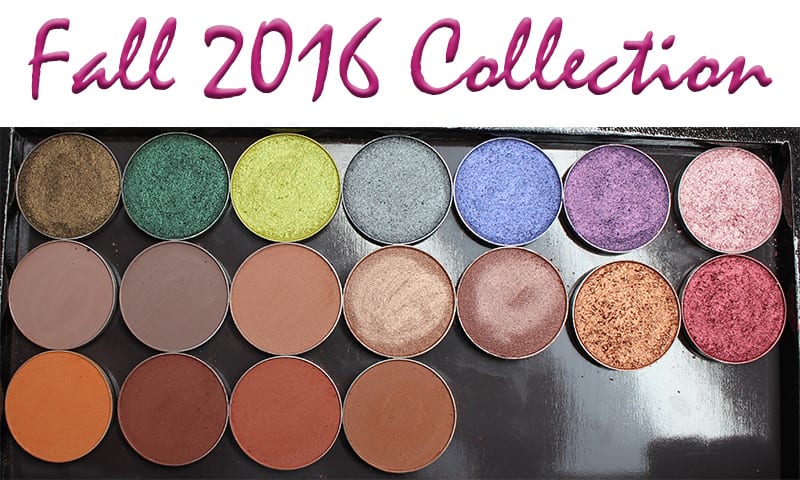 I've already reviewed the Makeup Geek Fall 2016 collection, which has some beautiful Foiled eyeshadows.
Darling Girl will have a Halloween release coming out soon, along with new Pucker Paints. There will be a sub box. Their shop will only be open from Oct. 9 – 11.
Aromaleigh has released the Catherine of Aragon collection. There's a new Insectarium collection out, too.
Brija Cosmetics has their Halloween Heroes(ish) collection out! They also have Fall Drinks and Gemstone Glitters. (vegan)
Concrete Minerals has their Black Magic Collection edit available, as well as their Zombie Girl and Sugar Skull collections. (vegan)
Lunatick Cosmetic Labs has an awesome LE Elvira Mistress of the Dark palette for Halloween this year! (vegan)
Meow Cosmetics has their cool Halloween shop open! They also have a brand new Urban Legends collection available.
Pumpkin & Poppy has a really cute Wondrous Witches collection out this year.  (vegan)
Saucebox has their gorgeous Autumn Goddess set.
Cocoa Pink has released their Fall & Winter 2016 new scents. They're my all-time favorite indie perfumery and I'm really excited by some of the scents. I love that they have a collection of scents inspired by Stranger Things. You can get perfume, body butter, lotion, and scented hair products in the new scents. I love the Argan Therapy Replenishing Serum and Argan Ends With Benefits. They have a nice Stranger Halloween set currently available with all the Stranger Things scents.
Autumn In Vermont* – Gorgeous red maple leaves, freshly harvested orchard apples, light hints of bakery cinnamon, golden amber tempered by hints of sweet agar-wood and Indian sandalwood. (*contains spice notes)
Cranberry Scone* – Pureed, spiced pumpkin, dried cranberries, brown sugar and vanilla glaze drizzle with a touch of warm amber. (*contains spice notes)
Demogorgon – Autumn leaves beneath your feet crunch loudly as you run through the woods into an old wooden shed… but you quickly sense danger is everywhere around you. He is coming for you. Dried autumn leaves, golden amber, bright red maple leaves, dark blackberry wine and old wood overcome with patches of moss bring this fragrance to life. ♣
Eleven – Serene, creamy white vanillas, wild crimson rose petals, a delicate whisper of blue pine needles with something darker lurking just beneath the surface.
Forever Winter – Warm mugs are filled with marshmallow topped hot cocoa and French vanilla cappuccino while candied ginger and other spiced holiday sweets fill the room. Carefully chosen warm background notes of cozy sandalwood, Madagascar peppercorn and white musk truly make this fragrance sexy gourmand.
Frost Bite – Sparkling, frosted white birch trees covered with dying yellow leaves, Italian bergamot, bourbon vanilla, osmanthus, and one single whisper of vetiver.
Gingerbread Village* – The comforting winter scents forever present in the Gingerbread Village. Carefully assembled gingerbread houses, warm slices of apple pie topped with fluffy vanilla bean infused whipped cream – sprinkled with brown sugar, pumpkin, candied ginger and glowing amber. (*contains spice notes)
Green Harvest – This unique fragrance combines fresh notes of green pumpkin skin, green Kadota figs and crisp golden delicious apples drizzled with warmed, creamy caramel.
Holiday Lights – The exotic blend of luscious pomegranate sorbet and delicious vanilla custard swirled together and topped with sugared plums.
Monster In The Walls – Smoky, aged patchouli swirled with sweet agar wood and sparkling aldehydes. ♣
Netherworld – Sexy, dark leather, crimson wine, bare oak trees, stone, rain and blackened earth.
November* – The unmistakable scent in the air the moment winter arrives. Pale snowflakes, bitter, cold air, dry vanilla, snow dusted trees, agar-wood, baked apple pie and smokey swirls of crackling tobacco. (*slightly spicy)
Run For Your Life – The air is heavy and dark, fear overcomes every inch of your body because you know danger is around you but you cannot see it. Notes of the crisp autumn air at night, damp fall leaves scattered about, blackened vanilla, woods and delicate wisps of burning leaves.
Sensory Deprivation Tank – Pale liquid vanilla infused with nuances of smoldering Tonka bean, calming milk, white oud and wood smoke.
Telekinetic – Mysterious star jasmine, paperwhites, Italian bergamot, white wild rose, sensual balsam, fresh tobacco leaves, spicy pink peppercorn shocked with an ambergris accord.
The Upside-Down – Blackness surrounds you and no one truly knows what is lurking in the darkness. Black vanilla orchid and vanilla bean saturated with oud with just a hint of something that chills you to the bone. ♣
Vanishing – Ripe pomegranate infused wine, 5 fold orange, sticky maple sap, aged bourbon whiskey.
Witchcraft – Her perfume smells like burning leaves. Every day is Halloween.
Black Phoenix Alchemy Lab has their Halloween collection out. I'm swooning over Her Strong Enchantments Failing.
Updated: Oct. 2, 2016
The Chequered Lily has a Halloween collection called The Season of the Witch. Some cool colors to check out! (vegan)
Geek Chic has 2 new COTMs called Symphony and Lachrymatory. They also have something new coming out later this month that I think will excite some of you! Can't wait to be able to talk about it. (vegan)
I will be reviewing things from Fyrinnae, Notoriously Morbid, Silk Naturals, Meow, Aromaleigh, Brija, and Cocoa Pink throughout the month of October.
Will you be checking out any of the Indie Halloween Collections or Fall Collections?
More to See