August's Independent Spotlight is with Karen from Silk Naturals!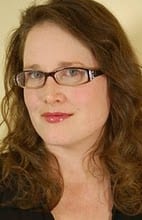 How long have you loved makeup?
Eons- my first real memory of makeup was my second grade teacher's frosted blue eye shadow. It was soooo glamorous by 1980's standards. From there I was hooked, and never really looked back. Butterfly Blue is sort of a kicked-up version of Miss Denson's awesome blue eye shadow. I love that color.
I'm a born lippie ho. I remember getting flavored balms at the local department store before I started school. The Village Lip Lickers in the rectangular tins were my absolute favorite, but a Bonnie Bell would do too.
What made you decide to make your own?
One day I was sitting at home after I got my wisdom teeth removed, and saw an infomercial for mineral makeup. I just started Googling, and by the end of the week I'd placed an order with a pigment supplier.
In reality it's something I'd always wanted to do- I've dabbled at it for years. I remember stealing my Mother's lipstick and melting it down with some Vaseline to make tinted gloss when I was in about 4th grade. My Father was a photographer, and I used to store my creations in film canisters.
From there I transitioned into making cold process soaps, and a few body products to sell at the local farmer's market (this was when the Internet was just in its early stages). I stopped because I needed a year round source of income, but always kept a hand in it.
I've always been a crafty techy sort of gal- MMU is just sort of an extension of that. SN was never actually supposed to be a business, but eventually it became a company. I can't imagine doing anything else for a living.
How did you come up with the name Silk Naturals?
From my history as a soap maker I knew that we wouldn't just be a MMU company. I actually started working on skincare as soon as I decided to go into business- it took a few years of research and testing to bring it to the site.
Silk Naturals seemed like a name that would grow with the company, and not pigeon hole us too much. The domain name was available so I went with it.
How many hours a day do you work? Days a week?
I work every day- at least a little, but the hours vary. During the winter I can easily, and happily work 12 hours a day. I HATE Winter, so I delve into really big projects to keep my mind off the weather. During the Summer I try to keep a more flexible schedule.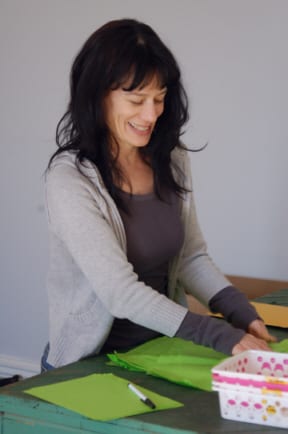 Can you tell us about your staff?
Right now we have Susan- she's my right hand woman. She's been with the company for about 3 years, and she handles a lot of the day to day operations. In her free time she's a really great dancer, and part of the Whiskey Tango Sideshow. Heidi is the "second seat" in the shop. She started a few months ago, and she helps with the packaging and shipping. Jen is our guru- my late night consigliere and forum moderator. I do the formulating, and all of the "Karen stuff"- ordering supplies, formulating, paying the bills. Susan, Jen and Heidi handle pretty much everything else.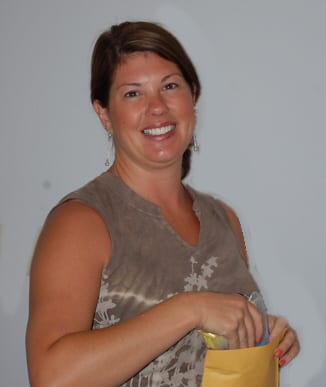 What is your favorite product to create?
Well I have a flaming lipstick tattoo because I love the challenge of making lippies. It's all pretty darn fun though. I have to like what I'm making, and enjoy all of the steps of the creative process. If I don't have fun in the lab then I think it comes out in the products, and that's not good for anyone.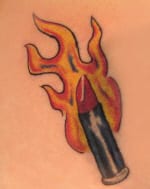 What made you decide to make your own versions of popular mainstream shades?
Originally it was Jamie's idea. She had a blush from one of those discount store holiday palettes that she absolutely LOVED. Of course, she couldn't get any more of it so we knocked it off. That became Jamie blush. That Fall the Bobbi Brown Stonewashed Nudes palette came out, so I cloned that and it was wildly popular.
Of course, our customers have come through with more requests than I can keep up with! Cloning is fun. I think dissecting really popular shades helped me become a better formulator.
What prompted you to start creating vegan blends?
I look at SN as sort of a big party. We're about inclusion, and making women look and feel great- so it was sort of a natural direction to move in.
What's your least favorite product to create?
Fragrance. Partly because it makes me woozy, and partly because I just don't have a talent for it. So, we don't make them anymore. Hats off to you perfume gals- it's not for me.
What's your perfect foundation blend?
Right now I'm into the All-Purpose- and I eyeball it these days. It's probably somewhere around 10 parts ivory and one part ebony.
What are your favorite colors to wear?
I like red quite a bit. Spurs is a mainstay for me- mainly because I like coming out of the bathroom and saying" I've got my Spurs on – I'm ready" J
What are your favorite colors that you've created? Right now I'm loving your Scout, Adorn & Cutie Pie!
Those are fun ones! Susan's daughter Thea made Cutie Pie, and I really love her work. For me, it' like going out to dinner- someone did the cooking and it's always a pleasant surprise.
I think I'm most proud of the Suedes. The texture is just perfect to me. Not over the top sparkly, but not flat and dead either.
What is your absolute favorite eye shadow color ever?
Grassroots Green. My nephew made it, and I think it's one of the best well, balanced, flattering eye shadows ever. It has ALL of the greens in it, and it's fantastic with green eyes.
What are your favorite lip colors? I'm a fan of your Hibiscus 🙂
Lately I've been gravitating more towards our lip stains, and the Amplifying Lip Glazes. The Glazes are just about perfect for me- moisturizing and glossy with a little bit of plumping and menthol. Blushberry is my current favorite.
On any given day I have at least 10 lippies within arms reach at all times, so I'm really ho. With the exception of a few of the very warm colors I can and do wear all of the colors we make.
What are your favorite blushes? You know I like Lovelace.
Be Mine is a favorite as is Babydoll. Jellybean eye shadow, and Devoted cream blush were my go-to colors on vacation. I love a great pop of pink.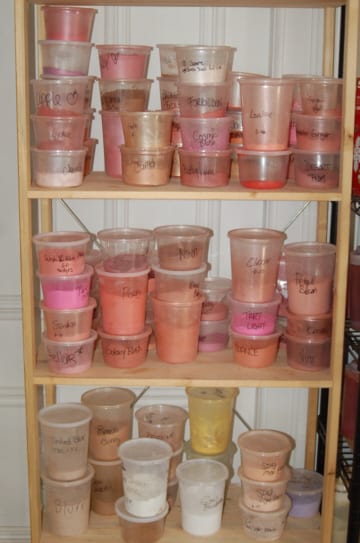 What is your favorite beauty trend?
I've been really loving the trend towards diversity, and individuality. In my Grandmother's time every woman just wore red lipstick, and the models in the magazines were all Caucasian. Boring.
Now, we've expanded our idea of beauty and I LOVE that. I'm digging that we can really embrace makeup as a means of expression instead of making everyone wear the same uniform in order to fit in.
It makes my job so much more interesting.
Do you have a signature scent?
For a while it was Baby Blue Jeans by Versace. Now I don't really wear perfumes all that often because they're distracting when I'm in the lab.
How did you come up with gumballs?
For a while we were using the Gifts with Purchase as a way to test new formulas, but really, to me the gifts that we include with every order should be just a pure expression of thanks. I wanted people to be surprised when they got their package from us- like Christmas. With trial products I felt compelled to let people know exactly what they were in for and it ruined the surprise.
So, we decided the easiest way for everyone to try new things was to put them on the site for less than a dollar. The brave souls who try them are generally rewarded by getting something cool inexpensively, and we get a lot of great feedback. It's a real win/win- most of the time.
Do you have a trademark look or trademark colors?
Eee gawds no. That's what I like about makeup- being able to invent, and reinvent yourself every day.
Do you ever look at the runways for inspiration or trends?
Not so much for inspiration, but I do like seeing what's on the runways. I love watching creative people be creative. Really, what is shown on the runway aren't really things that real women are meant to wear, but I love seeing what people come up with.
What do you prefer to look at for inspiration when you're in the mood to create something new?
I look at women. Real women who come into our shop, and I try to make colors that will flatter them, or give them something interesting to play with. Really, we get so many requests on our forum I just kind of work from their specs.
Inspiration is everywhere if you're open to it. Rodeo was inspired by chicken noodle soup- literally. I put gold (broth), a celery green, and a carrot orange in that color. Yes I was hungry!! It's from our Holiday collection, and it really felt seasonally appropriate. From there I tweaked it into a wearable color, and made a trio to form a complete look. The name comes from the Garth Brooks song- we were listening to a lot of country in the shop around that time.
I also love looking at red carpet looks. It's a great place for spotting trends. Sandra Bullock's red lippie from the Academy Awards a few years ago- it relaunched the bombshell look, and it's about time!
What's your skincare routine?
I rinse with water in the morning, and use Awesome Sauce, and the Eyelash Gel. My lashes are pathetic without it. At night I use Kiss Cleanser and the Apricot Cleansing Oil on my eyes, and another dose of Eyelash Gel. In the summer that's all I really need. Sometimes there's a mask, or a toner thrown in if I think I need it.
I know you make skincare products, what made you venture into the world of skincare?
Necessity. I'm allergic to a certain preservative, and it's really in just about everything. So I had to create my own stuff in order to have anything that I could really use. That, and I like science- I love reading journal articles and clinical studies. It's just fun for me to try to figure out the best, most simple solution to a certain issue. It's sort of like playing Mythbusters. Without a skincare line I would have gotten bored by now.
Do you have a favorite 'super' ingredient?
Vitamin C. It's good for everything- zits, wrinkles, age spots- you name it. It's also very good prevention. I think everyone should use Vitamin C on their skin. I've read the clinicals on a lot of different products- and that one ingredient really provides the most bang for the buck.
When did you start making haircare products? What is your favorite?
I started making hair care a few years ago just to see if I could. I actually tweaked the recipe for cleansing conditioner for years before it went on the site. Mainly it's there because my Mother insisted on it. Every time Wen came on QVC she's call me to ask when I was putting our cleansing conditioner on the site. Eventually I got tired of the late night phone calls and added it around Christmas time this year.
I have to say that the Cranberry Cleansing Conditioner is the one that I use. I'm also a fan of the Make Waves Gel, and I cannot live without our Protein Treatment.
What colors have you dyed your hair?
I went through a bit of a punk phase, so it's really been pretty much every color of the rainbow. Pink was a favorite- I had pink streaks for quite a while. Purple was good too. Now my sister-in-law uses my hair to test grey coverage on the colors she uses in her salon, so it's relatively normal at the moment.
What's your favorite way to accessorize?
Earrings. I don't feel like I'm properly dressed up without them.
Can you tell us about any upcoming collections?
Yes. There will be one. Other than that I don't really have a clue of what will end up on the site until it's there. In as many years as I've been doing this I'm still surprised when a collection goes live.
What's your favorite chocolate?
Good old fashioned Reese's Peanut Butter Cups.
Do you play any video games?
I do indulge in a bit of Tetris or Mah Jong on occasion- that and a few of the Facebook games just to get my brain going in the morning.
What are your favorite authors or books to read?
Well…I was an English major, so I do love to read. Tom Robbins is a real favorite- although I haven't read his more recent works yet. David Sedaris is fun. Some of Mark Twain's essays are great.
On vacation I read The Lincoln Lawyer and Toujours Provence- both were great. Most of the reading I do is either business books, or tech data for new ingredients, so getting to read a novel is a treat!
What are your favorite tv shows?
Royal Pains, Burn Notice, The Big Bang Theory, Law and Order. I LOVE The Millionaire Matchmaker. I can literally feel my brain cells wither when I watch it- it's delicious.
What is your office like currently?
Awesome! I've always lived in really tiny houses, so we have had a studio space before we even had a website. It's just better for everything if there's a work/life separation, and I have dogs- so it would be impossible to keep it sanitary because they're my shadows when I'm at home!
We're located in the Masonic Temple in Trumansburg, NY and it's the coolest old building. It was built in 1800's as a hotel. There are a few offices in the building, and we have what used to be their fellowship hall before they remodeled the downstairs. I pretend that it was a ballroom- maybe it was!
The front of the shop is where Susan and Heidi work- they package and ship everything. The back room is all mine. It was a full commercial kitchen complete with double sinks, and a dishwasher. I have it setup in different zones- so the powders are on one side, the lippies are in the middle, and the skincare is on the other side. There are huge old windows with great northern light.


It's our third shop, and I feel really blessed to have the space that we have. It's nothing fancy, but from a strictly functional standpoint it's really perfect for us.
I also have a small photo studio setup in my dining room, and do a lot of my computer work from home. It's nice to not have to commute every day- and I feel more comfortable doing the site work while I'm sitting on the couch in my jammies.
What color is your bedroom?
One wall is chocolate brown, and the others are a nice shade of warm beige. Not very original- but that's sort of how my brain works with color. Get a nice beige background and punctuate it with spots of color. The curtains and accessories are Indian inspired. My husband grew up in India- and I'm drawn to the warm colors.
What colors do you like to decorate with in your home?
My house came with a Mamie Eisenhower pink bathroom that was THE REASON I fell in love with the house. Now it has a pink and black theme complete with pinup cowgirl curtains. For the rest of the house, I'm just happy if the dust bunnies don't attack the dogs while I'm at work 😛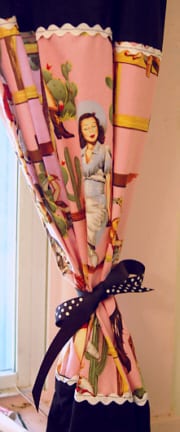 What do you do to relax?
I play with the dogs- they're a great stress reliever. Bitsy likes to steal the shoes right off my feet! I also read, watch movies, go out on dates with my husband, knit, and I spend quite a bit of time goofing off online. I love The Oatmeal.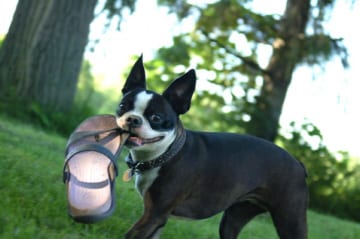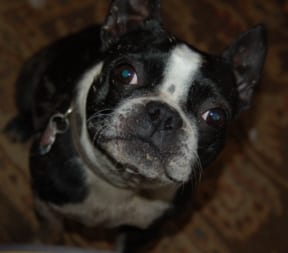 How do you pamper yourself?
I do my nails. I have a serious thing for nail polish. It's why we have the nail polish drying drops- I was spending too much on the stuff from Ulta!
I also get massages, but that's a much less frequent indulgence.
What's on your iPod or Pandora Station? Or have you turned to Spotify or the Google Music Beta?
I come from a big family of musicians, so my tastes are really broad. I've been into the White Stripes, Adele and The Beach Boys this Summer. I have daliances with country music, hip hop, old time, ska, funk, a lot of heavier stuff like Rage Against the Machine, and 80's hairbands. I had a serious thing for Bon Jovi until Pearl Jam, and The Red Hot Chili Peppers came along. I think my iPod would scare most folks!
We do have Pandora at the shop, but I generally can't hear it over the grinders, so Susan and Heidi usually pick the station. It's part of what I like about having coworkers- they open my eyes to new things.
I just got my Google Music invite today…so that may be something I checkout soon. I still haven't gotten my Grooveshark playlists tweaked- and my subscription is half over!
Can you tell us something about yourself that might surprise your fans?
Can I just say this was by far the hardest question of this interview? I'm pretty open book, but I'll try…I worked as a part-time lingerie designer for a few years- it was fun!
Thanks for letting me interview you, Karen.