This post is by contributing writer Mai from Portrait of Mai

Another year, another IMATS LA! Although there were many brands at the show (and I mean many), I chose to focus on a few brands that Phyrra mentioned in her "Best Booths to Visit at IMATS LA" post and a few others.
IMATS LA 2014 Event Recap
One of the earliest booths I visited was Senna Cosmetics. While they are mostly known for their brow products, the rest of their color range should really warrant a second look. Their lipsticks are beautiful (check out that pinky-purple in the third row) and the eyeshadows and blushes. Their Haute Nudes Mystic palette is especially perfect for someone with a cooler skin tone who likes matte eyeshadows.
Of notice, Senna Cosmetics is coming out with a new foundation, their Lasting Illusion Satin Matte Foundation. There are seven colors coming out right now and unfortunately no deep colors (maybe up to a MAC NC/NW35 but hopefully more colors will be released soon.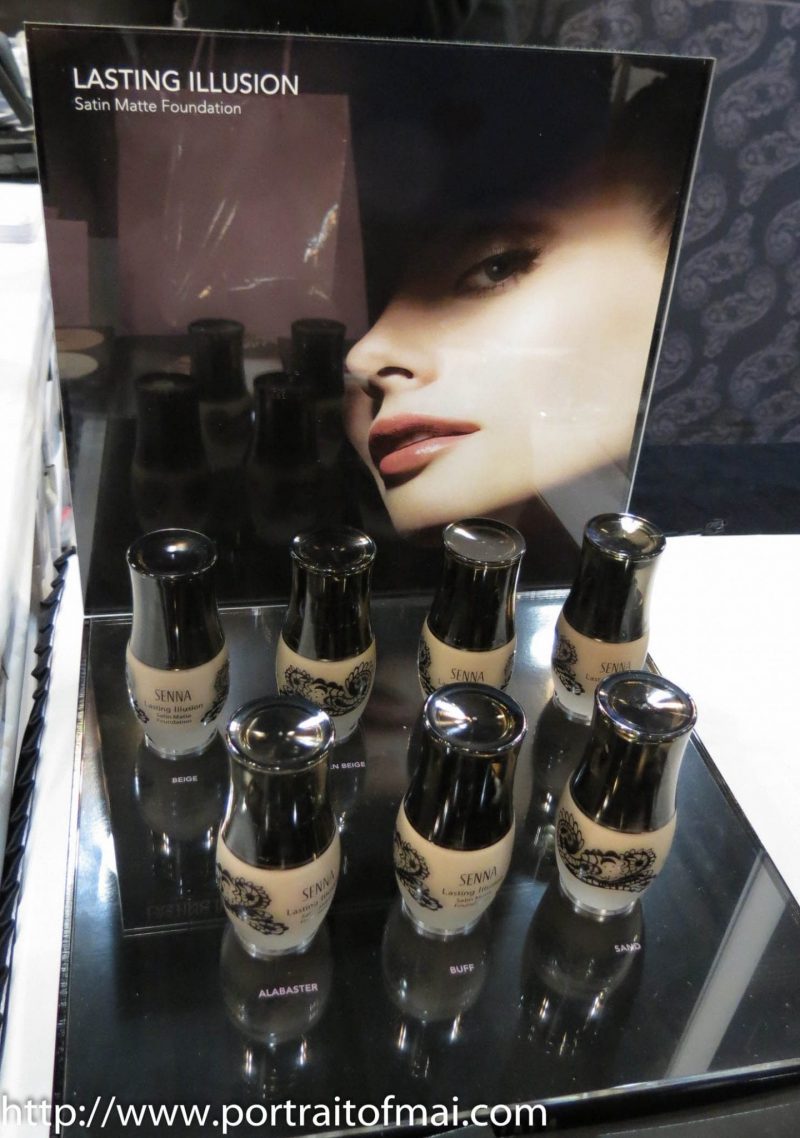 Next up is Sugarpill and unfortunately none of my pictures of their booth turned up well. However I was able to get a picture of their upcoming brush line and the four brushes included. I'm not 100% sure of the pricing. I'm sure you want some information about when their Sparkle Baby Collection is coming out but unfortunately I wasn't able to get that information. The best I can say is wait and see (even though I know many of you have been waiting a long time!).
Next up is Obsessive Compulsive Cosmetics. They debuted their Spring 2014 Collection and new Cosmetic Colour Pencils at the show. I actually posted lip swatches and full face photos of the lip tars from the collection here if you're interested. If you missed out of Belladonna when it was discontinued ages ago, you might find solace with the purple in the Spring Collection, Rollergirl. It's slightly lighter than Belladonna but it's as close as you'll get.
Next up is Dose of Colors. Dose of Colors is the brainchild of Instagram Beauty, MakeupByAnna. She's just as beautiful in person by the way as she appears in her photos and I considered taking a picture with her but then I realized that I didn't want to be next to someone so pretty >>
Her line consists of false eyelashes, lipglosses, and newly released lipsticks. She will also be releasing liquid to matte lipcolors in March or April. Her glosses are beautiful and her lipsticks had a creamy texture.
Royal and Langnickel had their Revolution brushes available. These brushes are the result of a collaboration with Kevin James Bennett, a makeup artist extraordinaire whose sass and realness gives me life. Check out the very reasonably priced brushes!
Besame Cosmetics is the brand for any retro-obsessed makeup addict. The line consists of wonderfully pigmented lipsticks, face powders, and even a cake mascara. The packaging is beautiful and would stand out next to the rest of your makeup.
Last but not least, I wanted to end my post with a picture of some of NYX Cosmetics' new products, mainly because of the bright Primal Colors (so suited for this blog!)
IMATS LA is a beast of a show to go to. It's an amazing trade show available to the public and if you decide to go, definitely go with a friend! I was able to go with my friend Bren (of OMG, Bren). The show really allows you to discover new brands and try out brands you love that may only be online-only. Tickets cost about $50 and always sell out so if you do decide to go next year, make sure to buy tickets early!
I hope you've enjoyed this recap of IMATS LA. Do you like to attend trade shows like this?
Last Updated on