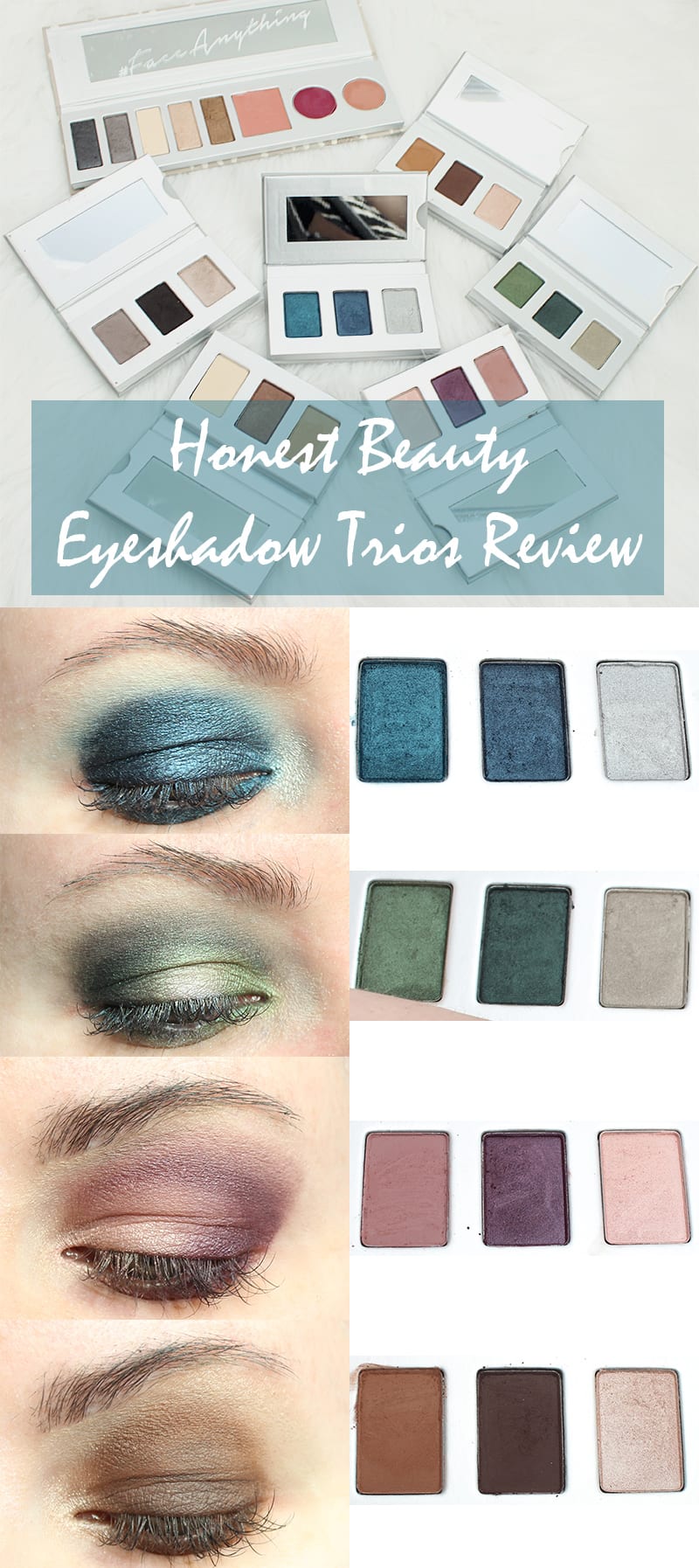 It's a Makeup Wars Monday! This time we're sharing our new favorite brand. Mine is Honest Beauty, so I wanted to show you all of my Honest Beauty Eyeshadow Trios and Everything Makeup Palette. I mentioned these in my Spring Makeup Inspiration post but I wanted to go more in depth today.
Honest Beauty Eyeshadow Trios Review
Honest Beauty is Jessica Alba's company and they're part of the Honest Company. The Honest Company is a B Corp. B Corps are companies that hold themselves to high standards and have public transparency. I've been a huge fan of Jessica Alba's since the Dark Angel tv series. Post-apocalyptic world with genetically enhanced people? Yes please! It also had Jensen Ackles (Supernatural) in it.  Honest Beauty is committed to supporting social justice and human rights. Their products are paraben free, silicone free, sodium lauryl sulfate free, petrolatum free, mineral oil free, talc free and synthetic fragrance free.
Where to Buy
Ulta Beauty, Honest Beauty
Eyeshadow Trio Ingredients
Mica, Caprylic/Capric Triglyceride, Zinc Stearate, Magnesium Carbonate, Glyceryl Caprylate, Sodium Dehydroacetate.
May Contain: Chromium Oxide Greens (CI 77288), Ferric Ferrocyanide (CI 77510), Titanium Dioxide (CI 77891), Iron Oxides (CI 77491/77492/77499), Carmine (CI 75470), Manganese Violet (CI 77742), Blue 1 (CI 42090), Ultramarines (CI 77007).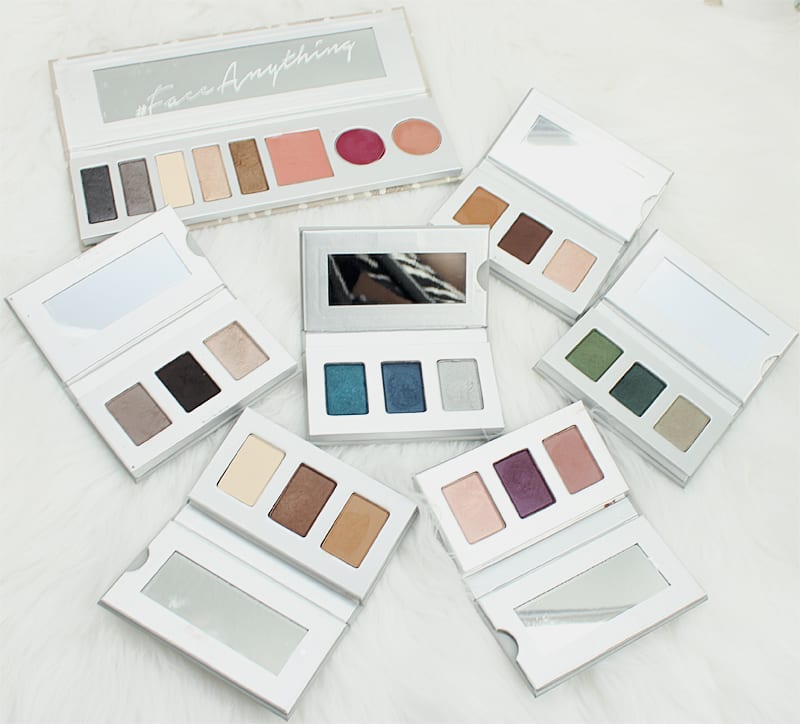 I swatched all of the eyeshadows on bare skin and on Too Faced Shadow Insurance. The top swatches are primer, the bottom are bare skin. Unfortunately all of my photos of the palettes from before I touched them are on my dead laptop.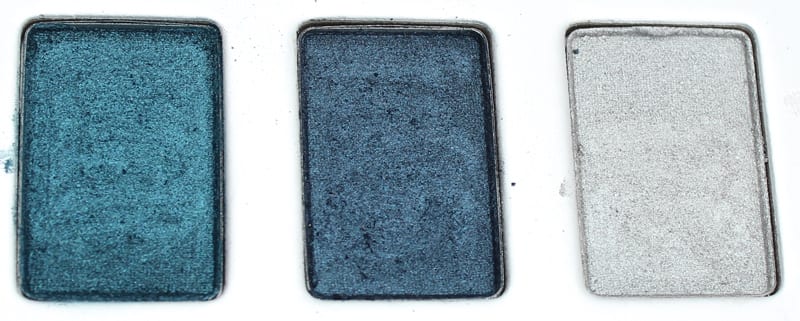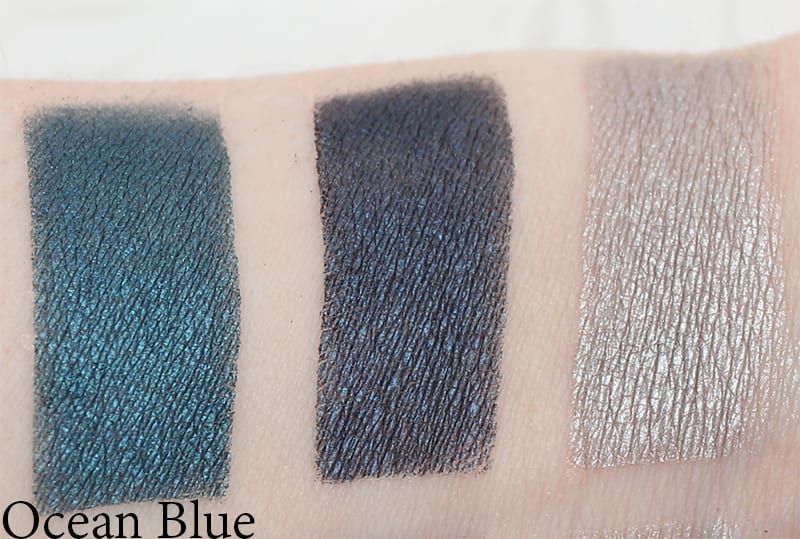 Ocean Blue – $25
iridescent teal, navy blue, silver shimmer
iridescent teal –  deep blue leaning towards teal with deep blue base satin
navy blue – deep navy blue with a black base satin
silver shimmer – metallic silver
These blues layer together beautifully. I found these colors extremely easy to work with.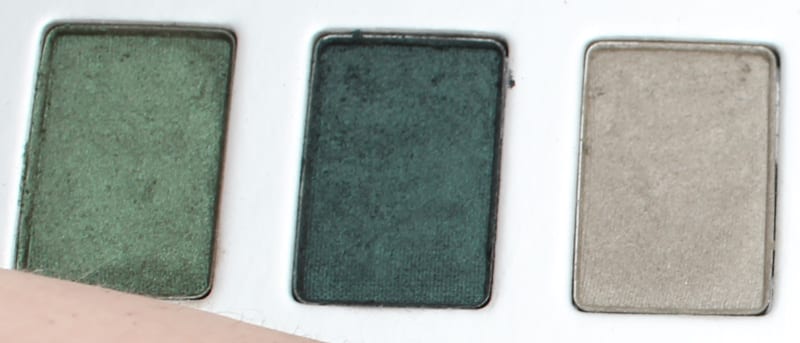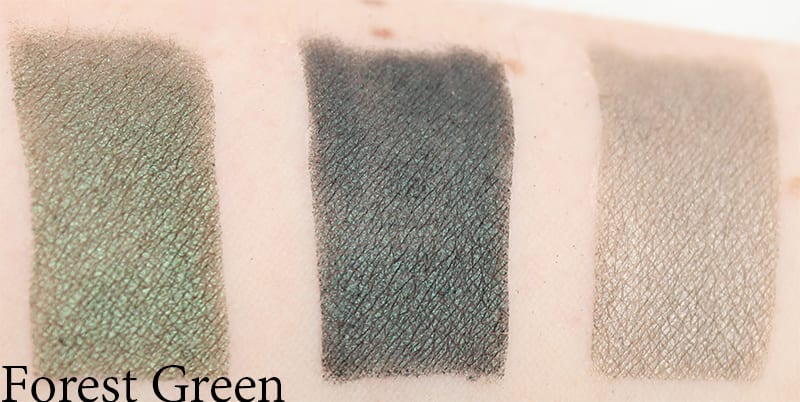 Forest Green – $25
iridescent blue-green, moss green, khaki shimmer
khaki – light grey green shimmer
iridescent blue-green  – deep green with almost charcoal base (doesn't look iridescent, does have blue undertone) almost matte, this color blends out to a smoky black with green and is beautiful
moss green – midtone green with yellow undertone
While I'm not a fan of the khaki shade at all, I do love the two greens. I feel like these colors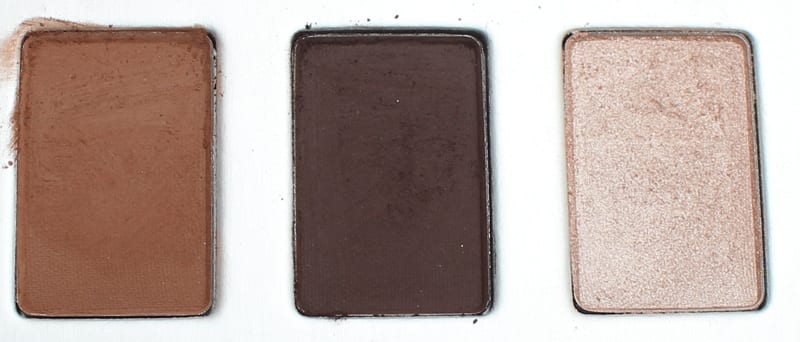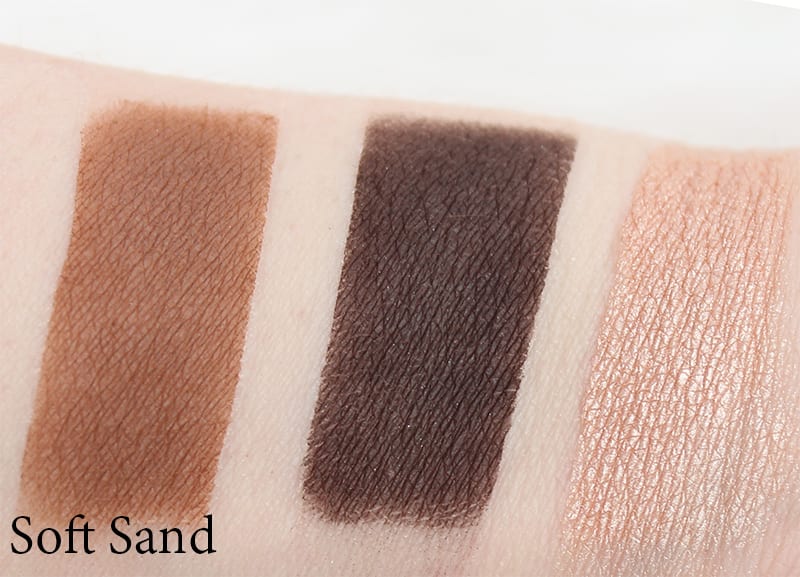 Soft Sand – $25
neutral brown, rich espresso, and champagne shimmer
champagne shimmer – golden champagne shimmer
rich espresso – deep brown matte
neutral brown – rich midtone brown matte
All three of these shades are easy to work with and very flattering on my eye color. The mattes are very good.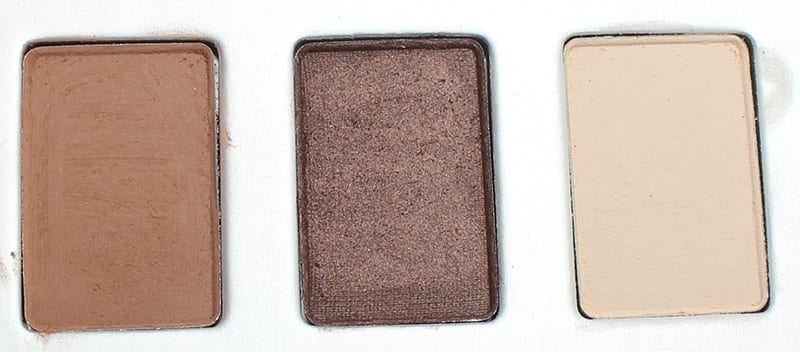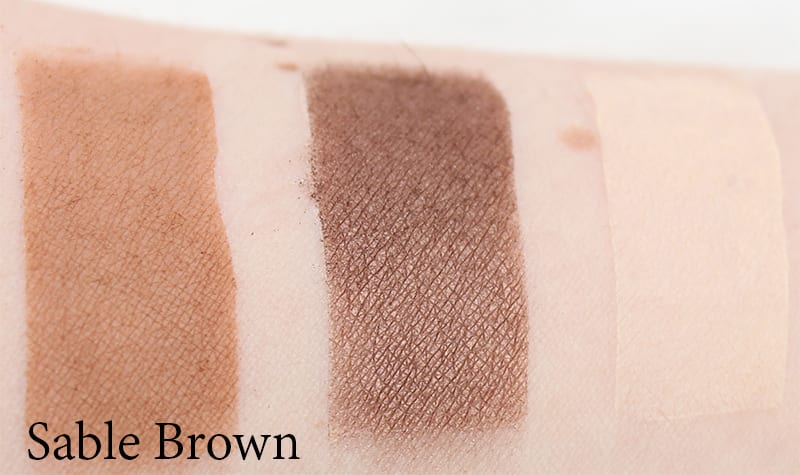 Sable Brown – $25
soft stone, light bronze, vanilla cream
soft stone – midtone warm brown matte
light bronze – bronzey-brown shimmer
vanilla cream – light cream with peachy undertones matte
These colors are easy to work with and vanilla cream makes a great base shade. For the looks in this post  I used it as my base shade.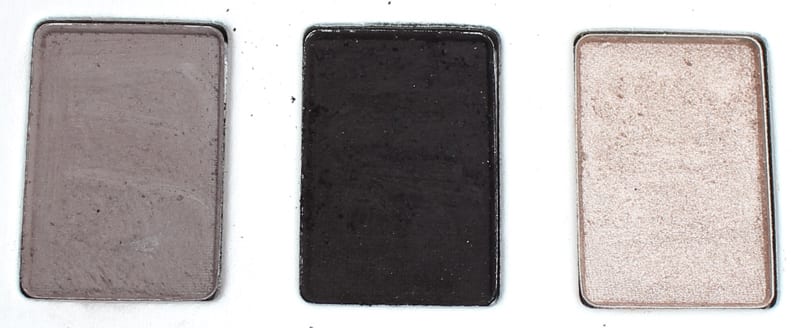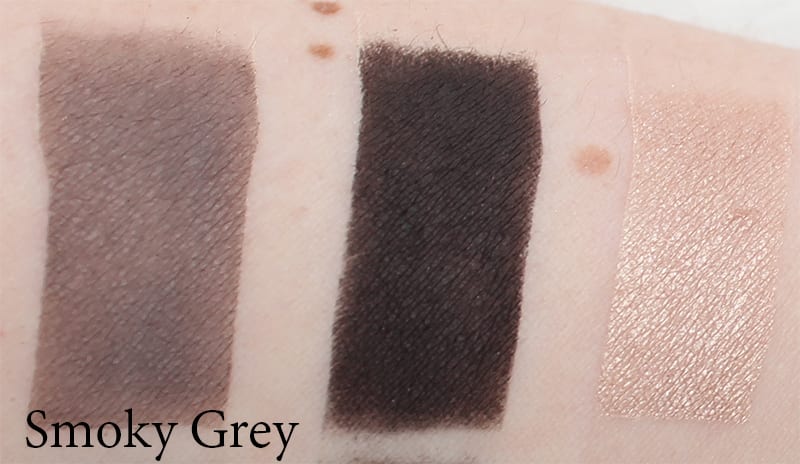 Smoky Grey – $25
slate grey, soft black, taupe shimmer
slate grey – midtone grey matte, though I wish this had a bit more pigmentation.
soft black – grey-black matte (a little stiff but pigmented)
taupe shimmer – light greige champagne shimmer
This is obviously my favorite trio of all of these. The colors are just so flattering on blue green eyes. Love!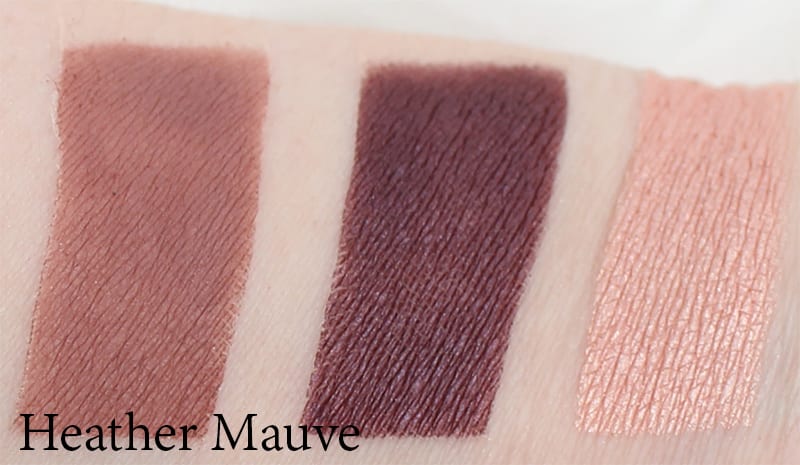 Heather Mauve – $25
dusty mauve, deep plum, shimmer shell pink
dusty mauve – midtone mauve matte, I wish this had a touch more pigmentation
deep plum – deep eggplant purple satin
shimmer shell pink – light warm pink satin
The colors work together nicely and the plum isn't too shimmery to work on hooded eyes. The shimmer shell pink is glowy and eye brightening. While I always wish that the purples are more blue toned, these three shades coordinate together perfectly.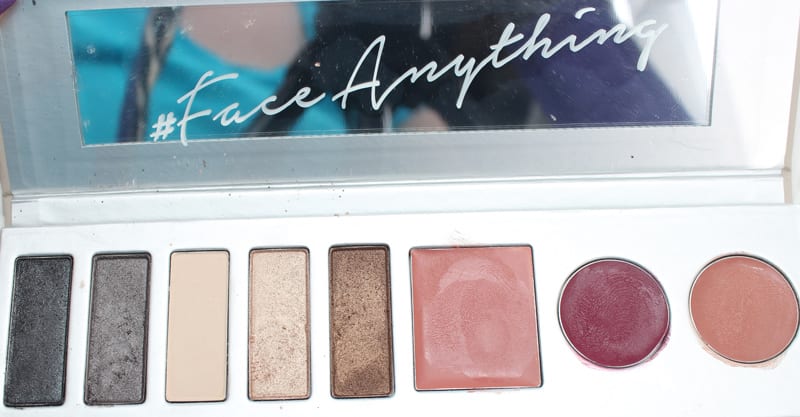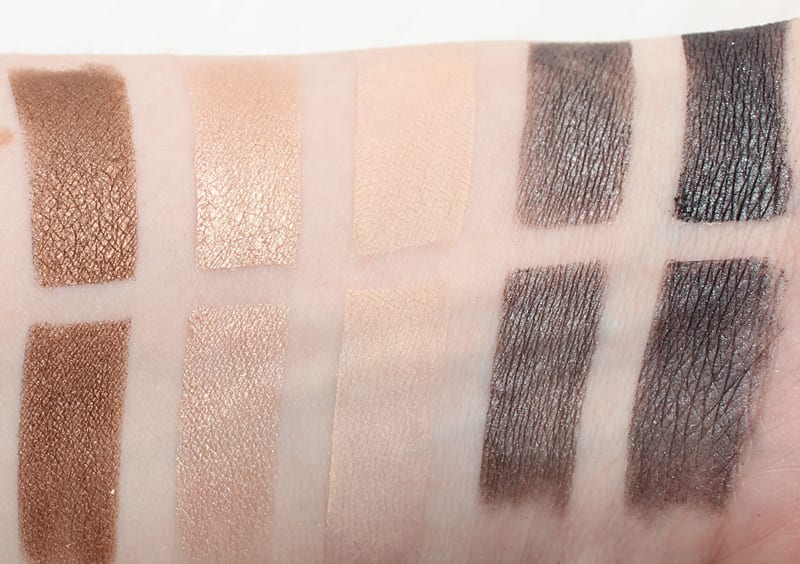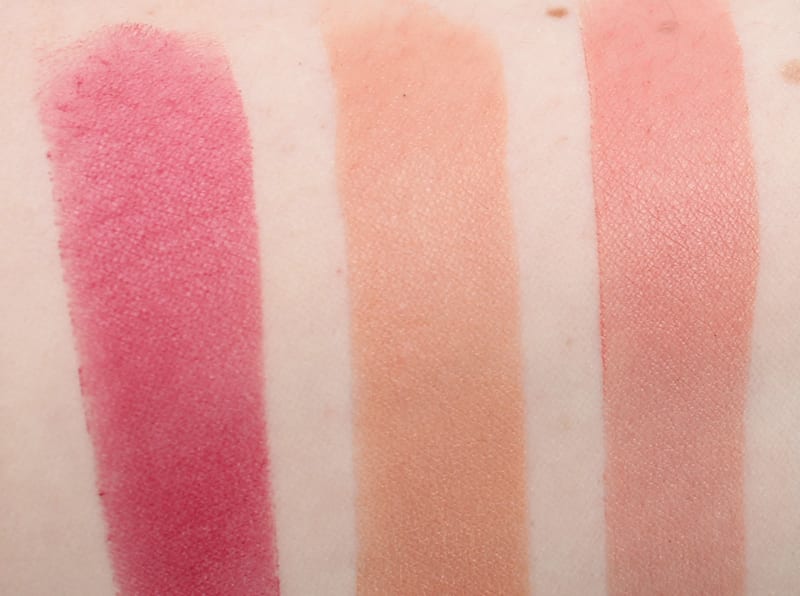 Everything Makeup Palette – $35
Eyeshadows: Charcoal Shimmer, Pewter Shimmer, Everyday Canvas, Champagne Shimmer, Bronze Shimmer; Crème Blush: Truly Thrilling; Lip Colors: Mulberry Kiss, Honey Kiss
charcoal – soft shimmering charcoal
pewter – gorgeous grey with warm tones shimmer
canvas – yellow toned creamy matte
champagne – light golden champagne shimmer
bronze – golden bronze shimmer
mulberry – burgundy lipstick
honey kiss – soft peachy nude lipstick
truly thrilling –  soft peachy pink nude blush
In general, I do not like palettes that have a mix of powder and cream products. So far, this palette is not a problem though, since I haven't had an issue with the eyeshadow being crumbly and getting into the cream products, which is what normally happens. The blush Truly Thrilling is a great neutral blush shade on my skintone. I do like the lip shades, too.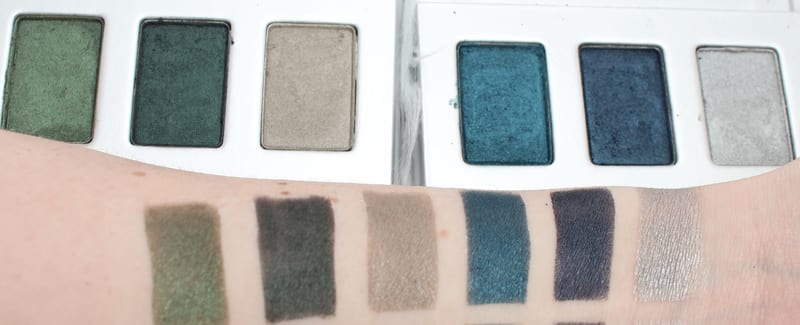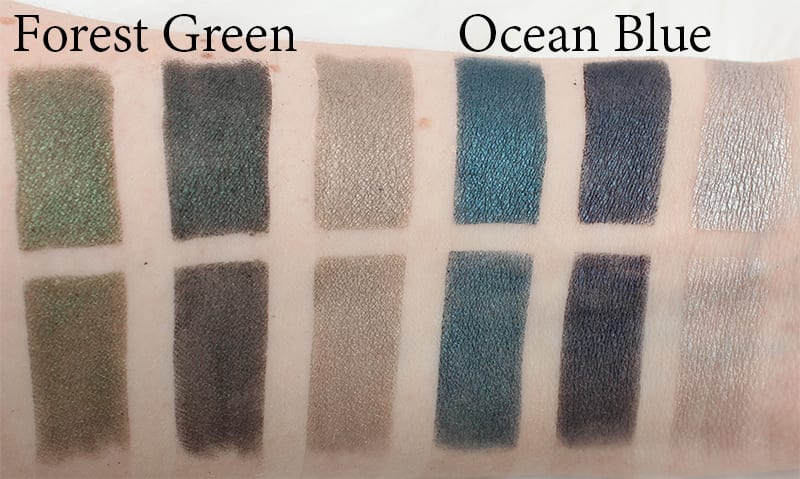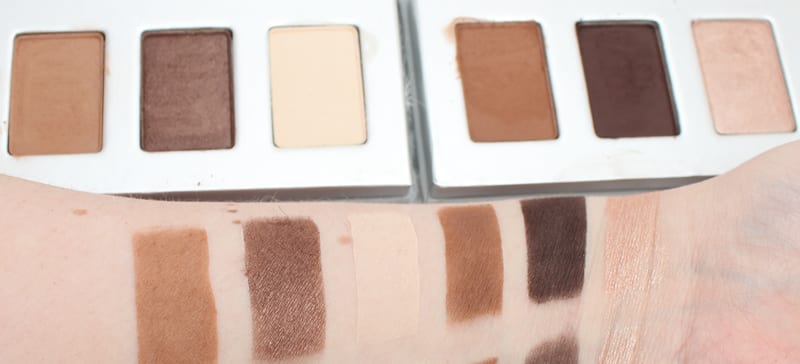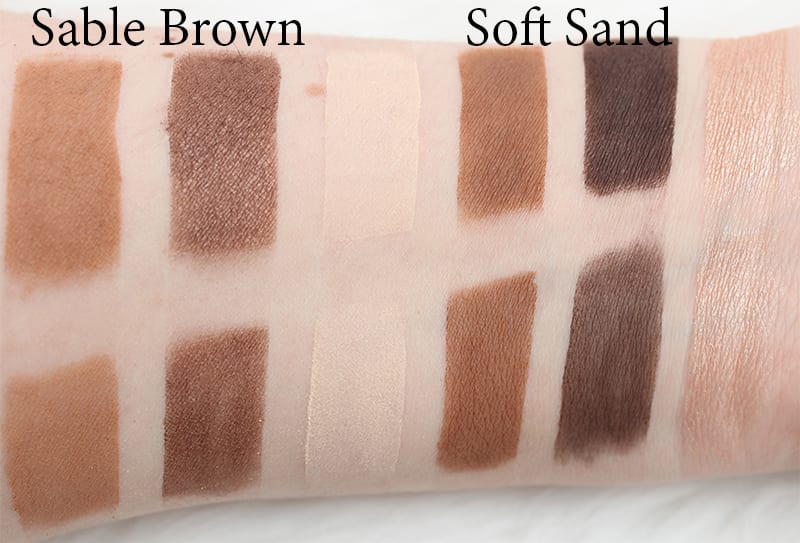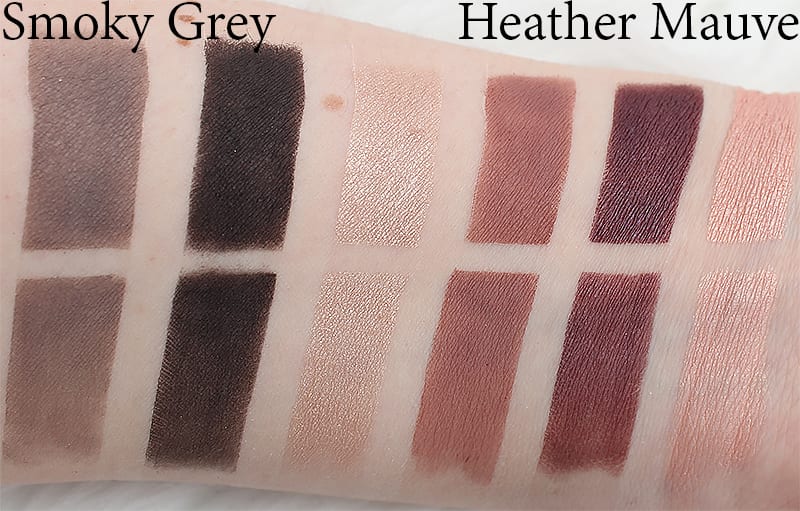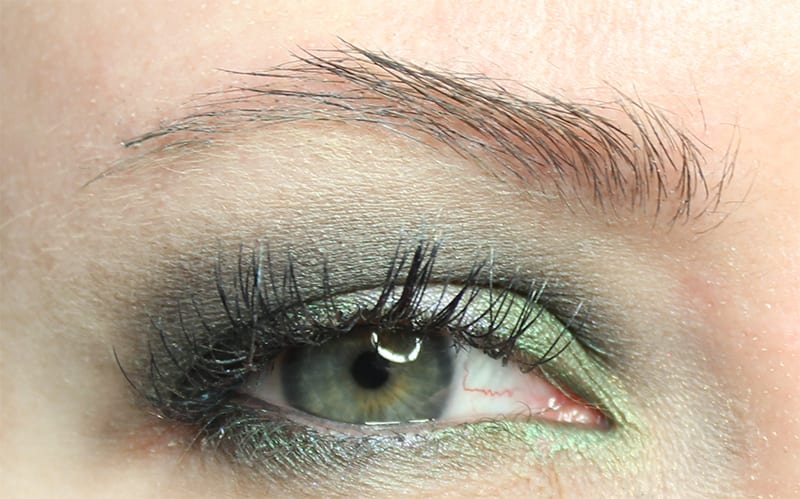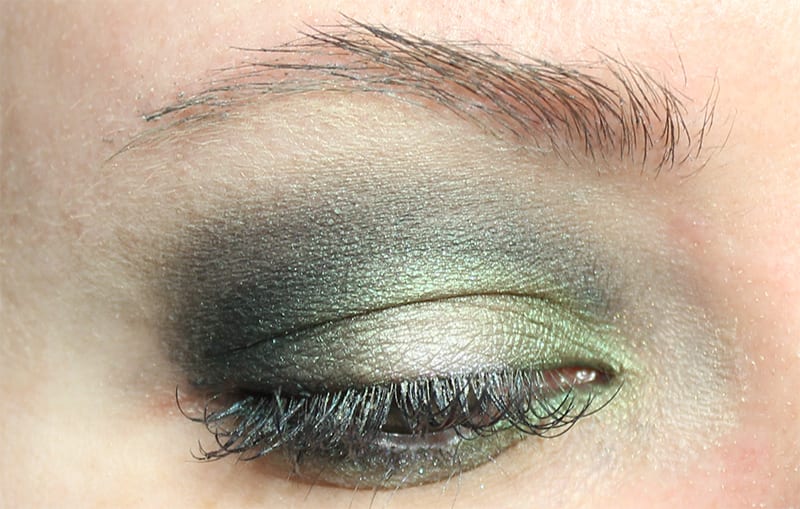 I wasn't initially that impressed with the Forest Green Trio when I swatched it the first time but after wearing it I really love it, especially the darkest shade. I haven't worn greens like these in a while because I've gone for brighter shades, but they really do work well together.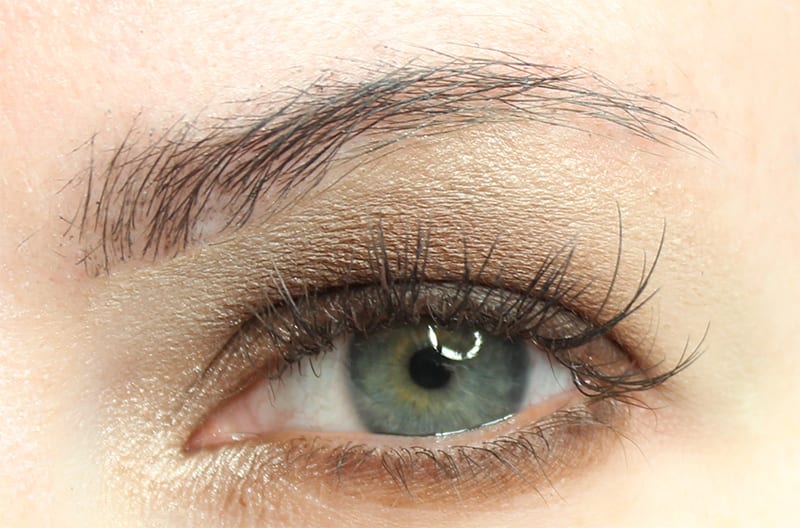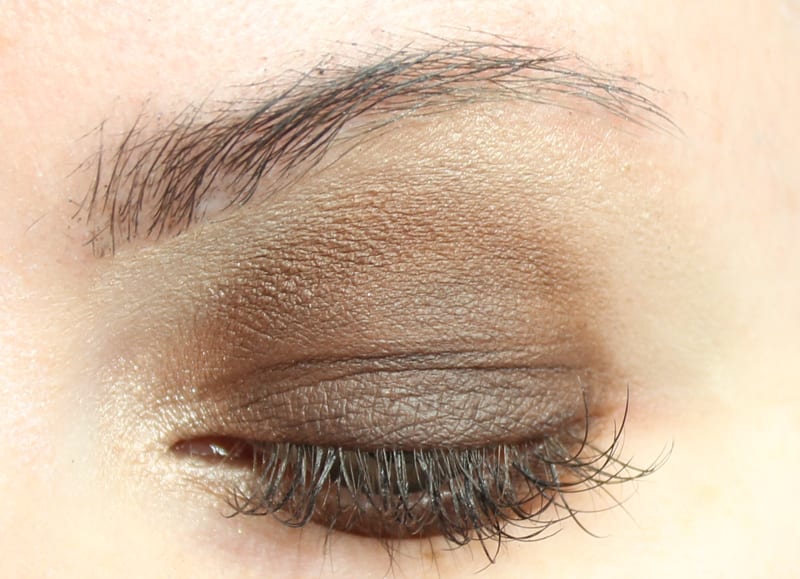 This is your effortless, daily staple neutral trio.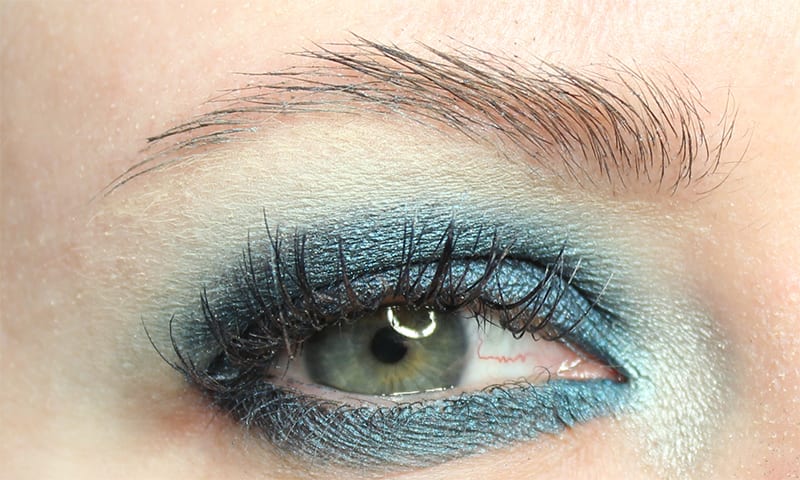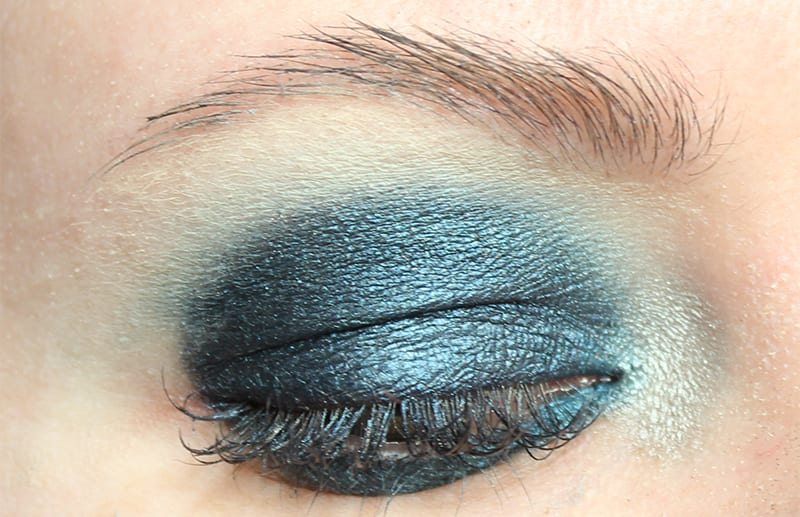 These colors blend together so effortlessly. I love the blues so much.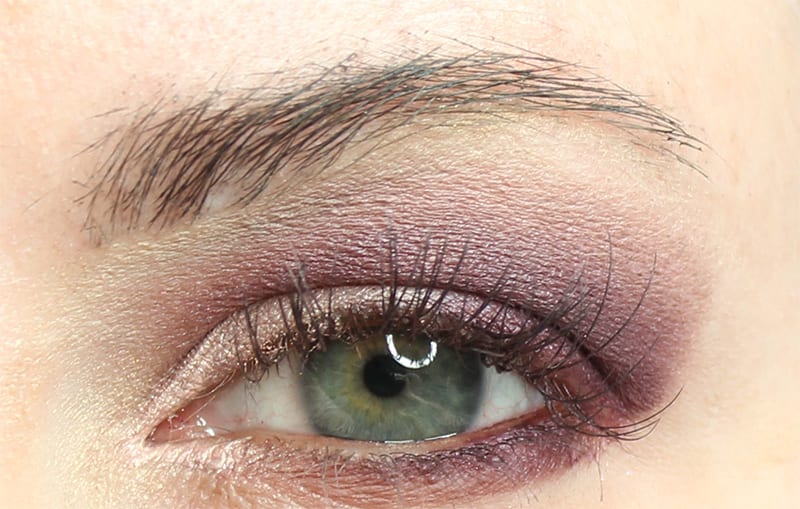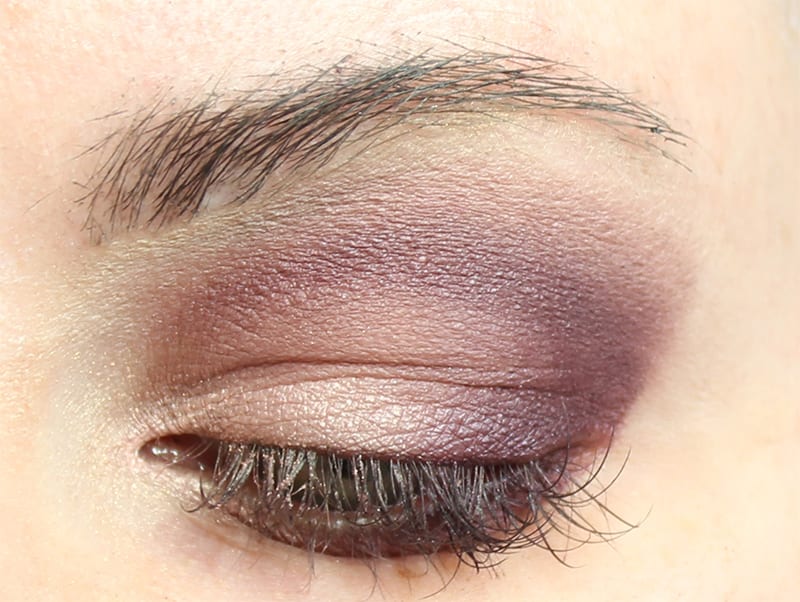 These colors blend together easily too. The shades are really well coordinated.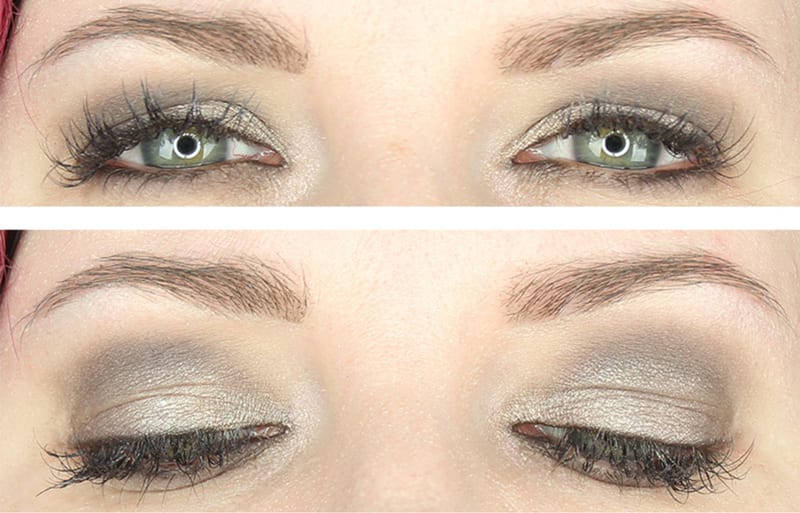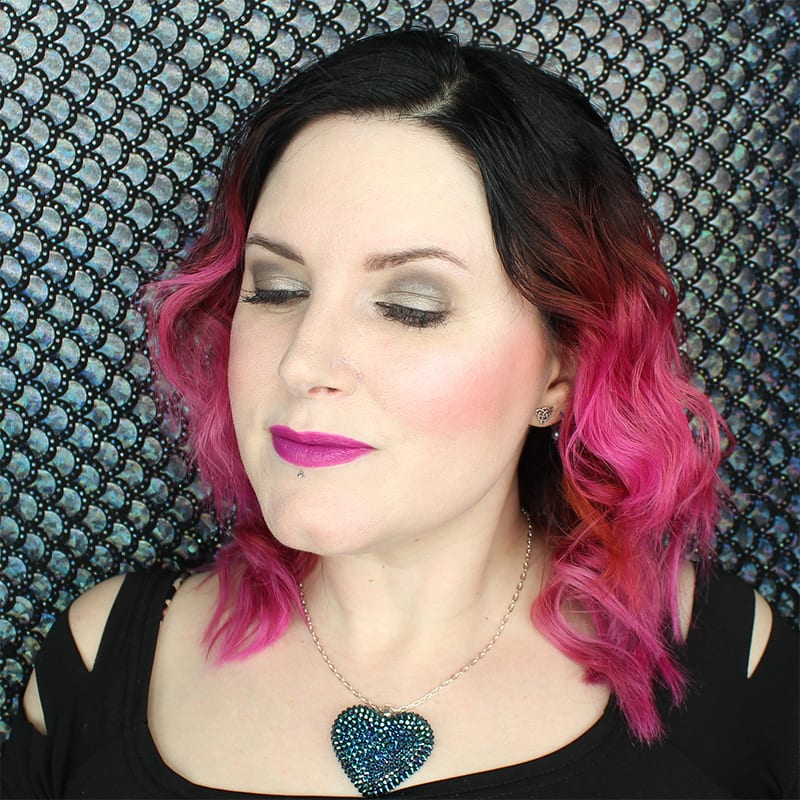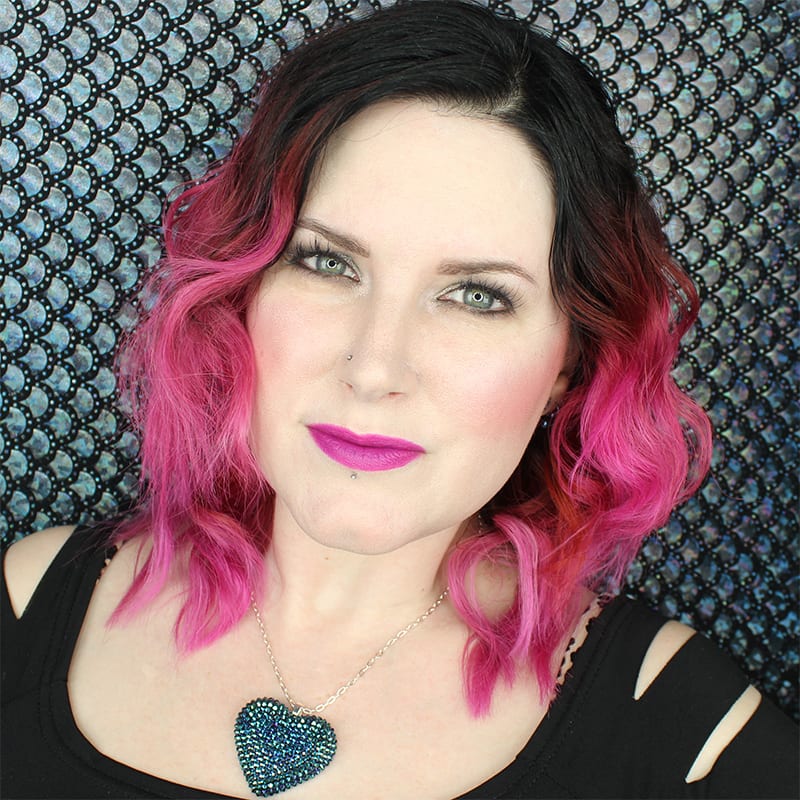 I've done several looks with these trios, though I've done the most with the Smoky Grey Trio. Unfortunately some of my looks are still stuck on my laptop that's currently in transit to be fixed, but I did have several others to share. I experienced minimal fallout with these eyeshadows, which was nice.
These trios are $25 for .16 oz, which breaks down to $8.33 for .0533 oz each. So basically you get 3 full size eyeshadows. Just as a comparison, for a typical full size eyeshadow of .05 oz from Urban Decay it would cost you  $19. So I think they're a pretty good value for the price.
The Everything Makeup palette (limited edition) is made up of 5 full size eyeshadows that are .05 oz each (.25 oz). The blush is .1 oz  and the lip colors are .04 oz each (.08 oz). The blush normally sells for $22 for .07 oz (so you're getting .03 oz more in the palette than if you buy a single. Honey Kiss and Mulberry Kiss Demi Matte Lip Crayons are $18 each for .105 oz each, so you're getting slightly less than half of a full size product. The palette is an extremely good value for the price of $35 and I got it for $20 during Ulta's 21 Days of Beauty.
If you're looking for new green beauty made without parabens, silicones, talc or synthetic fragrances, this is the new makeup line for you!
What do you think of the Honest Beauty Eyeshadow Trios?
More to See