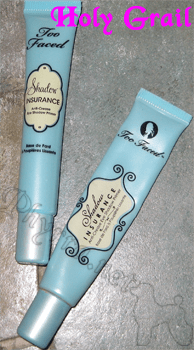 I've tried a lot of primers, but Too Faced Shadow Insurance, aka TFSI has been my Holy Grail of primers. Other primers do work, and some quite well, but I always go back to TFSI. It's the one I can use as a 'no brainer.' I just reach for it, slick it on my eyes, and away I go, applying eye shadow! Other primers I have to take the time to apply carefully or in special ways to deal with my super oily lids, but not TFSI.
In my big primer Comparisons (V1 and V2) it wins for its innovative packaging, color intensity and wear. I can wear TFSI all day in 80+ degree heat and humidity, running around outside in sticky Orlando, and not have my eye shadow budge. I can't believe that no one else thought to make packaging like the TFSI tube for primer!
While its price has increased slightly recently, from $17 to $18 for .35 oz, it's still worth it to me. I enjoy not having to think about how carefully I need to apply my primer to get it to not crease on my oily lids. It works really well with my personal body chemistry.
TFSI works wonderfully with Fyrinnae Pixie Epoxy, another Holy Grail product of mine.
This is definitely a product that I'm Thankful for.
How about you? What's your holy grail eye shadow primer?
Last Updated on