Geek Chic Cosmetics is a company that I recently heard about from the lovely Ana of Lipsticks & Lightsabers. She taunted me for weeks about this new cool geeky company! They've got 9 collections of shadows, each with its own geeky theme.

10 Man Raid is about World of Warcraft. So Say We All is about Battlestar Gallactica. Single Player is about console games. Geeks vs. Zombies is uhm, about the zed phenomenon. Mushroom Kingdom is about the Mario Brothers games. Portals is about the infamous puzzle platformer. Fang Banger's Quartet is about True Blood, aka the Sookie Stackhouse series. Hyrule is about the Legend of Zelda series. 8-Bit Survival Kit is about the homage to Dungeons and Dragons sketch, which I think I first saw in the game Summoner.
I purchased several samples and received one free sample from this company. I've swatched them by collection for you.
10 Man Raid is the first set I swatched. By the way, I swatched on UDPP because my Aromaleigh Light Primer has disappeared again and that's normally my favorite to use for swatching.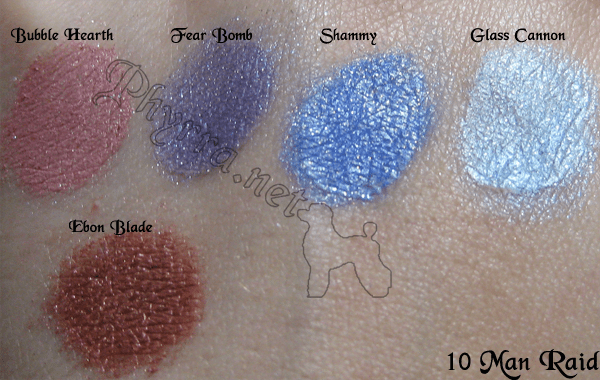 Bubble Hearth – a dainty powder pearly pink
Fear Bomb – a rich deep jewel toned purple with purple and silver glitter, with the perfect mix of shimmer and pearl
Shammy – intense cobalt blue-gold duochrome with gold sparkle
Glass Cannon – a soft Tiffany blue with silver shimmer
Ebon Blade – intense red-gold duochrome
Bubble Hearth is a really nice, girly pink.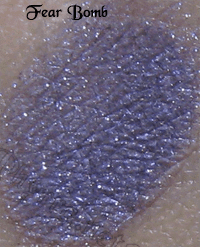 Fear Bomb is a gorgeous purple, though I wouldn't necessarily describe it as deep. I really love all the shimmer and glitter in it.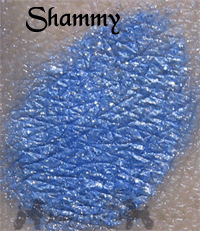 Shammy is an awesome blue-gold duochrome.
Glass Cannon is a pretty light blue.
Next is the Fang Banger's Quartet, though it's only a trio for me, & the Single Player Collection.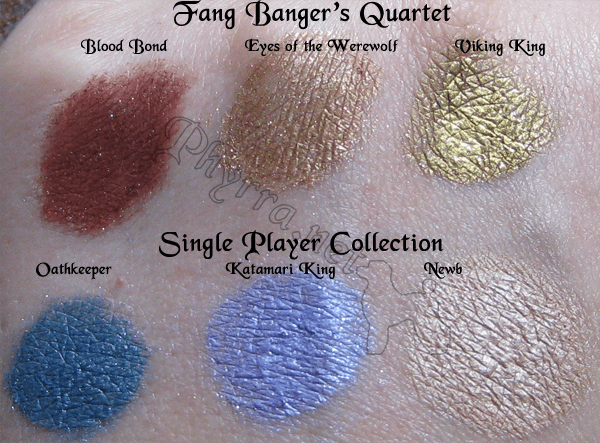 Blood Bond – deep blood red metallic
Eyes of the Werewolf – copper with gold shimmer, leaning bronze
Viking King – antique gold with silver shimmer


Blood Bond is a metallic red that leans rusty.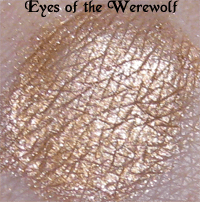 Eyes of the Werewolf is a pretty bronze shade.
Viking King looks silver in the bag, but applies as pretty antique gold with silver shimmer. I actually think Eyes of the Werewolf is my favorite of the three. I found myself wishing that Blood Bond had been a bit more red.
Oathkeeper – a vibrant cerulean blue with blue shimmer and hilights
Katamari King – a pastel purple with tons of sparkle
Newb – an almost matte pearl nude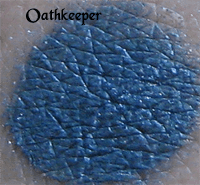 Oathkeeper is a nicely pigmented blue.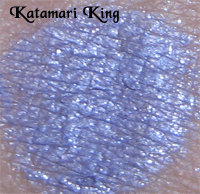 Katamari King is a really delicate pastel purple and I absolutely love it.
Newb is a nice shade that will probably make a great highlighter for most people.
Last we have Mushroom Kingdom, 8-Bit Survival Kit, and So Say We All. I also swatched a blush and foundation.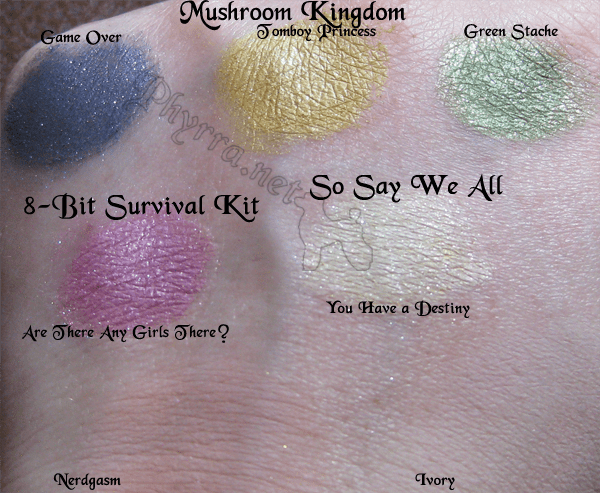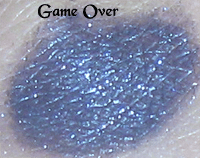 Game Over – amethyst toned purple with violet and blue highlights and silver and blue glitter. (My Favorite!)
Tomboy Princess – a sunny buttercup yellow with rainbow glitter and golden undertones.


Green Stache – a bright limey green with gold undertones and tons of green and silver sparkle
I know I love purple shadows, so it's no surprise that I really love Game Over.
Tomboy Princess is a very vibrant yellow, though I wasn't able to see the rainbow glitter in it.
Green Stache is a lot prettier than I expected and I love the silver sparkle in it.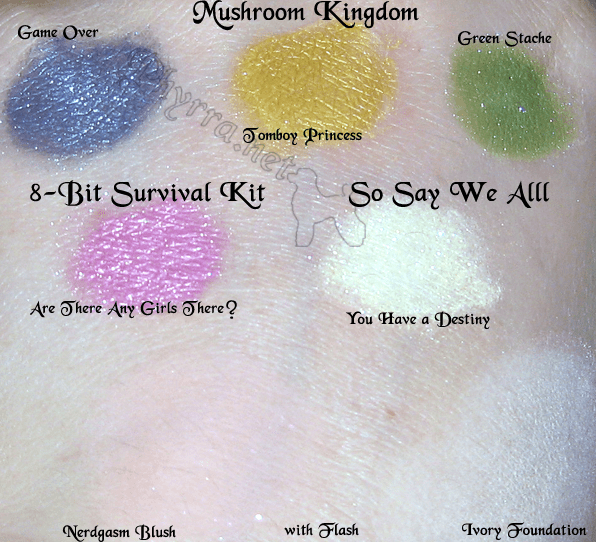 Are There any Girls There? – a vibrant semi-opaque pink with oodles of sparkle
You Have a Destiny – a very pale gold with a touch of shimmer
Nerdgasm blush – peachy-pink with gold shimmer
Ivory foundation – pale yet tan tint to skin
Are There any Girls There? is a really nice bright pink.
I didn't care much for You Have A Destiny. It looks like a pastel yellow and was a bit patchy for me.
Nerdgasm was nice and the gold shimmer was fairly subtle.
Pricing:
Samples – $1.00 each
Glosses – $5.99
Chic Sticks – $7.99
Eye Shadows: $4.99 for a 5 gram jar with sifter. Ingredients: titanium dioxide, magnesium sterate, mica, iron oxide
Foundations – $11.99 for a 30 gram jar with sifter. Ingredients: titanium dioxide, zinc oxide, boron nitride, mica, iron oxide
Blushes – $9.99 for a 20 gram jar with sifter. Ingredients: titanium dioxide, zinc oxide, boron nitride, mica, rice powder, kaolin clay, magnesium sterate
Cosplay Colors
Na'vi Navy (blue foundation) – $14.99 30 gram jar with sifter. Ingredients: titanium dioxide, zinc oxide, boron nitride, mica, iron oxide, ultramarine blue
Drow (black foundation)- $14.99 30 gram jar with sifter. Ingredients: titanium dioxide, zinc oxide, boron nitride, mica, iron oxide, ultramarine blue
Geek Chic Creation ID Time IS Money (green foundation)- $14.99 30 gram jar with sifter. Ingredients: titanium dioxide, zinc oxide, boron nitride, mica, iron oxide, tin oxide, chromium green
Geek Chic Creation ID Srs Bsns – $7.99 black lipstick
What do I think of Geek Chic Cosmetics?
I really love the geek themes! I love most of the collection concepts. I do wish some of the colors were more pigmented, as I felt some of the color descriptions were a bit off. Fear Bomb, while beautiful in my eyes, is not a deep shade. I did wish that Blood Bond was a bit deeper of a red. I wouldn't describe You Have a Destiny as a gold at all.
I dislike the plastic sample baggies they come in because I found them a tad difficult to get open, as they seem to be a bit thinner material than some of the other plastic bags I've tried. Also, while I did find the hearts cute that were drawn on the bag, some of the names had rubbed off on the sample baggies. It might look a bit more professional if there were stickers attached with names. Update: Apparently they are switching to baggies with printed labels. Yay!
I believe the colors are all custom made. Not one of them appears to be repackaged to me.
Additionally, it's pretty neat that Geek Chic apparently takes custom orders! If they had only been around when I'd done my drow costume!
While the site is laid out in a fairly nice fashion, I HATE the mouse over menu system. I sometimes had trouble navigating to different collections with it. The workaround for this was for me to just click on the larger category, such as Eye Shadows. Purchasing from the site is pretty easy, since it's the yahoo cart system. Update: Apparently they've worked on their website to make it easier to navigate. This is fantastic.
Would I buy from Geek Chic again?
Absolutely! Overall, I was very happy with the samples I purchased.