Until this year, I had never really been what I would consider a gold fan. I've recently come to love golds for nails, eye shadows and everything else. I had been waffling on purchasing the Hard Candy Moon Glow Luminizing Powder until I saw the gorgeous Grey review it. I had been questing for a pressed powder and failed with my first purchase, so because of her positive review, I was pushed off the fence and into purchasing this one.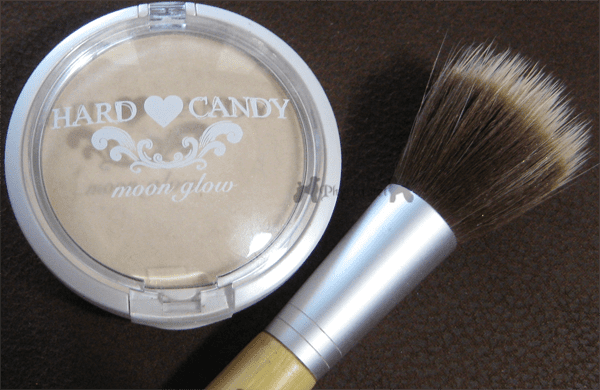 First up, I need to state that it's not vegan and it does have silica in it.
The ingredients are:
talc, zinc stearate, silica, caprylic/capric triglyceride, mica, titanium dioxide, cetylacetate, bis-diglyceryl, polyacyladipate-1, ethylhexyl, palmitate, calcium sodium borosilicate, iron oxides (ci77491, ci77492, ci77400), propylparaben, diazolidinyl urea, carmine.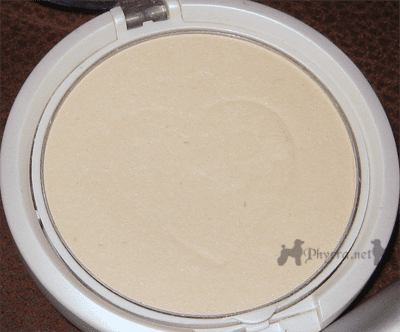 The Website claims:
It's a shimmering translucent powder infused with illuminating gold powder for a soft glow.
Micro pigmented pressed powder eliminates unwanted shine.
It evens the skin.
Sets foundation for an all-day wear.
1 shade, translucent

To me it's a slightly beige pressed powder with a hint of gold. I feel like it gives me a candle-lit golden glow and illuminates my skin. I feel like it does a pretty good job with evening my skin out and it looks good all day. I like how it warms my face up. In my opinion, there definitely is micro-glitter in the powder, but there are no huge chunks of gold glitter.
When I first tried using it, I tried it with a kabuki brush and it didn't look quite right. I talked to the alluring Ana of Lipsticks & Lightsabers, and she suggested I use a duo fiber brush. I never bothered to try the enclosed sponge. The duo fiber brush (which is my ecoTools brush from the Alicia Silverstone brush kit), works PERFECTLY with this powder!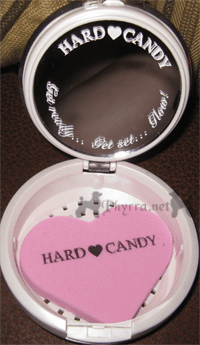 Packaging:
To me, the packaging is cute and sturdy. It comes with a sponge applicator that I think would make me apply the product too heavily, but may work for other people. There is a little mirror in the packaging that says 'Get ready… Get set… Glow!' I actually really love the packaging and find it to be very functional.
Price:
$8.00 for .24 oz
On the day I traveled to Indiana, I used L'Oreal's Studio Secrets Magic Perfecting Base Primer, Meow's Pampered Puss foundation and then topped it off with this Pressed Powder. My makeup lasted ALL DAY. It lasted through my time at the airport, through my flight, through dinner with my parents and then visiting with my friend Krissy later that evening. I didn't have to touch it up at all.
The rest of my trip in Indiana I wore it with just the L'Oreal Studio Secrets Magic Perfecting Base Primer, and after about 8 to 10 hours, I did need a touch up on my T-zone, but nothing drastic.
Here's a crappy picture of me having it on after 12+ hours.


Here's a better picture of me wearing it with just the primer.


This is the powder used all over my face, including on my eyes, on top of primer.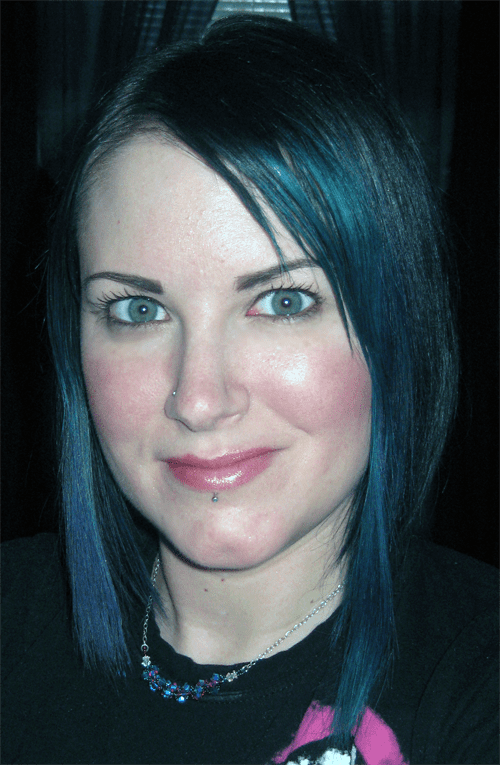 Would I purchase this again?
Yes, I really like the glow this powder gives my complexion! I really feel like it makes me look 'lit from within.' I like how long wearing it turned out to be on me. I feel like it looks flattering on. I do think that it would work with most skintones. The price is reasonable. I like the packaging. Because of liking this, I may even go try the Hard Candy Welcome Matte Mattifying Translucent Powder.
Only, I have to say, I wouldn't think of this as a moon glow, as I've always considered the moon to be silver or white or iridescent white. So I don't quite feel like the name fits. Other than that, and the fact that it's not vegan, I love it.
What do you think of the Hard Candy Moon Glow Luminizing Powder? Do you like finishing powders?
Product was purchased by me. All opinions are my own.