Recently I had the opportunity to try out Ginger and Liz nail polish. Ginger and Liz is a cruelty free and vegan nail polish brand. They're also 5 free – no toluene, formaldehyde, formaldehyde resin, camphor or DBP. Ginger and Liz sent me these polishes.
Ginger and Liz Nail Polish
Where to Buy
Ginger & Liz, Ulta
Price
$12 each for .54 fl. oz.
About the Brand
Ginger + Liz Colour Collection™ is the popular brand of vegan friendly and toxin-free nail lacquer. The collection was created by Ginger Johnson and Liz Pickett, friends that bonded over all things beauty with a particular love for nail lacquer. The ladies also made a strong connection over their personal journeys to becoming vegan and vegetarian and how it positively affected their overall health and beauty regime.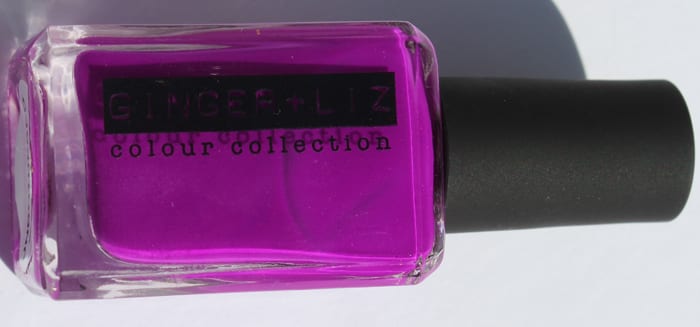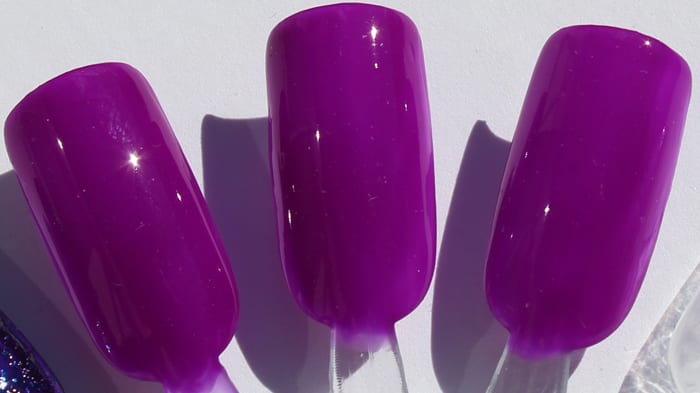 Unbothered
a creamy opaque bright purple shade with cobalt undertones.
This is an utterly stunning bright purple shade. I love it and I'm currently wearing it on my toes. Shown above with 2 coats of color and 1 coat of top coat. It was easy to work with. Taken outdoors in direct sunlight.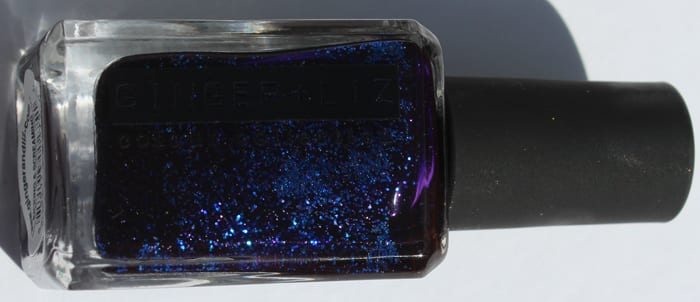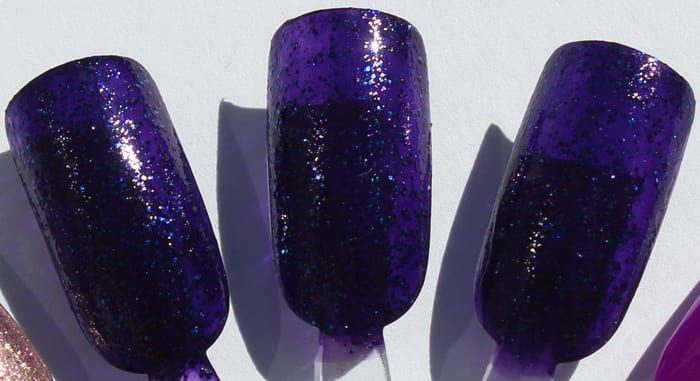 Kicking & Screaming
a deep purple with a mahogany undertone and gorgeous holographic glitter in purple, blue, and turquoise.
This is my least favorite of the 4 I tried. I wanted to love it based on its description but it just didn't translate well onto my nails. It sort of had a jelly finish when worn and the glitter was large enough that it felt chunky when applied. Shown above with 2 coats of color and 1 coat of topcoat. I think I should have used 2 or 3 coats of topcoat. Taken outdoors in direct sunlight.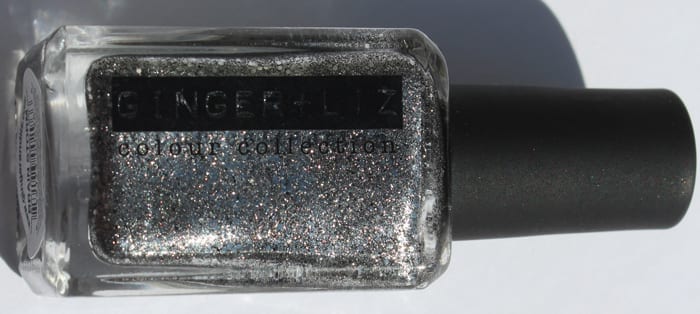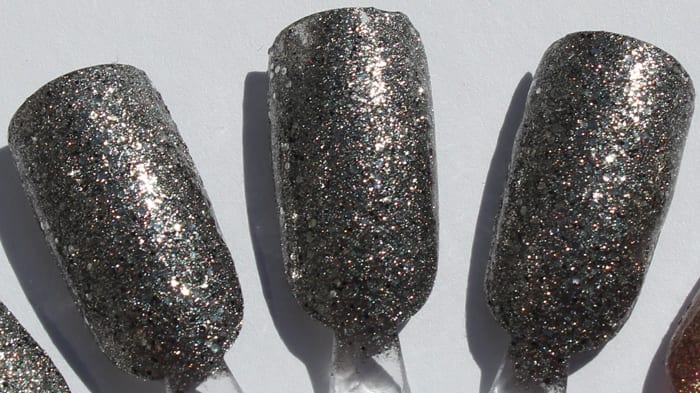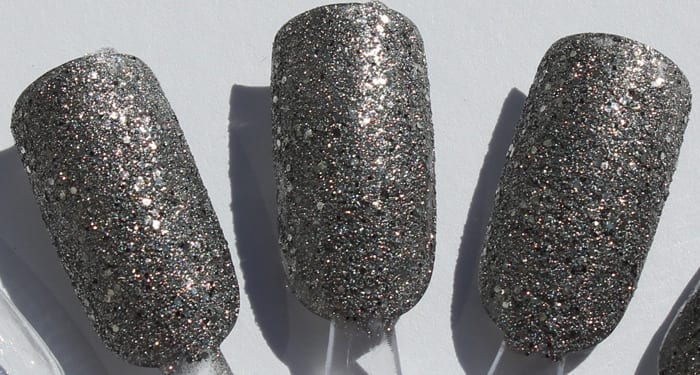 Brain Storm
a pewter metallic with silver and holographic glitter combined with tiny black specs. 
This is a really pretty silver and it dries to a matte finish, but I also love it with a shiny top coat too. I used two coats of polish above for both sets of swatches, then I used 2 coats of topcoat on the one with topcoat. Taken outdoors in direct sunlight.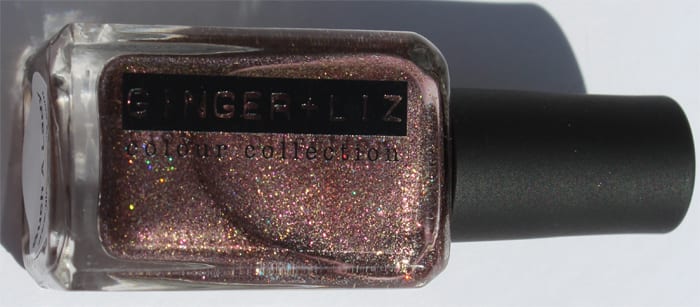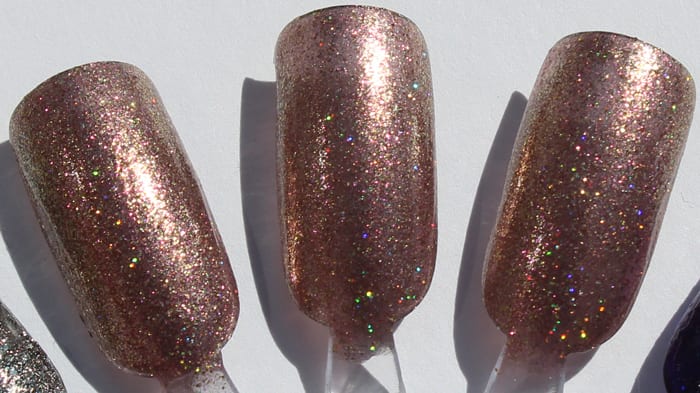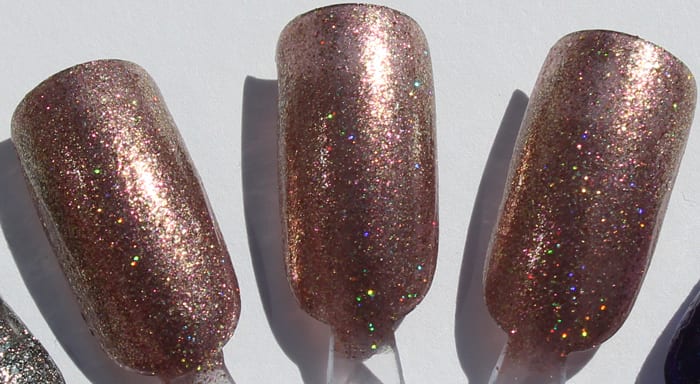 Such A Lady
a metallic antique rose gold shade with crushed glitter and a holo undertone.
I saved the best for last. This is an amazing rose gold shade and the holographic sparkle in it is beautiful. Shown with 2 coats of color and 1 coat of topcoat. Taken outdoors in direct sunlight.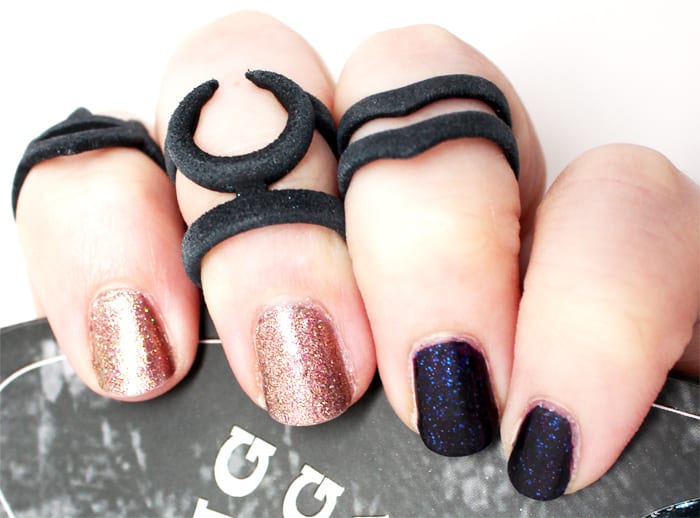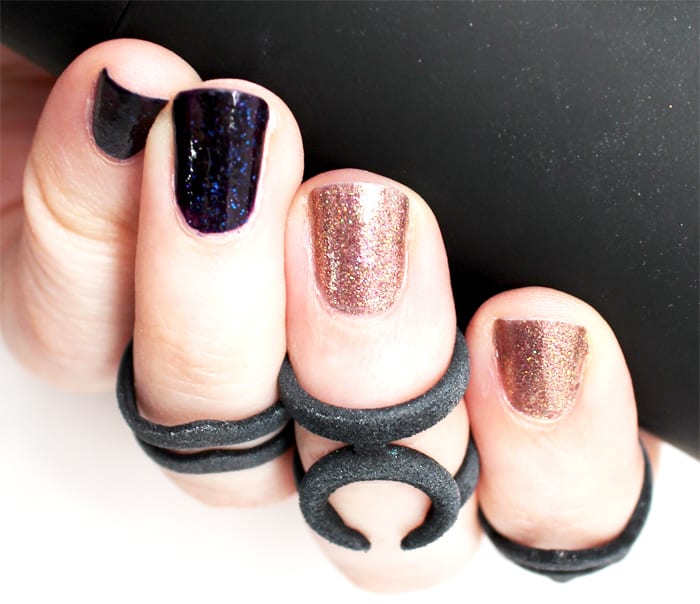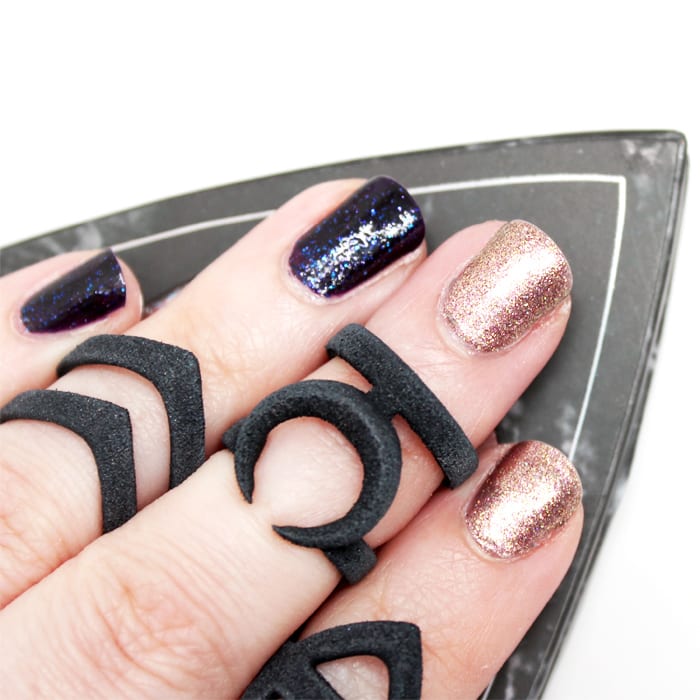 Overall, I loved 3 out of the 4 shades. I might be able to figure out how to make Kicking & Screaming work better for me, maybe by layering it on top of another color before I applying it, so that I can better see the holographic glitters in it. The formula for the rest of these was easy to work with.
They've got some other really cool shades, too, that are perfect for use with glitters. In addition to the awesome ones I showed you, they have Work the Room (a deep eggplant grey creme), Best I've Ever Had (midtone fawn creme, perfect for the office), Who's the Boss (a deep eggplant with magenta tones creme), and Control Freak (a neon beachy sherbet melon creme).
If I had to pick a favorite of these four, I'd be torn between Such a Lady and Unbothered. Which is your favorite?
What do you think of Ginger and Liz nail polish?
Last Updated on