How to Style P!nk's Signature Pumped Up Pompadour
Celebrity hairstylist Marcia Hamilton has been the styling force behind an array of  P!nk's recent magazine covers and spreads. Marcia offers the scoop on how she achieves her signature pompadour hairstyle in 5 easy steps. Plus, this how to is on trend with other popular pompadour loving celebrities, making Marcia's tips perfect for short cut stories on stars like Miley Cyrus, Rihanna, Ginnifer Goodwin, & more.
1. For this look, start with dirty hair. If your hair is really clean add a bit of a mattifying powder.
2. Section out the crown area and use a large barrel curling iron to create volume, pinning each curl formed out of the way.
3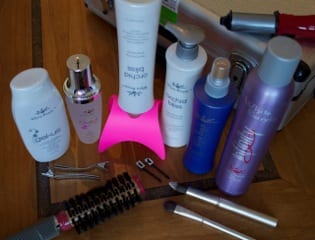 . Take a nickel size glob of pomade and rub hands together then applying to sides and back.
Celebrity Smart Tip: "When I use other styling products besides pomades, I always use mybotto inverted bottle holders like this hot pink one here to get every last drop of product out: they help me save time and money and they are great for reducing my use of plastic bottles," says Marcia.
4. Brush sides back. If hair is too long, secure with bobby pins.
5. Take pins out of the crown, tease and run fingers through the curls. Spay with White Sands Stuck Up Mega Hold Hairspray for maximum hold and volume.
What do you think of Pink's pompadour? Would you wear it? I might try it!