I hadn't used the Urban Decay Smoked palette in a while, so I put together a soft neutral eye with colors from UD and then punched up the look with Fyrinnae Mystical Hedgehog as liner. It's an awesome purple cat eye liner! I love the results! This is a perfect purple look for Fall or any time.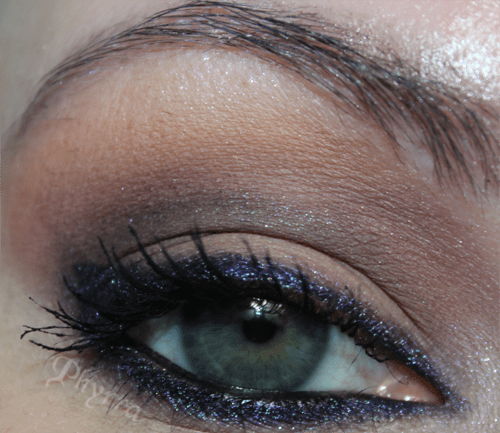 Before you begin, make sure to prep the eye area with Too Faced Shadow Insurance eye primer.
How to Achieve the Look:
Apply Urban Decay Kinky to the browbone and then apply Urban Decay Freestyle to the lid and the crease with a fluffy brush.
Using a soft, floppy brush, apply Urban Decay Backdoor to the outer corner of the lid and the lower crease, blending well.
Line the upper and lower lash line with Urban Decay 24/7 Perversion pencil liner.
Smudge Fyrinnae Mystical Hedgehog on top of Perversion liner and create a cat eye shape.
Add mascara, line your waterline, and add a dab of BftE Glistening to the inner corner and under the brows.


Eyes:
Too Faced Shadow Insurance
Urban Decay Kinky – browbone
Urban Decay Freestyle – lid and crease
Urban Decay Backdoor – crease and outer corner of lid
Urban Decay 24/7 Perversion liner – upper and lower lash line, lower waterline
Fyrinnae Mystical Hedgehog – upper and lower lash line on top of Perversion
BftE Glistening – inner corner of eye and under eyebrows
Billion Dollar Brows Raven Brow powder
Billion Dollar Brows Clear Brow Gel
Milani Total Lash Cover Mascara
Face:
Urban Decay Naked Skin Liquid Foundation in .5
Illamasqua cream blush in Crush
Too Faced Candlelight Duo – highlighter
Lips:
Nyx lip pencil in Purple Rain
MAC lipglass in All of my Purple Life
What do you think of using Fyrinnae Mystical Hedgehog as a liner? I love it!
Some products purchased by me. Some products sent for consideration. All opinions are my own.