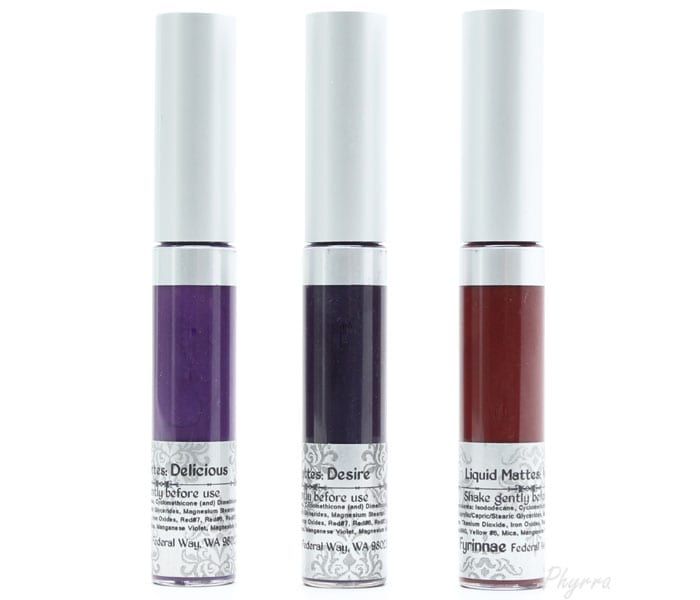 A while ago I purchased some of the Fyrinnae Liquid Matte Lipsticks because I do love long wearing lipsticks like this. I bought Desire and Vixen and I was sent Delicious.
Fyrinnae is cruelty free and vegan.
Fyrinnae Liquid Matte Lipsticks Review
Availability
Fyrinnae
About Fyrinnae Liquid Matte Lipsticks
These vegan liquid lipsticks dry to a matte or matte-metallic finish They dry down in about a minute and set completely after 20 to 30 seconds.
Price
$12.50 for 9 ml / .3 fl. oz.
Ingredients
Isododecane, Cyclomethicone (and) Dimethicone, Caprylic/Capric/Stearic Glycerides, Magnesium Stearate. May Contain: Titanium Dioxide, Iron Oxides, Red#7, Red#6, Red#21, Red#27, Blue#1, Red#40, Yellow #6, Mica, Manganese Violet, Magnesium Myristate.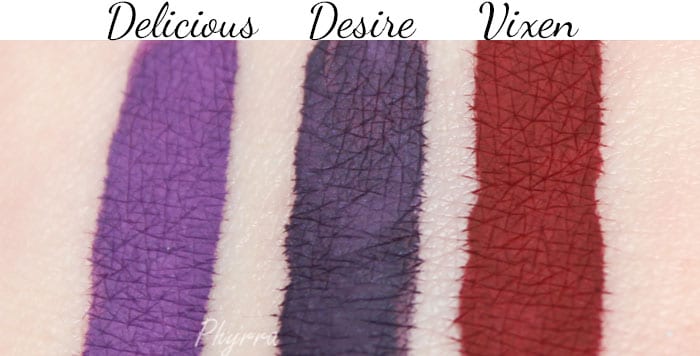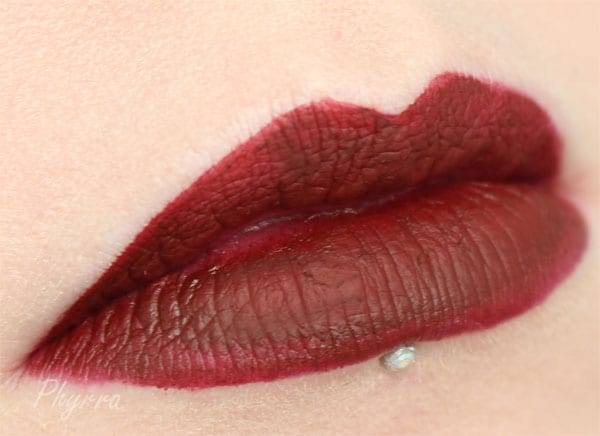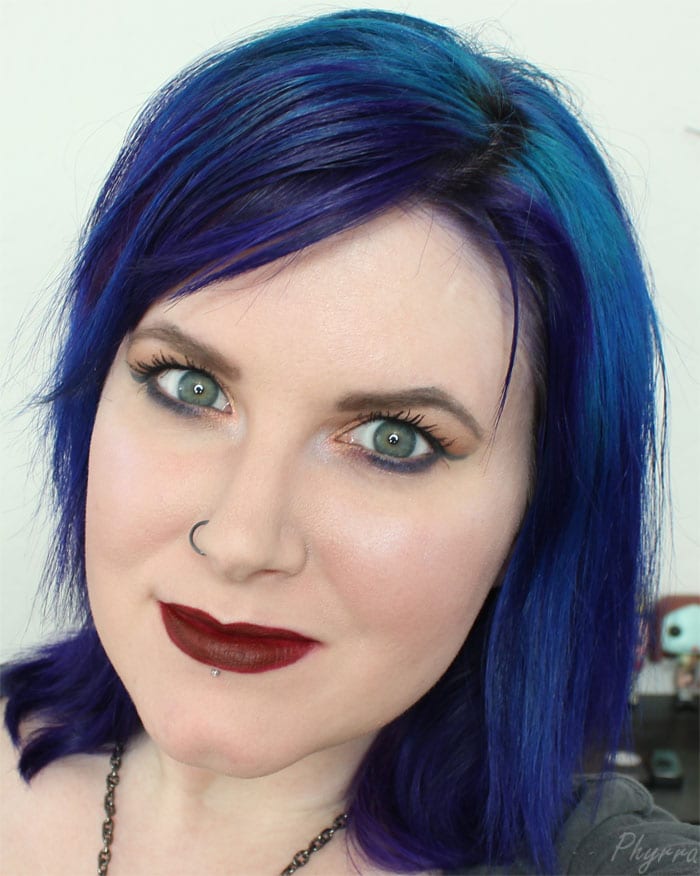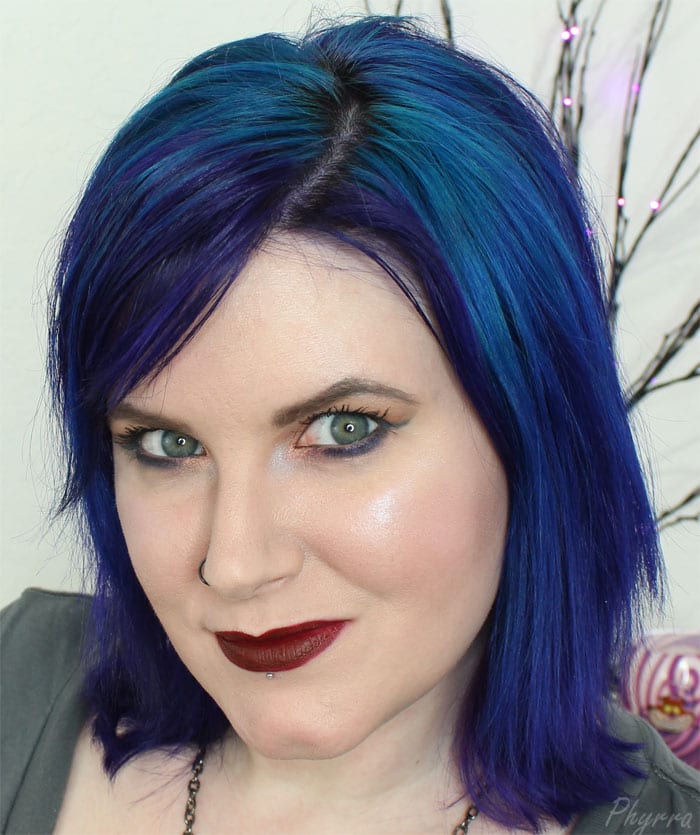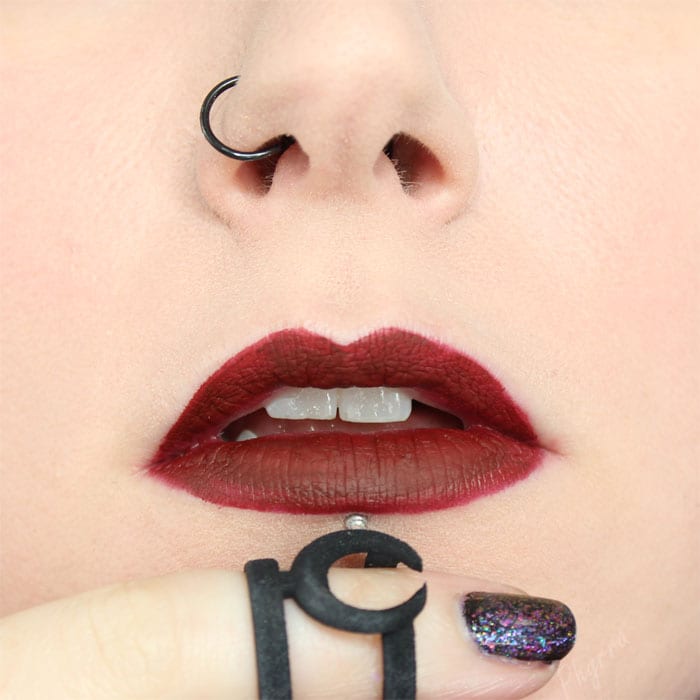 Vixen
rich dark red (staining is likely)
My Take
a beautiful deep red that I found needed two coats.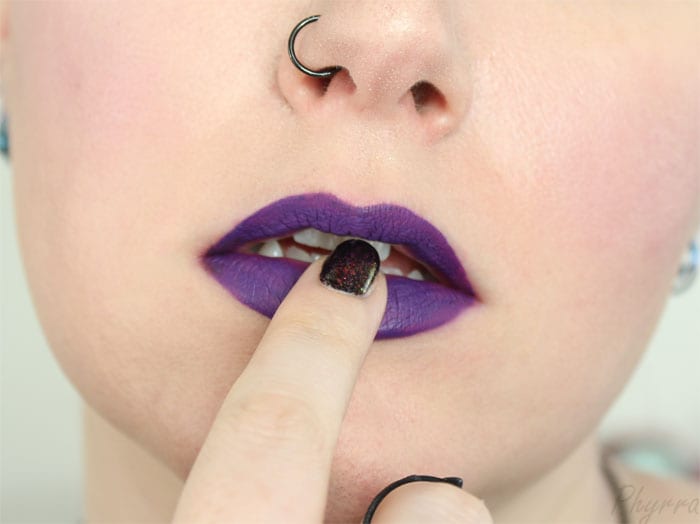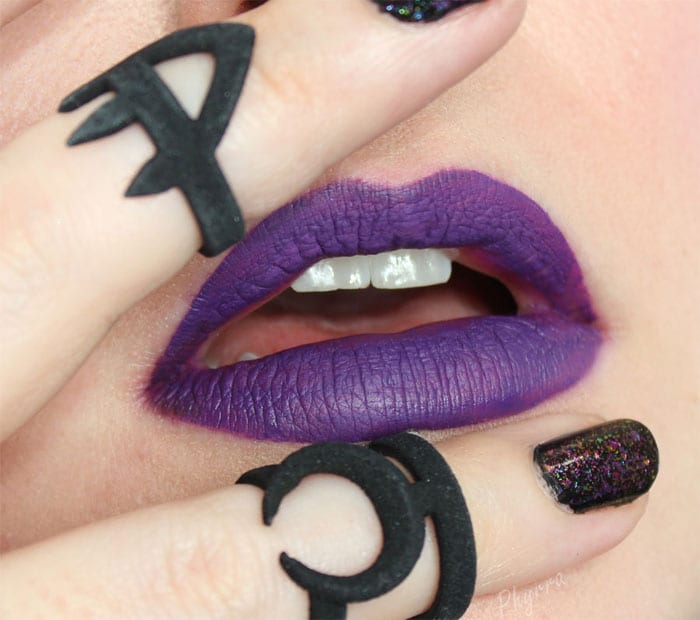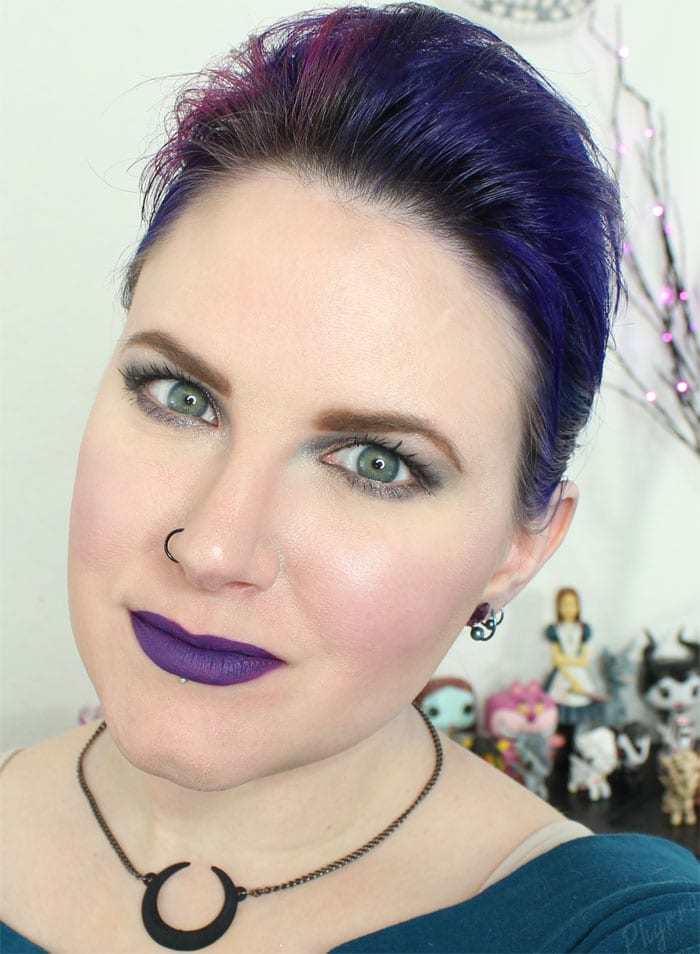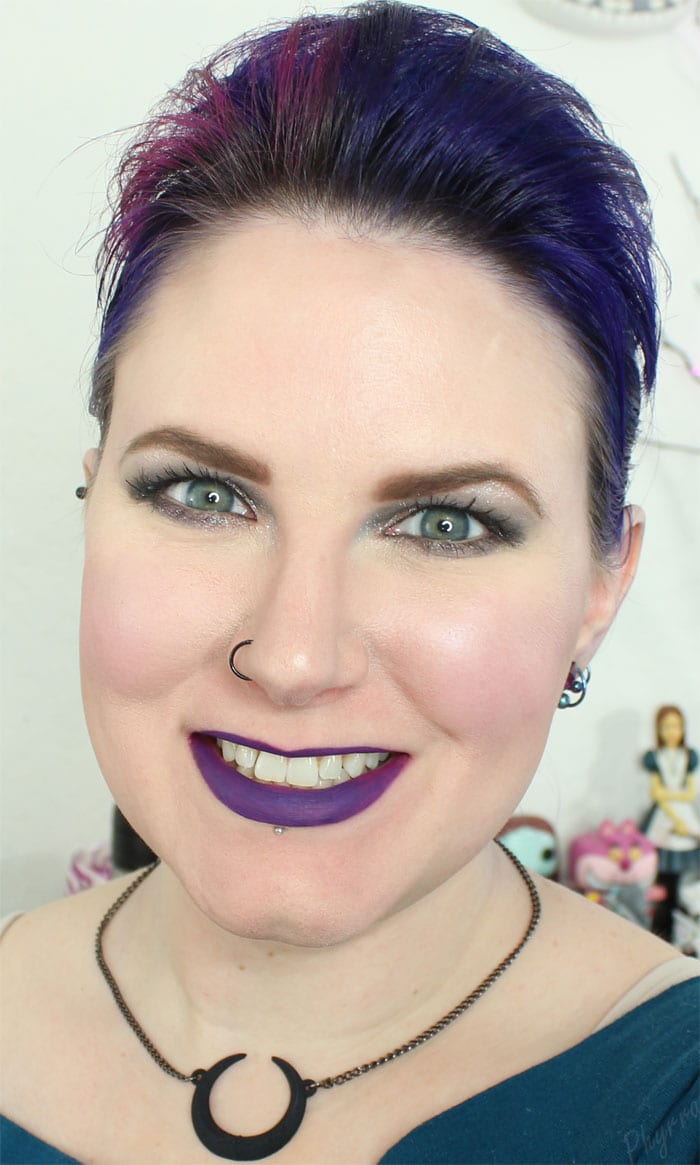 Delicious
bright medium purple (shade may stain)
My Take
Definitely a bright, true purple. Love it!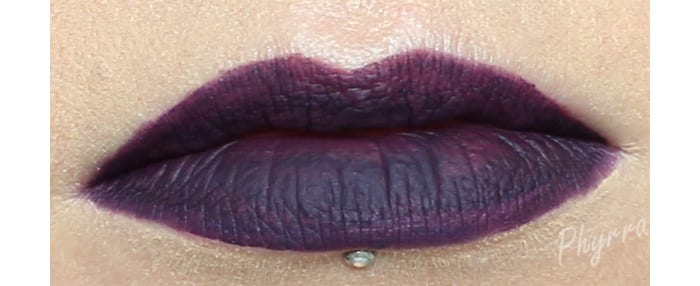 Desire
dark, velvety purple
My Take
This is my favorite of the bunch. Deep dark purple, but not so dark that it looks black.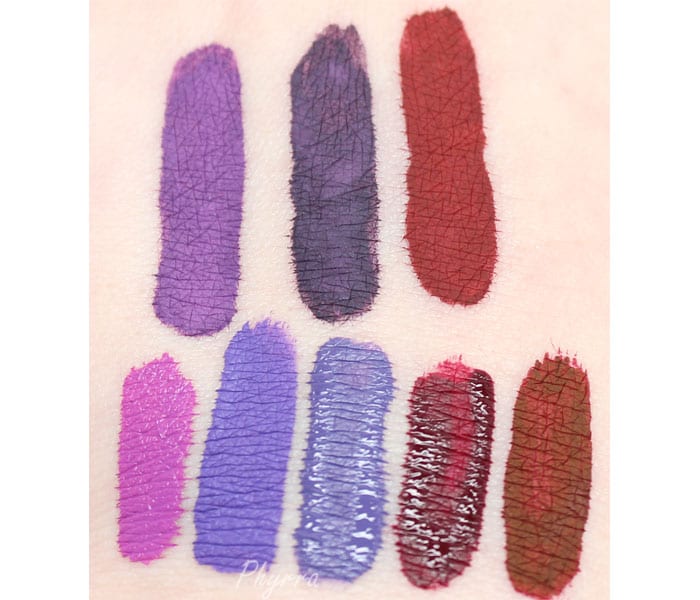 Row 1 – Fyrinnae Delicious – Fyrinnae Desire – Fyrinnae Vixen
Row 2 – Pretty Zombie Purple Poison – Pretty Zombie 3 Witches – LASplash Phantom – LASplash Malevolent – Kat Von D Vampira
I did do some comparison swatches for you. The LASplash have a very long dry down (but they are insanely hard to remove). As you can see the 3 Fyrinnae shades I have are unique in my collection. Nothing matches them closely. KVD Vampira is more brown toned and LASplash Malevolent is more deep cherry than Fyrinnae Vixen. Pretty Zombie Purple Poison is way more pink toned than Fyrinnae Delicious. Pretty Zombie 3 Witches is more purple toned and less blue toned than LASplash Phantom. While Phantom does dry down slightly deeper than 3 Witches, neither 3 Witches or Phantom are remotely similar to Desire or Delicious.
How to Apply Matte Liquid Lipsticks
Exfoliate your lips.
Apply a moisturizing lip balm or lip mask and let that sink in while you do your eye makeup or something.
Blot off the excess moisture.
Line your lips with a colored lip pencil so that you have a guide for application.
Apply a coat of matte liquid lipstick. If you struggle to apply it, use a lip brush.
Apply a second coat if necessary, or dab it on where it needs to be more opaque.
Let fully dry.
(Optional) add a fun eyeshadow like Fyrinnae Winter, Again, Crimson Ghost, Jade Ghost, Sled Puppies or Dinosaur Plushie to the center of the lips.
Now, I've tried a lot of matte liquid lipstick formulas – MUA, Kat Von D, Jeffree Star, Pretty Zombie Cosmetics, LA Splash Cosmetics, Dose of Colors, Ofra Cosmetics, Aromi Cosmetics – and the Fyrinnae Liquid Matte Lipsticks are my favorite out of them all. They wear very well. I've eaten tacos, brie cheese, crackers, yogurt and blueberry muffins with them without issue. I've drank mead, sparkling moscato, water, and V-8 Fusion Energy drinks and been fine. I've worn them for 12 hours before taking them off. There was slight staining with Desire and more staining with Delicious and Vixen.
Provided I don't actually rub at them like I was trying to remove them, they don't come off. Incidental touches are fine. To remove them, coconut oil is my favorite. I usually do two rounds of coconut oil to remove and if there's still anything left after that, I use an eye & lip makeup remover. If there's a slight stain left I don't care, I just put on my Performance Colors lip balm or Bite Beauty Agave mask.
What I really appreciate about this liquid lipstick formula is that after I remove it, my lips don't feel like they want to flake off. Instead, I just put on my Bite Beauty Agave Lip Mask and I'm good to go. Another thing I really like about this formula is that it doesn't feel like I'm wearing something stiff or heavy.
I need to apply 2 coats to get the color I want and sometimes it seemed a little tricky to build up that opacity. That said, if I was patient it worked better. I also preferred to line my lips with a lip liner so that I had a guide to use with the doe foot for application.
Desire is my favorite and I love it to bits. It's so hard to find a dark purple that doesn't just look black. It does a good job of showing purple tones. I know that Fyrinnae is planning on coming out with a black. I sincerely hope they come out with Liquid Matte Lipstick versions of Fashion Disaster (bright cool pink with a touch of purple), Ominous (warm dove-grey mauve), Ghost's Kiss (nude with copper and pink hues) and Triceratops (deep metallic forest green). I would also love to see a bright teal blue and a deep teal blue.
If you've been hesitating from trying Fyrinnae because of the long TAT (turn around time), don't hesitate! They always ship out faster than that estimated time. They have awesome customer service and they make great products. In addition to these awesome liquid matte lipsticks, I recommend the Pixie Epoxy, the eyeshadows, and beautiful blushes. Really, you can't go wrong!
If you're wanting to try liquid matte lipsticks but don't know where to start, I definitely recommend Fyrinnae! This is the best liquid matte lipstick formula that I've tried and the most comfortable to wear. If you don't know what shades to start with and you prefer conventional colors, try Naughty & Nice, Ablaze or Vixen. If you like wild shades, definitely try Delicious, Desire, Graffiti or Sinister.
What do you think of the Fyrinnae Liquid Matte Lipsticks? Ready to take the plunge?