Fyrinnae Halloween 2017
Fyrinnae Halloween 2017 was released in September, I think. I absolutely love that Fyrinnae releases are permanent, never LE. So I never feel like I have to rush to order them. I don't have to deal with FOMO. It's such a nice change.
Where to Buy
Fyrinnae
Fyrinnae is an all vegan makeup company. I've been loving and reviewing their products since 2008 or 2009.
Fyrinnae Halloween 2017 Swatches
I picked up 3 shades from the Fyrinnae Halloween 2017 collection.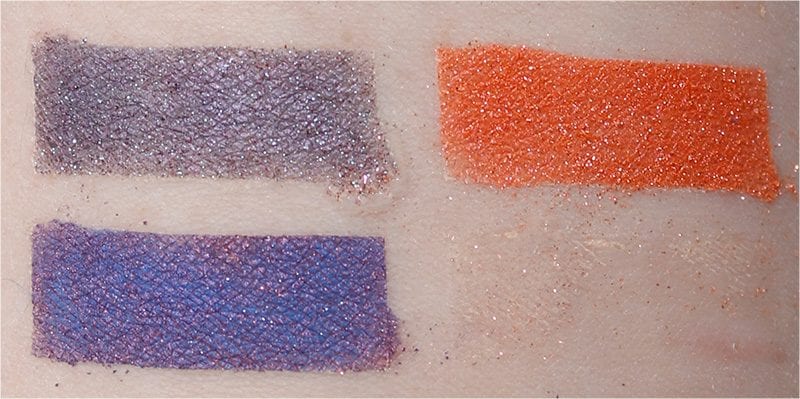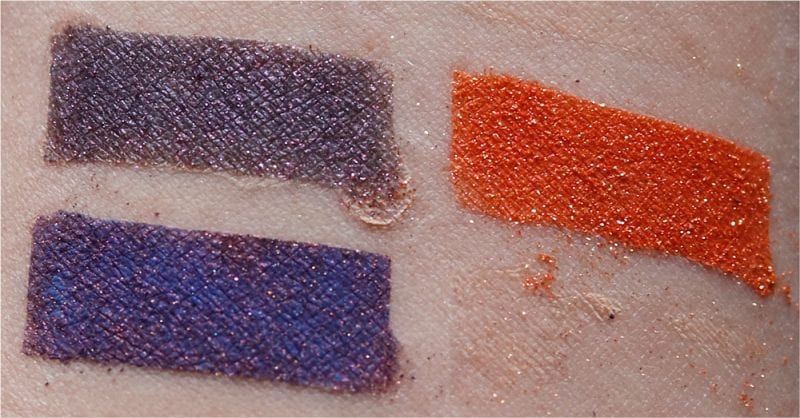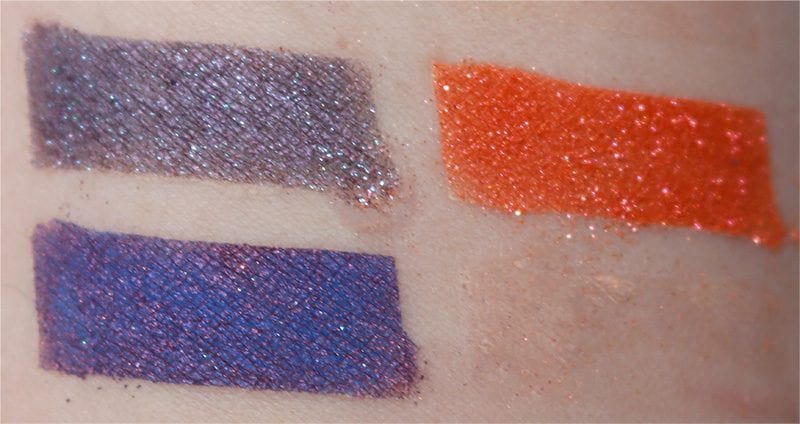 Row 1 – Macabre Decadence – Tricks or Treats
Row 2 – Hellhound
Macabre Decadence
A dark, murky purple-gray base is topped with purple shimmer, and filled with blue and green sparkle which turn pink at an angle.
Macabre Decadence is so pretty. I'm a sucker for anything with blue sparkles that turn pink on a purple base.
Hellhound
Another Mephisto? Better! A similar royal blue base (this shadow is not purple) is topped with a metallic and slightly shimmery cool red, which changes to yellow-gold to nearly green at an angle.
Hellhound is such a rich royal blue. You can see the red from certain angles but it also will look purple (to my eyes) too.
Tricks & Treats
This vivid orange shimmer is filled with pink and bronze sparkle which turns gold to gold-green at an angle. 
Tricks and Treats is probably the prettiest orange I've seen in a long time. I think the pink and golden-green sparkles really make it stand out. Tricks and Treats definitely feels like the perfect sort of Halloween eyeshadow shade!
I always love Fyrinnae's complex eyeshadows. I think they're one of the best indie makeup brands to start with if you love duochrome or complex eyeshadows. I tried to capture the color changing shimmer in my photos.
I'll hopefully do a look with Macabre Decadence soon, as I think it will look great with Aromaleigh Nyx.
Fyrinnae also released Tricks & Treats as a pressed eyeshadow. They came out with indie mascaras. I bought one but haven't had a chance to try it yet. I have to find where it disappeared to in my makeup collection. They also released 3 new lipsticks – Devour, Carmilla and Entrancing. If you're a perfume fan, they've got a lot of interesting scents.
What do you think of these three Fyrinnae Halloween 2017 colors?