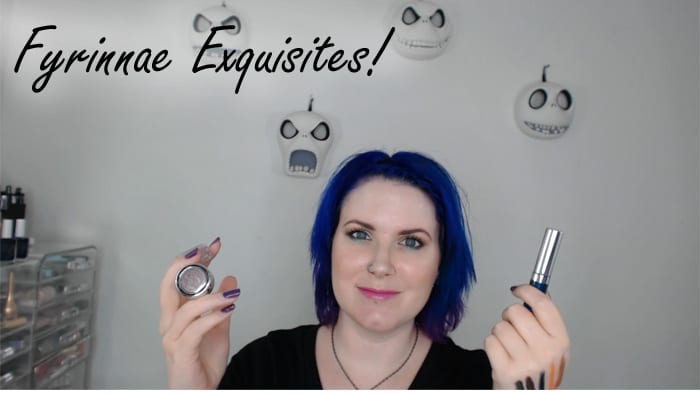 Happy Friday! Today I've got the Fyrinnae Exquisites Eyeshadows and Lip Lustres for you. The Exquisites were recently released, as were most of the lip lustres.
Fyrinnae Exquisites Eyeshadows and Lip Lustres Review
Price
$8 for full size
$2.75 mini jar
$7 for lip lustre
$2 for mini lustre
Availability
Fyrinnae
In my video I swatched all products on Fyrinnae Pixie Epoxy.
If you like this video, please give it a thumbs up and subscribe!
I swatched all products below left to right on Fyrinnae Pixie Epoxy, Too Faced White Lie and Urban Decay Perversion. This shows you how the colors look with a mixing medium, a white base and a black base. However, I feel like the video helps to show off these colors to their fullest extent.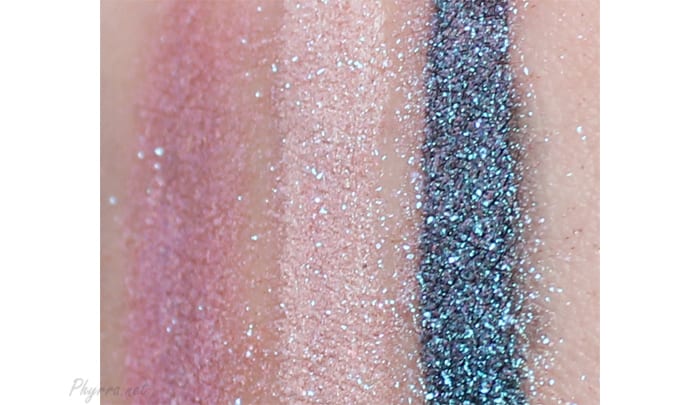 Princess For A Day
Turquoise-blue sparkle tops a sheer burgundy hue for a striking effect. Closer to light or at certain angles, it turns vivid pink. Very sparkly finish.
My Take
sheer pink burgundy base with strong turquoise blue sparkles and shine. The turquoise blue is prominent and you can see the burgundy from the side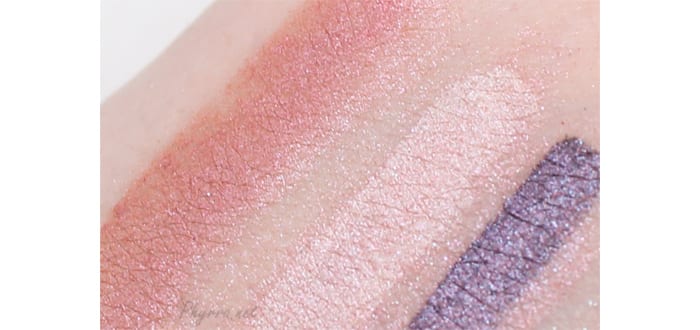 Breathtaking
Away from direct light, vibrant pink sparkle and shimmer appear to glow on sheer beige. Closer to light or at certain angles, it shifts to a bright golden peach shade.
My Take
peachy beige base with strong pink sparkles. I see the peachy beige from the side.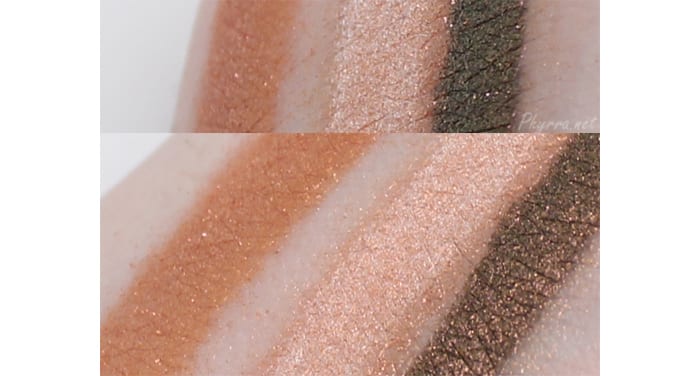 On Wings of Silk – Pink sparkles mingle with a transparent pale bronze away from direct light. Closer to light or at certain angles, it shifts to gleaming greenish gold with with hues of peach.
My Take
golden bronze with pink and peach sparkles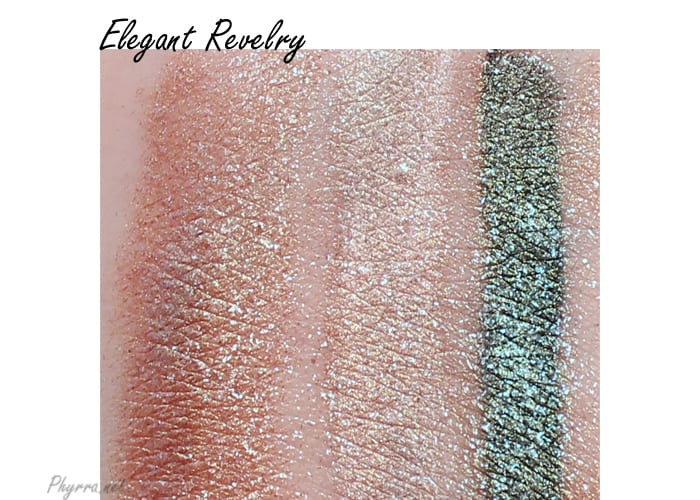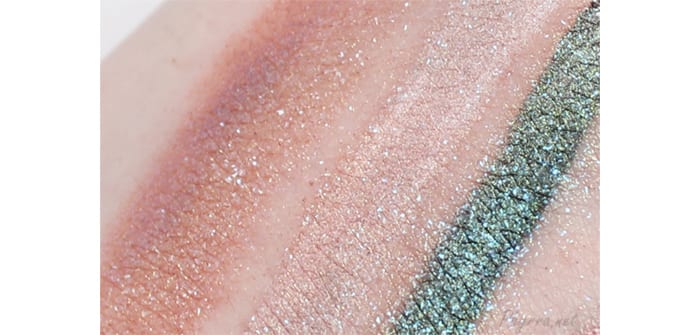 Elegant Revelry
varying shades of green sparkle on a transparent light reddish brown base hue away from direct light. Closer to light or at certain angles, it becomes light blue and ruddy pink.
My Take
light tan brown with red tones for a base, turquoise green and green sparkles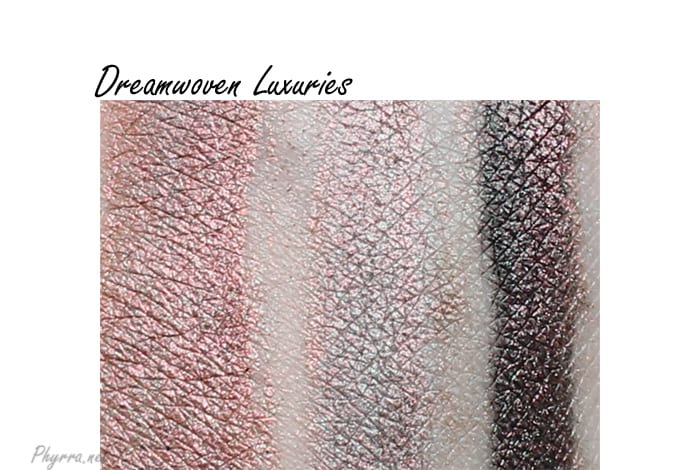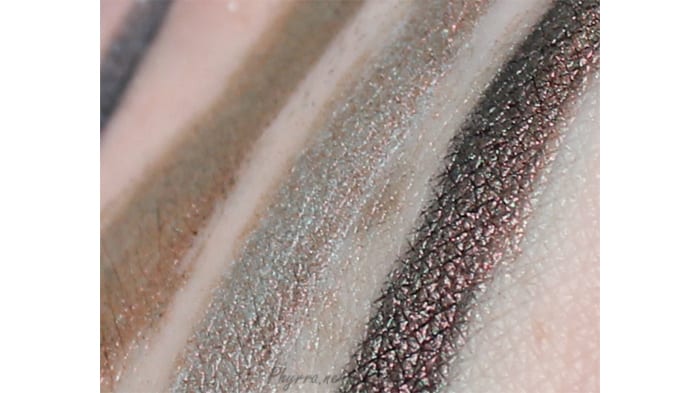 Dreamwoven Luxuries – Away from direct light, this appears a complex blend of red and blue hues. Closer to light or at certain angles, it changes to shades of green and gold. Shimmery finish, somewhat metallic when foiled or over a sticky base. This shade is the most opaque of the new five.
My Take
aged bronze base with hints of green and gold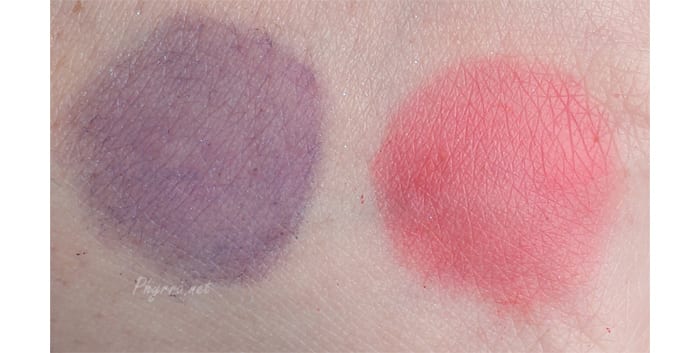 Royalty – Greek Goddess blushes
Royalty
Vibrant violet blush which doesn't blend down to a warm shade. It will rub down to a blue-violet hue, but with gentle blending or heavier application will remain more purple. Nearly matte, deeper and cooler than Seduce.
Greek Goddess
Vibrant pink with a very slight pink shimmer, this shade was designed to work well on a wide range of skintones.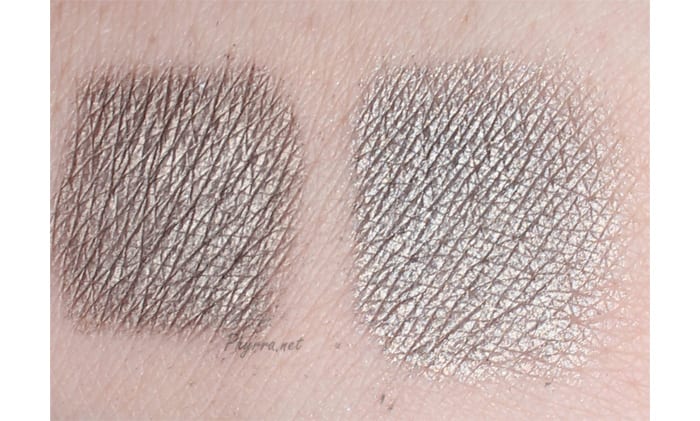 Feisty Fennec Fox – OCC Ironic
Someone had asked for a comparison swatch between Fyrinnae Feisty Fennec Fox and Obsessive Compulsive Cosmetics Ironic.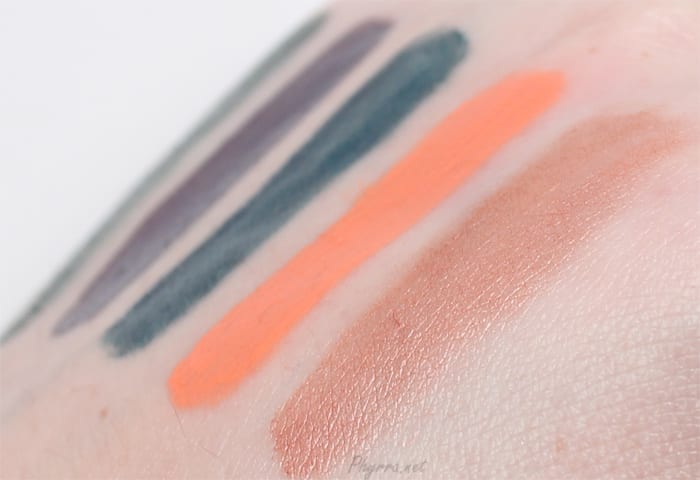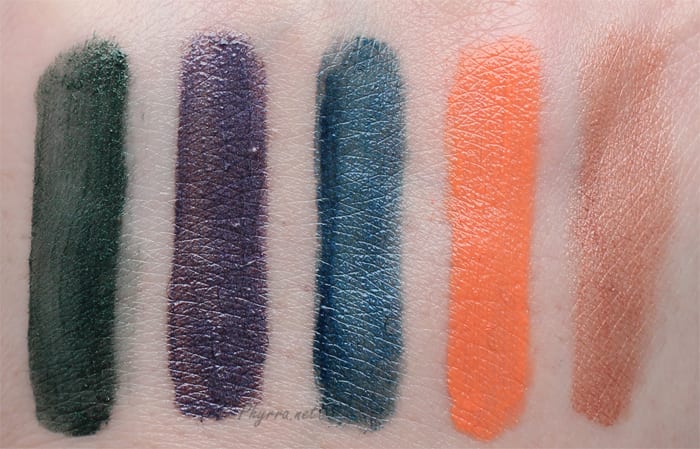 Triceratops – Burrowing Owl – Galaxy Evolution – Chickadee – Ghost's kiss

Triceratops
Deep metallic forest green. May require two coats for optimal darkness. This is not a dye-based shade like many of our Lustres, so isn't likely to be as opaque or stain.
My Take
deep forest green
Burrowing Owl
Cool violet with a grey-mauve hue. May appear somewhat more purple depending on natural lip color, and not as cool as it looks here. Slightly metallic finish, but no sparkle.
My Take
dark purple
Galaxy Evolution
Dark, vibrant royal blue with a metallic finish. Slightly darker than it looks in the product photo.
My Take
dark blue
Chickadee
Bright "creamsicle" orange. Nearly pastel, but applies slightly deeper than it appears in the tube.
My Take
bright light orange, slightly stained my skin
Ghost's kiss
Slightly shimmery "nude" with hues of copper and pink. Transparent, but not entirely sheer. Neither overly warm or cool, so it's suitable for a wide range of skintones.
My Take
soft nude copper with hints of pink (not a new shade but I wanted to swatch it and show it because it's beautiful)
The Exquisities are definitely some of the most complex and coolest shades from Fyrinnae in a long time. I don't think you'll be disappointed with these.
Sadly I was disappointed with Galaxy Evolution, but I liked the rest of the lip lustres. I'm also happy that I shopped my stash and rediscovered Ghost's Kiss. It's a beautiful shade.
What do you think of the new Fyrinnae Exquisities eyeshadows? How about the lip lustres? Which shades would you wear?
Last Updated on