FOM Facial Enhancer Review
Today I'm sharing my FOM Facial Enhancer Review. This is for all you sheer foundation lovers out there! It's a brand new 'facial enhancer' for people who like the whole 'clean, good skin' look and don't want to risk cake face. It's non irritating on my sensitive dry skin. Believe it or not, the shade Light is shade adjusting and matches my fair skintone very nicely. It's still a little darker than I like but it looks good overall on pale skin.
I bought the shade Light and FOM sent me the shades Medium & Deep, too.
FOM is available exclusively at FOM World. It's $29 for 1 oz.
FOM Facial Enhancer in Light



FOM Facial Enhancer Light Swatch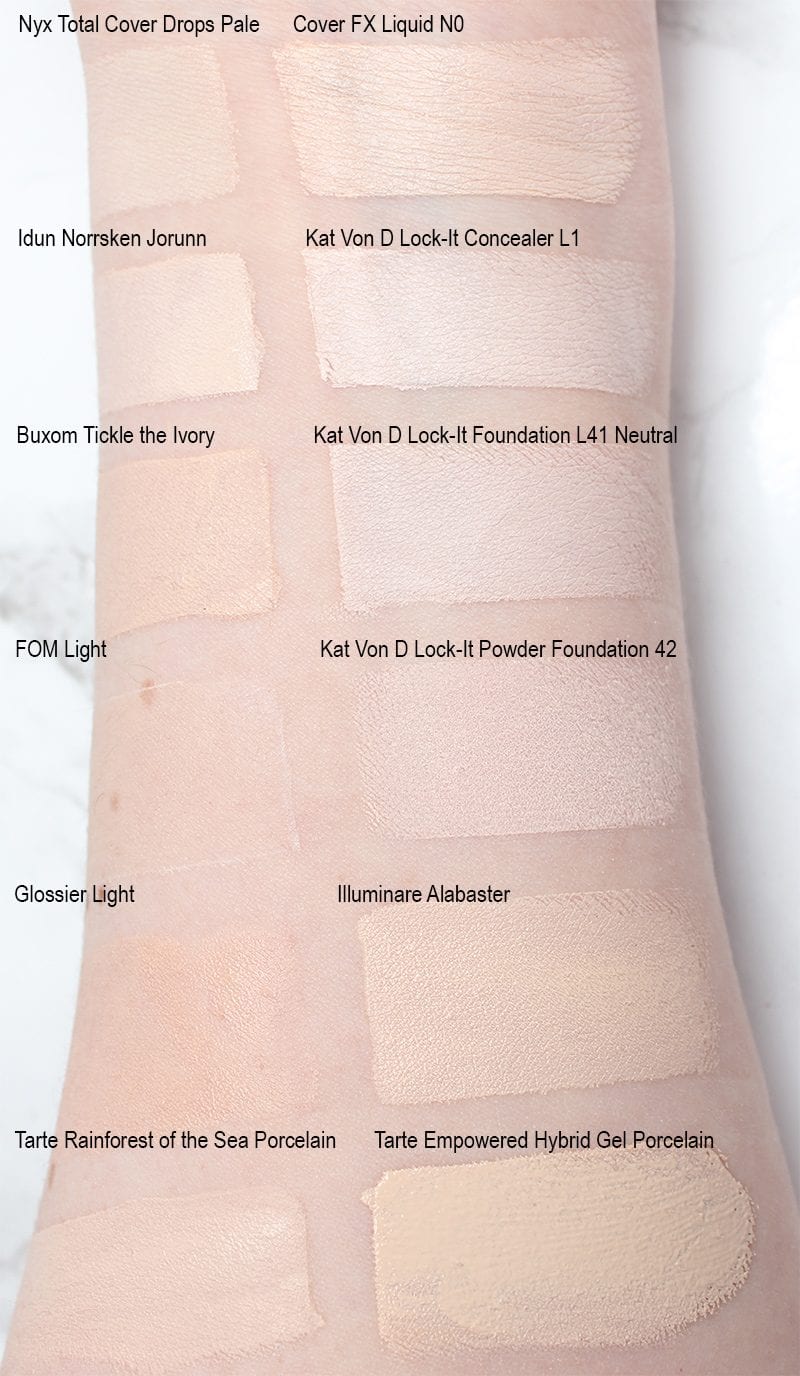 You can see FOM Facial Enhancer in Light swatched next to several other foundations of mine that are also suitable for pale skin / fair skin. You'll be able to see swatches of Medium & Deep in the video.
Wearing FOM Facial Enhancer in Light


Eyes
Smashbox Photo Finish Lid Primer in Light
Kat Von D Pastel Goth Clementine – lid, hood, lower lid
Kat Von D Pastel Goth Skull – blend out the edges of Clementine at the hood
Kat Von D Pastel Goth Dagger – outer v, outer lower lash line, liner at upper lash line
Kat Von D Thunderstruck – inner lid & inner v
Urban Decay Perversion Mascara
Kiss Top Brow Pencil in Granite
Face
FOM Facial Enhancer in Light
Physicians Formula Murumuru Butter Blush in Plum Rose
Lips
Winky Luxe Flower Balm
FOM Facial Enhancer Review Video
Please share if you like!
What I'm Wearing in the Video
FOM Facial Enhancer in Light
Nyx Lipstick in Smoke Me
Kat Von D Lock-It Powder Foundation in 42 (what I used to touch up my nose)
Overall, this is a very quick, easy to apply sheer foundation that's perfect to toss on for running errands or light makeup days where you want to look perfectly undone. It's great to have in your makeup bag for the days that you want to do no-makeup makeup.
What do you think of FOM Facial Enhancer? Would you wear it?
More to See