A while black Femme Fatale Cosmetics had a sale, and I snapped up a few mini-jars. I hadn't picked up anything from them since Christmas, so I was excited to try out a few new shades.
I purchased mini-jars of Archangel, Genesis, Dreamstate, Spirit Bond, and Polymorph. I also picked up samples of Tranquil blush and Golden Lotus illuminator. I received free samples of Faerie Fire and Dispersion.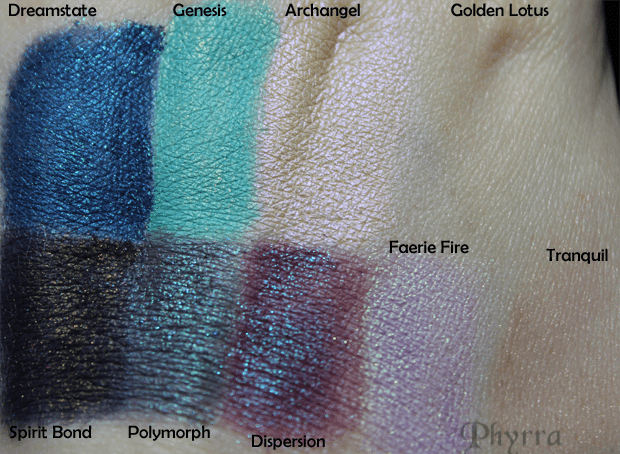 Dreamstate
An Egyptian blue with dazzling blue sparks and colour-shifting shimmer which alternates between purple and blue depending on the angle of the light.
My Take
Deep blue with purple undertones and blue-teal iridescence.
Genesis
A soft sea foam turquoise with light golden shimmer.
My Take
Minty-turquoise with soft golden sheen.
Archangel
A translucent yellow-toned ivory eye shadow complimented violet duochrome.
My Take
Light yellow-toned beige with pink-violet iridescence.
Golden Lotus (illuminator)
Golden Lotus is a soft vanilla-gold illuminator, and the teeniest hint of small shimmer particles to create a glow on your skin, while the satin finish brightens up the face by reflecting light.
My Take
Warm light vanilla with soft gold sheen. This is AMAZING.
Spirit Bond
A deep midnight blue with strong purple undertones and a shimmery golden finish.
My Take
Deep purple with blackened-bronze and gold iridescence.
Polymorph
A blueish grey based eye shadow, colour shifting shimmer.
My Take
Midtone grey with golden turquoise shimmer.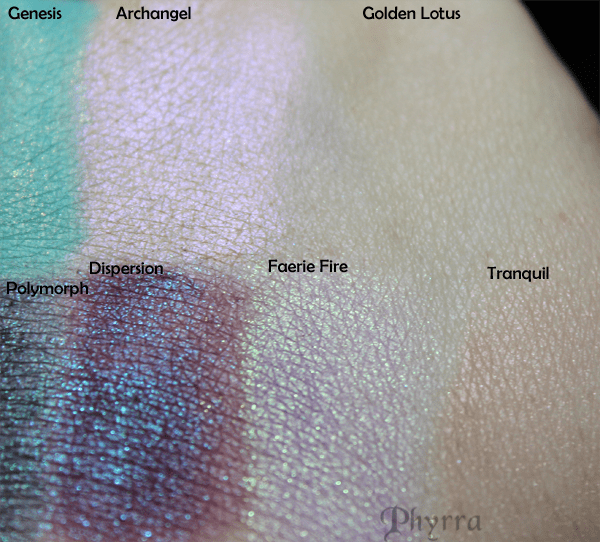 Dispersion
A deep mulberry with bold teal blue shimmer.
My Take
Plum purple with teal iridescence.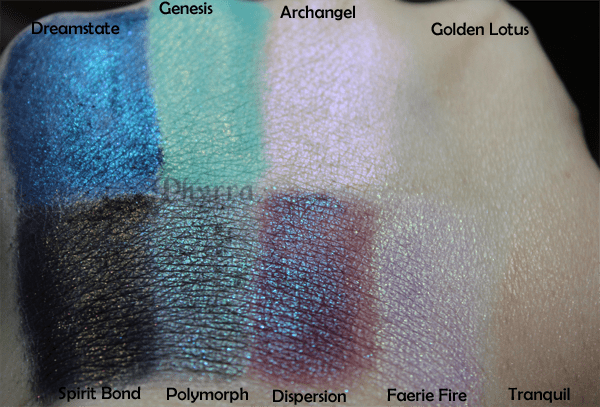 Faerie Fire
A soft lavender pink with cool undertones, highlighted by a electric lime gold sparkles.
My Take
Light lavender with lime and gold sparkles.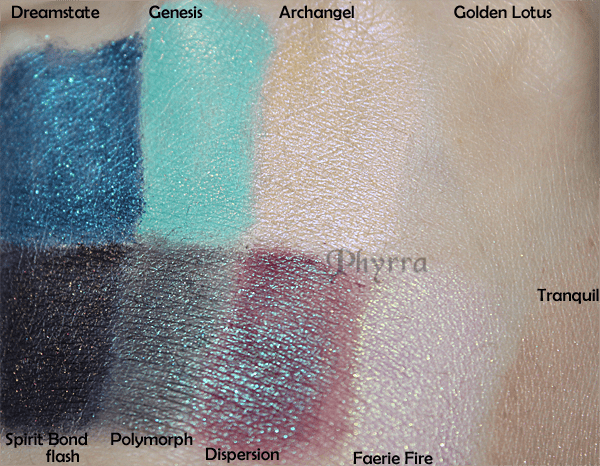 Tranquil (blush)
A soft beige based coral blush with a hint of rose, Tranquil has a subtle copper duochrome shine.
My Take
Beige with a hint of coral and rose and subtle copper/gold. Really love this.
Price:
$5.75 full size eyeshadow
$3.00 mini jar, no sifter eyeshadow
$3.10 mini jar, sifter eyeshadow
$1.10 sample baggie eyeshadow / blush
$8.00 full size blush
I definitely need to get full sizes of Golden Lotus, which is such a gorgeous subtle golden highlighter, and Tranquil. Tranquil is a great 'barely there' blush on me.
The eyeshadows are all great shades. I especially love Genesis and Polymorph. I can't wait to try Spirit Bond and Dreamstate.
What do you think of the colors? Which ones do you like? What combinations would you try?
Products purchased by me. All opinions are my own.