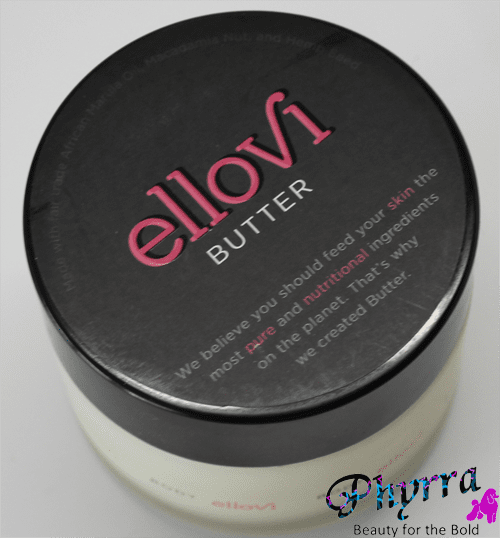 Recently I had the opportunity to try out Ellovi Body Butter. It's an intensely rich, moisturizing body butter.
Pr sample.
About the Brand
The company owner is passionate about creating pure and natural skincare products without artificial ingredients and cheap fillers.
Ingredients
Macadamia Ternifolia Seed Oil, Cocos Nucifera (Coconut) oil, Cannabis Sativa Seed Oil (Hemp), Organic Corn Starch and Butyrospermum Parkii (Shea)
About the Butter
It's a raw butter made from just 6 pure ingredients. There's no water and no unnecessary ingredients.
Price
$26
This butter, even though it's very intensely moisturizing, is very light on the skin. I found this refreshing because sometimes the most deeply moisturizing body butters are very heavy and I have to wash my hands after applying them or be left with residue. Ellovi absorbs very quickly, leaving only soft skin behind.
Now, the only negative factor for me is that Ellovi Body Butter smells like hemp to me. I'm not fond of the earthy smell. I would prefer chocolate, raspberry or vanilla. However, I think it smells like hemp because that's the most pungent of the ingredients. I do know that a lot of people like this sort of scent.
I really love the texture but can't stand the smell. The formula is so fantastic though. It works on even the driest skin spots, like where I have slight eczema on my ankles. For that alone I'll keep a jar around. It's the first thing I've found that seems to penetrate that skin and help it look normal.
If you're a fan of intensely moisturizing, quickly absorbing body butters, you will like the Ellovi Body Butter. Just make sure you're ok with the hemp smell. I wish it came in chocolate, raspberry or vanilla!
What is your favorite scent for a body butter?
Last Updated on