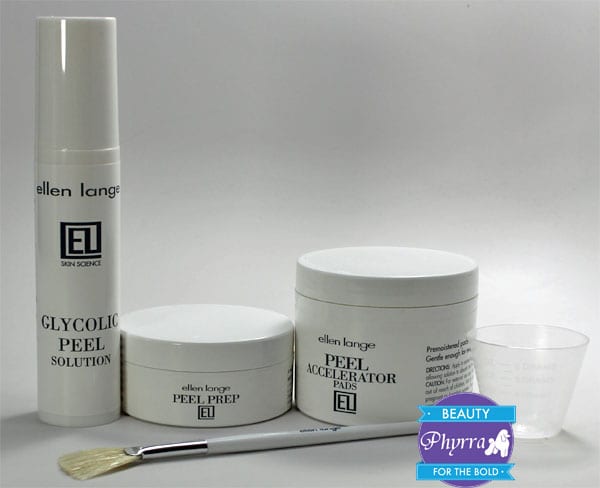 Recently I had the opportunity to try out the Ellen Lange Retexturizing Skin Peel Kit from EllenLange.com. Ellen Lange is an Allure Beauty Magazine award winning company, so I was intrigued by the peel. Ellen Lange is apparently the woman who pioneered the home peel kit.
PR sample.
Animal Testing Policy


About the Ellen Lange Retexturizing Skin Peel Kit
The best selling rejuvenating skin peel by Ellen Lange is an effective, yet gentle exfoliation treatment that removes dull surface cells to reveal healthy new youthful skin. This best selling face peel kit combines glycolic, microbeads and enzymes to create an the most effective at home peel. Do at home facial treatment before a big event such as a reunion or wedding. Your skin will look so healthy and your makeup will go so smooth. This at home chemical peel kit contains 10% Glycolic. 5% in the peel accelerator pads and 4% in the peel solution. The pH of the Glycolic Acid is 3.5-3.7.
Use this facial treatment to:
Minimize fine lines and wrinkles
Even skin tone
Eliminate dry patches
Minimize pore size
Control periodic breakouts
Included in the kit
Peel Prep (2 oz.) – an enzyme scrub
Peel Accelerator Pads (60 pads) – premoistened glycolic peel pads
Glycolic Peel Solution (1.5 oz.) – the original peel kit solution
Fan brush
Dispensing Cup
Price
$68 for 8 peels
Ingredients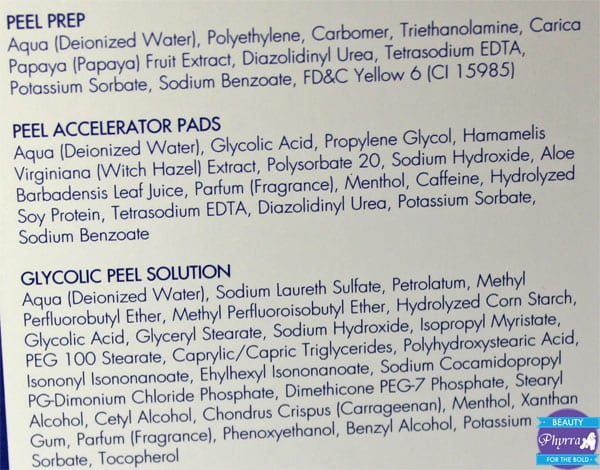 How to Use the Peel
Cleanse your face and leave it slightly damp.
Apply the Peel Prep Scrub to your face and gently massage in a circular motion to exfoliate your face (avoiding your eyes and lips) for about a minute.
Rinse well to remove all traces of the scrub. Then pat dry.
Gently wipe the accelerator pad all over the entire face to accelerate exfoliation. Allow this solution to completely dry on your skin.
Pump a teaspoon of the Glycolic Peel Solution into the dispensing cup.
Use the fan brush to carefully apply the glycolic peel solution to your face.
To apply to your face, brush the solution horizontally across your forehead, down your nose, horizontally across your cheeks, down across your upper lip (but not on the lips or nostrils), and down your chin. The mask will start to foam and it feels neat!
After about 3 minutes, dampen your finger tips with water and then gently massage the solution into your face. It will start to foam again and leave it on for another 5 minutes.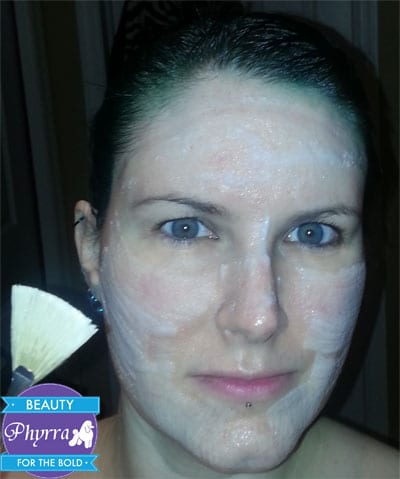 Here's what I looked like after applying the glycolic peel solution with a fan brush to my face. Oops, I forgot to do the skin above my lip.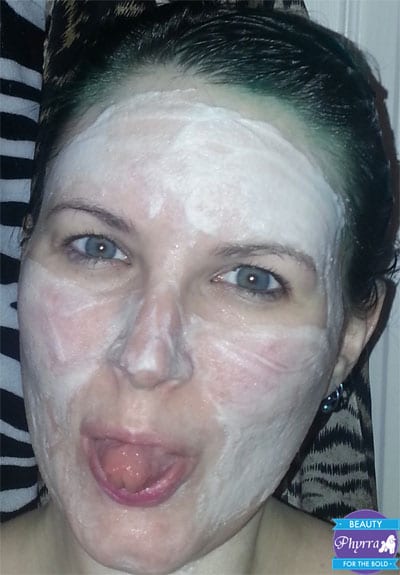 Here's what it looked like after I started foaming for the second time.
To me, the peel solution had a cooling sensation on the face. It wasn't uncomfortable, but it is what I'm accustomed to experiencing when I'm at the spa. It wasn't painful at all.
I've used this peel twice and here's what I think of it.
First, it really works for me! After using it my skin feels incredibly soft and smooth for days. While I don't think it peels as intensely as going to the spa to get a PCA Skin peel, this is one that I can do at home by myself and I actually see and feel the results.
Second, it's an AMAZING deal for the price. For the same price as getting a single peel in the salon, you get 8 peels at home. That's $8.50 per peel.
Third, it seems goof proof. You just follow the instructions and you get the results. I really appreciate it being an easy to use kit!
Fourth, I feel like it gave me a glow. My skin looks radiant and feels smooth.
Fifth, it didn't irritate my rosacea. It also didn't irritate the zit that I had on my chin.
Now, it's important to know that this kit contains an AHA (alpha hydroxy acid), so you MUST USE Sunblock after using it and to limit your sun exposure for a week afterwards. Since I practically bathe in sunblock daily (hello, bright Florida sun), this isn't an issue for me, but in case it is for you, you need to know this to protect your skin or you could cause issues. Doing anything with your skin such as a peel, using products that lightening the skin, etc, can all be undone in just a few moments of unprotected sun outside.
I think if you're looking for an alternative to monthly spa visits, you should consider the Ellen Lange peel kit. It really is a great value for the price.
Have you heard of Ellen Lange? What do you think of at-home peel kits like this?