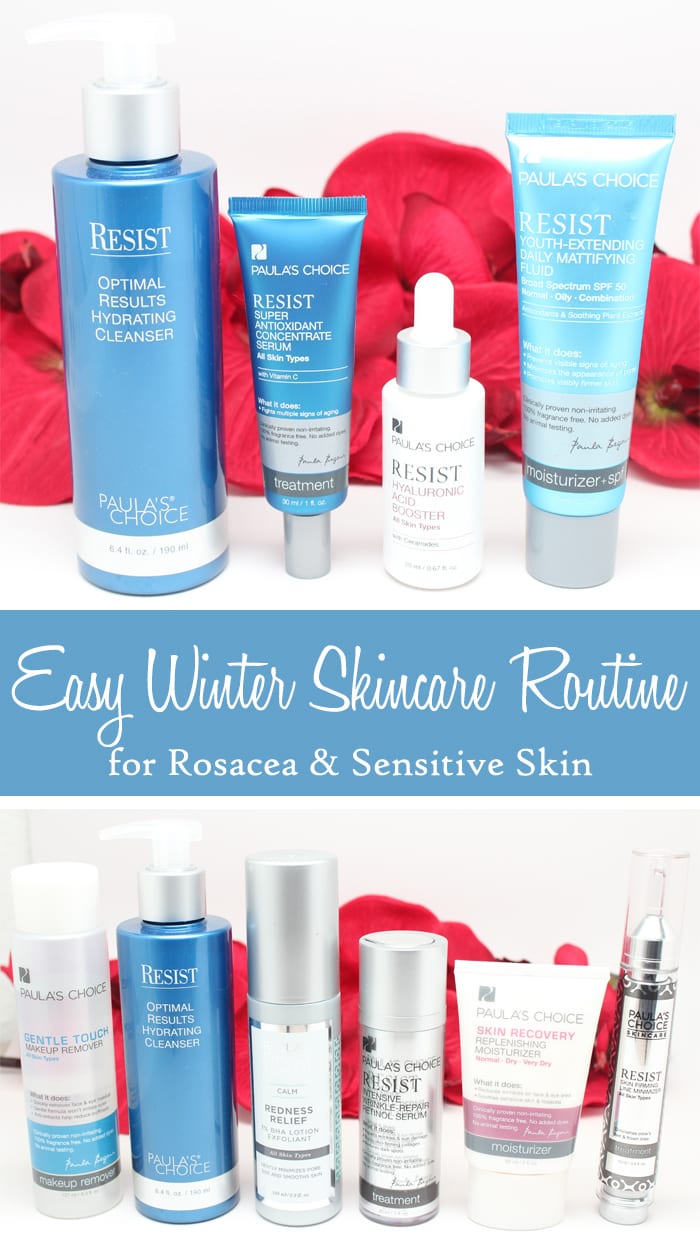 This is a sponsored conversation on behalf of Paula's Choice. The opinions and text are all mine. Today I'm sharing my easy Winter skincare routine that's especially great for those who have rosacea or sensitive skin. As you know, I love Paula's Choice. They're the number one skincare brand that I recommend and they're the staple skincare brand in my collection. In my opinion, they're the best example of quality, affordable skincare.
Easy Winter Skincare Routine
All Paula's Choice products are cruelty free. Everything except the Skin Recovery Replenishing Moisturizer is vegan.
Paula's Choice offers a 100% money back guarantee within 60 days.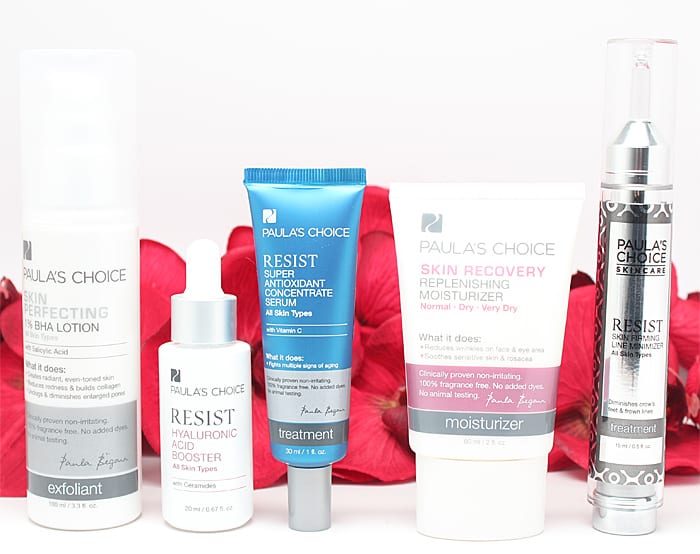 I've been using Paula's Choice skincare products since I discovered the brand in late 2011 / early 2012. I fell in love with the Super Antioxidant Concentrate Serum and haven't looked back. Paula's Choice got me through my skin being sensitive, both when it was oily and now that it's on the dry side.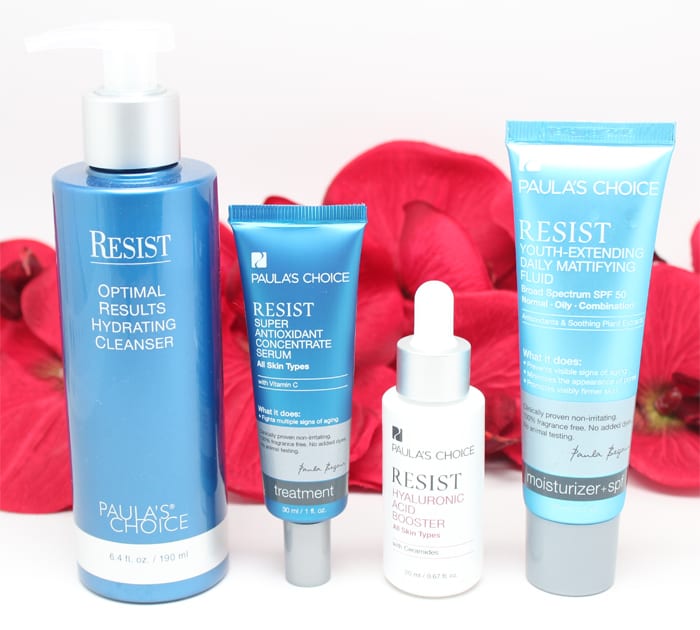 Easy Morning Skincare Routine for Rosacea or Sensitive Skin
In the morning,  you may not need to deep cleanse your face depending on your skin's needs. You may just want to gently moisten with water. But if you need to cleanse, start with the Resist Hydrating Cleanser, using a warm, wet wash cloth and rubbing in a circular motion. The wash cloth will gently exfoliate sensitive skin. Make sure you never stick your face directly into the shower water, as that can irritate sensitive skin. Pat dry. Next, apply a serum. During the day I love to use the Resist Super Antioxidant Concentrate Serum. I aslo like the C15 Skin Booster because I like how vitamin C brightens the skin. The C15 can easily be mixed in with the Antioxidant serum. If your skin leans dry, you can add extra moisture by adding one drop of the Resist Hyaluronic Acid Booster, too. Next, you need sunscreen! Yes, even in the Winter! You should be wearing sunscreen all year round. I LOVE the Resist Daily Fluid SPF 50. I apply the SPF 50 to my face, neck, hands and décolleté. Because of my rosacea and sensitivity (and the recommendation of my dermatologist), I try to wear the highest amount of SPF possible. That's it for my morning routine right now. About 15-20 minutes after I apply my SPF, I will apply my makeup. If your skin is really prone to dryness, try adding one drop of the Resist Hyaluronic Acid Booster to your liquid foundation or mix it in with your facial primer if you're going to use a powder foundation.
Resist Hydrating Cleanser
Resist Super Antioxidant Concentrate Serum, C15 Skin Booster, Calm Redness Relief Serum or Hyaluronic Acid Booster (optional)
Resist Daily Fluid SPF 50
The Resist Hydrating Cleanser quickly became indispensable for me from the first time I tried it. I love how gentle it is on my skin. (See my full review) The Resist Super Antioxidant Concentrate Serum feels great on the skin. It absorbs pretty fast, too. With my skin being more dry now that it's Winter in Florida, I need a drop of Hyaluronic Acid booster added in with my serum. Otherwise the SPF 50 is not moisturizing enough for my skin's needs.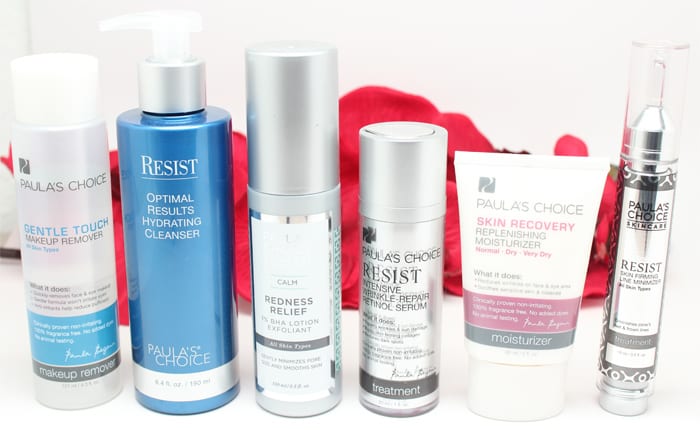 Easy Evening Skincare Routine for Rosacea or Sensitive Skin
In the evening, I end up using more products. I use Gentle Touch Makeup Remover to take off my eye makeup (and sometimes stubborn lip stains). Then I cleanse my face with the Resist Hydrating Cleanser and a warm wash cloth to remove all traces of my makeup. A few times a week I will use a 1% BHA lotion. When I'm using Retinol, I use the Resist Retinol Serum. I can't use retinol more than 4 days in a row currently, so I switch off with the Resist Super Antioxidant Concentrate Serum. Very sensitive skin may not be able to use retinol at all, so in that case stick to your favorite serum. Then I opt for a super rich moisturizer. Right now I'm using the Skin Recovery Replenishing Moisturizer, which contains peptides, antioxidants and soothing ingredients, making it perfect for my skin. If you want to add even more moisture, add a drop of the Hyaluronic Acid Booster. Then use the Resist Skin Firming Line Minimizer as it's supposed to help with any fine lines around the eyes or mouth. The Line Minimizer is new to me. Oh! Don't forget your lips! I swear by the Bite Beauty Agave Lip Mask.
Gentle Touch Makeup Remover
Resist Hydrating Cleanser
1% BHA Lotion or Calm Redness Relief 1% BHA Lotion Exfoliant (optional)
Resist Super Antioxidant Concentrate Serum or Calm Redness Relief Serum or Resist Retinol Serum (optional)
Skin Recovery Replenishing Moisturizer (not vegan)
Resist Skin Firming Line Minimizer (optional)
Bite Beauty Agave Lip Mask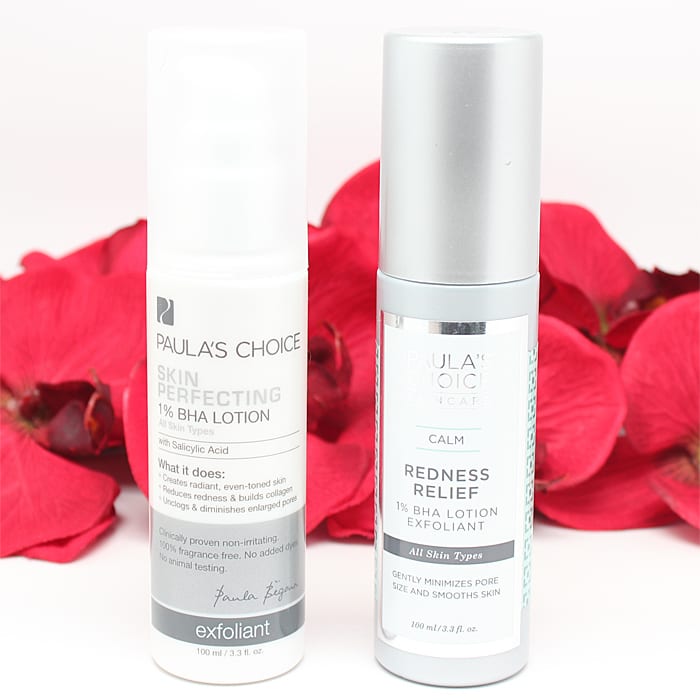 If you're wondering why you should use BHAs, it's because they're a chemical exfoliant and they're especially gentle for sensitive skin, since they don't contain small particles that could scratch the skin. BHA (beta hydroxy acid) helps to exfoliate the skin and clean inside the pores, removing dead skin cells and buildup. It helps to smooth the skin too. Your pores will usually look smaller because they're cleaner and your skin will look more radiant. Two pumps (about a dime sized amount), is what I use on my face. I dot it on my cheeks, forehead, nose and chin, then gently sweep it over my face. I avoid my eyelid and lower lid. Don't overdo it on the BHA! I've done that before too, and really irritated my skin.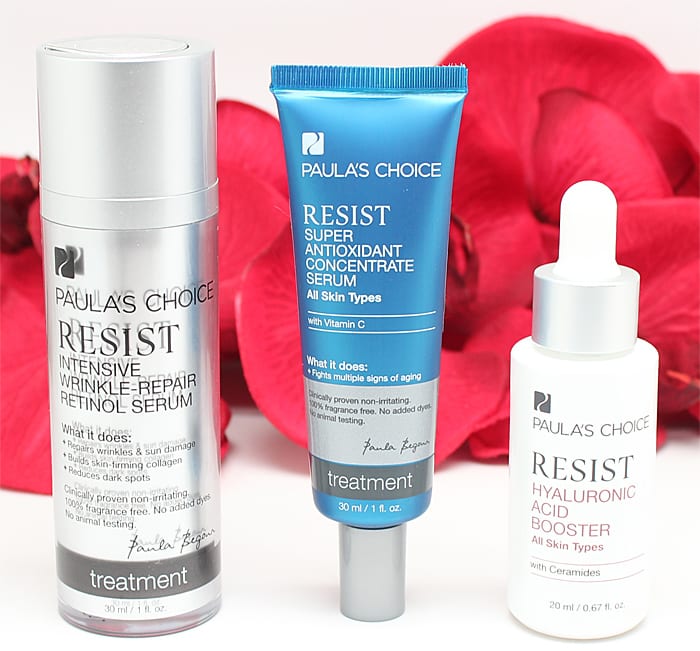 If you have sensitive skin or rosacea like I do, it's really easy to overdo it on the retinol. You need to start out slow, using it for 2 days back to back, then take a day off. Build up to 3 and 4 days of retinol, then 1 to 2 days off. It'll take several weeks but you will start to see improvement. If you hit the retinol too hard (which I did this summer), your skin will get overly dry. So don't do that! Make sure you pay attention to how your skin reacts and adjust accordingly. Some people with sensitive skin just can't use retinol at all, and that's ok too.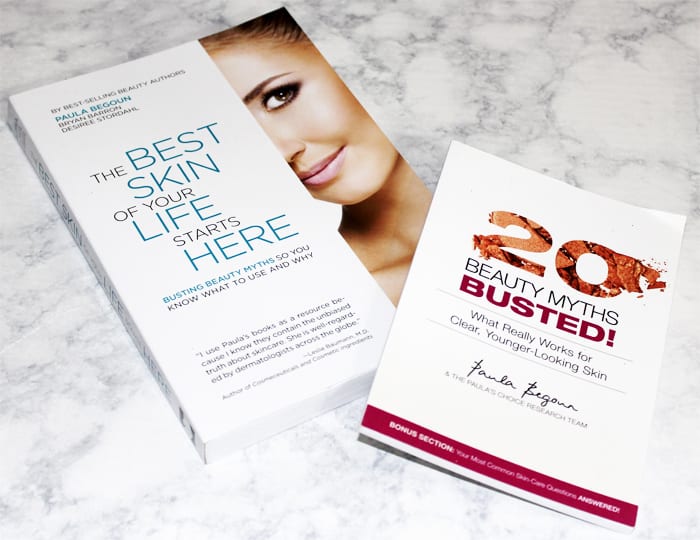 I'm sure you know this from my beauty books for the makeup obsessed collection, but I loved Paula's book Don't Go to the Cosmetics Counter Without Me. I was happy to see that she recently released The Best Skin of Your Life Starts Here, along with a smaller book, 20 Beauty Myths Busted!
As a Pretty In My Pocket Power Primper, I am offering 20% off + free shipping with promo code PRIMPHOLIDAY  to my readers when you shop Paula's Choice online here. This discount expires Dec 31, 2015. You can also get a free eyeshadow palette on all orders of $65+ with the code GLAM15. You can stack 2 codes at a time. Also, don't forget to use ebates for cash back!
Join the Beautocracy and register on Pretty In My Pocket. Make sure you follow me on PRIMP here to see my looks and reviews.
If you need help in finding the best products for your skin, you can receive a FREE personal skincare consultation by calling 1(800)831-4088.
This post has been sponsored by Paula's Choice and PRIMP. All opinions are my own.
What does your Winter skincare routine look like?