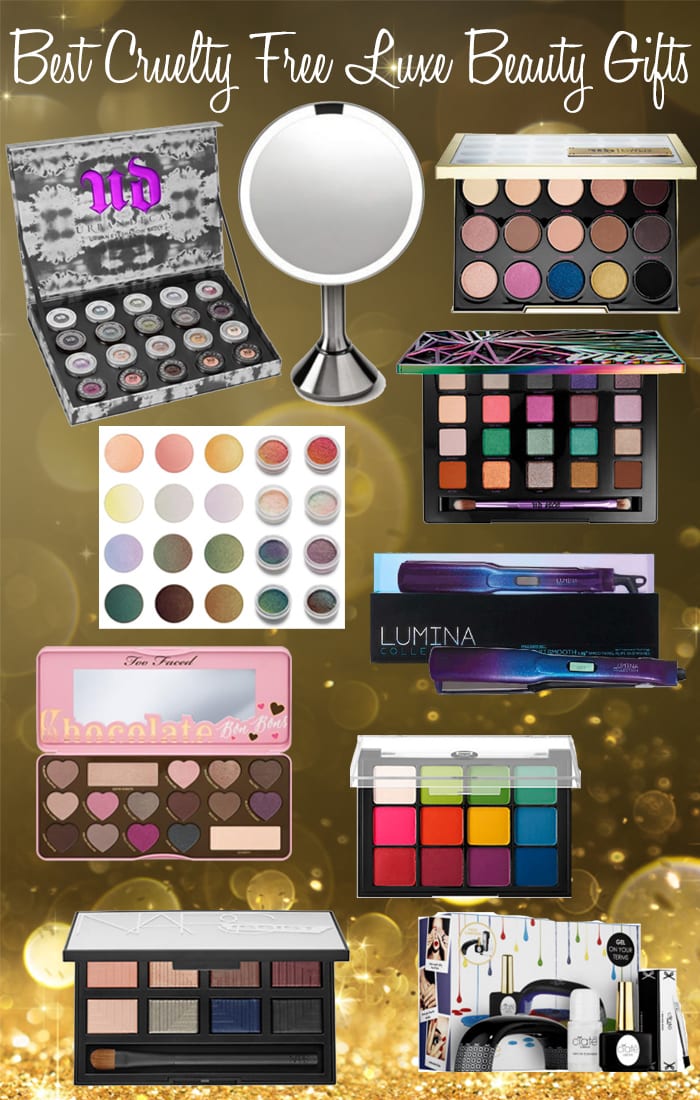 Today I'm sharing the best cruelty free luxe beauty gifts. These are the items that I think cruelty free beauty lovers would love to receive.
Best Cruelty Free Luxe Beauty Gifts
This post contains a mix of press samples and products purchased by me.
1. Simplehuman Sensor Mirror – $199
Ray bought this for me for Christmas last year and I absolutely love it. It has 5x magnification, LED light that's in the daylight spectrum, and 8″ size. I use this daily to apply makeup. I even take this on vacation with me because the size and magnification work better for me than the smaller sized mirrors I own.
2. Urban Decay Gwen Stefani Palette – $58
This palette was created by Urban Decay for Gwen Stefani in colors she actually wears. It's got 15 eyeshadows (12 are new), and perfect for neutral lovers. The packaging is pretty and luxe, complete with gold trim. Limited edition. See my swatches.
3. Paul Mitchell Lumina Neuro 1.25″ Flat Iron – $157.95
This is a limited edition blue to purple duochrome flat iron. It has an LCD display and cushioned IsoThem titanium plates with beveled edges. I bought this for myself during Black Friday from my hair salon, iStyle, for $100. If blue to purple duochrome isn't your thing there's also a silver holographic.
4. Too Faced Chocolate Bon Bons Palette – $49
The newest in the Chocolate Bar Palette series, this one has pinks, taupes, greys and brown. The pinks and taupes are very flattering on my skintone. This is another palette that's perfect for neutral fans. See my swatches.
5. Viseart Bright Editorial Eyeshadow Palette – $80
This is a stunning bright eyeshadow palette. I've purchased this but haven't had a chance yet to review it. The colors are so vibrant that I think they give Sugarpill a run for their money! This is a great buy for the bright eyeshadow lover.
6. Makeup Geek Full Duochrome Collection – $150
This set comes with all 12 eyeshadow pans and 8 jars, giving you every single color in the duochrome collection. I love these colors from Makeup Geek. See my swatches.
7. Ciaté London Geltox Starter Kit – $99
I bought this during the Sephora VIB sale. It's an at-home kit that turns any nail polish into a long-wear gel polish. I haven't had a chance to try it yet, but several of my friends have raved about it. I bought it for use with all my gorgeous indie nail polishes.
8. Urban Decay Vice 4 Palette – $60
This is another limited edition palette from UD. It's about half brights and half neutrals, so great for someone who wants to experiment with color but still likes a lot of neutrals. It has STUNNING packaging. See my swatches.
9. Urban Decay Eyeshdow Vault – $245
For the ultimate Urban Decay fanatic, the UD Shadow Vault is perfect! It's limited edition and comes with Moondust Eyeshadows in Scorpio, Zodiac, Vortex, Moonspoon, Shockwave, Solstice, Space Cowboy, Dark Force, Interstellar and Cosmic (see my swatches); Eyeshadows in Blackout, Lounge, Mildew, Mushroom, Rockstar, Last Call, Scratch, Busted, X and Sellout.
10. NARS NARSissist Dual Intensity Eyeshadow Palette – $79
This a limited edition eyeshadow palette with 8 of the dual intensity eyeshadows. Eyeshadows in Europa (gossamer pink peach), Himalia (shimmering topaz), Ursa Major (chocolate glaze), Subra (black orchid), Sycorax (black), Giove (navy), Lysithea (shark gray), Andromeda (alabaster).
What luxe beauty gift would you love to receive?
Loading InLinkz ...
Last Updated on