Danessa Myricks Prism FX Hydrating Lotion
Today I'm sharing my Danessa Myricks Prism FX Hydrating Lotion review with you. I've been obsessing over this product for months and I've already repurchased it, so I know I need to share it with you! I became obsessed with Danessa Myricks on Instagram when I was searching for secrets to achieve glowing, lit from within skin. Prism FX gives me gorgeous glowy skin and I love it!
Where to Buy
Camera Ready Cosmetics, Danessa Myricks
Price
$28 for .5 oz
About Danessa Myricks Beauty
Danessa Myricks Beauty is a cruelty-free and vegan indie beauty brand created by Danessa Myricks. Danessa is a talented makeup artist who has served as the Director of Product Innovation at Benefit Cosmetics. She has worked with many celebrities like Fantasia, Britney Spears, Madonna, Ciara, Mario, Chris Brown, Bow Wow, Shontelle, Jazmine Sullivan, Angela & Vanessa Simmons, Jordan Sparks, Enrique Iglesias, 3LW, Brian Mcknight, Brooke Valentine, Floetry, Chris Rock, TI, Sean Paul, Mary Mary, Blu Cantrell, Tina Marie, BOB, Lupe Fiasco, Juan Luis Guerra, Ana Ortiz of Ugly Betty, Allison Williams, 702, Goapele, Tha' Rayne, Isyss, and more.
About Prism FX Hydrating Lotion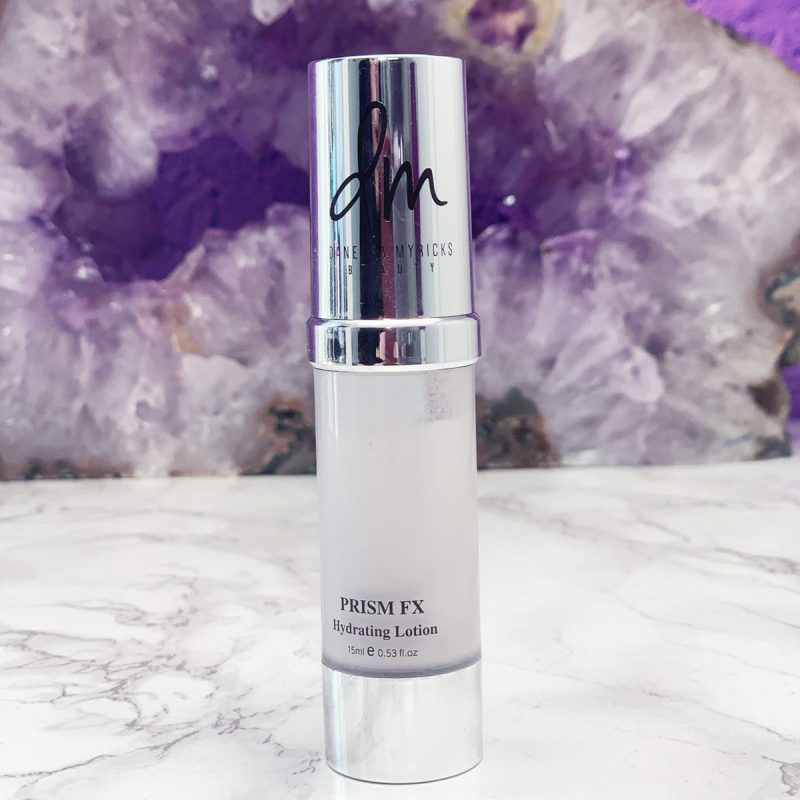 Prism FX is a hydrating elixir with skincare benefits and the essence of the stars with its delicate prismatic effects it can enhance glow into your foundations or applied as a primer to lift the dimension of your makeup.
What it is: A lightweight liquid elixir that achieves a radiant glow with multi colored micronized crystal effects.
Can be used alone or with the mixed into foundation.
What it does: Formulated with low-density hydrating ingredients that inspire high-impact pigments with featherweight texture.
Ingredients
Titanium Dioxide, Silica, 2-ethylhexyl Palmitate, Squalane, Phenyl Trimethicone, Ozokerite, Cera Microcristallina, Isododecane, Styrene Ethylene Butylene, Styrene Block Copolymer, Vitamin E, May Contain[+/-]: CI 77491, CI 77492, CI 77499
Target Complexion
Fair Neutral skintones
Danessa Myricks Prism FX Hydrating Lotion Swatches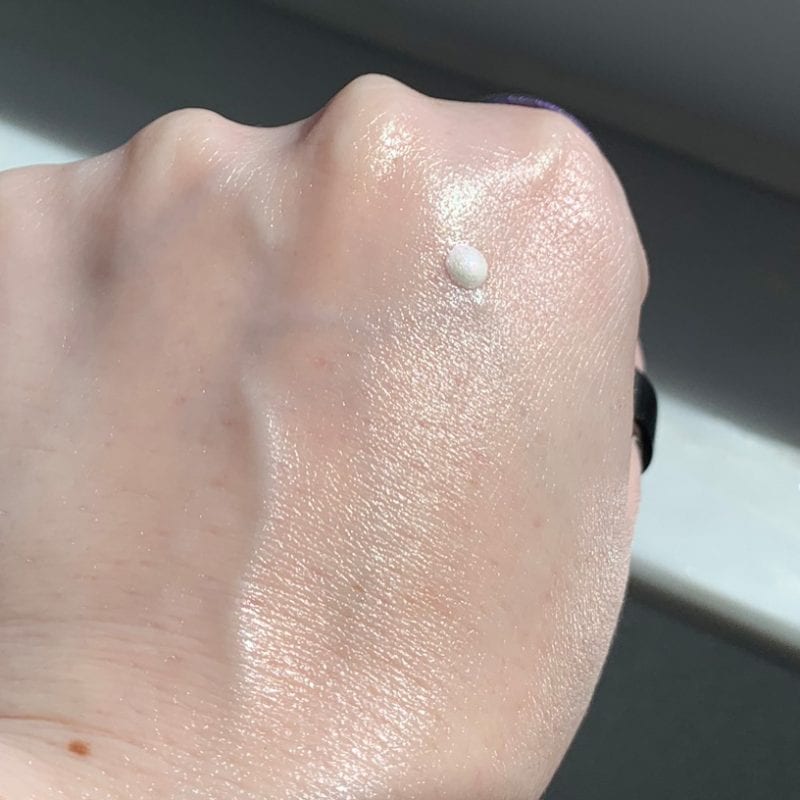 I put a tiny dot of the Prism FX Lotion on my pale skin in sunlight.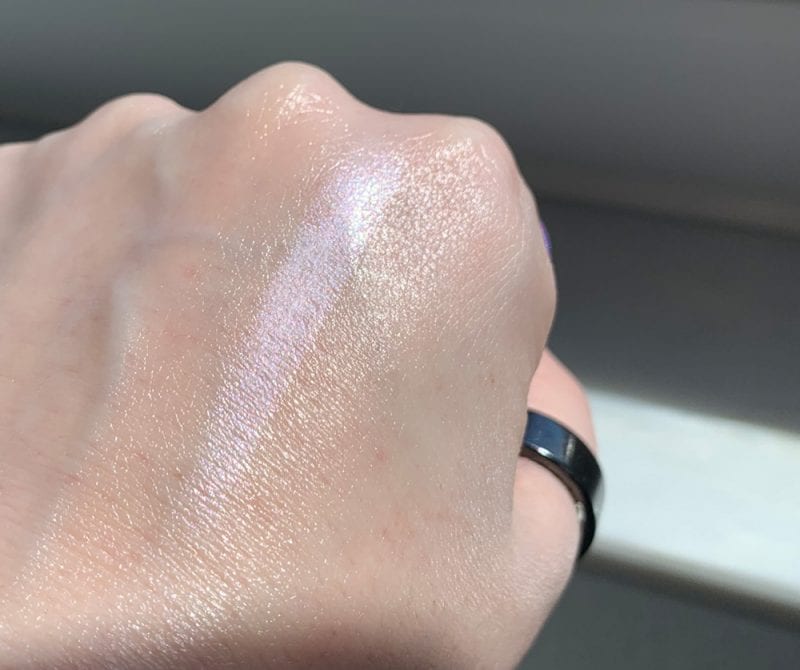 I slightly blended out the Danessa Myricks Prism FX Hydrating Lotion swatch on the back of my fair skin.
Danessa Myricks Prism FX Hydrating Lotion Review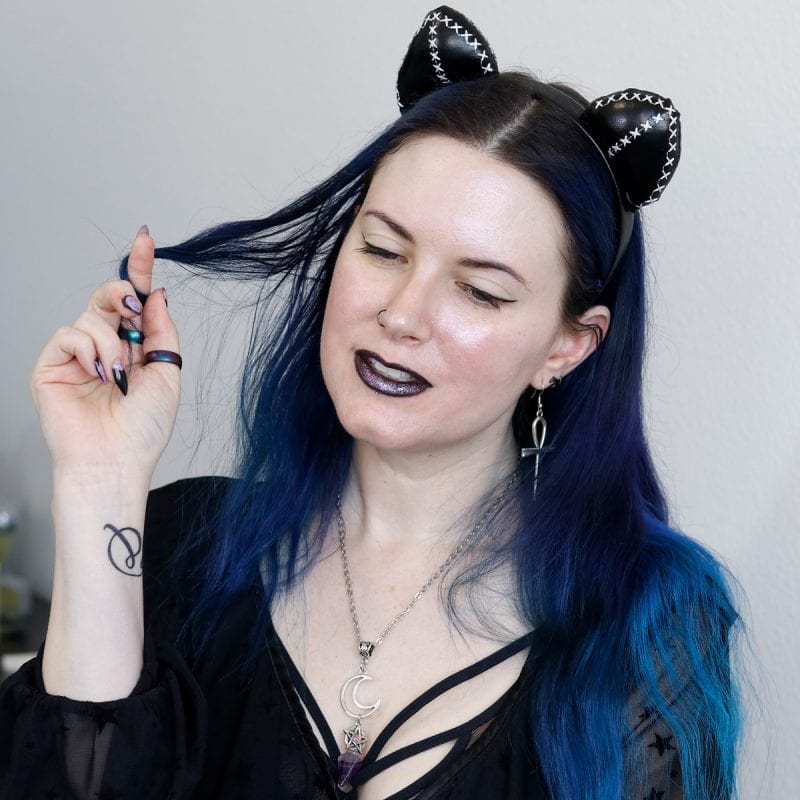 I love the Danessa Myricks Prism FX Hydrating Lotion. LOVE IT! I have been using it non-stop since I discovered it at the Makeup Show Orlando 2018 (see my Makeup Show Orlando Recap and Haul).
The Prism FX primer is cruelty-free and vegan. I believe all of the Danessa Myricks beauty products are vegan, too.
I use Prism FX several different ways. First, I use it as a primer on its own. It's got enough hydration for my dry skin, yet it isn't oily on me in the slightest.  I think my skin looks amazing when I wear it by itself. You know I'm insecure about my skin because of my rosacea. So for me to feel like I look pretty without foundation is amazing.
Second, after using the Prism FX Hydrating Lotion as a primer, I will mix it into foundations or other complexion products to add illumination to the foundations as well as sheer them out. I hate full coverage foundation on me because it looks so terrible and mask like, so this really helps to counter that.
Third, I like to incorporate the techniques that Danessa Myricks taught in her Complexion class. She said to mix whatever primer or beauty oil you use into every facial product you use to help the products meld into the skin. So I will mix a drop of Prism FX into my cream or liquid blushes, highlighters and contours.
Now the only thing I don't like about this product is the price! It's $28 for .5 oz, which seems very pricey to me! By Comparison, my previous holy grail primer was the Hourglass Veil Mineral Primer, which I would spend $75 for 2 oz of the value size, and I would normally get 15% – 20% off because I would time buying it during a Nordstrom or Sephora sale.
In short, I'm obsessed with glowy skin that looks lit from within and the Danessa Myricks Prism FX Hydrating Lotion gives it to me. I love it and I've repurchased it once and will do so again. I just wish you got more product for the price!
What do you think of the Danessa Myricks Prism FX Hydrating Lotion?