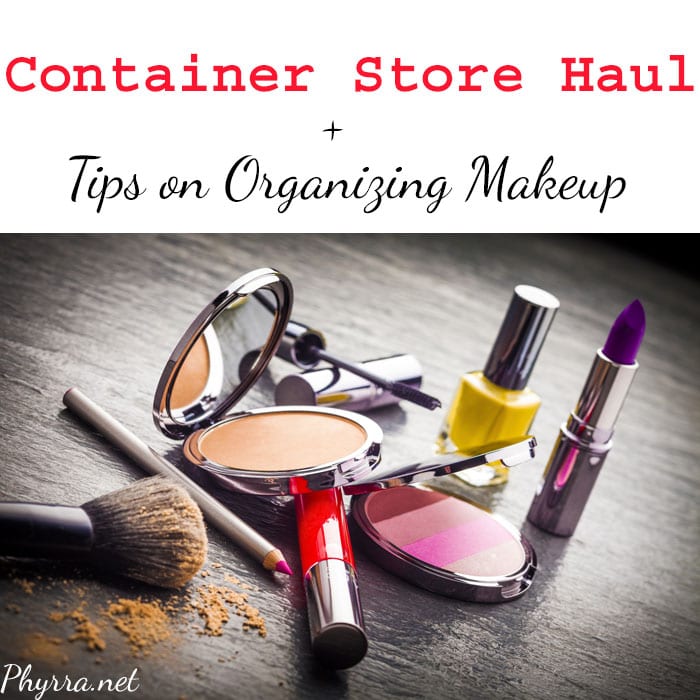 I don't often do haul videos, but I have a Container Store Haul video to share with you. This past Sunday I went to brunch with Genia and Erika. After brunch we went to the Container Store and I picked up more makeup storage. I even had a 15% off coupon (yay). This video shows you what I bought and how I plan to use it to store my makeup.
Container Store Haul

If you like this video please give it a thumbs up, comment and subscribe!
24 slot acrylic lipstick holder – this fits into my Ikea Alex (short) drawers to hold lipstick. It can also fit inside an Ikea Helmer or on a vanity.
4 section swivel acrylic organizer – put cotton balls, q-tips, hair ties, earrings, etc in this.
Long and short acrylic stacking organizers – put eyeshadows or blushes in these containers.
Linus 3 sectioned trays – I like to put lipsticks, lipglosses, cream eyeshadows, eyeshadows, etc in here.
Linus medicine cabinet organizer – I put my Nyx eyebrow gel, eyebrow pencils, mascaras, brow gel, etc in here.
I use e.l.f. 3 compartment large brush holders to store my brushes. You can often buy these on sale.
I definitely think an Ikea Alex (short or tall) or an Ikea Helmer, is useful if you have a large makeup collection. Alternately,  if you have a large nail polish collection, you can always get some cool wall mount racks for storage. I love the look of this black metal one.
For sample eyeshadow baggies, I like to put them into binders – like the type you'd put Magic the Gathering cards (or baseball cards) into.
If you have limited space, I would say check out the Sherrieblossom Icebox skinny, or another acrylic makeup container that will fit onto your dresser or vanity.
See my other tips for organizing makeup here.
What are your tips for organizing makeup? Where do you pick up containers for organization?