Yesterday I received these lovelies from Colour Pop Cosmetics. Colour Pop Cosmetics is a new cruelty free eyeshadow line. They sent me the following 6 shades – (Top Row) Girly – Dare – Rex (Bottom Row) 3 – I Heart This – Ibiza.
PR sample.
Colour Pop Cosmetics Arrived

I haven't tested these for wear time but I did swatch them on Too Faced Shadow Insurance. After I took photos of the swatches, I rubbed at the colors with tissue and they didn't budge but a few pieces of shimmer came off on the tissue. I washed with soap and water and didn't see them budge. I took a wash cloth and was able to remove a bit of the color but not all. I ended up having to use makeup remover to take them fully off. They didn't stain the skin at all but man they did NOT want to budge off my hand!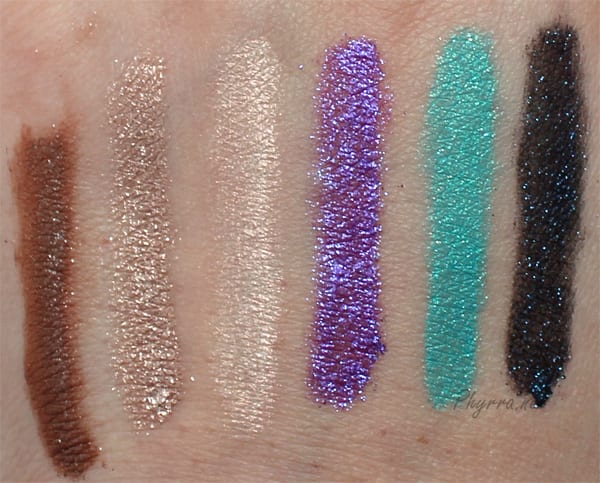 They have a pressed pigment quality and I found that you need to carefully tap at them in the container so that you don't have a lot of product kicked up. They seem to be a great buy for the price because they're .07 of product for $5 (a typical UD shadow is .05).
Shade Descriptions
3 – Cool toned starlit bronze with a flash of silvery and multi-coloured glitter
I Heart This – Cool toned silvery taupe with multi-coloured glitter
Girly – Creamy vanilla with a flash of pink and gold duo chrome finish
Dare – Shockingly bright neon purple with hot pink and violet glitter.
Ibiza – Bright turquoise with a silver and gold duo chrome finish.
Rex – Black drenched with multiple shades of blue glitter
These are just quick swatches and they don't really show off the multi-dimensional appeal of these shades.
I was impressed enough with the 6 that I received that I just purchased 3 more shades – Mermaid Kiss, Amaze and On the Rocks.
After I've tested these for wear time, I'll have a review for you.
Price
$5 each
Availability
ColourPop
Have you heard of Colour Pop? What do you think of these eyeshadows?
Last Updated on