Bold Beach Swimwear Review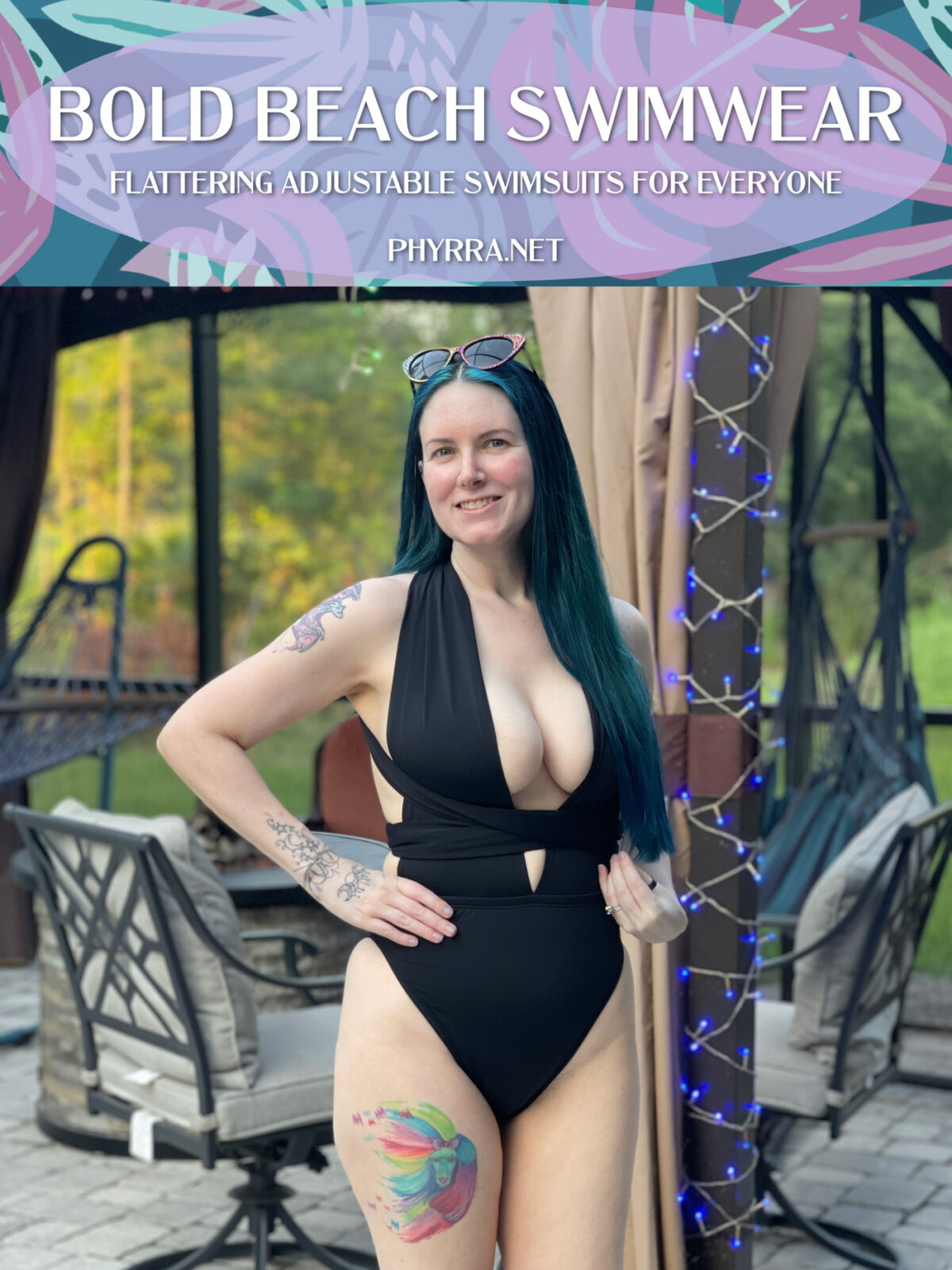 Hello, beautiful creatures, and happy Friday! I'm bringing you a Bold Beach Swimwear review for today's Indie Friday. Bold Beach Swimwear is a brand created in 2019 by Lex. Thanks to Bold Beach Swimwear for sending me three different suits to share with you. I'm excited to show off these swimsuits because they fit me well!
Please note that I did not edit/change my body or use filters for these photos; this is what my 43-year-old self looks like in a swimsuit. I'm proud of my body and the fitness journey.
PR sample.
Where to Buy
Bold Beach Swimwear
About Bold Beach Swimwear
Bold Beach Swimwear is for the queen looking for a swimsuit that stands out and fits their body like a glove. Lex wanted Bold Beach Swimwear to be body-positive and adjustable swimwear for all. Bold Beach Swimwear currently offers swimsuits in sizes from XS through 4XL. Check out their sizing info on their website. Follow Bold Beach Swimwear on Instagram.
I was sent the Miami, the Every Which Way, the Circus Top, and Circus Bottom. The typical problem with swimsuits is that I must buy my top and bottoms separately, and I need a size Small for my butt, but I need a Large top with my 30FF bra size.
What I love the most about Bold Beach Swimwear is that they are flattering to your exact size. Adjustable suits are helpful, especially if you have an hourglass shape, as I do.
Bold Beach Swimwear the Miami
I was sent the Miami one-piece swimsuit in size Medium and the orange and pink colorway. It's also available in black. This suit was the most challenging of the three to figure out how tightly I should lace the center of my swimsuit. I love the bold hues of orange and pink. The swimsuit did an admirable job keeping my boobs in place with no wardrobe malfunctions.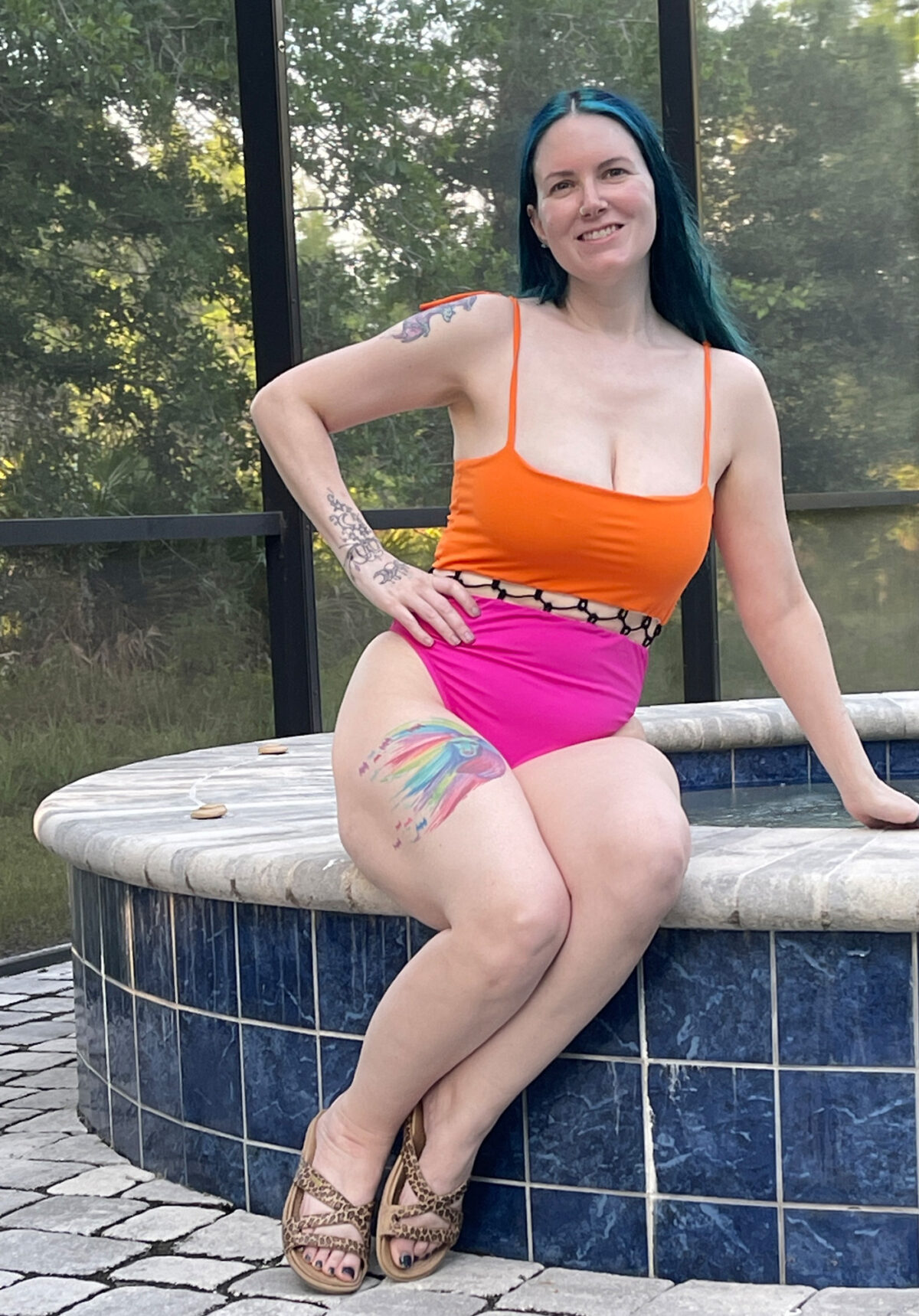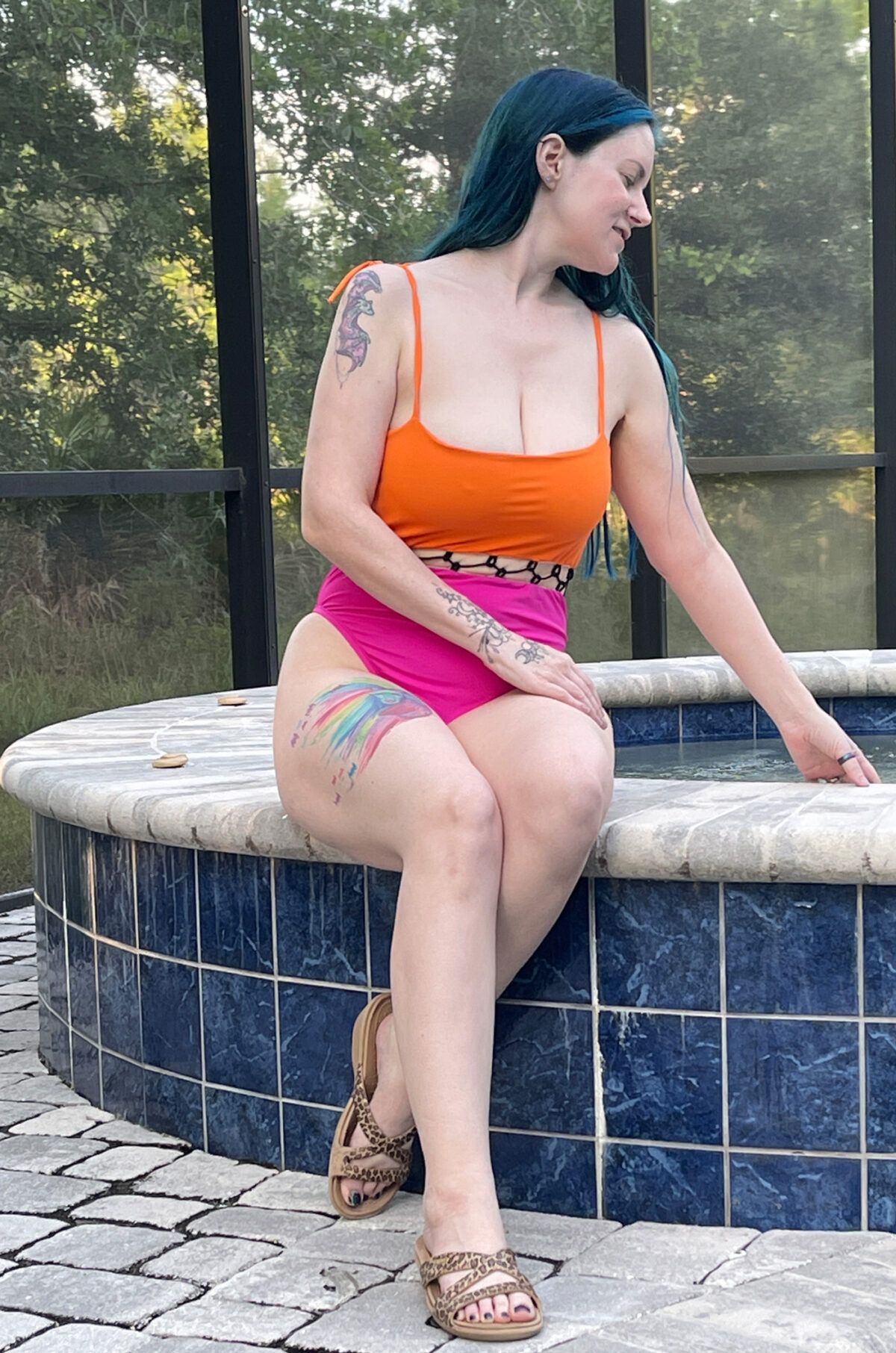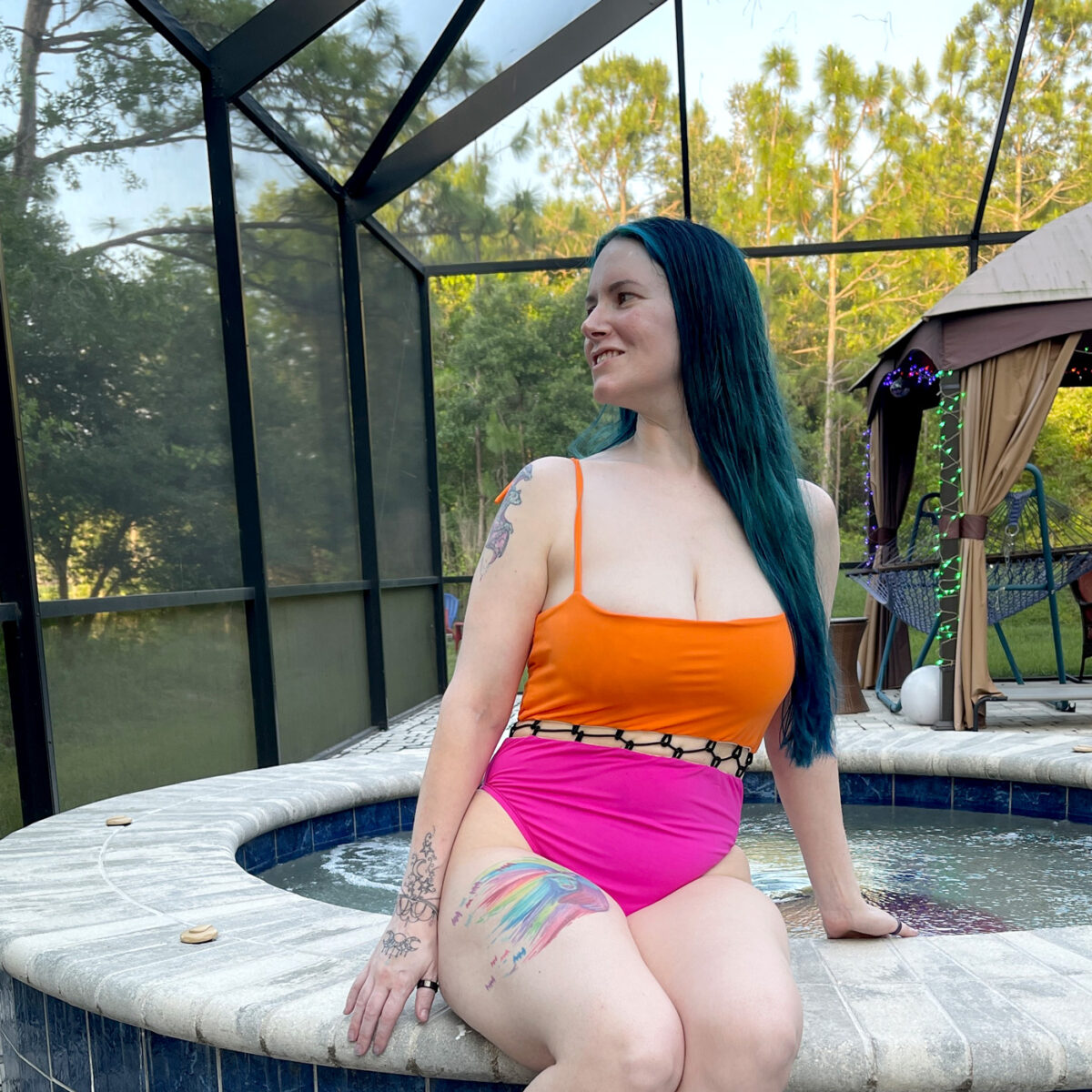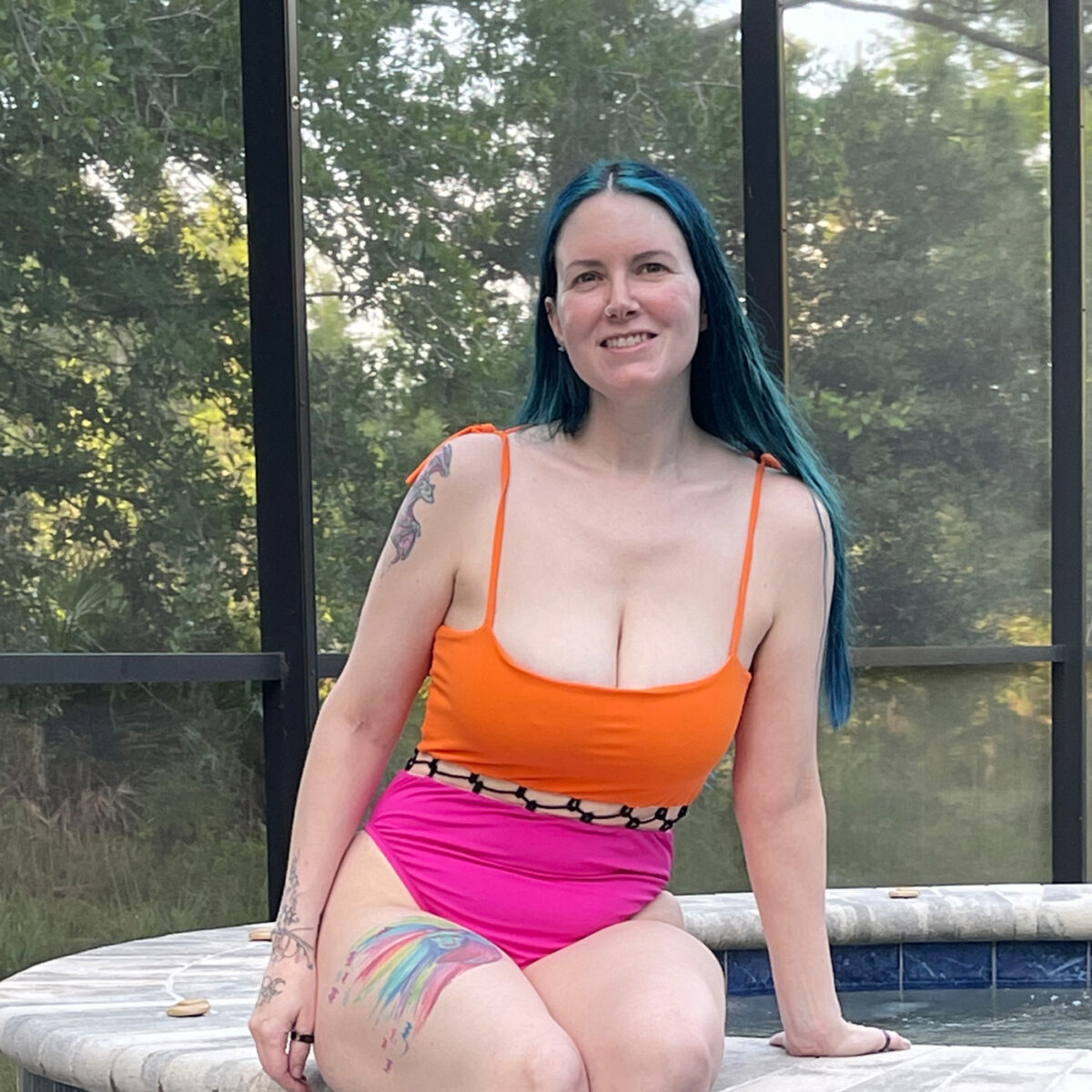 Shop the Miami in Black or Orange and Pink (shown) at Bold Beach Swimwear. You can pick up my leopard print croc sandals at Amazon.
Because this swimsuit is fully adjustable, you can make the middle section work for a long or short torso. It's great for hanging out in the hot tub, sipping mimosas at the beach or swimming in the pool.
The Circus Bikini
I received the Circus Bikini bottoms in size Small, which fit me perfectly. The Circus Bikini top in size Large does a great job of corraling my 30FFs in place. The Circus Bikini top gives me lift and support, which I need.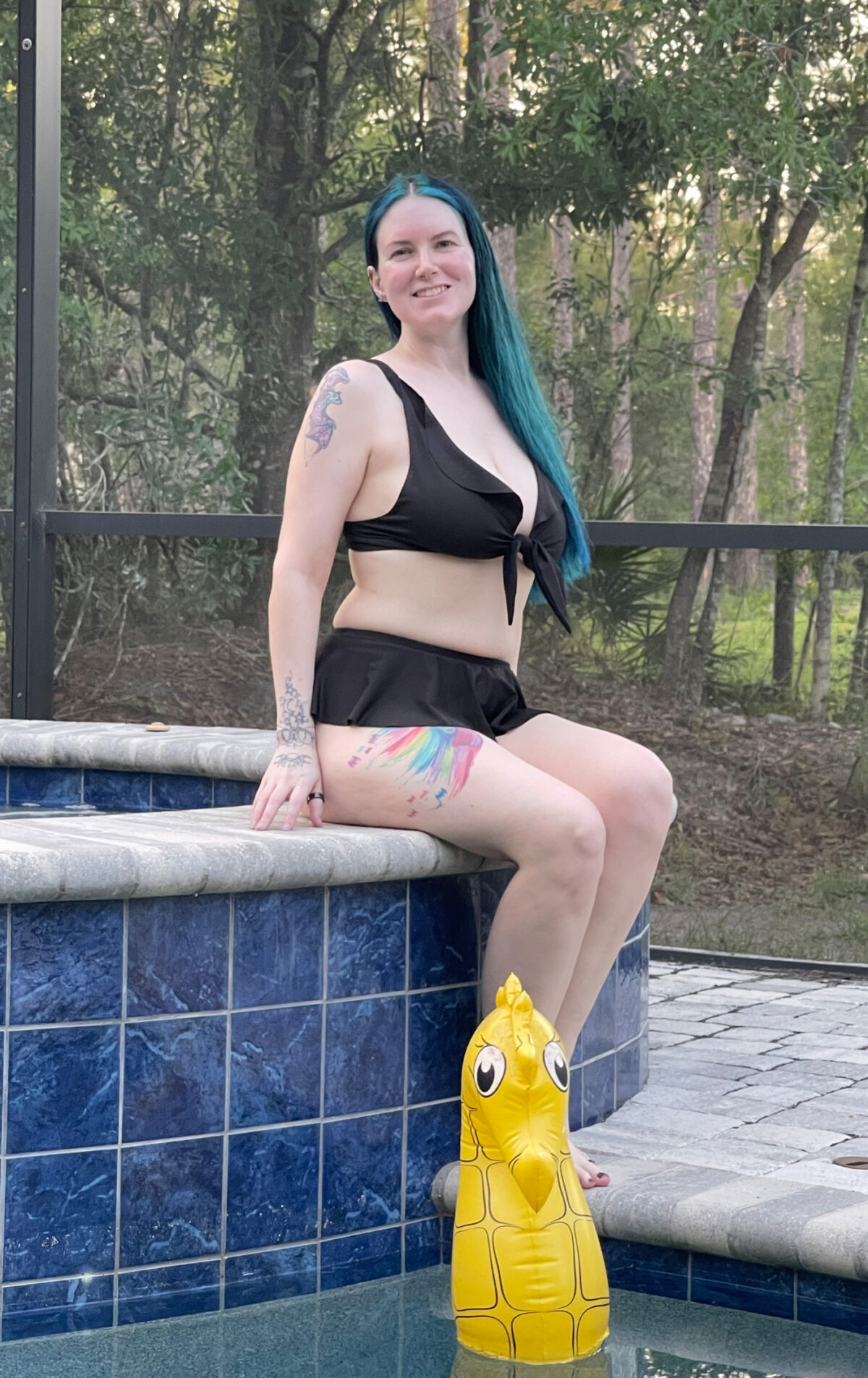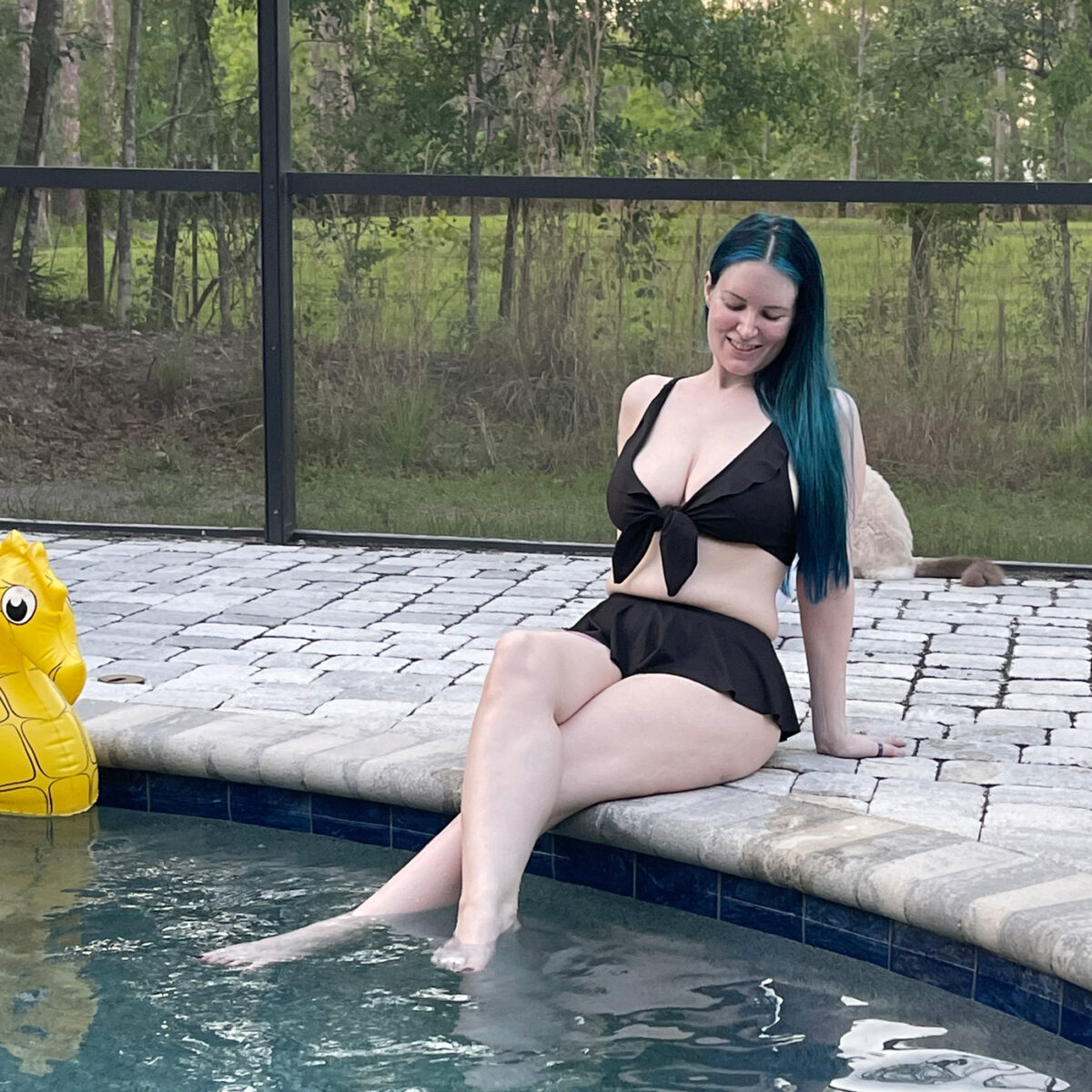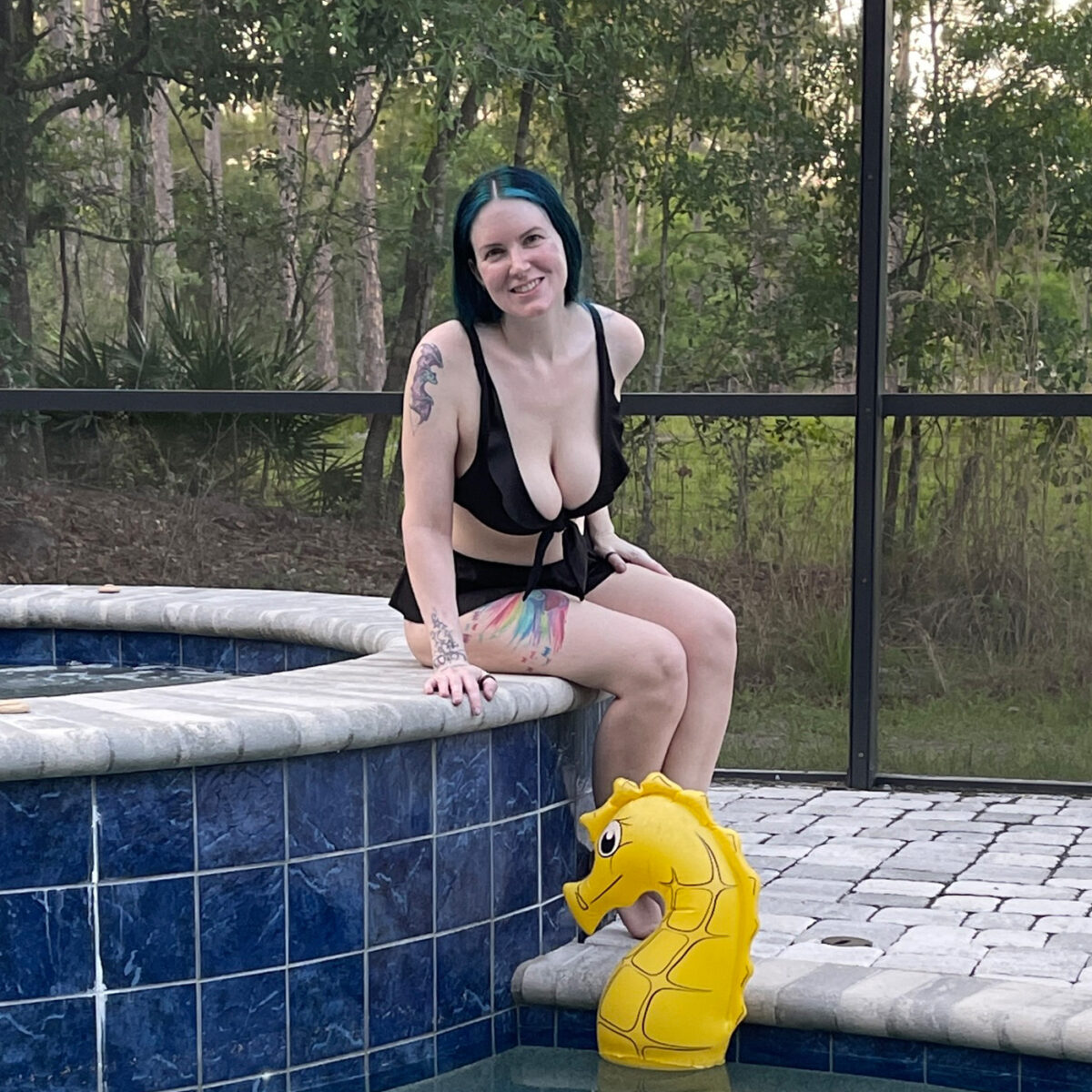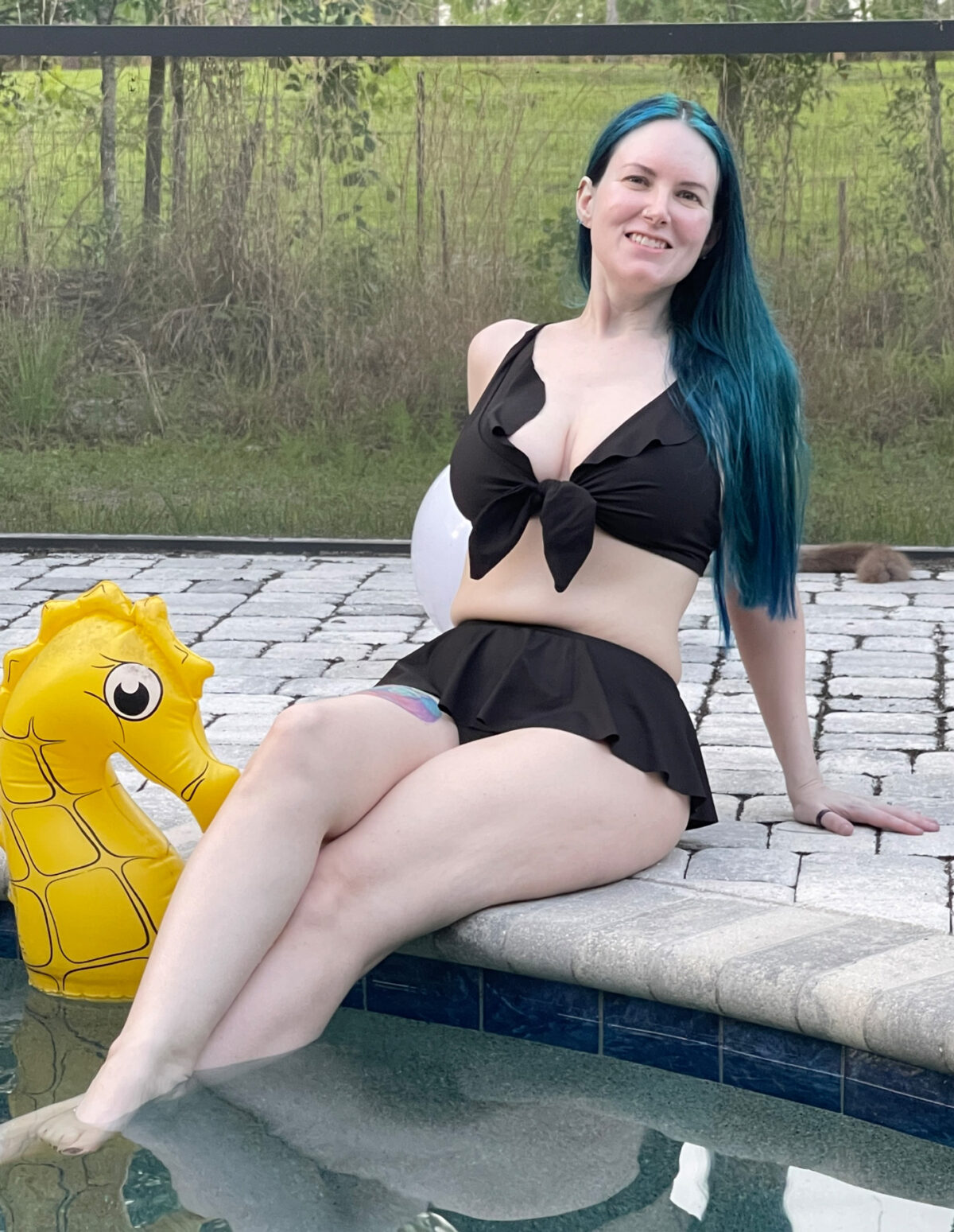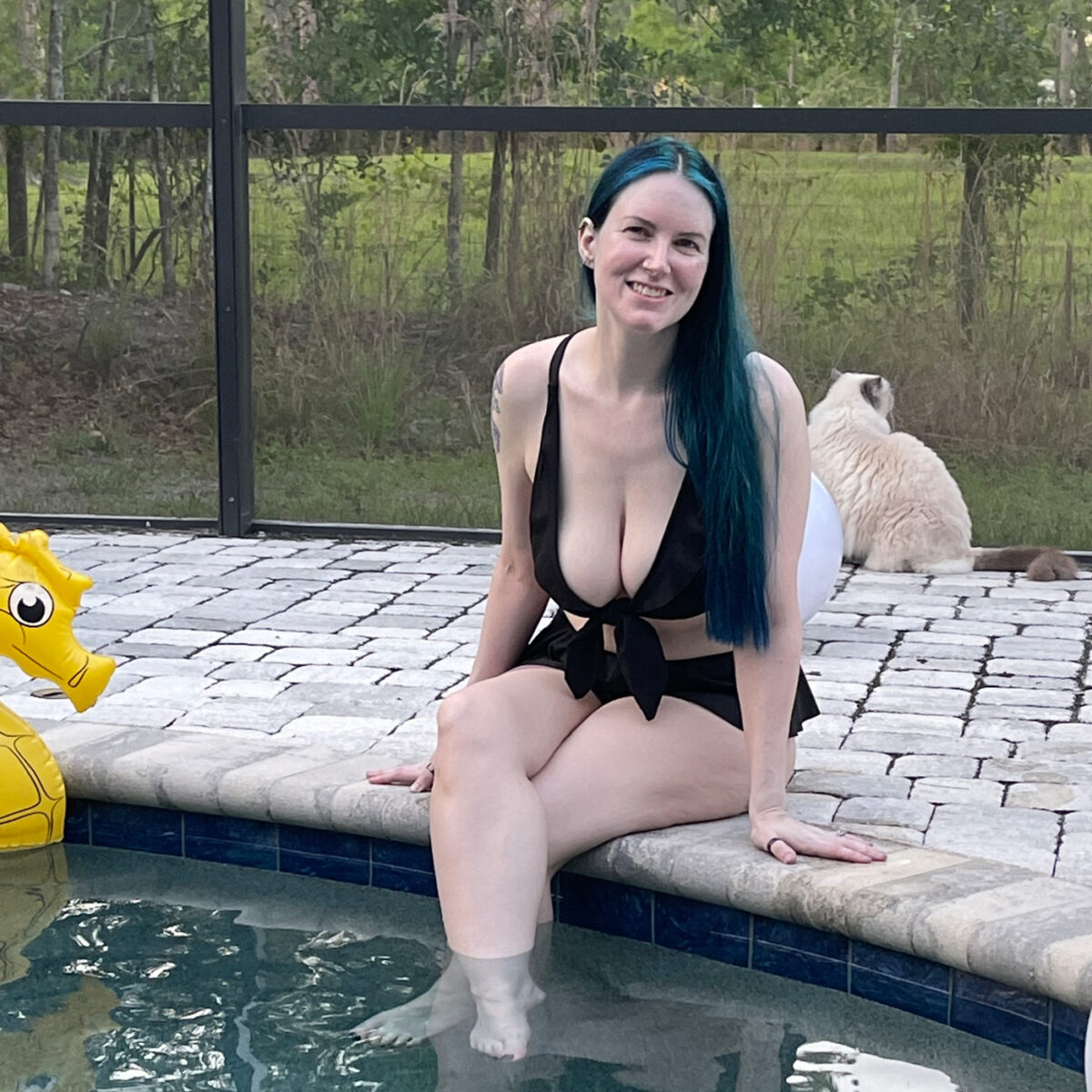 I find the Circus Bikini top and bottom to make an adorable swimsuit for me! Of course, I love that it's solid black and perfect to wear for a day at the beach or for lounging by the pool. The flirty ruffles are so cute. 
Shop the Circus Bikini top and bottom at Bold Beach Swimwear. Pick up the inflatable seahorses at Home Depot. The beautiful Ragdoll cat behind me is not available.
I did notice that there's an upcoming Sailor Bikini that will be released! It gives me Sailor Scout vibes.
Bold Beach Swimwear the Every Which Way
I saved the best for last! The Every Which Way one piece is my favorite of the three swimsuits I received. I rarely wear one-piece swimsuits, but I love that this swimsuit can be styled in multiple ways. The way I chose to wrap it, I tied it behind my neck for stability and then wrapped it around my midsection. It makes my body look hot! I could see myself wearing this suit while snorkeling to look at tropical fish. It does a fantastic job of holding my boobs in place while being comfortable and sexy to wear.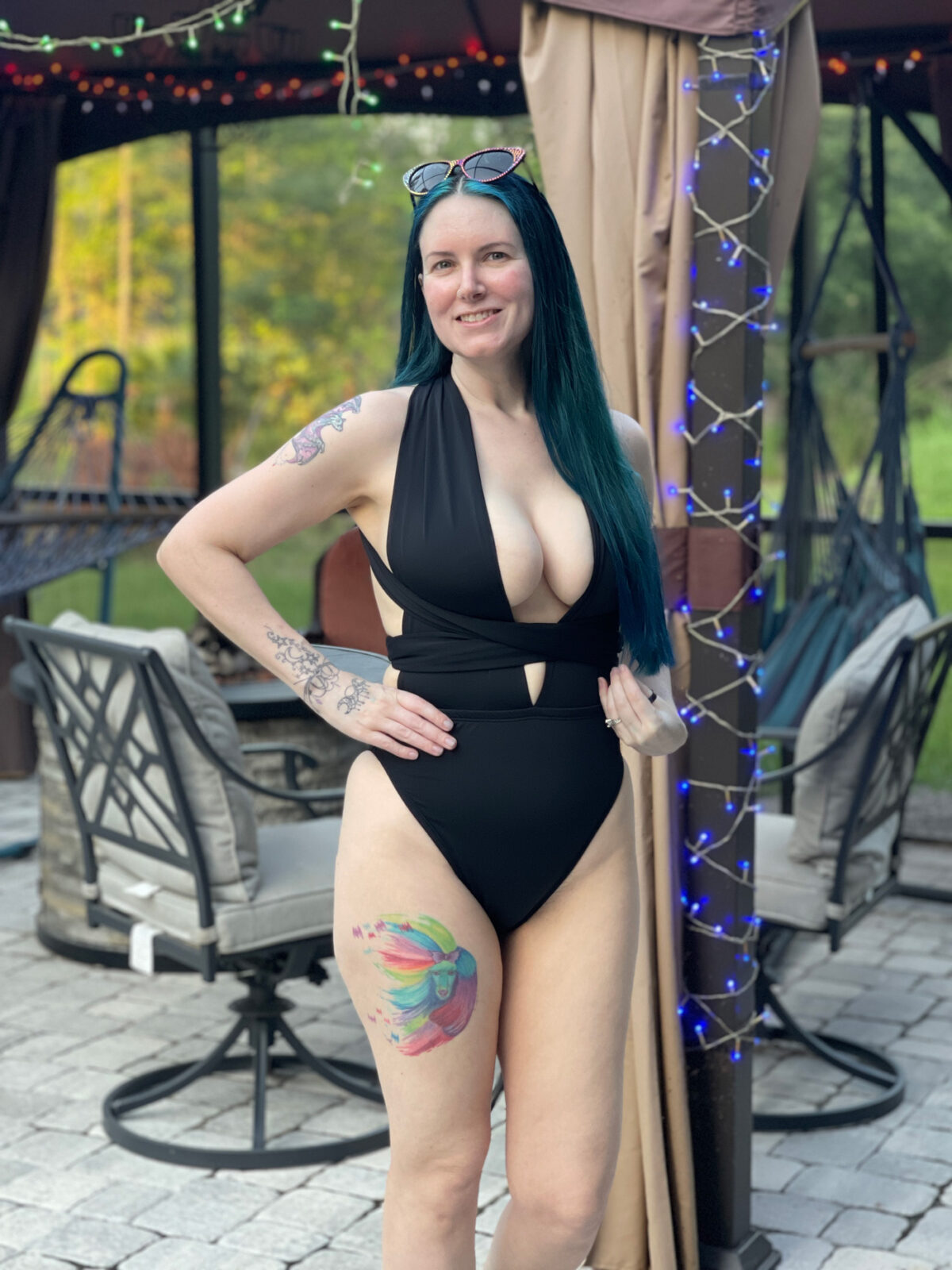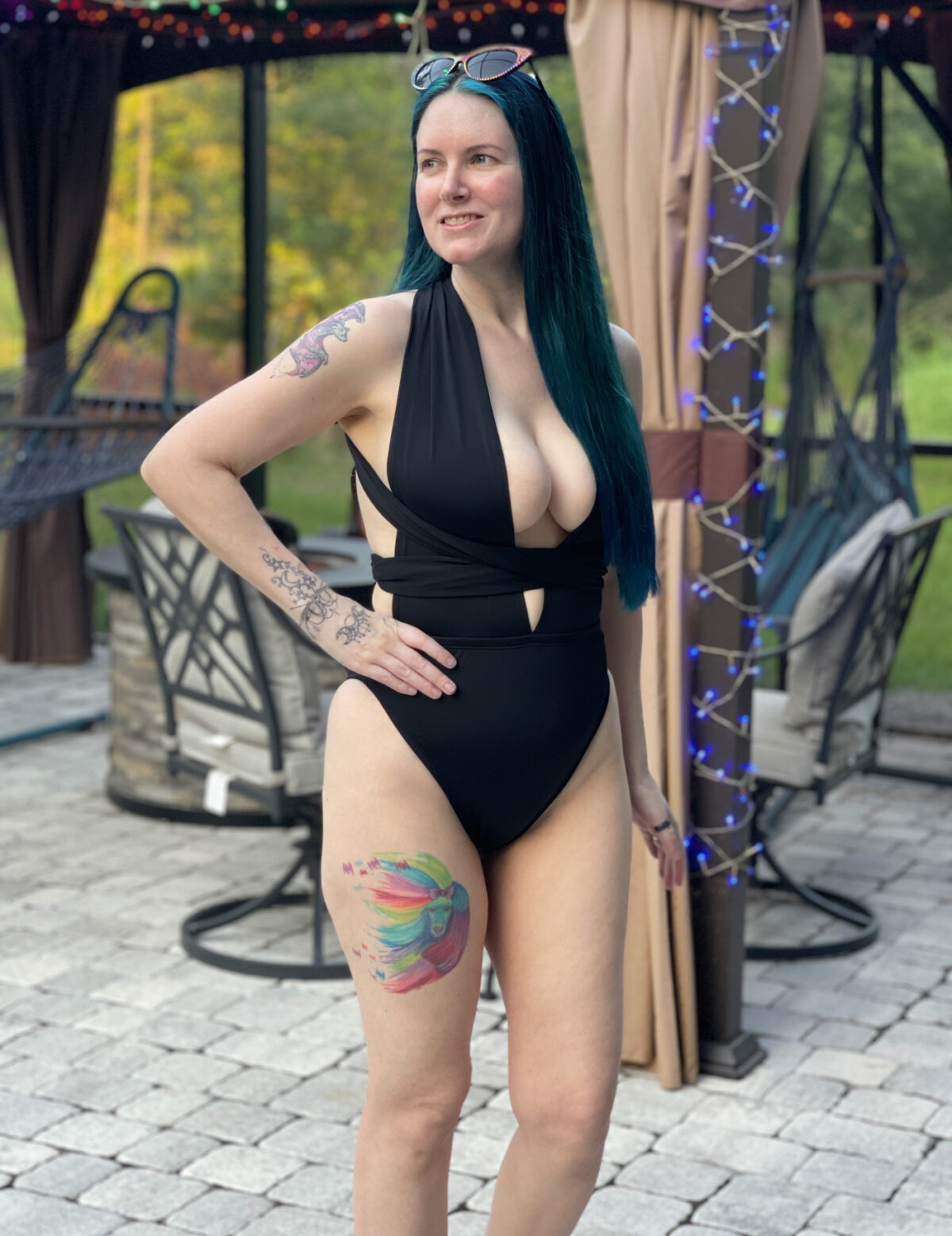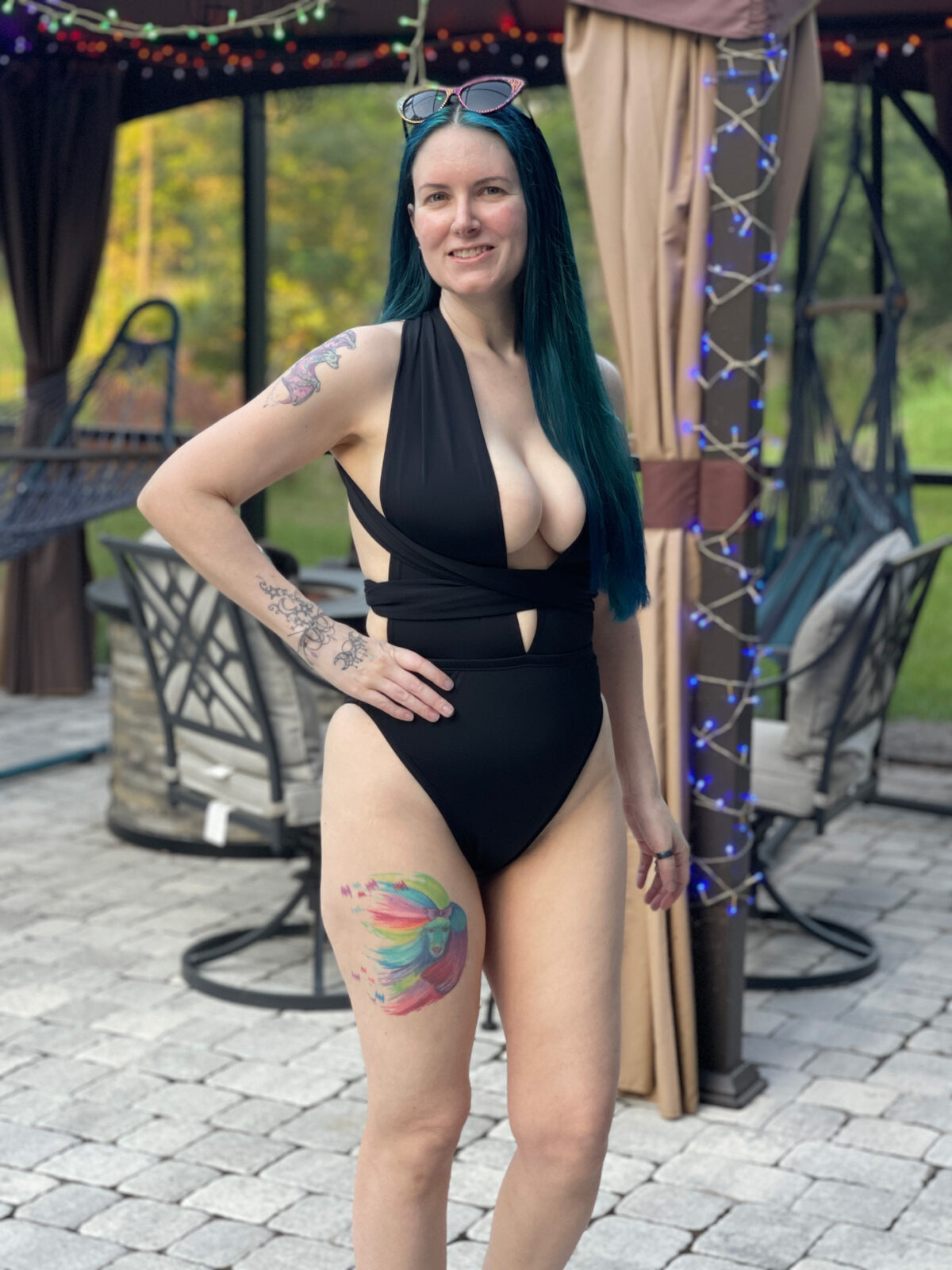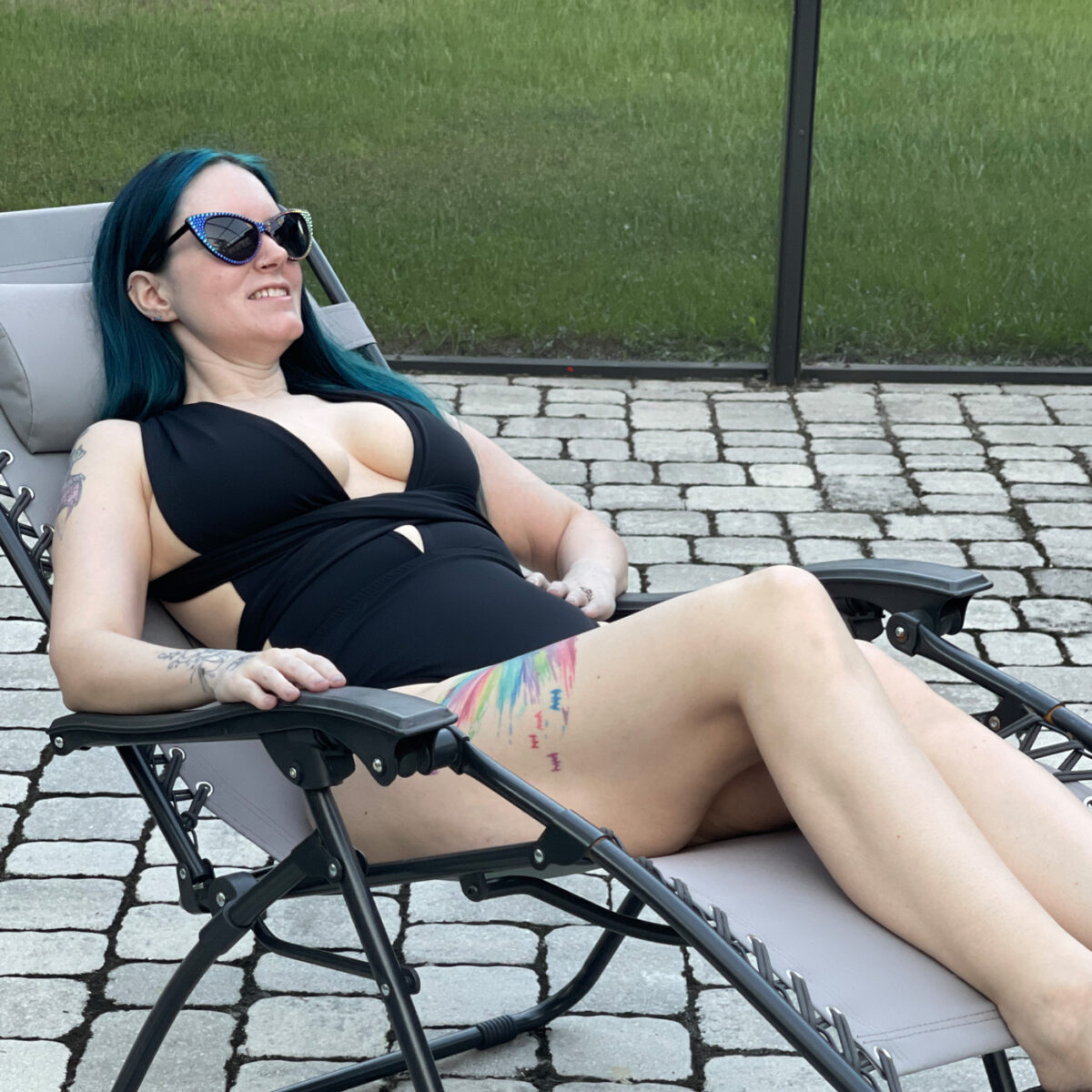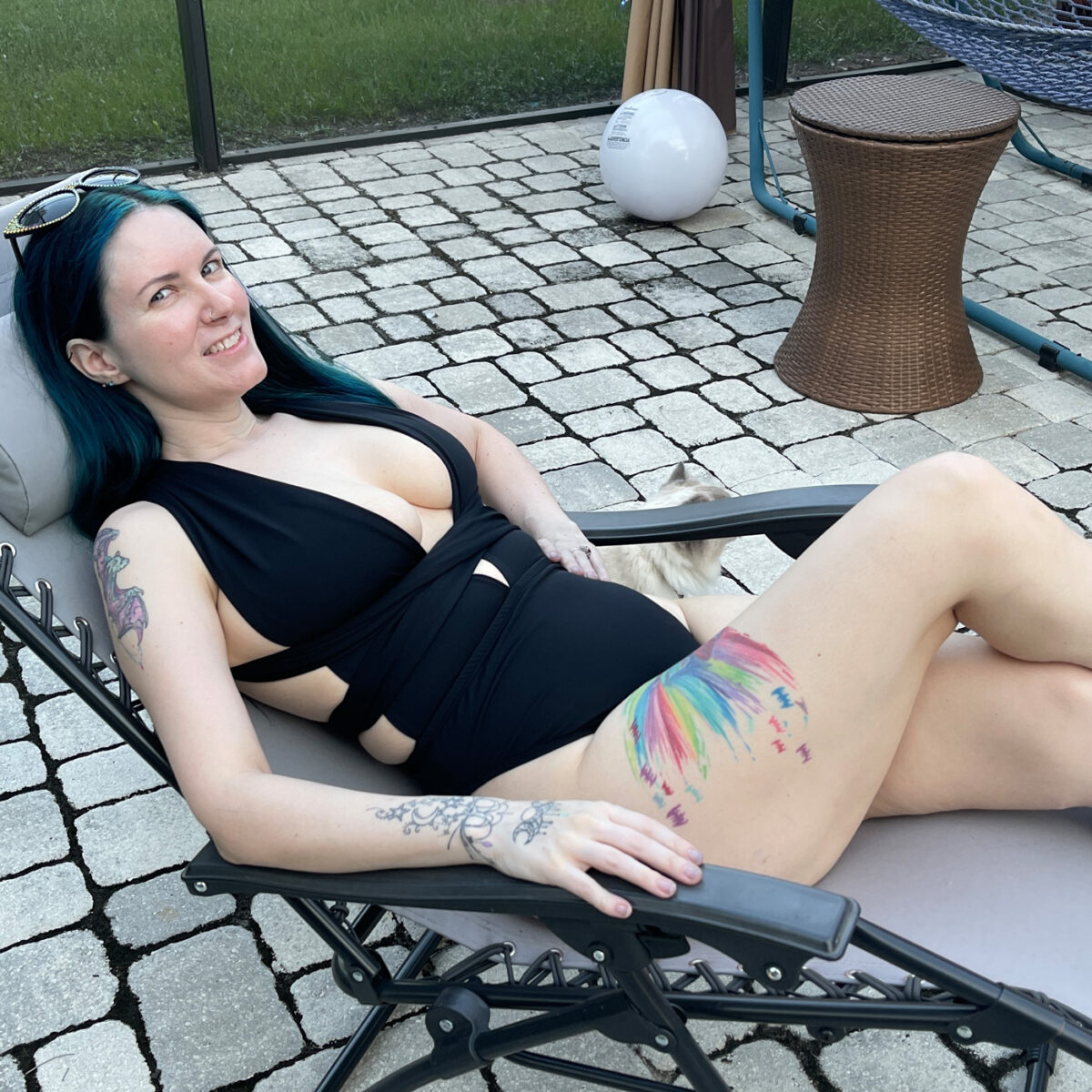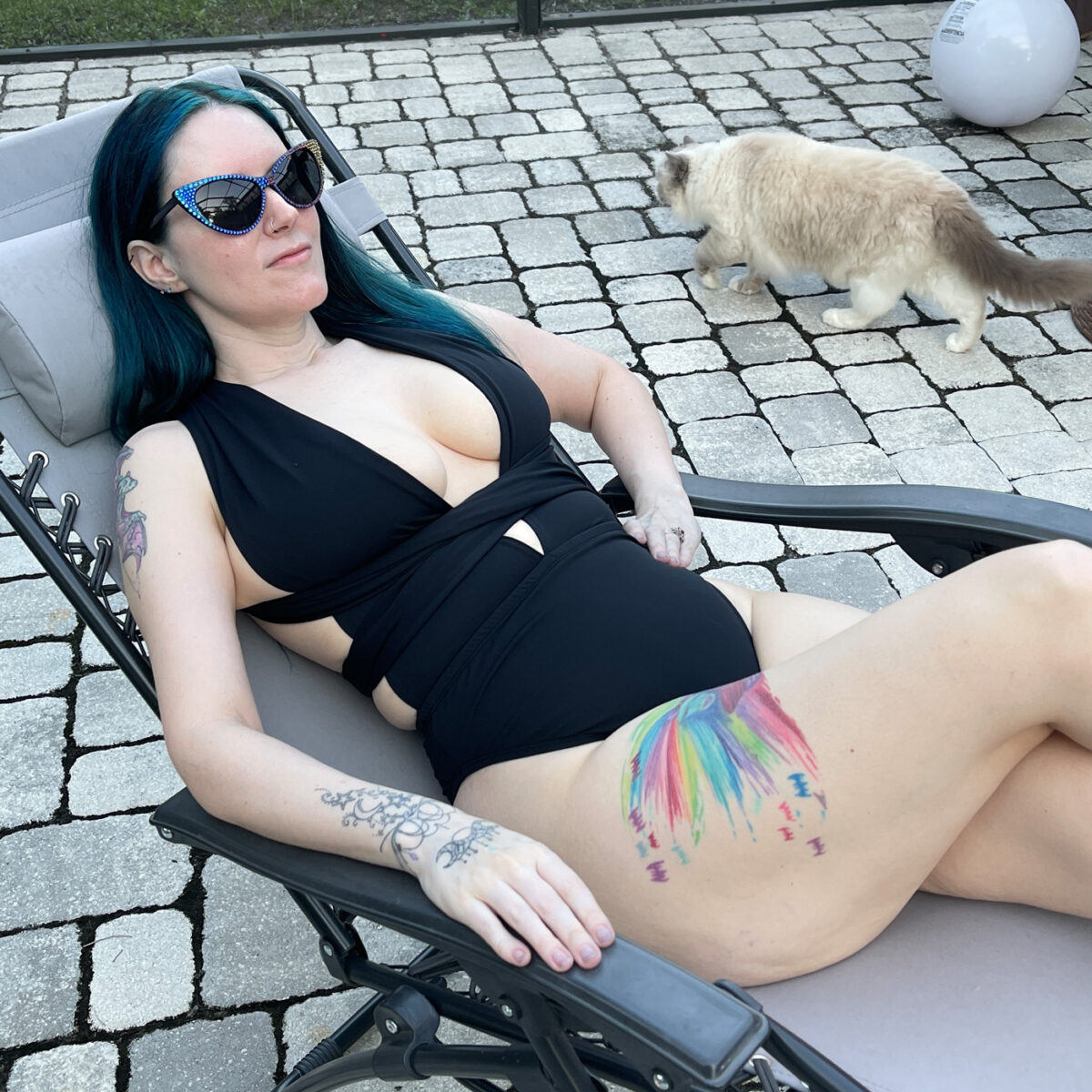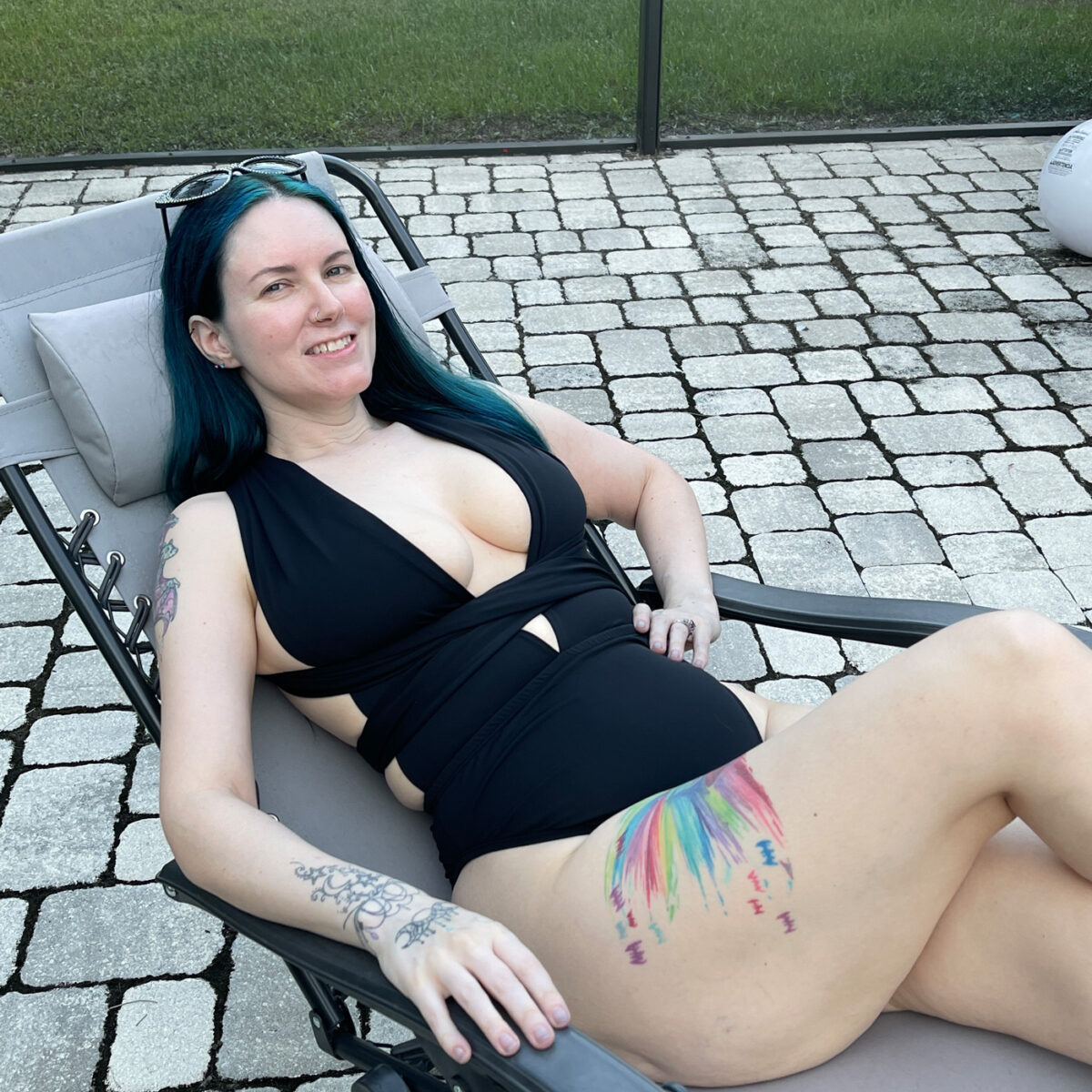 I paired this swimsuit with my Bunny Paige Femme Fatale sunglasses and Strange Cvlt Betty Bat sandals. 
Shop the Every Which Way Swimsuit at Bold Beach Swimwear. You can style this swimsuit in ten different ways! See how to style it on YouTube. The Every Which Way Swimsuit is my top swimsuit recommendation for the summer!
Bold Beach Swimwear Review Final Thoughts
If you are shaped similarly to me and have a disproportionally large top and smaller bottom, I highly recommend checking out Bold Beach Swimwear. It's usually a struggle to find a swimsuit that fits me well. The Circus Bikini is soft, flattering, and comfortable. The Every Which Way is smokin' hot and makes my body alluring.