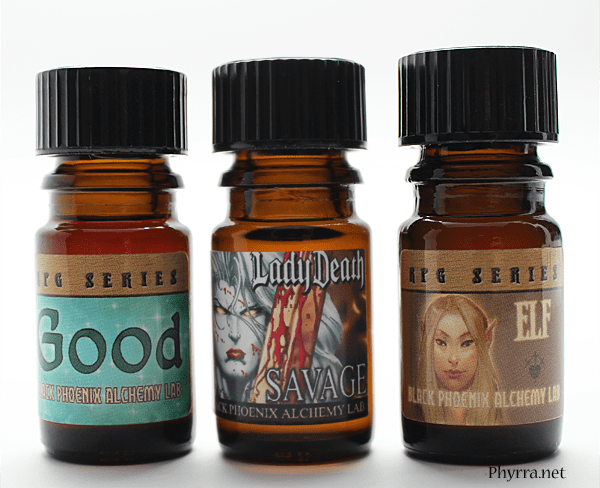 Today I've got a Black Phoenix Alchemy Lab Perfume review for you. There are three perfumes from Black Phoenix Alchemy Lab that I want to show you:  Lady Death Savage, Good, and Elf. Black Phoenix Alchemy Lab specializes in esoteric, dark, and romantic complex perfume blends. You won't find anything like these in a department store. BPAL is very well known for their quality and variety of unique perfume blends.
PR sample.
Black Phoenix Alchemy Lab Perfume Review
Please keep in mind, scents are very subjective. How something smells to me and with my personal body chemistry may differ from your experience as scents smell differently on everyone. Additionally, I have bad allergies year round, so sometimes I have issues discerning complex scent notes.
Animal Testing Policy
With the exception of our honey-based products, everything that comes from BPAL is vegan, and we abhor animal testing. Black Phoenix does not test on animals, and we do not work with companies that utilize animal testing. Black Phoenix is entirely cruelty-free, as our four dogs, many fish, and resident cat will attest. All products are tested on staff, family, and friends.
Price for Black Phoenix Alchemy Lab Perfumes
$26.00 per 5ml bottle for Lady Death
$17.50 per 5ml bottle for Good and Elf
$22 for 6 imp's ear (samples)
$4 for a single 1/32 oz imp's ear (sample)
Availability
BlackPhoenixAlchemyLab.com, Amazon, Etsy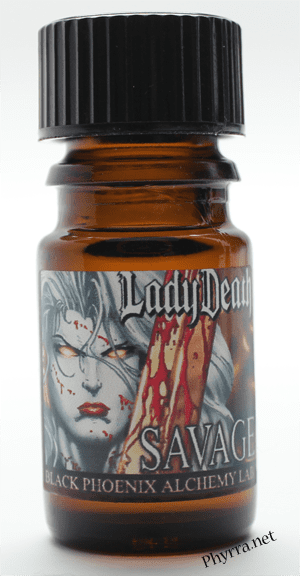 Lady Death Savage
Lady Death in all her savage glory: an unrelenting supernatural warrior witch!
Lady Death is a comic book character and she is from Chaos Comics. She's an anti-hero and back when I was buying comics, I bought her series, along with Chastity and Purgatori (and a slew of other comics).
Scent Notes
White musk, grey amber, Calabrian bergamot, vanilla absolute, French labdanum, styrax, wormwood, caraway, and bois de jasmin.
My Thoughts
I smell a sweet fruit at first, then a mixture of vanilla and hint of jasmine. Later I smell a hint of warmth and sweet. Love this!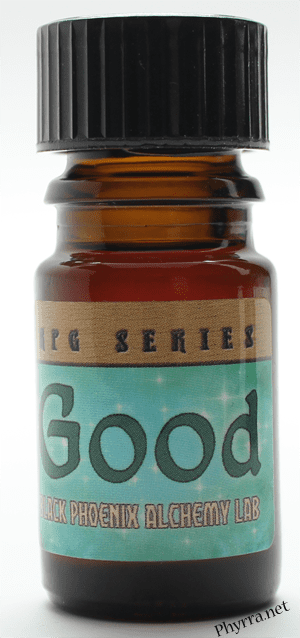 Alignment Collection
Alignment refers to your character's ethics: which way does his or her moral compass point? There are two aspects to alignment: law vs. chaos, and good vs. evil. Does your character respect authority and venerate tradition? She's likely Lawful. Does she value personal freedom above all else? Chaotic. Does your character give alms to the poor and protect the innocent? He's Good. Is your character of a mercenary bend, willing and eager to step on others to get ahead? Evil. A character that is Neutral (or any combination of Neutral) either finds perfect balance in their worldview, or is apathetic towards the constraints of either good and evil or law and chaos. A lawful neutral character values the letter of the law above any concern for good or evil, and the chaotic neutral character is, generally, driven completely by a desire for absolute freedom. Sometimes they're just nuts.
Good
From the RPG series. The lovely people at BPAL played D&D, much like I did, while growing up. We share a passion for fantasy and science fiction.
Scent Notes
Shimmering celestial musk with vanilla, white honey, acacia, and sugar cane.
My Thoughts
Initially I smell musk and a hint of flowers. Later I smell vanilla with a bit of honey. It actually reminds me of a bubble bath from my Grandma's house that I used as a child. This evokes happy memories for me. Once it dries down I can smell the honey and something powdery.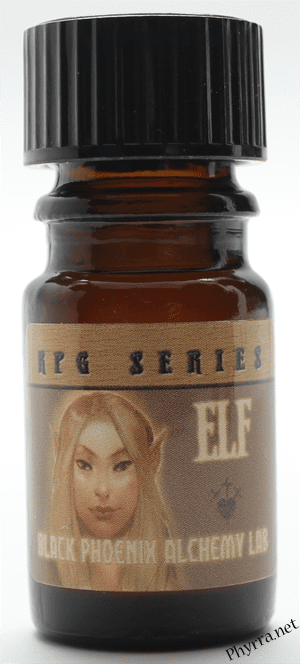 Race Collection
In gaming terms, choosing your character's race means you will select which sentient species you would like to belong to.
Elf
A long lived race. High elves are the most common variety.
Scent Notes
Pale golden musk, honeycomb, amber, parma violet, hawthorne bark, aspen leaf, forest lily, life everlasting, white moss, and a hint of wild berry.
My Thoughts
Immediately I smell musk and something fresh and green. I'm actually reminded of pine. Next I smell the fruity berry. Finally I smell amber. After wearing it for a while I still smell fresh green notes with something sweet.
One thing that really impresses me with the Black Phoenix Alchemy Labs perfumes, at least with these scents, is that after I've had them on for 4 hours I can still smell them. They also have good throw. While you can't smell me from across the room, if I'm within hugging distance you're able to smell the scent I'm wearing.
Of these three perfume oil blends, I love how Lady Death Savage works with my body chemistry the best. It's really fabulous, sweet and sexy to me once it dries down. I like how Good makes me think of happy childhood memories. If you are a fan of green with a hint of fruit, you will love Elf.
What do you think of Black Phoenix Alchemy Lab perfumes? Have you tried Lady Death Savage, Good or Elf? What are your favorite BPAL scents?