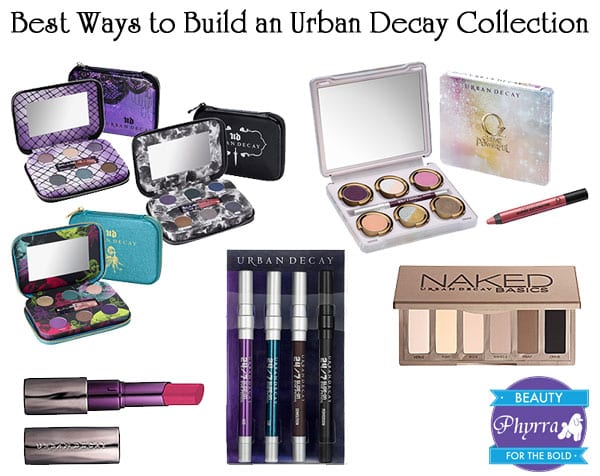 After my Makeup Wars Best Brand Urban Decay post and video, many of you emailed me asking the best ways to build an Urban Decay makeup collection. So here are my tips!
Pr + purchased by me.
Best Ways to Build an Urban Decay Makeup Collection
First and foremost, watch for sales! UrbanDecay.com 's site has a sale section that you can scope out, as does Sephora. You can also find steals on Hautelook and sometimes Groupon. Sign up for Urban Decay's newsletter and never miss out on the news!
I grew my Urban Decay collection during Sephora Friends & Family Sales, Urban Decay F&F Sales, and Hautelook. That's where I picked up a ton of the Deluxe, Vintage and Stardust shadows.
Second, when you see sale items, weigh their value. Below I've given you several options and their pros and cons.

Urban Decay The Mother Lode
The UD Mother Lode set is $595 and worth $1234. It has 68 different UD eyeshadows and a build your own 4 quad in it. That breaks down to $8.75 per eyeshadow and $10 for the case. So on the one hand, while this is a great deal for the shadow price, it's still a TON of money up front. My friend Melody pointed out that it's better to just buy all the palettes that UD offers, rather than this set.
While you can't get all 68 eyeshadow from the palettes that UD offers, I've come up with a way for you to get 32 eyeshadows (plus other  things!) for less than $150.

Right now the Urban Decay Dangerous, Feminine, and Fun palettes are $16 each! These palettes break down to about $2.66 per eyeshadow (6 eyeshadows each, not including the value of the mini lip products or the cute reusable makeup cases).  See my Feminine, Dangerous, and Fun palettes reviews.  So this is a really good way to pick up 18 unique shades (no repeats in these colors) for $48. These come with cute mini glosses too.

The Urban Decay Naked Basics palette is a must have for everyone in my book. 6 matte shades that are ultra flattering and ultra versatile. As you know, I like to mix mattes and shimmers in looks to add depth. For the 6 shadows in this palette, which are all workhorse shades, you're paying $4.50 per shadow. I also find these shades extremely easy to mix if you need a slightly lighter, slightly darker, etc brown shade.

The UD Glinda Palette won't be available for much longer because it's LE, but it's a steal right now for $24.00 and it comes with 4 full size eyeshadows and 4 half size eyeshadows. See my Glinda review. This set is valued at around $149 because it comes with a travel eyeliner and a lip pencil too. You're paying less than $3 per eyeshadow in this set.

The UD 24/7 Glide-On Eye Pencil Vault has 40 pencils in it. It's $295 and valued at $760. This breaks down to about $7.60 a pencil. While it isn't bad, unless you need to have every color, there are better ways to round out your collection. See my swatches of the 40 shades.

While the Ocho Loco 2 set breaks down to about $7.60 per pencil (plus the sharpener) Since it's only $59, it's not a steep addition to your collection. This full size set gives you 4 workhorse shades and 4 play shades, which is more than enough to use to build a collection.

An even less expensive liner set for building your UD collection is the new Habitual 24/7 Travel Pencil Set. Full size UD pencils are .04, these are .03, so they're a little less than full size, but you've still got 2 work and 2 play colors – Peversion (best black ever!), Demolition (brown matte), LSD (awesome navy with turquoise sparkle), and Vice (rich purple). This set retails for $22 and it breaks down to about $5.50 per pencil.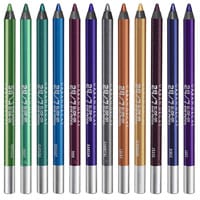 Of course, you can always pick up several of the Vintage liners for $4 each while they're still around!

And because I'm in love with bright fuchsias, I'd say you NEED Urban Decay Anarchy! With all the neutral lip products in the Fun, Feminine, Dangerous and Glinda kits, you need one bright shade to pack a punch. This is my choice.
If you were to pick up all 3 Fun, Feminine and Dangerous palettes, the Naked Basics palette, and the Habitual liner set, you'd only spend $97 (not including tax) and have a great start to building your collection. And if you could spring for the Glinda palette, you'd be well rounded out for $121, since you'd have  32 eyeshadow colors ranging from brights to neutrals to smokys, 5 liners, 3 glosses and 1 lip pencil in a neutral shade that works for every day wear. And if you toss in Anarchy, you're at $143. So you've now got an amazing UD collection for just under $150!
I should mention that I did get a card in the mail from Sephora that says Thursday, Nov. 7 through Monday, Nov. 11, 2013 is the 20% off VIB Sale at Sephora. Use the code: VIBTOPIA. So you could definitely pick up other Urban Decay must have products during the Sephora sale.
How would you go about building up your Urban Decay Makeup collection? What do you think of my suggestions? Let me know in the comments below.