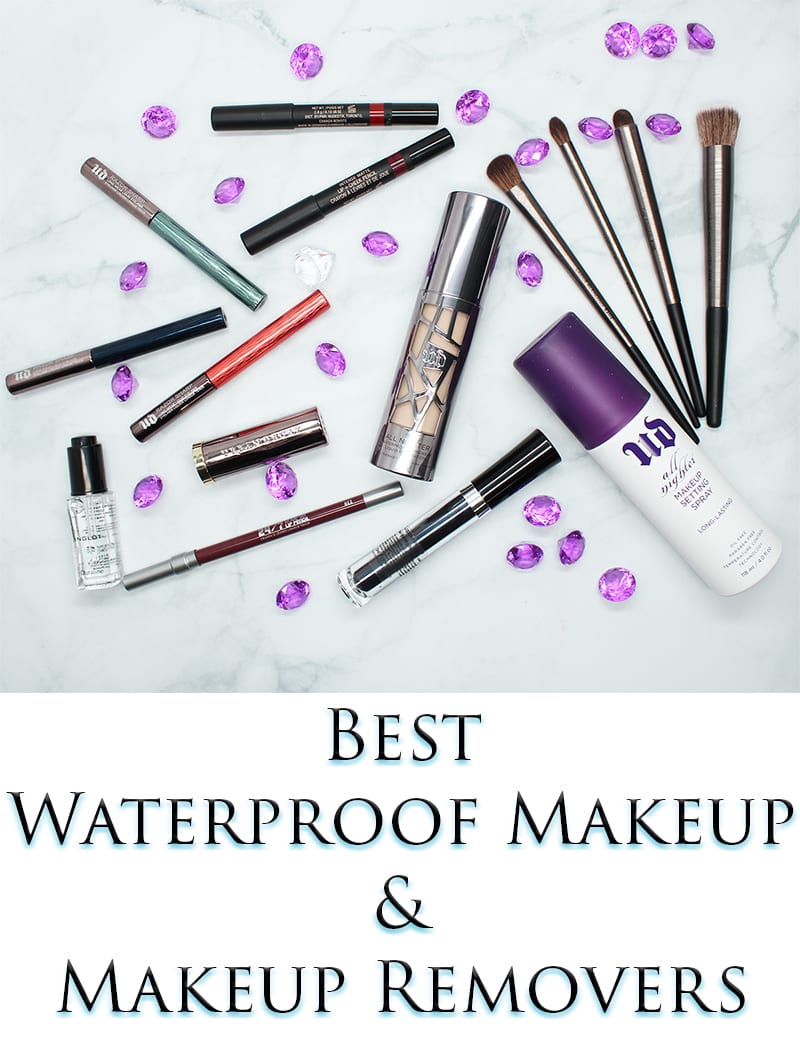 Today I'm sharing some of my picks for the best waterproof makeup. I'm also sharing my favorite ways to remove it too.
Best Waterproof Makeup
Pr + purchased by me.
Too Faced Shadow Insurance
This is my holy grail eyeshadow primer. It works to hold eyeshadow in place on my oily, hooded eyelids. It lasts through tears and sweating.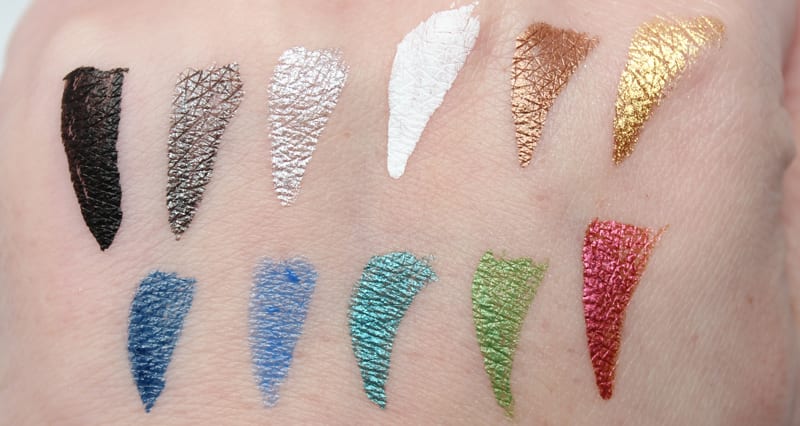 Row 1 Perversion – Revolver – Cuff – Bump – Snakebite – Goldmine
Row 2 Push – Chaos – Deep End – Kush – Fireball
Urban Decay Razor Sharp Liquid Eyeliner
It's no secret that I'm an Urban Decay Fan Girl. UD's 24/7 Liquid Eyeliners have been my favorite liquid eyeliners for a very long time. For Fall 2016 UD upgraded the liners to the new Razor Sharp formula. With 20 new shades, you're sure to find a shade or two to love. They will be available soon.
Pictured above: Perversion (blackest black), Revolver (gunmetal with iridescent sparkle), Cuff (metallic silver with silver microsparkle), Bump (matte white), Snakebite (metallic copper bronze), Goldmine (gold sparkle), Push (navy), Chaos (cobalt blue), Deep End (bright teal shimmer), Kush (grass green), and Fireball (peach with pink shift).
The shades not pictured here are Demolition (deep brown), Street (dark green), Zodiac (smoky black with blue-green shift and sparkle), Retrograde (dark purple with purple sparkle), Ecstasy (bright purple), Junkshow (bright pink with sparkle), Intergalactic (light purple with silver sparkle), Space Cowboy (light champagne with silver sparkle), and Dark Force (dark brown with gold sparkle).
From the ones I have, my favorites are Perversion, Revolver, Deep End, Goldmine and Fireball. I NEED Zodiac, Space Cowboy and Ecstasy.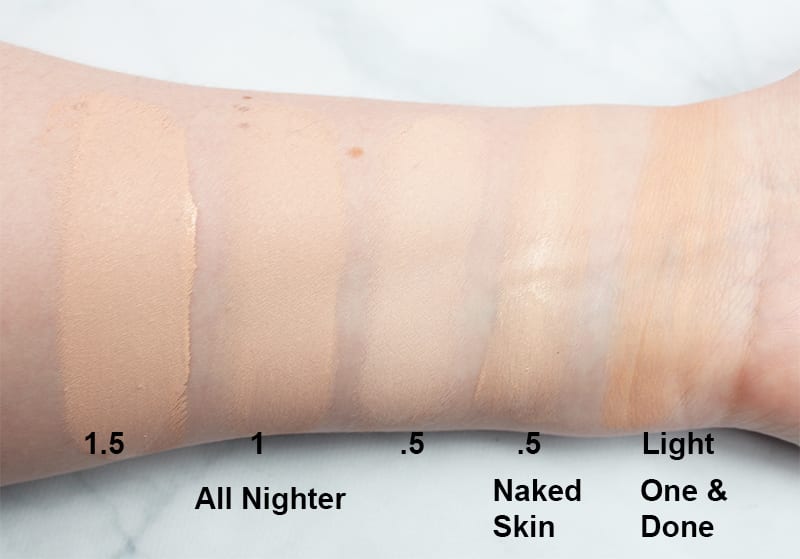 Swatches 1.5 (All Nighter) – 1 (All Nighter) – .5 (All Nighter) – .5 (Naked Skin) – Light (One & Done)
Urban Decay All Nighter Liquid Foundation
Also new for Fall 2016, UD's All Nighter Liquid Foundation is touted as waterproof. It's a very full coverage (25% pigment!) liquid foundation that dries to a matte finish. I personally think this is best suited for oily skin.  I've worn it once so far, for 16 hours (with Hourglass Veil Mineral Primer and UD All Nighter Setting Spray). At the end of 16 hours I only had a little wear around my nose. It comes in 24 shades and will be available soon. It's seriously full coverage as it easily covers up the freckles on my arms.
And while they may look different when  not 100% dry, .5 in All Nighter & .5 in Naked Skin do dry down to the exact same shade.
Urban Decay's All Nighter Spray  (vegan)
This is my all-time favorite setting spray for helping to keep your makeup in place through sweating, heat, humidity, or rain. It's also great for helping to keep your eyeshadow in place and foiling eyeshadows.
Urban Decay Cannonball Mascara
I swear I never hear people talk about this mascara, but it's my favorite waterproof mascara because of the formula. It's easy to apply and lasts through swimming.
Urban Decay Brow Beater Pencils
Yes, UD even does brows! Their brow pencils are waterproof as well. See swatches here.
Nudestix Intense Matte Lip + Cheek Pencils
Available in 8 shades, these are long wearing and waterproof ways to wear blush (you can use them as lipsticks too). Raven is a gorgeous deep red, Kiss is a nude pink, Belle is a plum nude and Tamed is a nude mauve. I would actually love to try Tamed because I think it would be super flattering on my skintone.
Inglot Duraline
Make any eyeshadow you own waterproof with Duraline. This is a good cruelty free dupe for Make Up For Ever Aqua Seal. One bottle of this will last you a very, very long time.
Liquid Lipsticks
There are a ton of liquid lipstick brands out there so I would be remiss if I didn't mention a few that I'm currently playing with.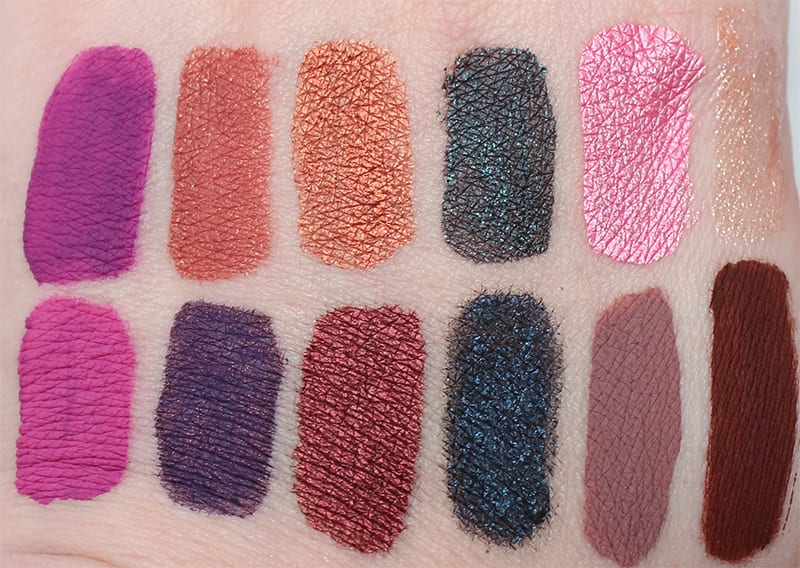 Row 1 Lady Delancy – First Time – Chatterbox – Fascination – Fairy – Skinny Dip
Row 2 Jelly – Vintage – Candied Kisses – Sugar Coated – Zodiac – Rosewood
Lonely Planet Liquid Lipsticks (vegan)
I've got Lady Delancy (magenta purple), First Time (brown-mauve with subtle gold shimmer, supposed to be a Sugarpill Trinket dupe), Chatterbox (bright copper metallic), and Fascination (black with blue-green shimmer). I like the Lonely Planet formula a lot but their swatch photos are usually way off. Lady Delancy looked nothing like the lip swatch they had. Chatterbox looks like a cool-toned copper in their swatches but it's clearly warm / orange-toned. Fascination is the only one of theirs that I've purchased that looked anything like the swatches.
Jouer Long Wear Lip Cremes
Fairy (metallic pink) and Skinny Dip (beige gold with gold glitter). Skinny Dip never fully dries down and it's more of an overcoat / meant for layering. Fairy is very frosty pink, way more than I was expecting.
Caked Liquid Lipstick in Jelly  (vegan)
I bought this magenta pink shade because they're a local Tampa company. This is one of the hardest liquid lipsticks to remove, even with coconut oil! It's a fantastic shade.
Fyrinnae Liquid Matte Lipsticks  (vegan)
Vintage (dark purple with subtle copper shimmer), Candied Kisses (deep dark crimson metallic), and Sugar Coated (vivid blue shimmer on a black base). These three are so gorgeous and if I had to recommend just one liquid lipstick it would be Sugar Coated, though Vintage is a close second.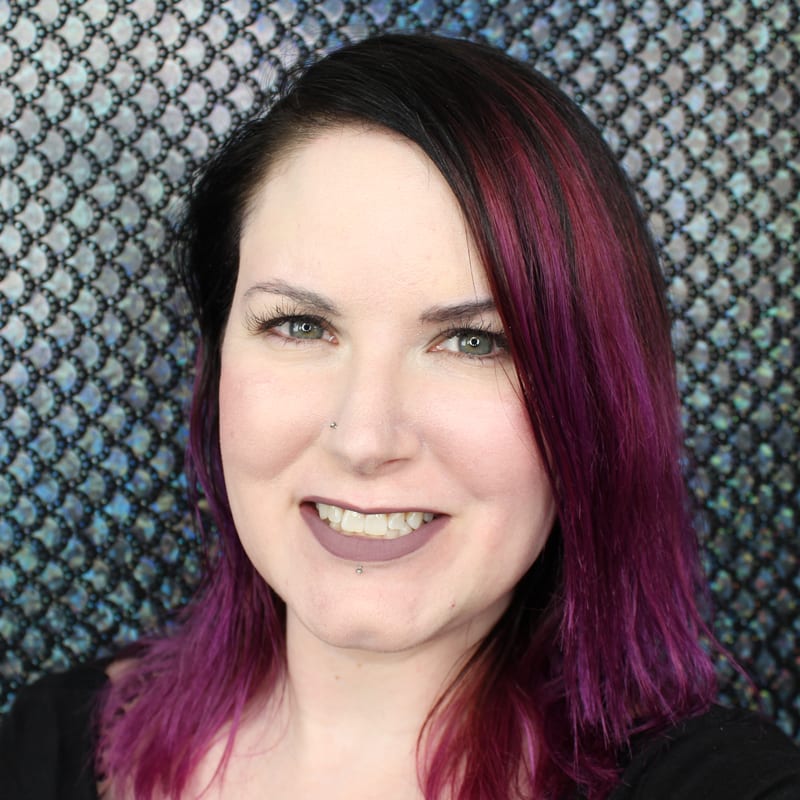 Nine Three Beauty Liquid Matte Lipsticks
Zodiac (deep purple with grey undertones) and Rosewood (dark vampy red with brown undertones). I can't decide if I love or hate Zodiac on me.
Best Waterproof Makeup Removers
Urban Decay Meltdown Makeup Remover
This is another product that I swear no one ever talks about but it's a great makeup remover too. It's great for sensitive skin like mine. You put it on and then use a tissue to remove your makeup.

Urban Decay Meltdown Makeup Remover Wipes
My skin usually has issues with makeup remover wipes, so I haven't tried these personally, but several of my friends swear by them. They're made to remove waterproof eyeliner and lipstick.

Paula's Choice Gentle Touch Makeup Remover
This is a dual-phase makeup remover that works well to remove waterproof makeup.

Coconut Oil
Yes, coconut oil is great at removing waterproof makeup. It's also very moisturizing too. While it doesn't break me out, I've had people say that they can't use it because it will cause them issues. I use this when I'm swatching a lot of things on my arm to moisturize as I remove color in between. It also does a great job with removing waterproof mascara and eyeliner.  If you can't use coconut oil, you can always try olive oil.

What are your picks for the best waterproof makeup and makeup removers?

[inlinkz_linkup id=625398 mode=1]
More to see