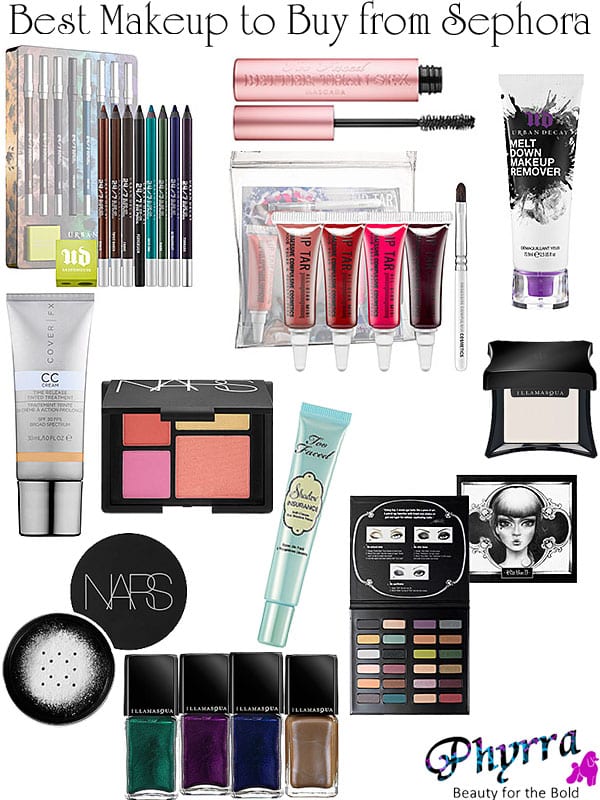 Imagine you've somehow lost your entire makeup collection. How would you replace it? Here are my choices for the Best Makeup to Buy from Sephora to create a new cruelty free makeup collection.
1. Too Faced Better Than Sex Mascara – $23
I've said it before and I'll say it again, this is the best mascara that I've tried all year. I love it. See my review.
2. Cover FX CC Cream Time Release Tinted Treatment SPF 30 – $45
I've gotten a ton of compliments while wearing this CC cream. People keep telling me my skin is glowing. I like how it feels, especially when it's applied with a wet sponge. Check out my review.
3. Urban Decay Ocho Loco 2 Eyeliner Set – $59
Between the grindhouse sharpener and 8 eyeliners in both office friendly and fun shades, this has you covered. See my review.
4.  Obsessive Compulsive Cosmetics Lip Tar All-Star Mini Set – $20
This mini lip tar set is a great way to add liptars to your collection. It comes with 4 of my favorite shades that I own full size – Anime, Memento, NSFW and Black Dahlia. See Anime, Memento and NSWF swatched here. See Black Dahlia in my Disney Villains Maleficent tutorial here.
5. Illamasqua Skin Base Lift – $25
I really like this concealer in White Light, which is a white shade. I use it to conceal and highlight on the face. I like the texture and I really need to get my review up for it!
6. NARS Foreplay Palette – $49
While I don't own the NARS Foreplay palette (as I have several other NARS blush palettes), I think it's versatile because it has Orgasm (the perfect pinky peach),  A matte peach, a matte pink, and a gold highlighting blush.
7. Too Faced Shadow Insurance – $20
You can't go around without eyeshadow primer! Your eyeshadow will crease off. Too Faced has won, again and again, in my battle of the best eyeshadow primers.
8. Kat Von D Spellbinding Eyeshadow Book – $55
This contains a great mix of neutral and fun colors that can be combined in endless combinations and is a great starter palette. See my review.
9. NARS Light Reflecting Loose Setting Powder – $34
Everyone needs a setting powder and this is my favorite. It's awesome. See my review.
10. Illamasqua Nail Varnish – $17
I'd recommend picking up at least one nail polish. I really like the Illamasqua formula. Some of my favorites are Baptiste, Phallic, Bacterium, Stance and Poke.
11. Urban Decay Melt Down Makeup Remover – $24
I've got a review coming up of this product. It actually doesn't irritate my sensitive skin, smells nice, and does a wonderful job of removing makeup.
What would you choose if you had to start from scratch? Let me know in the comments below!