Happy Makeup Wars Monday! Today I'm sharing my best fixes for frizzy hair. Everyone has dealt with frizzy hair at some point. During the summer, you're more likely to experience frizzy hair because of the humidity. However it can happen any time of the year!
Frizzy hair is caused by dryness, which can happen because of too much heat styling, dyeing your hair, or damage. Some hair types are also more prone to being dry, too. My hair is naturally straight and fine. Since I lighten and color my hair, it's in the color treated category. Even though I take great care of my hair, it's still got minimal damage from being color treated. So I'm always reaching for moisturizing products. Moisturizing products will help you keep frizzy hair at bay.
If you shampoo your hair every few days, your hair will hang onto its natural oils better and helps to keeps frizziness away. Keep towel drying to a minimum because towels will cause frizz. Use something like the Hubaloo towel, which is made of bamboo and won't rough up the cuticle. (see my how to care for rainbow hair guide)
Deep conditioning treatments and masks are seriously your best friend for keeping frizzies at bay. Make it a habit to deeply condition weekly and your hair will thank you for it with more great hair days. I recommend leaving on a hair mask for at least 15 minutes, and I typically do an hour or two depending on the day.
You should also make sure to get your hair trimmed regularly (every 4 to 6 weeks depending on your hair), since you'll cut off split ends, dry or damaged hair and your hair will look better. While you're at the salon, consider doing something like the Paul Mitchell Awapuhi Wild Ginger Keratin Intensive Hair Treatment. This will repair the hair by adding keratin protein, intense moisture and shine, all which help to cut down on frizz.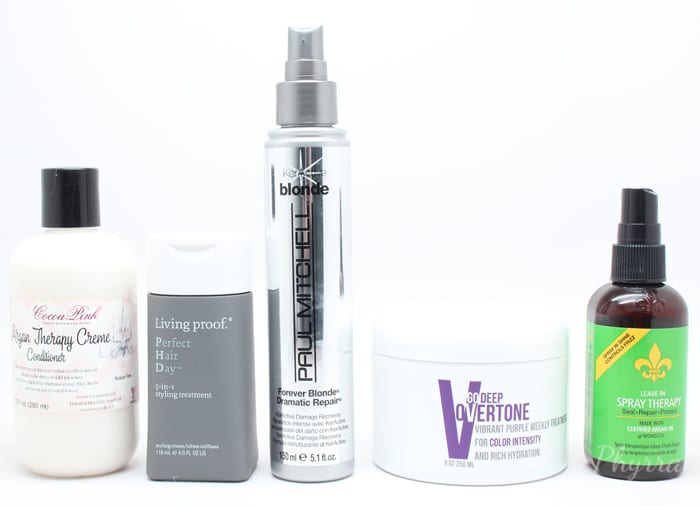 Paul Mitchell Forever Blonde Dramatic Repair Spray
This is my new best friend. Christian, my very talented stylist, told me it would become my BFF when I first bought it and he was right. It smoothes, strengthens and replenishes my color-treated hair. It's loaded with protein, safflower oil, macadamia nut oil, etc to help moisturize and repair. I spray this in my hair before I blow dry (I still use a heat protectant, see my favorite heat protectants). I also spray it in my hair some mornings when I'm getting ready (from about my chin down) and brush it through my hair. If you only try one product from my list, this is the one to try.
oVertone Go Deep Weekly Treatment (vegan)
Doing hair masks to deeply hydrate your hair is a must if you want to fight frizzies. If you color your hair, you NEED to try oVertone. They currently offer purple, teal, pink, red, orange, blue and green, with 3 different intensities. They have pastel, vibrant and extreme. I was originally sent the Extreme (dark) purple and since then I've purchased Vibrant Teal and Vibrant Purple. If you don't see your color, you can always mix two shades together to customize your shade.
Cocoa Pink Argan Therapy Cream Conditioner
This is my #1 all time favorite conditioner for hair. It moisturizes my locks. It's filled with argan oil and coconut oil that penetrate the hair to leave it moisturized and soft without weighing it down. It's recommended for all hair types.
Living Proof No Frizz Shampoo (not pictured)
My friend J who has super curly hair swears by this shampoo. It's sulfate free, silicone free, and an Allure Best of Beauty Award Winner. It's a weightless hydrating formula that cleanses the hair and blocks humidity. So for super curly hair, this is a great option. (see more cruelty free sulfate free shampoo and conditioner recommendations)
Living Proof Perfect Hair Day 5-in-1 Styling Treatment (press sample)
You know I love this for days that I let my hair air dry. This is an oil-free, silicone free styling treatment that gives you volume, smoothnes, conditioning, strength and shine in one easy step. It also provides heat protecting, UV protection and static control. It is recommended that you apply it evenly to damp hair and blow dry, but I rarely do that.
DermOrganic Spray Therapy (vegan)
Argan oil is light and moisturizing, so it doesn't weigh down fine, thin hair, but it will help naturally curly locks too. This one is enriched with omega-6, lipids, antioxidants, vitamin E and more. It eliminates frizz, speeds up blow dry time, is a great heat protectant and great for long hair. I've repurchased this for the past several years because my hair loves it. It's sulfate-free, gluten-free, paraben-free and propylene glycol-free.
What are your secrets for getting rid of frizzy hair?


[inlinkz_linkup id=515906 mode=1]