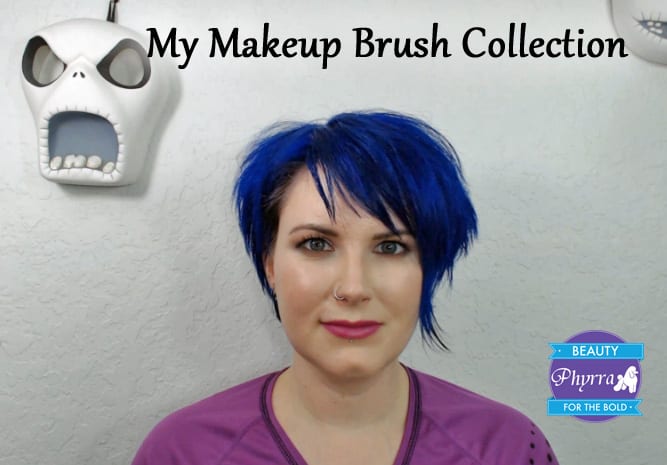 Hi! You asked for it, so here it is – My Makeup Brush Collection. This is one half the size of what my collection used to be.
Pr + purchased by me.
My Makeup Brush Collection
Two things have allowed me to cut my brush collection in half:
1. My Wayne Goss Eye Makeup Brushes
With my Wayne Goss Eye Makeup Brushes, I just don't need as many eye brushes because I reach for those brushes over and over again. they work so well to blend colors that they're just about all I need.
2. Cinema Secrets Brush Cleaner
Instead of only washing my brushes once a week (and having a HUGE pile by the end of the week), I can clean my brushes daily and they're dry in minutes with the Cinema Secrets Brush Cleaner. So I need less brushes. I partially had so many brushes so that I could use a brush once and put it into the 'to be cleaned' pile. And to be honest, I could still probably pare my brush collection down even more, since I no longer need to have 2 or 3 of some of my face brushes. I cut my Real Techniques brushes down from the 3 and 4 I had of some to 1.
I also really need to let go of my first MAC brushes because I noticed while filming this video that the handles are chipped at this point. Same with my Medusa Makeup brushes.

Please subscribe and give this video a thumbs up!
Wayne Goss Makeup Brushes
You already know I love these brushes and they were worth every penny I spent on them. See my review.
Sigma Beauty F88 Flat Angled Kabuki
I love this for thick creams and liquids.
Sigma Beauty E35 Tapered Blending
I find this most useful for concealer under the eyes.
Makeup Geek Smokey Eyes Brush
This is a great brush for smoky eyes and blending.
Makeup Geek Small Crease Brush
This is great for blending in the outer crease.
It Cosmetics Double Ended Foundation Brush
This is an awesome brush, especially with cream foundations. It makes it easy to contour and blend out shades.
It Cosmetics Special Edition 6 Piece Vanity Brush Set
This is a great set of LE brushes that I reviewed over at FutureDerm.
ecoTools Essential Eyebrush Set
I've purchased several of these for myself and gifted them to many friends.
ecoTools Alicia Silverstone Set
I had one of these, but I got rid of some of the brushes, like the useless plastic lash comb.
ecoTools Touch Up Set
I had 3 of these, but got rid of a few of the brushes, mostly the plastic lash combs. I bought 2 of them BOGO.
Real Techniques Duo Fiber Brush Set
This is a set of 3 brushes.
Real Techniques Core Collection Set
I had 2 of these and pared down to 1.
Real Techniques Starter Set
I had 3 of these and now have 1.5. I bought most of my Real Techniques BOGO from Ulta.
Real Techniques Blush Brush
I had 4 of these and now I have 1.
Real Techniques Stippling Brush
I have 1 of these.
Real Techniques Travel Set
I have 1 of these.
Real Techniques Shading Brush
I had 5 and now I have 1.
Obsessive Compulsive Cosmetics 011 Small Powder Blush Brush
Love the size and shape.
Obsessive Compulsive Cosmetics 010 Precision Lip Brush
For lip tars, lipsticks, etc.
Obsessive Compulsive Cosmetics 002 Foundation Brush
A nice thick brush for liquid foundation. This is the brush David Klasfeld recommends you use to apply OCC Tint.
Obsessive Compulsive Cosmetics 003 Concealer Brush
A nice flexible brush for concealing.
Bdellium Tapered Blending 785
I bought this as a blending brush replacement for my MAC 224 brush.
Stila Big Fluffy Eyeshadow Brush
I like to use this to apply a base color on my browbone / crease.
MAC Travel Brush Set
I've had this brush set since 2000 or 2001. They really need to be retired. You can see the set up close here.
Anastasia Beverly Hills Mini Duo Angled/Spooley 7
I have two of these. They're perfect for powder or gel eyeliner. When I went to Chicago for BlogHer 2013 and forgot this brush I had to buy a second one because I needed it to do my brows.
Urban Decay Good Karma Optical Blurring Brush
I have two of these and still feel the need for two since they can be used with liquids or powders.
Urban Decay 24/7 Glide-On Shadow Blending Brush
I have one of these for the chubby eyeshadow pencils.
Urban Decay Good Karma Blending Brush
It's big and fluffy. It's good for laying down base color too.
Urban Decay Good Karma Crease Brush
This is a nice soft brush.
Too Faced Brow Brush Duo from the Bulletproof Brows Set
I really love this brow gel, by the way!
Too Faced 3 Piece Essentials Brush Set
I love this set and I'm glad I bought it.
Too Faced Teddy Bear Hair Brush Set
I have the older version of this set.
Sephora Pro Airbrush Concealer Brush #57
Yes this is a really awesome synthetic concealer brush.
Sephora Pro Gel Liner Brush #26
I thought this was discontinued but apparently it's still available.
Sephora Cream / Gel Blush Brush
This was discontinued.
Elessa Jade Makeup Brushes
These appear to have been discontinued.
Perfect Lash Comb
The funky lash comb that goes upwards.
Sally Beauty Lash Comb
No idea who / what brand. I picked it up years ago at Sally Beauty Supply.
Medusa's Makeup Eye Contour Brush
This really needs to be retired as the handles are now chipped. I have 2.
Medusa's Makeup Shadow Brush
I have one of these.
Medusa's Makeup Smudge Brush
I have 2 of these.
Furless Must Have Pro Lash Comb PRO1E
I truly consider this a must have and holy grail tool.
e.l.f. Bent Eyeliner Brush
I own 2 of these.
Tarte Brow Brushes, which come with the Tarte Brow Mousse
I have 2 of these. I own the shades Taupe and Rich brown.
Tarte Duo Eyeliner Brush, which comes with the Tarte Gel Eyeliner
I own bronze.
Buxom Smoky Eye Brushes
I have 2 of these. They're meant for use with the Buxom Waterproof Smoky Eye Sticks.
Japonesque Push Brush
This thing is huge.
Furless Purple Power Brush Set
This is a great travel set.
Furless Must Have Professional Makeup Brush Set
This set even comes with a fabulous apron.
So now that you've seen my makeup brush collection, what's in your collection? What are your must have brushes? What are your favorites?
Last Updated on